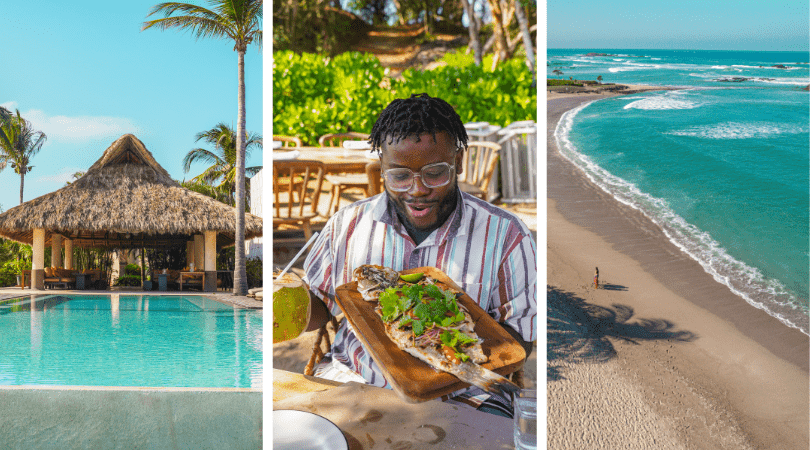 Punta Mita is a luxury community with rental properties, real estate, private residences, and 5-star hotels such as the St. Regis Resort and the Four Seasons Resort Punta Mita. It is secluded and well-guarded without losing sight of the area's culture and traditions.
The first thing you need to know about Punta Mita is there is "Punta Mita," the resort, and then there is "Punta de Mita," the city. There are a lot of luxury resorts that have "Punta Mita" in their name, but they are not located on property at Punta Mita, but rather, within the city of Punta de Mita, such as the W Punta de Mita, the Conrad Punta de Mita, and Imanta Resorts Punta de Mita.
The Benefits of Staying in Punta Mita
Since you are traveling to another country, peace of mind can make your experience that much better. The nearest airport, the Puerto Vallarta International Airport, is only a 50-minute drive from Punta Mita and you can arrange a pick-up service that takes you straight to your hotel in Punta Mita.
If safety is your top priority, staying in the Punta Mita rental communities, residences, and luxury resorts is the perfect way to keep your mind at ease so you can enjoy your getaway to the max.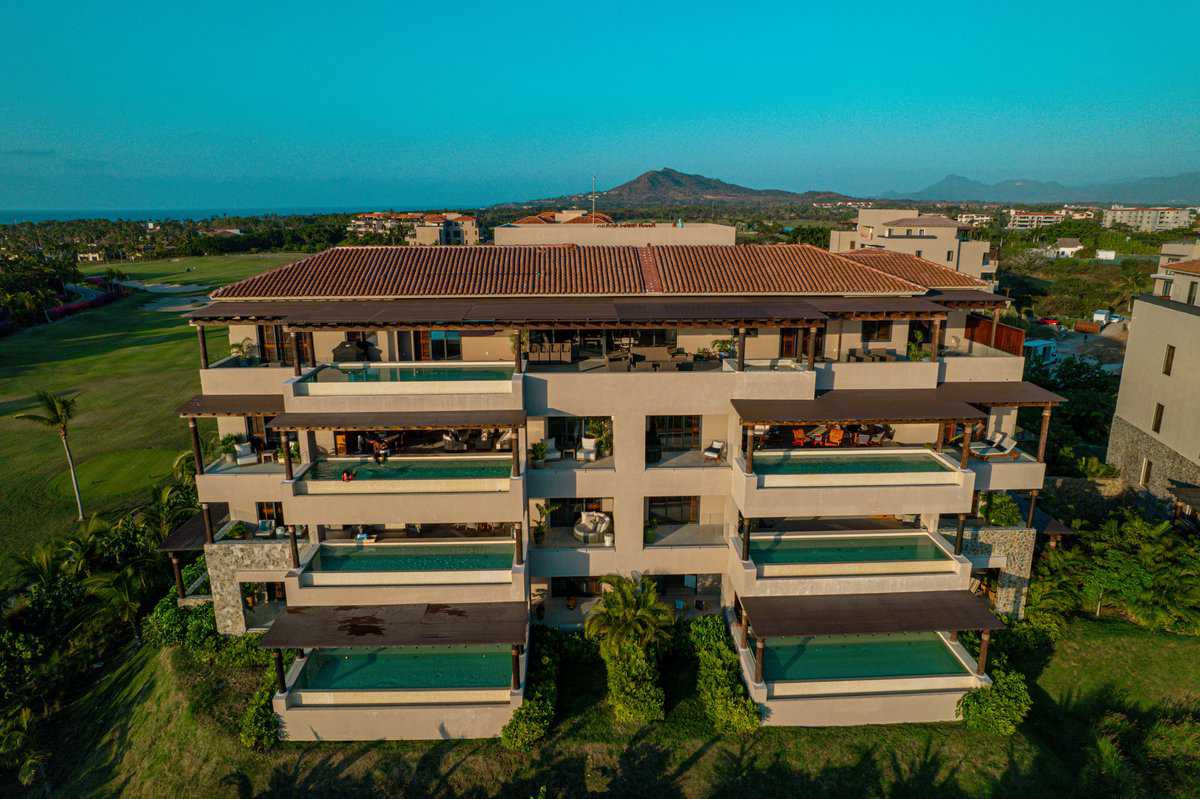 Another plus is the hotel's concierge service, which can help you with reservations, check-in, excursion planning, and reservations. The front desk staff are also available to help you with any questions you might have during your stay.
The beach clubs are another one of the benefits of staying in Punta Mita. The beaches are beautiful and less crowded than those in the city center of Punta de Mita. I would say that Punta de Mita is safe overall, but if you don't want to worry about minor thefts, Punta Mita may give you that added peace of mind.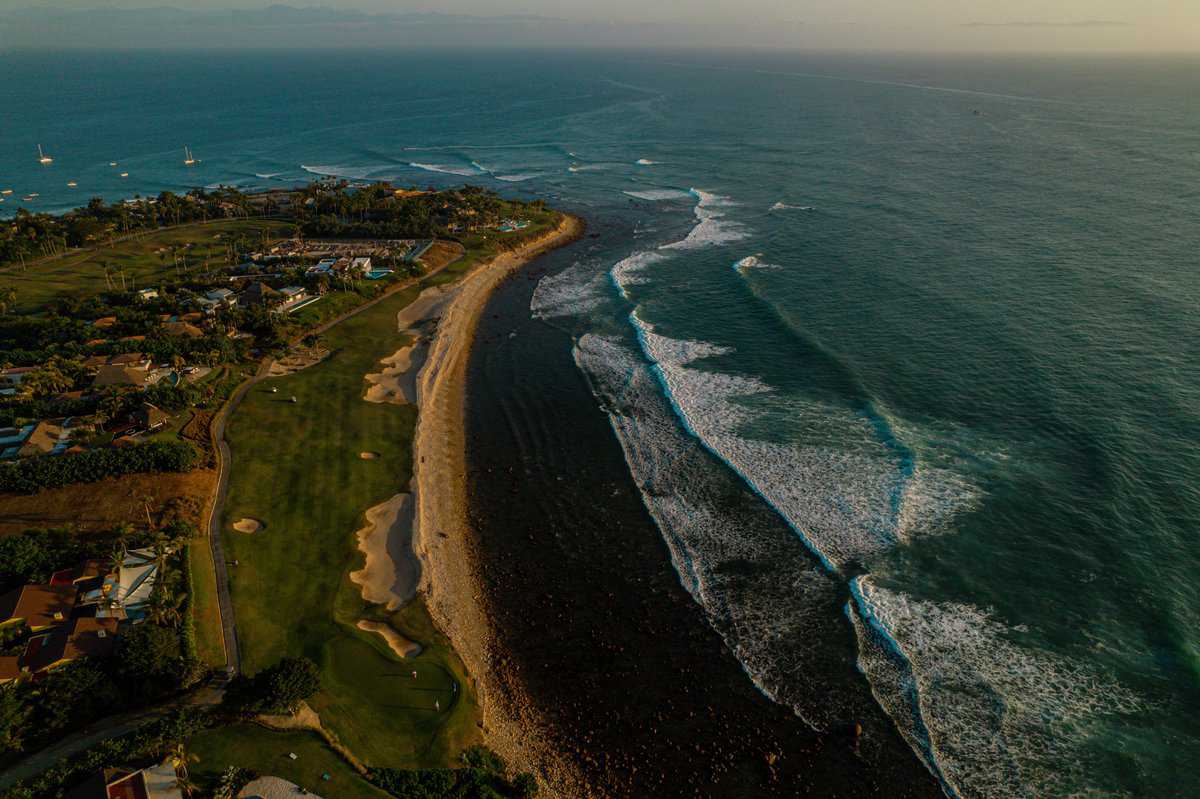 As I mentioned earlier, St. Regis and the Four Seasons are also on property at Punta Mita and boast high security for their guests, so you can enjoy the benefits of safety and beach access. However, you will not have access to the surf clubs while staying at these resorts. This is the advantage of staying in one of the rental accommodations, like we did. But whether you stay in Punta Mita or Punta de Mita, you can look forward to eating at the small-town restaurants.
Our Rental Property
As for our stay in Punta Mita, we had a beautiful rental property, the Condo Pacifico. It was a lovely three-bedroom villa with three and a half baths, a private plunge pool, and panoramic views of Isla Marietta, with early morning surfers braving the waves and the occasional marine life sighting.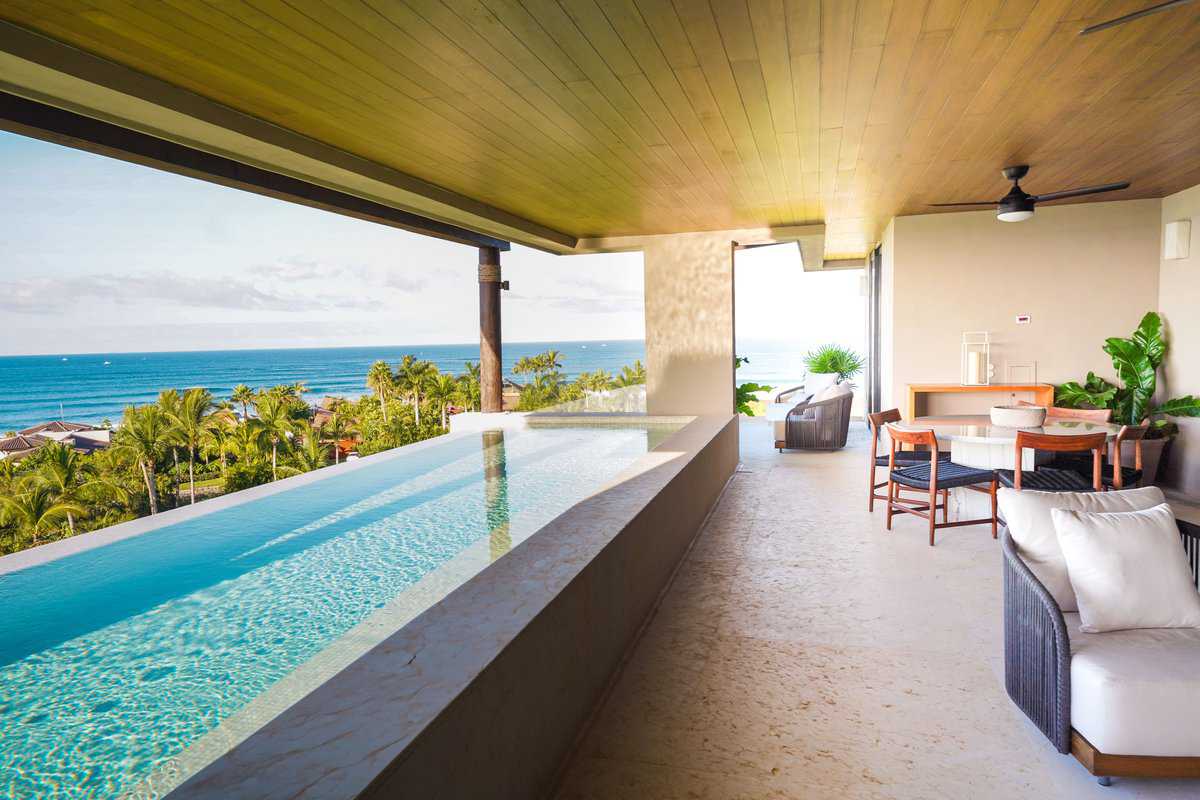 Our private bathroom was fantastic, with a bathtub and spectacular ocean views, plus a large kitchen and living area. The beds were very comfortable, and there was plenty of storage space. It is definitely a place you would want to stay forever!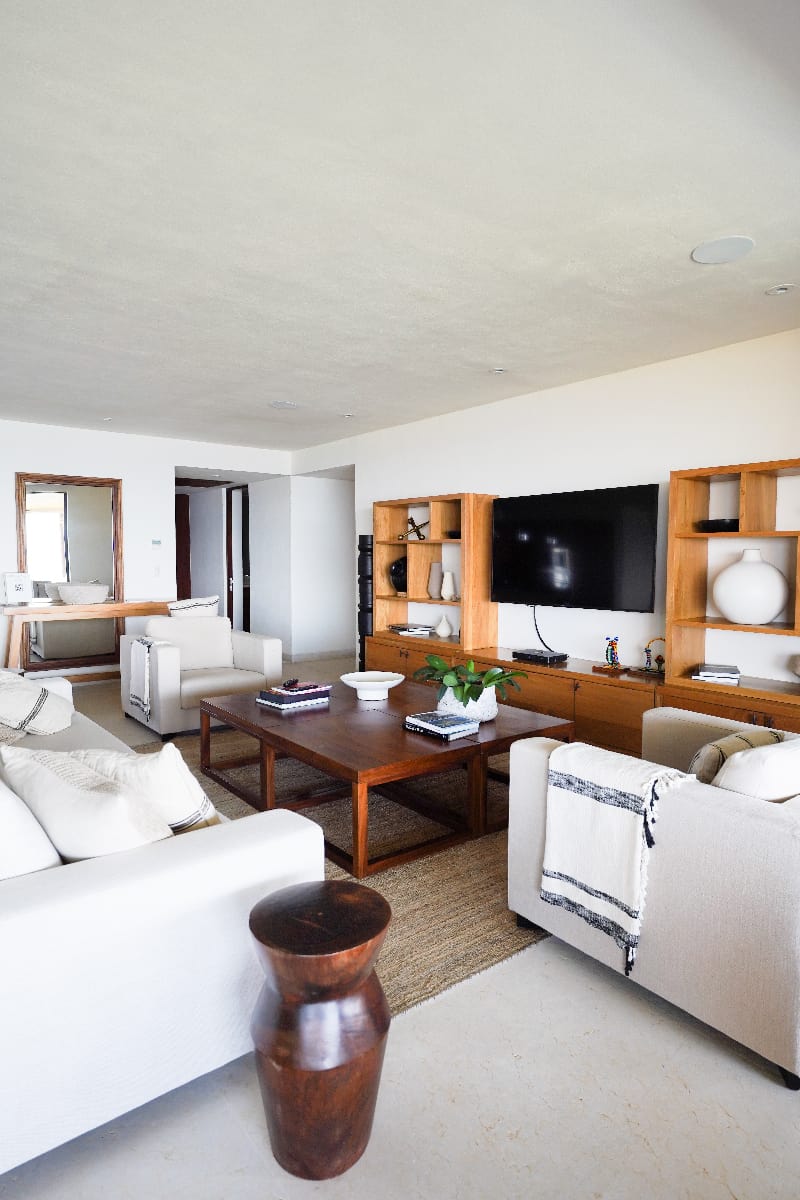 There are other accommodations with added amenities like your very own, private fitness center, a pool that doubles as a hot tub, access to Punta Mita beach, room service by your very own butler, a media and game room, free bikes, garden views, and so much more!
The Beach Clubs
Punta Mita is vast, with so many things to do! There are themed beach clubs, various restaurants, outdoor pool clubs, and unique bars with or without beach access.
Sufi Beach Club
Sufi Beach Club is a beautiful, boho-chic oasis that feels like it was carved right out of the beach, with its rattan furniture, the abundance of white and blue, wicker-weaved hanging chairs, and chandeliers.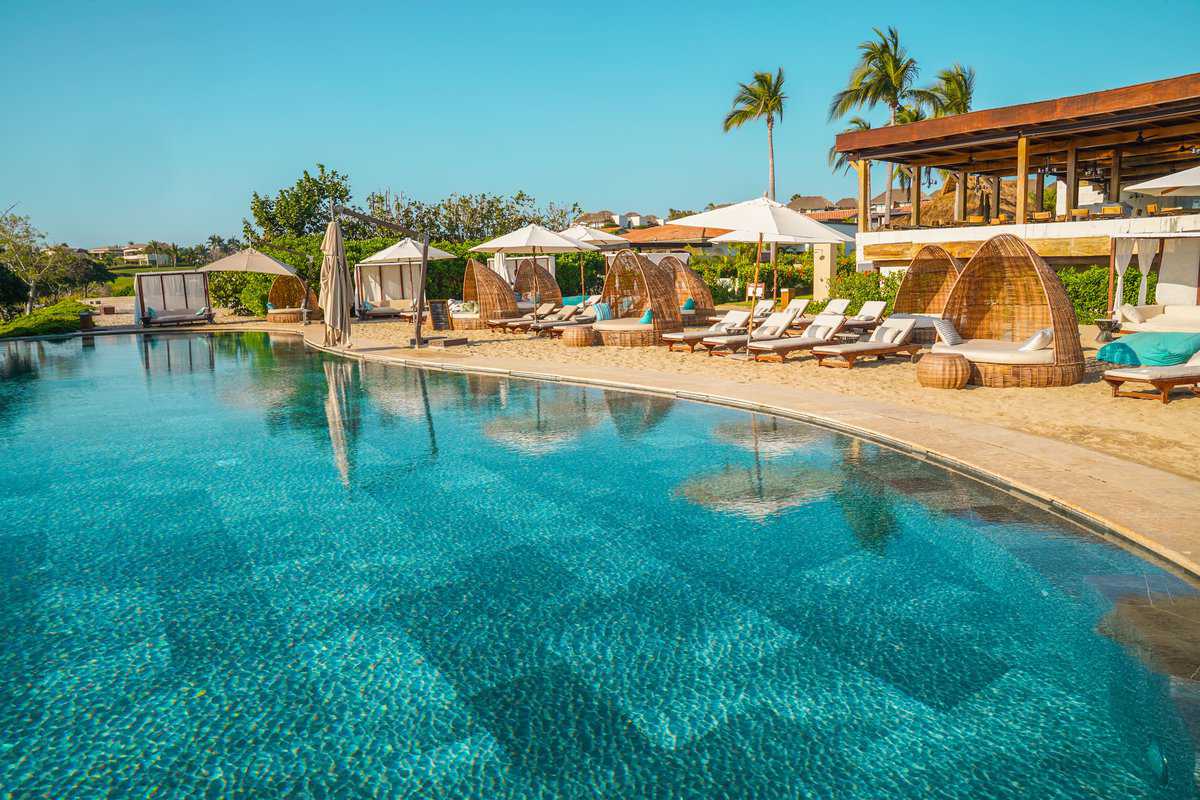 At Sufi, you'll find a dock, an infinity pool overlooking Banderas Bay and the beautiful Punta Mita Pier, and an additional, upper-level pool. Here, you can relax and watch the sunset while sipping on a fresh cocktail from their extensive menu. The club also features pop-up boutiques if you happen to leave something at home or you're shopping for something special to remember your trip.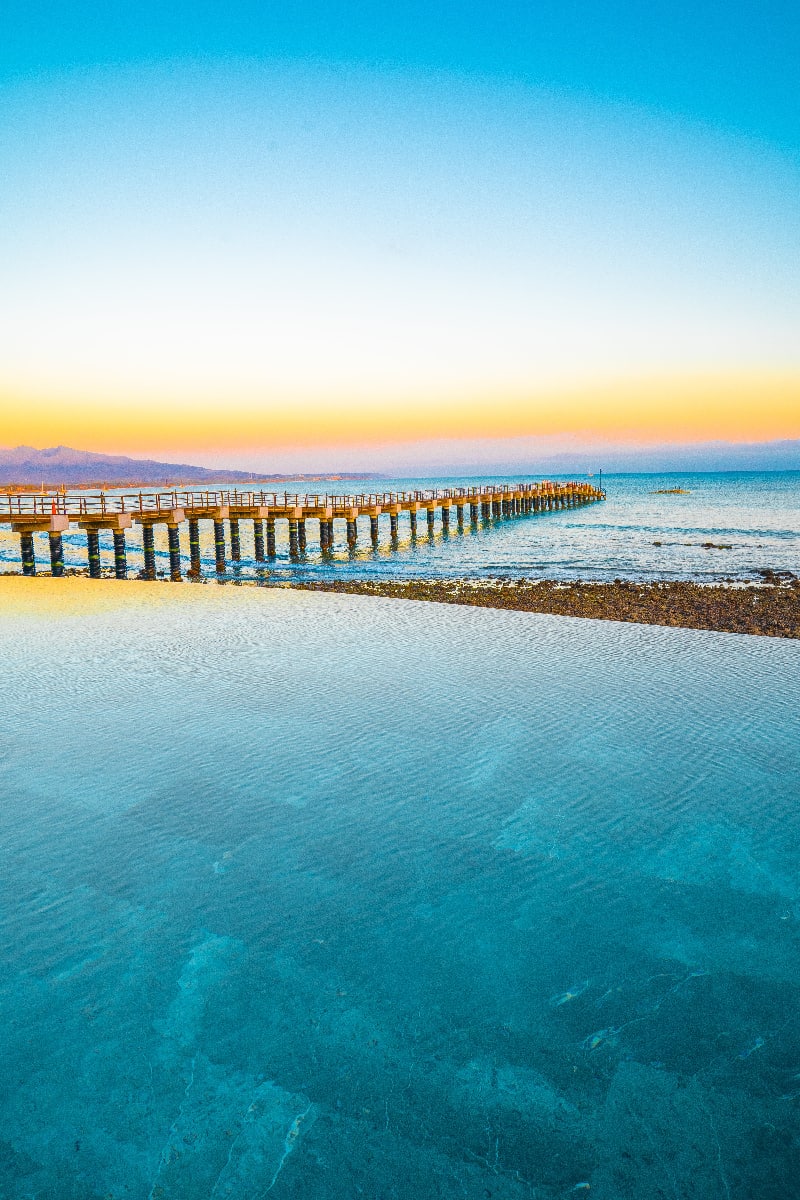 The Sufi Restaurant prioritizes dishes made with fresh ingredients and plays music from DJ Franco Demichelis. Best of all, in our opinion, was the Sufito Cevicheria Bar, which serves all varieties of fresh ceviche.
The Cevicheria and restaurant both offer poolside service, which we took advantage of. We had an incredible sweet duck dish with a plantain puree. We also tried the freshly caught fish of the day prepared in Aguachile alongside their tasty cocktails!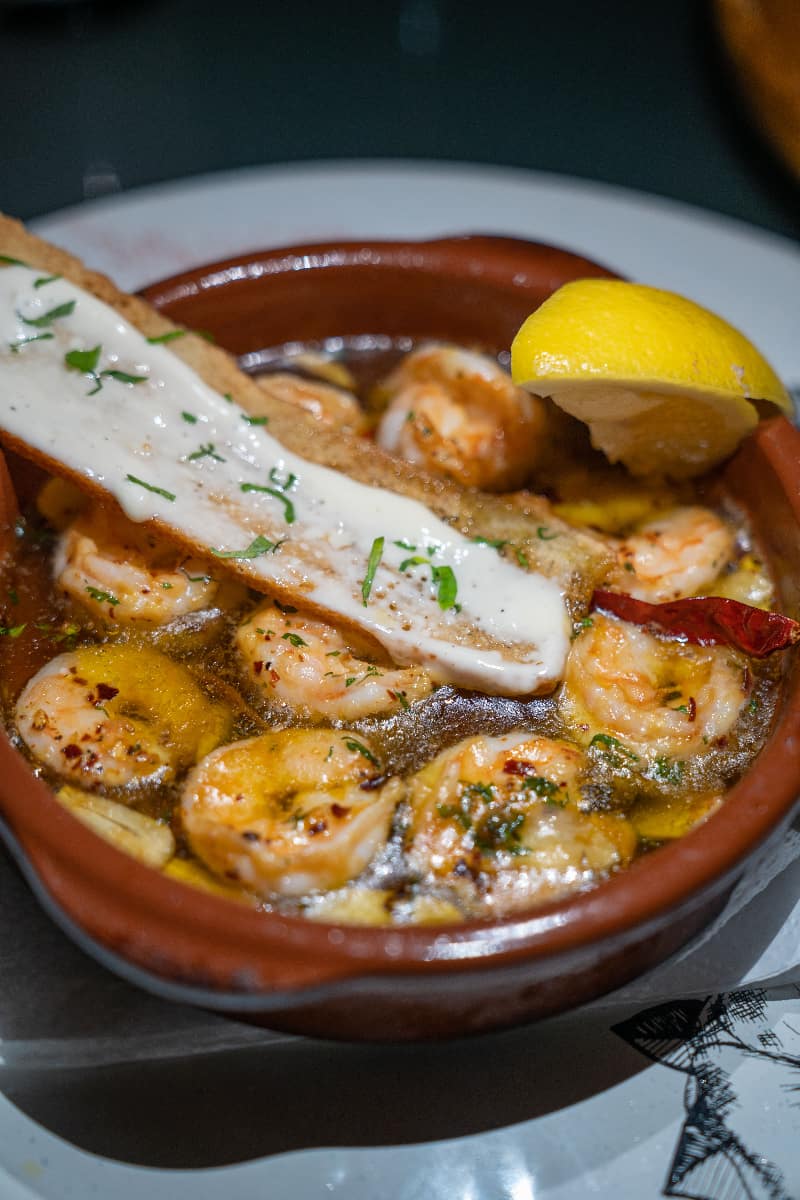 The Sufi Restaurant also has a great selection of flavors and brands of tequila, so we thought it was fitting to try a tequila tasting. It was very informative and fun! The staff genuinely wanted to teach us about the process of making tequila and the distinction between good and bad tequila.
El Surf Club
What a great example of barefoot luxury! El Surf Club offers breathtaking views of the Marietas Islands, La Lancha Beach, and Banderas Bay. You'll find both a public and private area. The private area is part of one of the resorts with plenty of beach chairs, attentive poolside service, fresh coconut water straight from the coconut, and private surf lessons.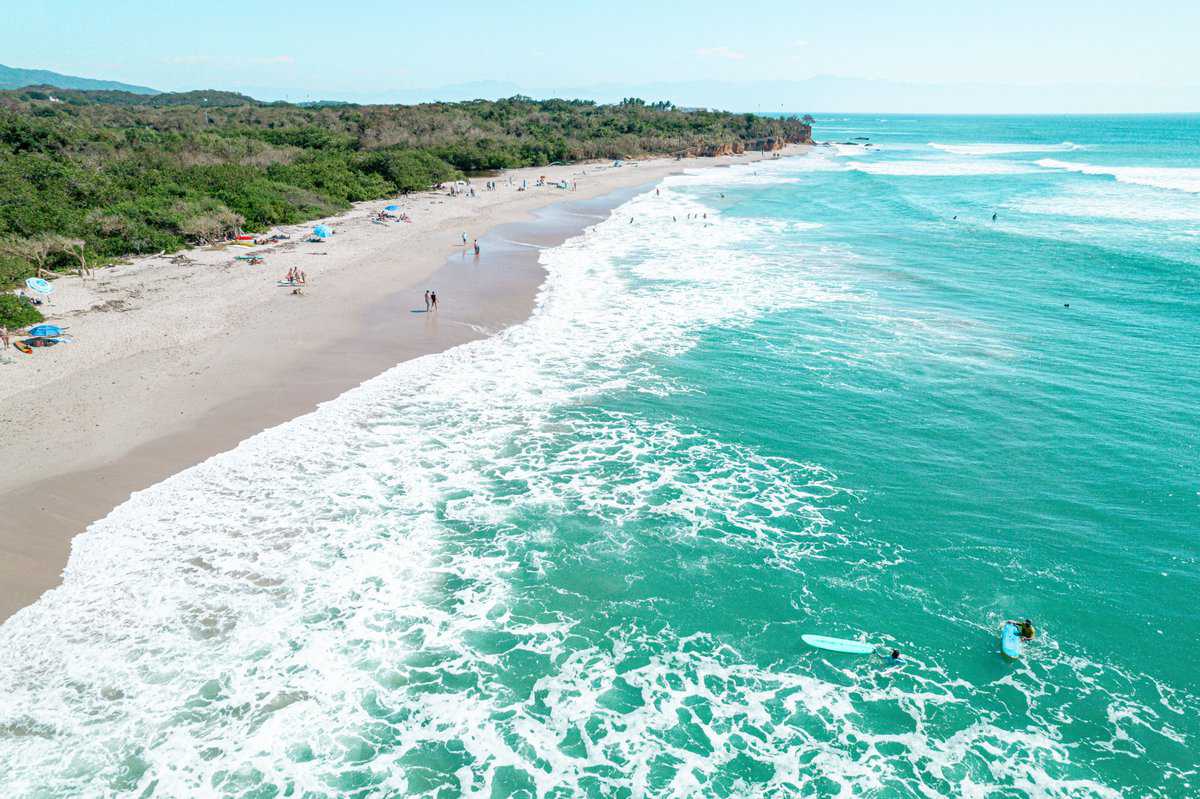 Some of the thoughtful features of the club are areas where you can clean the sand off your legs and feet, along with the well-kept beach toilets and showers fully stocked with soap and shampoo. Relax on the beach without having to trek to and from your spot with plates of food and, instead, have it delivered right to you!
El Surf Club also hosts pop-ups of famous restaurants and chef's tables. When we were there, there was a pop-up of La Docena, the best oyster bar in Mexico and voted one of the 50 best restaurants in Latin America. You may also find several pop-ups in the area with artisanal creations, high-end boutiques, small taquerias, and flavorful food trucks that offer a unique flair.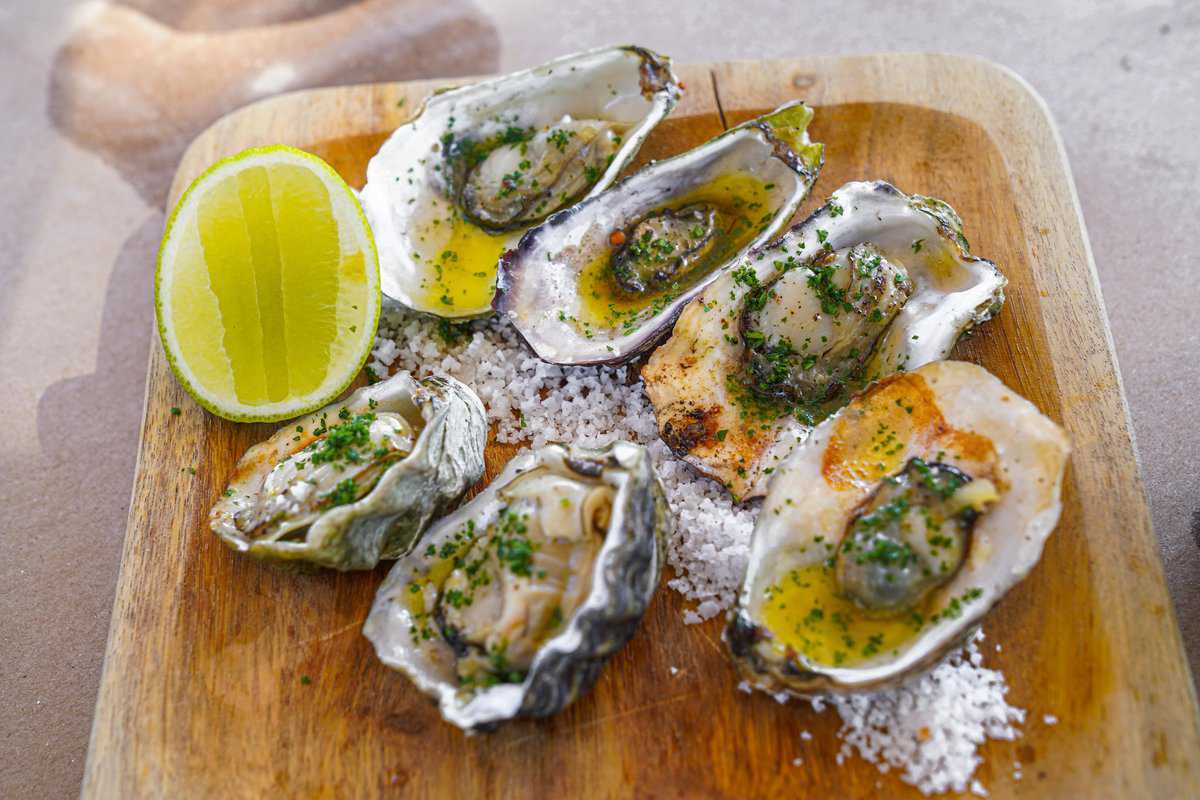 Pacifico Beach Club
Overlooking the Pacifico Golf Course's famous "Tail of the Whale" 3B hole, the club offers comfy lounge chairs with towel service and umbrellas. It also features separate outdoor swimming pools for adults and children, a full-service restaurant, well-stocked bar, a children's playground, men's and women's locker rooms, full-service spa treatments services, and a golf course.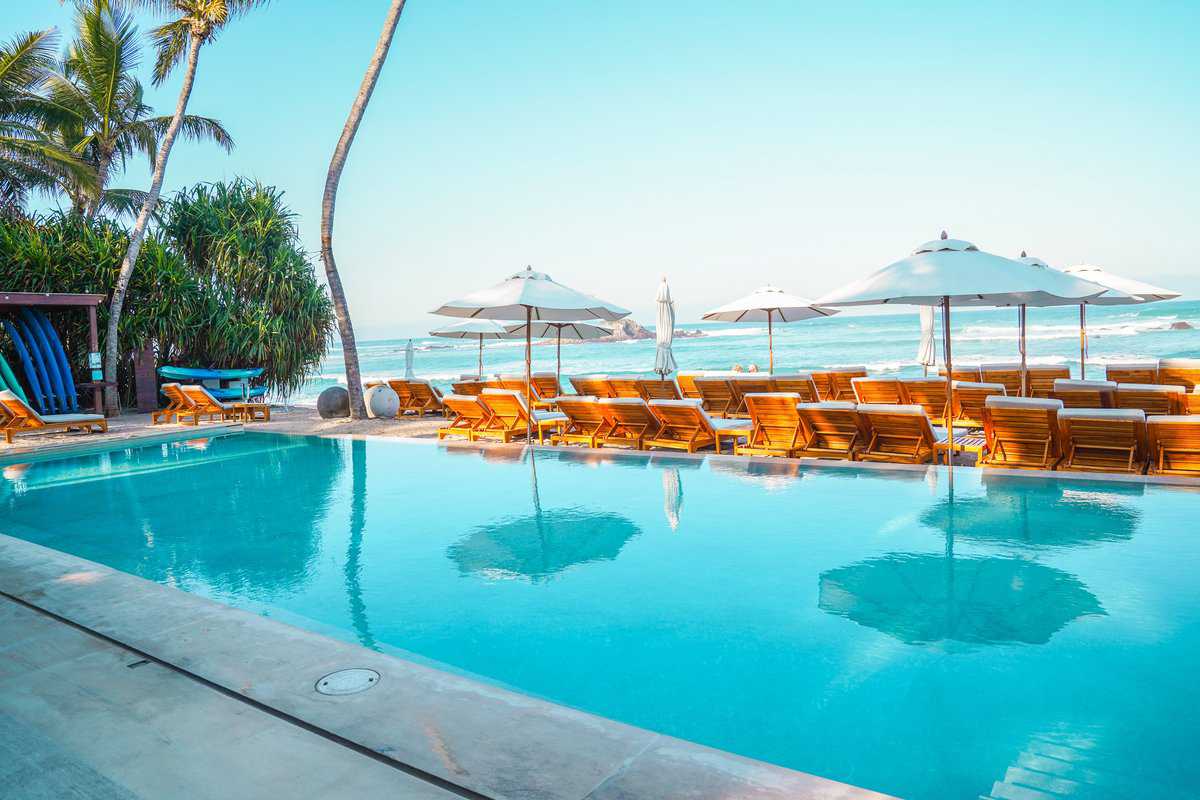 Their on-site restaurant serves breakfast, lunch, and dinner and offers an extensive menu of traditional Mexican dishes with a modern, tropical twist.
Breakfast includes sweet breads, like conchas and chocolate croissants, pancakes, and Mexican egg dishes like huevos rancheros con chorizo. The breakfast menu included an extensive café section with all sorts of additional toppings. I asked for a Cajeta Latte, even though Cajeta was not on the menu, and they were kind enough to prepare it to my liking. My husband asked for bananas in his pancakes, and they went out of their way to get him sliced bananas. It was truly outstanding service!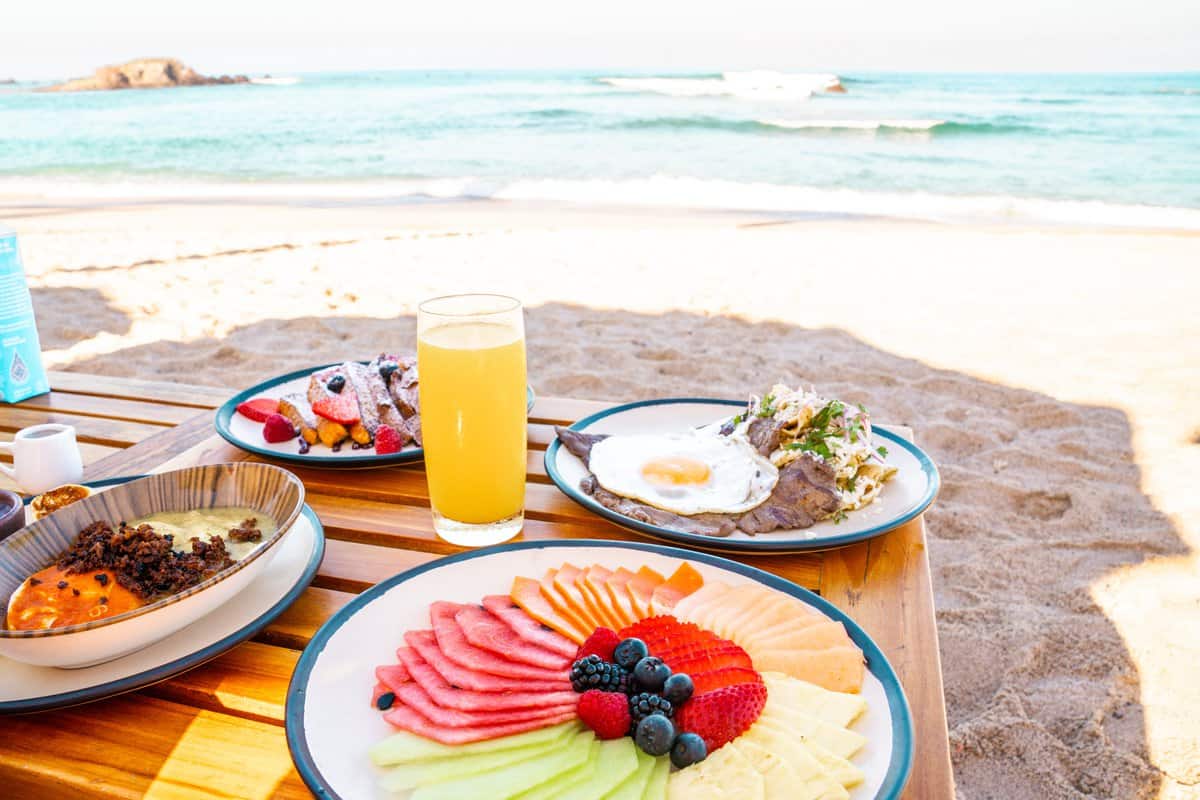 The lunch and dinner menus were extensive and tempting, from traditional Mexican dishes to pizza, pasta, hamburgers, steak, and more.
Kupuri Beach Club
This was our favorite! It features a massive infinity pool with three different areas that open out into the water. There's also a beach area with lounge chairs, a swim-up bar with swings, and an additional bar right on the beach.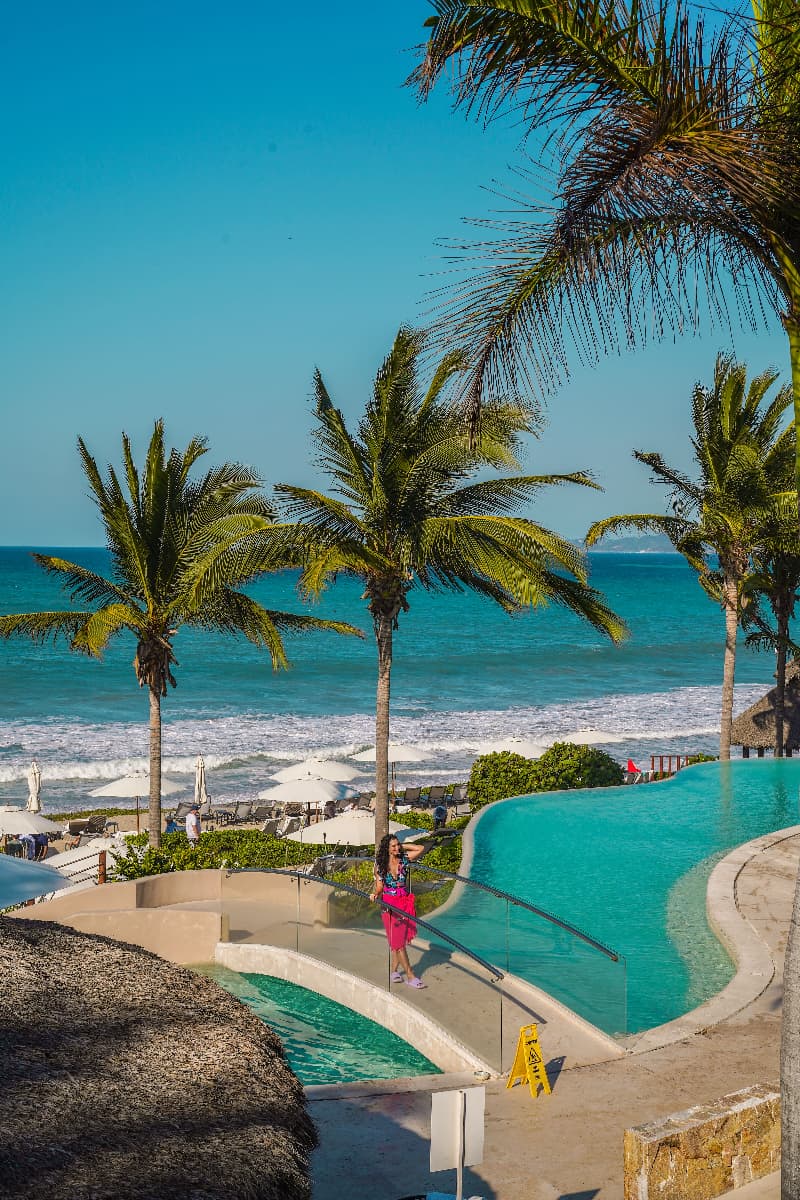 The Kupuri Beach Club also features the Coritas Kids' Club, with a shallow wading pool, while teens have their own air-conditioned clubhouse with customized video games, free Wi-Fi, board games, and other various activities.
The Kupuri's restaurant, the Palapa Bar & Grill, is right on the ocean, with a menu full of fresh, light meals perfect for the beach.
The Sea Breeze Club
The Sea Breeze Beach Club at the St. Regis Punta Mita Resort is a wonderful place to enjoy a day at the beach. It is located on one of the most beautiful beaches on the peninsula, overlooking Banderas Bay and the Pacific Ocean. Keep in mind it is only open to Club Punta Mita members and their guests.
It also has a large outdoor swimming pool and a wide, sandy beach. Beach amenities include comfortable lounge chairs, plenty of seating, attentive pool service, free Wi-Fi, and a casual beachfront restaurant, the Mita Mary Seafood Boat.
The Sea Breeze Restaurant and Bar is a Latin bistro under the direction of Chef Hitayoruki Hernandez. The menu focuses on local ingredients transformed into international specialties, with popular foods like pizzas baked in wood-fired ovens and meats or seafood cooked on an open grill. Of course, the selection of wines and cocktails is expansive and curated to match the extensive menu.
Asai by Chef Yasuo
There is also an Asian-Japanese kitchen called Asai by Chef Yasuo that focuses on the flavors of Japan, combining Asian recipes with the regional products of Mexico. While we tried sashimi, nigiri, and other sushi dishes, you can also choose "omakase" and they'll surprise you! Accompanying all of their delicious food was also a great selection of sake. Overall, the ambiance, food, and service were very nice, and we enjoyed every second of our experience.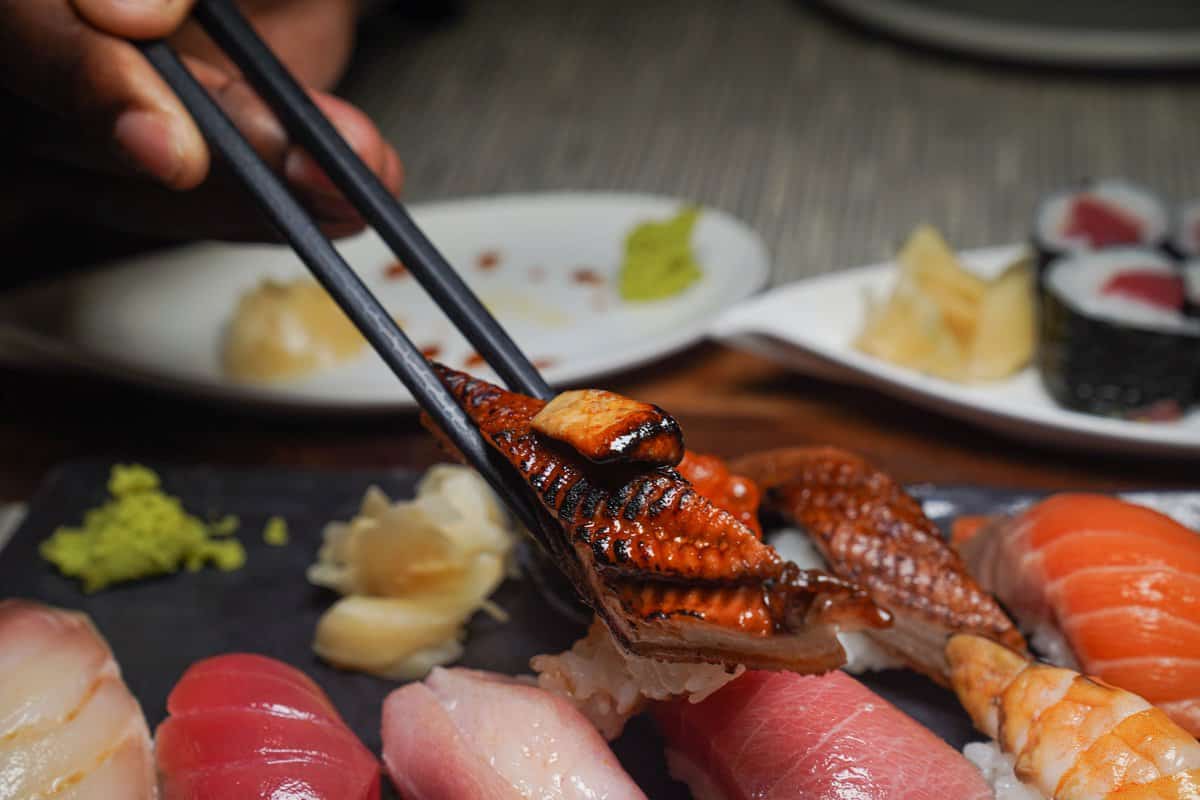 The Activities
In addition to the beach clubs, Punta Mita offers many different activities on both land and water.
One of their remarkable features is the Jack Nicklaus signature golf courses at the Four Seasons Resort in Punta Mita and the St. Regis Resort, which attracts golf aficionados, rookies, and pros alike.
Golf at the Four Seasons
One of Punta Mita's top-rated golf courses, it offers panoramic views of Bahía de Banderas and the Sierra Madre, a beachfront home just steps from Punta Mita's famous surf spot El Faro, and stunning lakes and water features.
Their golf academy offers private lessons, clinics, golf schools, customized programs for players of all levels, and other features, like caddy and equipment rentals.
The golf course even has a special, hidden 19th hole. Famously known as the "Tail of the Whale" 3B HOLE, it's located on an island in the Pacific Ocean that can only be accessed at low tide, so plan ahead!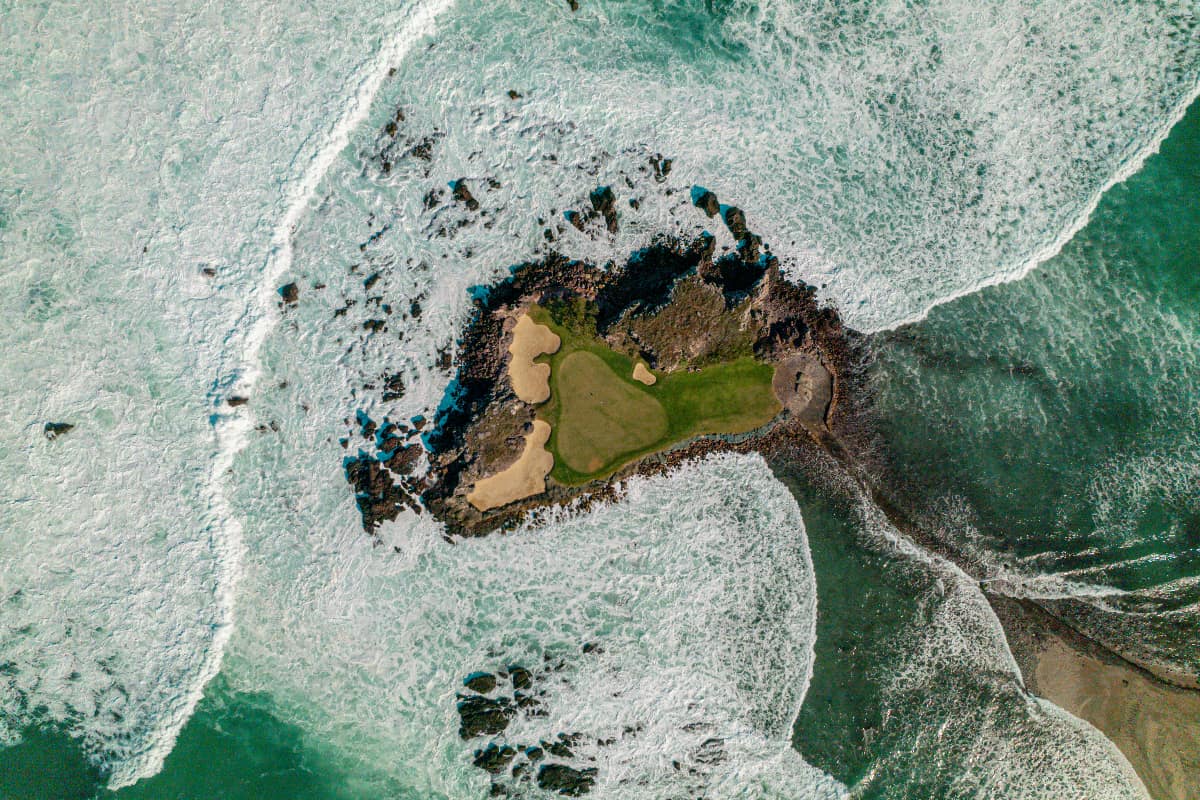 Golf at the St. Regis Resort
This golf course has 36 holes fed by two Jack Nicklaus, signature golf courses. It is situated on 380 lush acres of land with breathtaking panoramic views of the peninsula, which border the Pacific Ocean and the beautiful Banderas Bay.
The golf course also features a clubhouse restaurant, store, driving range, putting green, a golf academy with workshops and clinics, and even a junior golf program.
A golf cart is the best option for getting around, but people also walk and use bicycles. We found that the beach clubs are between 5 and 20 minutes away, depending on which mode of transportation you choose, with El Surf Club being the farthest.
Punta Mita Ocean Sports
Here, you will find water activities (and some land activities) with rentals available for you and your family.
You can go kayaking, paddleboarding, surfing, jet skiing, fishing, sailing, parasailing, scuba diving, sailing and whale watching, snorkeling, spearfishing, and more. You'll find all of the equipment you need to practice the sport safely, along with knowledgeable guides and instructors.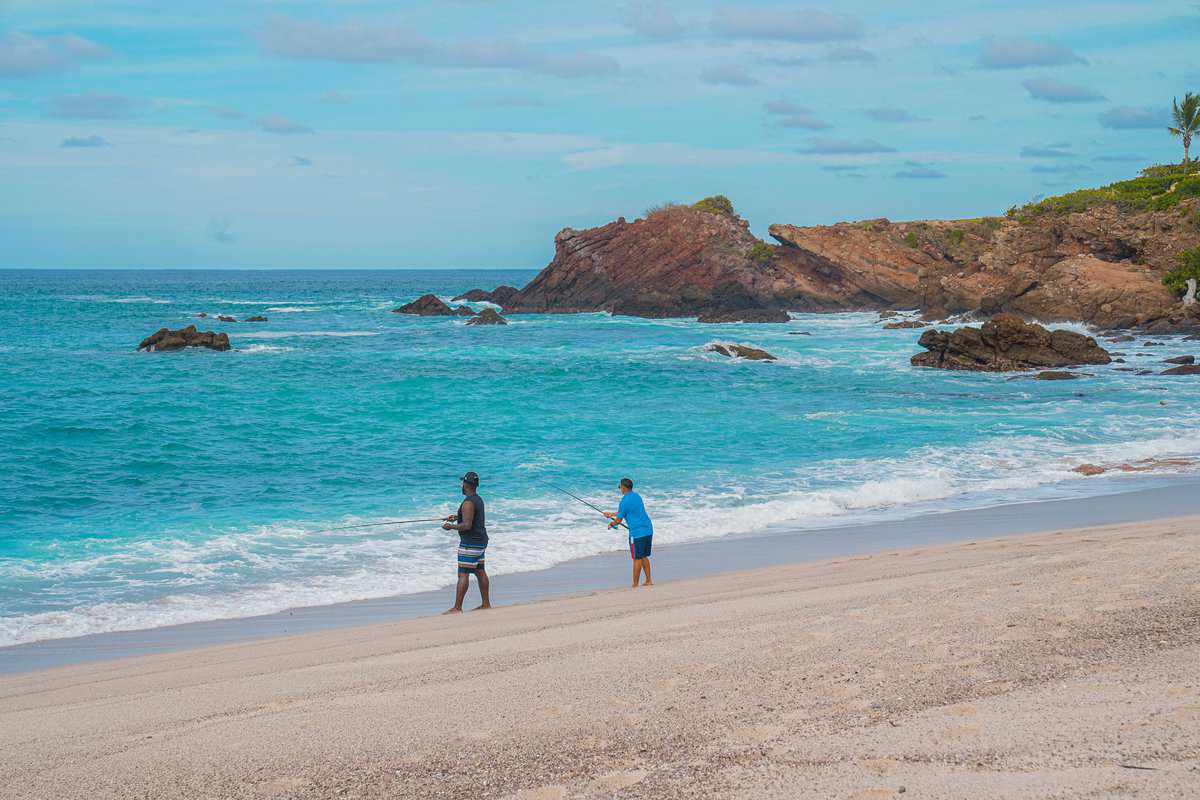 Book an Excursion
You can book excursions, such as the Ohana Experience, where you go out on the water by boat with a fixed itinerary. Our guides, Fernando and Memo, took us to see some breathtaking, panoramic views, and they knew where to go to see all the marine life. We visited during whale mating season, which meant we saw them jumping and showcasing their huge flippers, making for an unbelievable experience!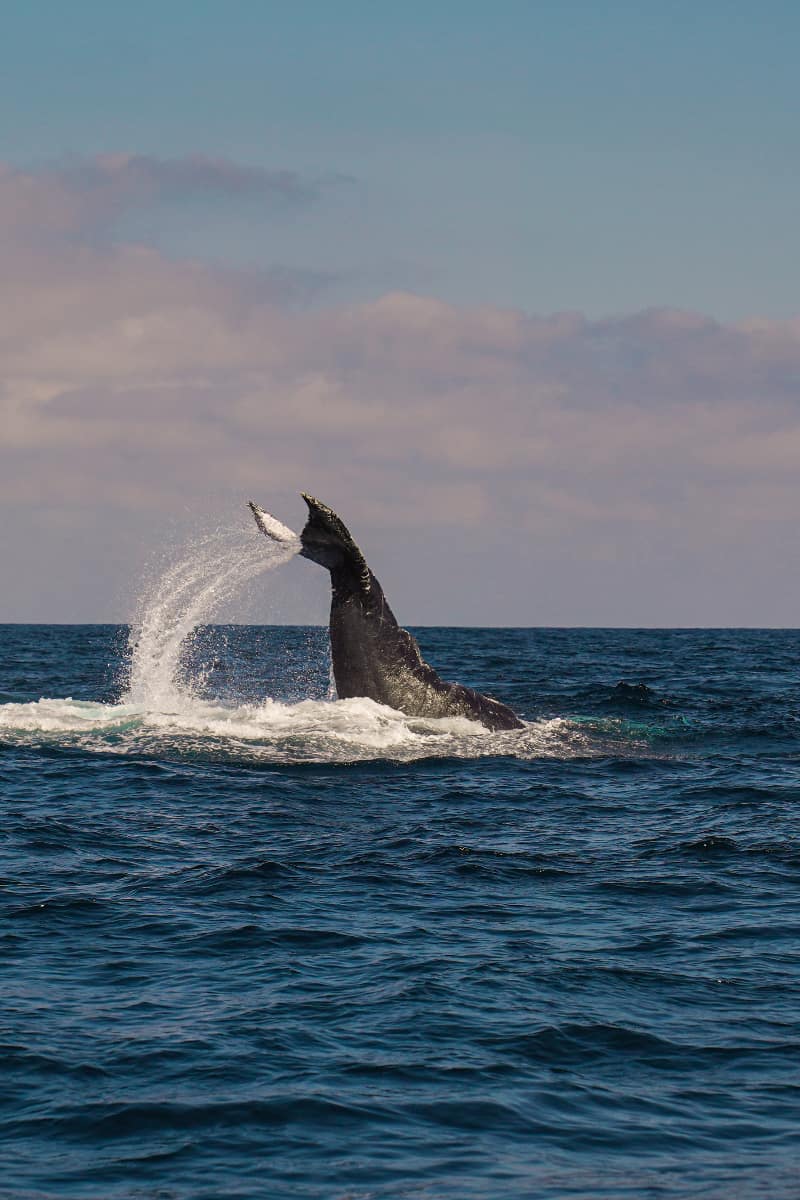 Since we had booked a private tour, but weren't ready to be done just yet, we asked if we could extend our time. Keep in mind this is not always an option depending on whether there is a tour after you. Lucky for us, our adventure didn't have to end just yet!
Our next stop was El Morro, where we saw sea lions, and on the way back, we even saw a whole school of over 500 dolphins. It was unreal!
Finally, we made a snorkeling stop at a private beach that is hard to reach without a boat, and we enjoyed having it all to ourselves. We recommend you book this tour because it was definitely worth it!
Visit a Waterpark for the Whole Family
If you are traveling with children, we recommend Aquaventuras Park, a water park with toboggans, ten different water slides, lazy rivers, and even the possibility of swimming with dolphins and watching a sea lion show!
Book a Catamaran Tour
We also recommend booking the luxury catamaran tour or a boat trip to Isla Murrieta. Be sure to make reservations in advance, as the government limits the number of visitors per day to protect the islands, and there are certain days when the island is closed.
We appreciate that the government is working hard and prioritizing the preservation of the ecosystem, even if it comes at the expense of tourists' schedules. This is a conscious and proactive decision that we support.
Explore the Local Beaches
Punta Mita has an amazing collection of beaches just waiting to be discovered. Each one is unique in its own way. We recommend booking a tour to explore all the beaches in the area and find your favorite. First of all, you have the most famous ones like Anclote Beach, Hidden Beach, Lover's Beach, Bucerias Beach, La Lancha Beach, and other less known ones like Litibu Beach, Sayulita Beach, and Careyeros Beach. No matter which beaches you visit, take your time to take it all in and enjoy the natural beauty that Mexico has to offer.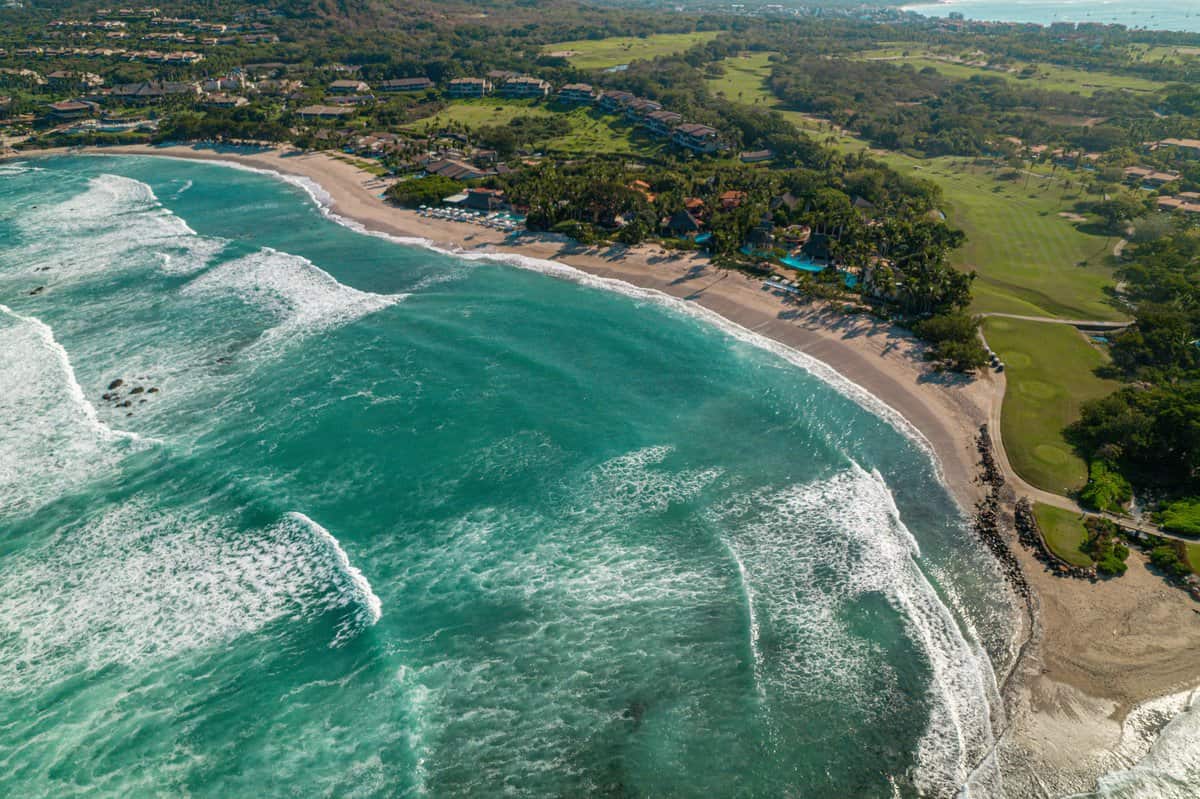 Why You Should Stay in Punta Mita: Final Thoughts
You won't be bored in Punta Mita, that's for sure. You're free to go from beach club to beach club and enjoy the pools and the sand. I enjoyed the pools a little more because the waves of the Pacific can be temperamental, pushing and pulling you while you are trying to take a leisurely swim.
The private areas allow you to enjoy the comfort of the pool or beach service with the confidence that the staff respects your property. Here, you won't have to worry about manos largas, another word for petty theft.
Also, the absence of street vendors constantly thrusting their products at you, the comfort of the outdoor showers and cleaning facilities, the fluffy towels, the fancy cocktails, and the fresh and tasty food made our stay a great experience. You can truly unwind and focus on sunbathing and soaking up your surroundings.
Seven days in Punta Mita was sufficient but not enough; a few days shorter and we would have missed a lot of activities and we would've needed more time to explore. A few days longer and we might have not wanted to leave at all! So, a week was just right and good for the soul! Don't forget to check out all the things to do in Punta Mita!