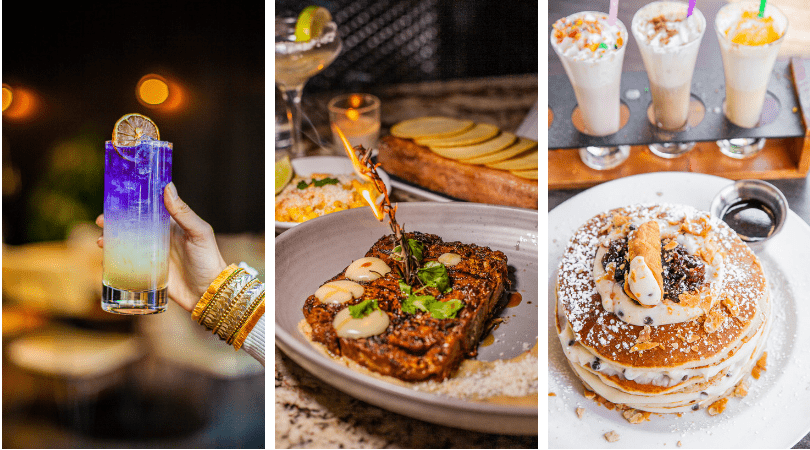 Scottsdale, Arizona is a culinary paradise, offering a smorgasbord of restaurants and unique dining experiences that blend the city's juxtaposing tropical and desert influences. It is more than just a destination with a plethora of activities and near-perfect weather year-round.
This gastronomic haven has even caught the attention of celebrity chefs seeking a retreat. Despite spending just a few days exploring the city's vibrant food scene, we only managed to skim the surface of the rich array of nice restaurants in Scottsdale. Still, we were able to discover some of the city's most exquisite dining spots.
For more Scottsdale travel inspiration:
Romantic Date Ideas & Things to Do in Scottsdale
Nice Restaurants in Scottsdale for Farm-to-Table Dining
The Herb Box
Experience the farm-to-table dining at The Herb Box, a Scottsdale-based restaurant that prides itself on supporting local growers and suppliers. With an emphasis on fresh, seasonally-inspired ingredients, The Herb Box offers a menu that is as wholesome as it is flavorful.
Their commitment to quality is evident in their use of farmers' cheese, cage-free eggs, hormone-free natural meats, and nitrate-free bacon. Moreover, they source organic produce locally whenever possible.
Among their mouthwatering offerings is the Vegan Nosh Board, which is a crowd favorite. The Artisan Farmhouse Cheese + Charcuterie is an indulgent treat that pairs perfectly with their handpicked wine selection.
For those who prefer something more substantial, their Short Rib Tacos are a must-try. Pair it with their signature cocktails, La La Lavender or French Martini, for a complete Herb Box experience.
Whether you're visiting for brunch, lunch, or dinner, The Herb Box promises a dining experience that is both nutritious and delicious.
Nice Restaurants in Scottsdale for a Romantic Italian Meal
Marcellino Ristorante
Ever felt like teleporting to Italy for dinner? Well, Marcellino Ristorante is as close as it gets in Scottsdale. Chef Marcellino and his wife Sima are the real deal, bringing a slice of Italy directly to you!
You can just feel the love they pour into every dish – and sometimes, you might even catch Sima serenading diners with her band.
Oh, and you've absolutely got to cap off the night with their homemade Limoncello. Trust me.
Fat Ox
Another exciting choice is the Fat Ox, which offers classic Italian cuisine with a modern twist. Chef Matt Carter owns various establishments in Old Town Scottsdale and is passionate about infusing Arizona flavors into Italian cuisine.
Furthermore, Fat Ox has been referred to as one of the best Italian restaurants in Scottsdale because of its innovative dishes and atmosphere.
They offer an exceptional culinary experience that changes with the seasons and features slow-cooked meats, wild seafood, and delicious pasta made from scratch.
In addition, their comprehensive bar serves hand-pressed cocktails and a unique selection of rare wines.
Fat Ox's dedication to excellence is evident in both the preparation and presentation of each dish, making it one of the top restaurants in Scottdale!
Nice Restaurants in Scottsdale for Delicious Mexican Food
Diego Pops
Looking for a Mexican fiesta for your taste buds? Diego Pops is the spot! It's all about vibrant vibes and a fresh take on Mexican faves – think burritos, tacos, and one-of-a-kind dishes like the Sonoran Hot Dog or Grilled Street Corn, influenced by the lively beaches of Yucatán, Mexico.
Swing by during their daily happy hour, and the place is buzzing – with half-priced apps and $2 off beers, it's a no-brainer!
Cien Agaves Tacos & Tequila
Cien Agaves Tacos & Tequila is a popular Mexican restaurant with two locations in Scottsdale, Arizona: Old Town and North Scottsdale.
A wide variety of Mexican dishes, such as chips and salsa, fajitas, tacos, enchiladas, nachos, tostadas, and more, are available from the restaurant's comprehensive menu.
Their Brussels sprout nachos covered in a pink beet crema are to die for. Plus, their tacos? You've gotta try 'em!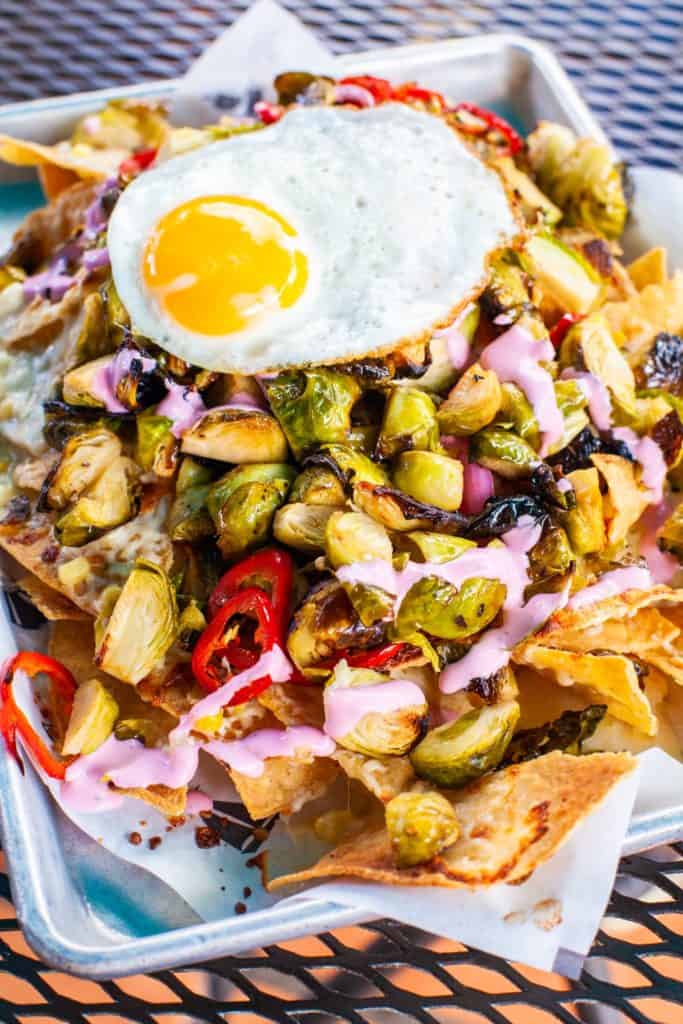 Try one of their signature margaritas, such as the Habanero & Lime Margarita, Arizona Prickly Pear Margarita, or Strawberry-Lime Rita.
Happy hour is from 3 p.m. to 6:30 p.m., seven days a week, so you can get into the party mood whenever you want!
Nice Restaurants in Scottsdale for a Quick Meal
Rehab Burger Therapy
Rehab Burger Therapy, located in Old Town Scottdale, is a favorite among locals and experiences heavy foot traffic all day long.
You can have more than just a good time at this chill hangout. They serve up tasty food, including burgers, wings, spaghetti, and more!
Did I forget to mention how great their happy hour is? The party lasts all day on Thursdays from 11 a.m. to 6 p.m. You can enjoy Belgian-style fries and burgers with their exotic dip sauce, including Wasabi Mayo, Garlic Sriracha Aioli, and Spicy Pineapple BBQ, at very economical prices.
Where to Enjoy Wine in Scottsdale
Carlson Creek Vineyard
Located centrally in Scottsdale, the elegant Carlson Creek Vineyard is an ideal spot for a special and intimate daytime rendezvous.
Carlson Creek has established a reputation for their commitment to producing high-quality wines from Arizona, and their wine tasting experience is one you won't easily forget! As you sample their wines, you'll be educated about the unique soil characteristics of the region, all while enjoying the serene atmosphere of the vineyard and the stunning desert scenery.
Their commendable customer service combined with their extensive knowledge of viticulture makes Carlson Creek the perfect option for those seeking a refined yet relaxed setting in Scottsdale for an upcoming date.
Aridus Wine Company
Aridus Tasting Room has an ever-changing wine lineup, including a dry, orangey Muscat and a savory Petite Sirah, that'll keep you coming back.
Want in on a little secret? Book through OpenTable to nab a spot on the awesome Scottsdale Wine Trail.
Salvatore Vineyards
Salvatore Vineyards is a family-run enterprise that specializes in small-batch winemaking. Various wines are available, from the robust Syrah to the light and fruity Moscato. You can find their actual vineyard in Wilcox, Arizona.
Salvatore Vineyards also has a tasting facility in Old Town Scottsdale and several others scattered around the state. Many of their Arizona wines are made in a single barrel, and the "Passion Cellars" label attests to their quality.
Where to Enjoy Drinks in Scottsdale's Sports Bars
K O'Donnell's Sports Bar & Grill
K O'Donnell's is the ultimate game-day haunt. It's got that cozy family-run feel, mouthwatering classic bar grub, and over 70 screens to catch all the action. And hey, their happy hour is the cherry on top!
Goodwood Tavern
Goodwood Tavern in Old Town Scottsdale is the place for a classier take on the sports bar scene.
The menu features creative takes on bar and restaurant standards like wings and nachos, such as Buffalo Chicken Dumplings and Blue Cheese & Bacon Guacamole, all served with friendly, attentive service.
Goodwood Tavern also offers a special happy hour from 3 p.m. to 7 p.m., Monday through Friday, for those who want to enjoy a more refined atmosphere while watching sports.
Nice Restaurants in Scottsdale When You Want Something Fancy
Maple & Ash
You know those nights when you want to dress up and treat yourself? Maple & Ash is your spot!
Chef Danny Grant, with two Michelin stars to his name, knows how to put on a show with his cuisine. This place is a hotspot all year round, so you'd better book ahead!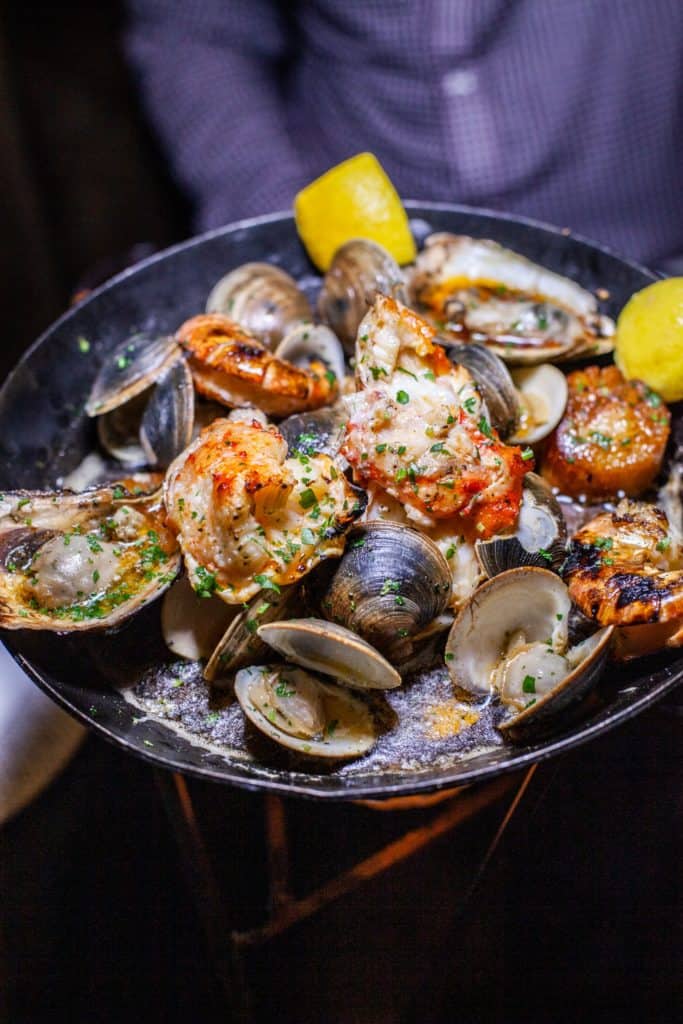 The wine list? An absolute journey. And the dry-aged tomahawk? Legendary.
But if you're up for a surprise, ask for their IDGAF menu. It's a rollercoaster of the chef's faves and off-menu gems!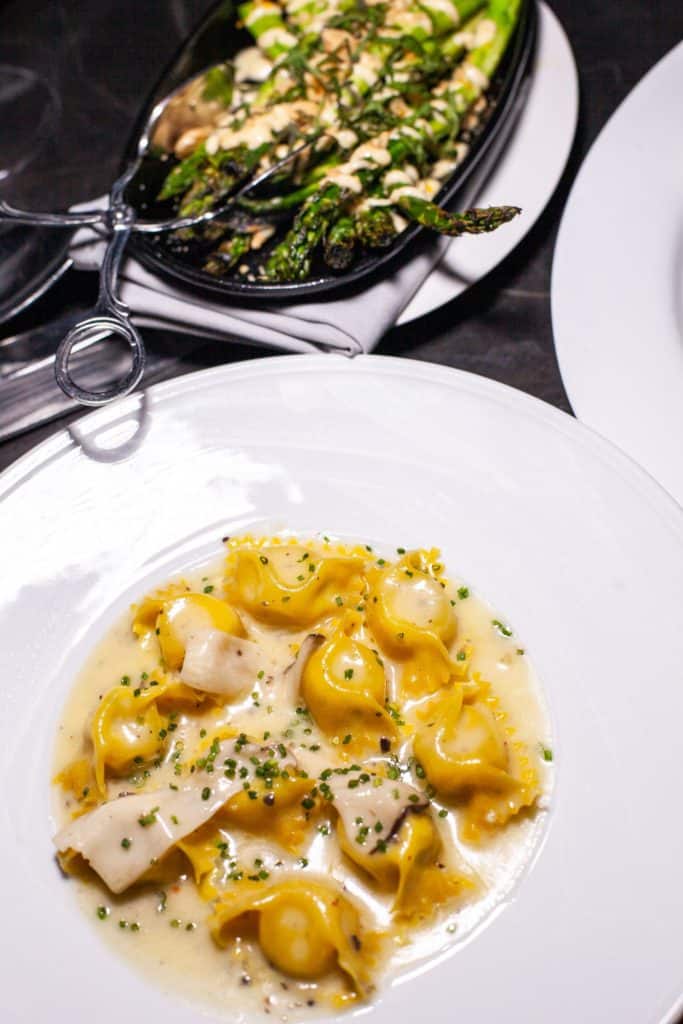 T Cook's
Indulge in a luxurious dining experience at T Cook's, one of the most iconic restaurants near Scottsdale, located inside the Royal Palms Resort and Spa. With a focus on fresh, seasonal, and local ingredients, their menu is a testament to New American cuisine with a Mediterranean twist.
Start your meal with the Hot Stone Beef Skewer or the Glazed Duck Leg. Pair it with their Focaccia & Signature Pesto for an added burst of flavor. For the main course, consider their Copperstone Reserve Ribeye, a premium cut of meat.
T Cook's cocktail menu is as diverse as it is innovative. Try the Espresso Martini, the Smoked Foam Old Fashioned, or the Orange Grove Cocktail. Each drink is carefully crafted to complement their food offerings.
Finish your meal on a sweet note with the Arcadia Orange dessert. This delightful dish features white chocolate grand Marnier mousse, flourless chocolate cake, and citrus curd.
Nice Restaurants in Scottsdale for a Unique Take on Latin Cuisine
The Mission
The Mission will charm your socks off with its old-town vibe and a French twist on Latin cuisine that'll have your tastebuds dancing.
Start with the duck carnitas empanadas – they're a revelation. And the Chorizo Porchetta? It's a flavor bomb with its house-made chorizo, rosemary, cotija, white bean puree, and sweet garlic crema.
Tasting it was as stunning as the restaurant's mood lighting. It's the kind of place that's made for a date night where every bite feels like a celebration.
Toca Madera
Experience the vibrant energy of Toca Madera, a highly acclaimed modern Mexican Steakhouse known for its bold flavors and high-quality, sustainable, and organic ingredients.
Step into a club-style ambiance with high ceilings and trees at the center of everything, creating a unique dining atmosphere. You'll be taken care of by their amazing staff, like our servers Chelsea and Brian, who are known for their exceptional service and helpful menu recommendations.
Toca Madera stands out as one of the four restaurants in Arizona that sells Kobe Beef. Try the flaming tomahawk for a dramatic and delicious dining experience.
Nice Restaurants in Scottsdale for the Best Brunch
Hash Kitchen
Hash Kitchen is a brunch paradise with a Bloody Mary bar that's basically a carnival on its own.
Even if you're not into Bloody Marys, they've got morning cocktails that'll make you smile just reading the menu – boozy Reese's frappe, anyone?
And the food – it's like having dessert for breakfast, but even better because… well, it's brunch.
OEB Breakfast Co.
OEB Breakfast Co. rolls out the red carpet for breakfast with Chef Mauro Martina at the helm.
This place puts a creative spin on everything from pancakes to poutine – and it's all about bold flavors and big choices. Located in the heart of North Scottsdale, it's the kind of place you go when you want breakfast to be the highlight of your day.
You can go for something conventional like pancakes and waffles, or get a little adventurous and order a morning poutine, chia seed pudding, and breakfast scramble.