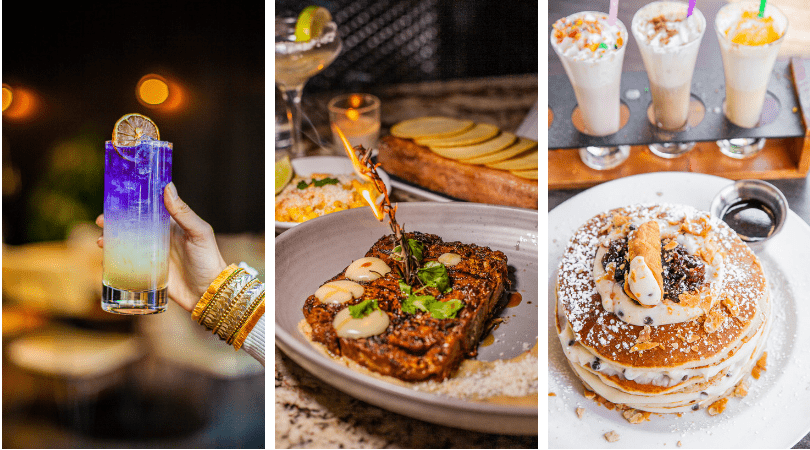 On top of all the great things there are to do in Scottsdale, there is an incredible culinary scene where there are so many places to eat. With its perfect weather year-round and mixture of tropical and desert vibes, Scottsdale entices people from all over, including celebrity chefs looking for a getaway. Even with four days in Scottsdale, we hardly scratched the surface of all of the incredible restaurants. However, we did find some of the best spots to eat in Scottsdale.
Where to Eat in Scottsdale for a Romantic Italian Meal
Ever felt like teleporting to Italy for dinner? Well, Marcellino's is as close as it gets in Scottsdale. Chef Marcellino and his wife Sima are the real deal, bringing a slice of Italy right to our doorstep. You can just feel the love they pour into every dish – and sometimes, you might even catch Sima serenading diners with her band. Oh, and you've absolutely got to cap off the night with their homemade Limoncello. Trust me.
You will often catch them working hard, showing how much they care about making this place great. 
You can even hear Sima perform with her band on weekends. Don't forget to end the night off with a house-made Limoncello.
Another exciting choice is the Fat Ox, which offers classic Italian cuisine with a modern twist. Chef Matt Carter owns various establishments in Old Town Scottsdale and is passionate about infusing Arizona flavors into Italian cuisine.
Furthermore, Fat Ox has been known as one of the best Italian restaurants in Scottsdale because of its innovative dishes and atmosphere. They offer an exceptional culinary experience that changes with the seasons and features slow-cooked meats, wild seafood, and delicious pasta made from scratch. In addition, their comprehensive bar serves hand-pressed cocktails and a unique selection of rare wines. Fat Ox's dedication to excellence is evident in both the preparation and presentation of each dish, making it one of the top restaurants in Scottdale, AZ. 
Where to Eat in Scottsdale for a Delicious Mexican Meal
Looking for a Mexican fiesta for your taste buds? Diego Pops is the spot. It's all about vibrant vibes and a fresh take on Mexican faves – think burritos, tacos, and their must-try Sonoran Hot Dog. Swing by during happy hour, and the place is buzzing – with half-priced apps and $2 off beers, it's a no-brainer! 
Dine on one-of-a-kind dishes like Sonoran Hot Dog or Grilled Street Corn, influenced by the lively beaches of Yucatán, Mexico. Enjoy half-priced appetizers and $2 off all beers during daily happy hour from 3 to 6 p.m. 
Cien Agaves Tacos & Tequila is a popular Mexican restaurant with two locations in Scottsdale, Arizona: Old Town and North Scottsdale. A wide variety of Mexican dishes, such as chips and salsa, fajitas, tacos, enchiladas, nachos, tostadas, and more, are available from the restaurant's comprehensive menu. Try one of their signature margaritas to accompany your dinner, such as the Habanero + Lime Margarita, Arizona Prickly Pear Margarita, or Strawberry-Lime Rita. Happy hour is from 3 p.m. to 6:30 p.m., seven days a week, so you can get into the party mood whenever you want.
Where to Eat in Scottsdale for a Quick Meal
Short on time but still want something scrumptious? Hit up Diego Pops. It's quick, it's delish, and their Brussels sprout nachos are to die for. Plus, their tacos? You've gotta try 'em. Perfect for when you're rushing from one adventure to the next.
Again – their Brussels sprout nachos covered in a pink beet crema are a must, and you can't go wrong with their tacos.
Rehab Burger Therapy, located in Old Town Scottdale, is a favorite among its locals and experiences heavy foot traffic all day long. You can have more than just a good time at this chill hangout because they serve up tasty food, including burgers, wings, spaghetti, and more.
Did I forget to mention how great their happy hour is? The party lasts all day on Thursdays from 11 a.m. to 6 p.m. You can enjoy Belgian-style fries and burgers with their exotic dip sauce, including Wasabi Mayo, Garlic Sriracha Aioli, and Spicy Pineapple BBQ, at very economical prices.
Where to Enjoy Wine Tasting in Scottsdale
Calling all wine lovers! There are two great wineries in Arizona that you should visit – Aridus Tasting Room and Salvatore Vineyards.
You can't miss Aridus Tasting Room. It's got this ever-changing wine lineup, including a dry, orangey Muscat and a savory Petite Sirah, that'll keep you coming back. Want in on a little secret? Book through OpenTable to nab a spot on the awesome Scottsdale Wine Trail.
Salvatore Vineyards is a family-run enterprise that specializes in small-batch winemaking. Various wines are available, from the robust Syrah to the light and fruity Moscato. You can find their vineyard in Wilcox, Arizona.
Salvatore Vineyards also has a tasting facility in Old Town Scottsdale and several others scattered around the state. Many of their Arizona wines are made in a single barrel, and the "Passion Cellars" label attests to their quality.
Where to Enjoy Drinks in Scottsdale's Sports Bars?
K O'Donnell's is the ultimate game-day haunt. It's got that cozy family-run feel, mouthwatering classic bar grub, and over 70 screens to catch all the action. And hey, their happy hour is the cherry on top!
Goodwood Tavern in Old Town Scottsdale is the place for a classier take on the sports bar scene. The menu features creative takes on bar and restaurant standards like wings and nachos, such as Buffalo Chicken Dumplings and Blue Cheese & Bacon Guacamole, all served with friendly, attentive service. Goodwood Tavern in Old Town Scottsdale offers a special happy hour from 3 to 7 p.m., Monday through Friday, for those who want to enjoy a more refined atmosphere while watching sports.
Where to Eat in Scottsdale When You Want Something Fancy
You know those nights when you want to dress up and treat yourself? Maple and Ash is your spot. 
Chef Danny Grant, with two Michelin stars to his name, knows how to put on a show with his cuisine. This place is a hotspot all year round, so you'd better book ahead. 
The wine list? An absolute journey. 
And the dry-aged tomahawk? Legendary. 
But if you're up for a surprise, ask for their IDGAF menu. It's a rollercoaster of the chef's faves and off-menu gems!
Where to Eat in Scottsdale For a Unique Take on Latin Cuisine
The Mission will charm your socks off with its old-town vibe and a French twist on Latin cuisine that'll have your tastebuds dancing. Start with the duck carnitas empanadas – they're a revelation. And the Chorizo Porchetta? It's a flavor bomb with its house-made chorizo, rosemary, cotija, white bean puree, and sweet garlic crema. Tasting it was as stunning as the restaurant's mood lighting. It's the kind of place that's made for a date night where every bite feels like a celebration.
Brunch with a Side of Party
Imagine this: A DJ's spinning tunes, you're clinking champagne glasses, and maybe even sneaking in a dance between courses.
Sugarjam Southern Kitchen is where brunch turns into a party. The shrimp and grits, chicken and waffles – they're the real deal. And yes, you should totally plan ahead, this spot's a hit for a reason. Oh, and you can't skip the pie. It's homemade and straight-up heavenly.
Where to Eat in Scottsdale for the Best Brunch
Hash Kitchen is a brunch paradise with a Bloody Mary bar that's basically a carnival on its own.
Even if you're not into Bloody Marys, they've got morning cocktails that'll make you smile just reading the menu – boozy Reese's frappe, anyone?
And the food – it's like having dessert for breakfast, but even better because… well, it's brunch.
Bringing Breakfast A-Game
OEB Breakfast Co. rolls out the red carpet for breakfast with Chef Mauro Martina at the helm.
This place puts a creative spin on everything from pancakes to poutine – and it's all about bold flavors and big choices. Located in the heart of North Scottsdale, it's the kind of place you go when you want breakfast to be the highlight of your day.
You can go for something conventional like pancakes, waffles, or get a little adventurous and order a morning poutine, chia seed pudding, and breakfast scrambles.
Where to Eat in Scottsdale for a Scenic Breakfast
Schmooze Cafe is this little oasis with gardens all around – the perfect spot to unwind with friends, a coffee, and a croissant sandwich or breakfast burrito in hand. It's laid-back, it's tasty, and it's where you want to be when you're in no rush and the Arizona sun is shining brightly.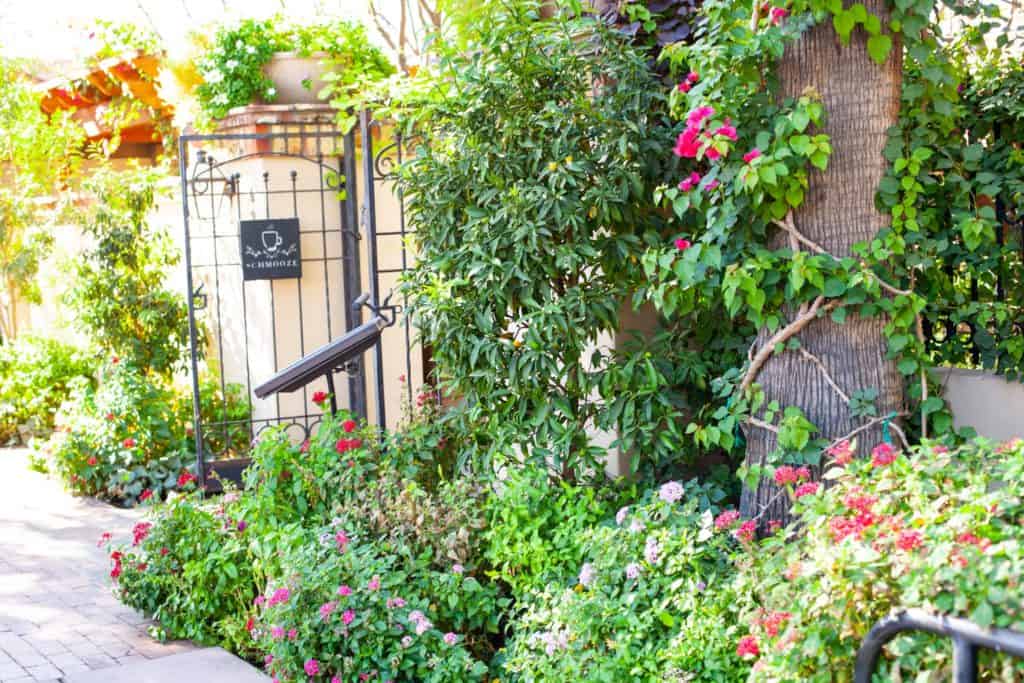 Where to Grab the Best Cocktails in Scottsdale
At Zinque, it's not just about sipping on a drink; it's about experiencing one.
Ever tried a purple color-changing cocktail? Unicorn Tears is where it's at.
And The Oiseau de la Jungle? It's a cocktail that blooms right before your eyes as the hibiscus ice cube melts before slowly into your drink.
This place is all about that curated, French-inspired vibe that'll have you feeling like a connoisseur.
The Montauk is where Scottsdale's stylish crowd comes to play. Whether it's a chilled birthday bash or a night out with your crew, their specialty drinks – like La Paloma – are a must-try made with Altos Plata Tequila, lemon, chamomile, lavender, and grapefruit soda.
If you're in the mood for something refreshing, try their Spa Water, made with Effen Cucumber Vodka, fresh ginger, lime juice, and soda.
And if you're with friends, dive into a Punch Bowl and pass it around – it's about sharing the good times.
Where to Get a Good Cup of Coffee in Scottsdale
Over at Berdena's, it's like stepping into a picture book – with fresh coffee, air-conditioned rooms decked out in pastels, and avocado toast that'll have you snapping pics before you take a bite. Phoenix New Times was not kidding when it mentioned the smashed avocado toast to be a hit.
If you are feeling a little experimental – try their cardamom rose latte – its tastes even better than it looks!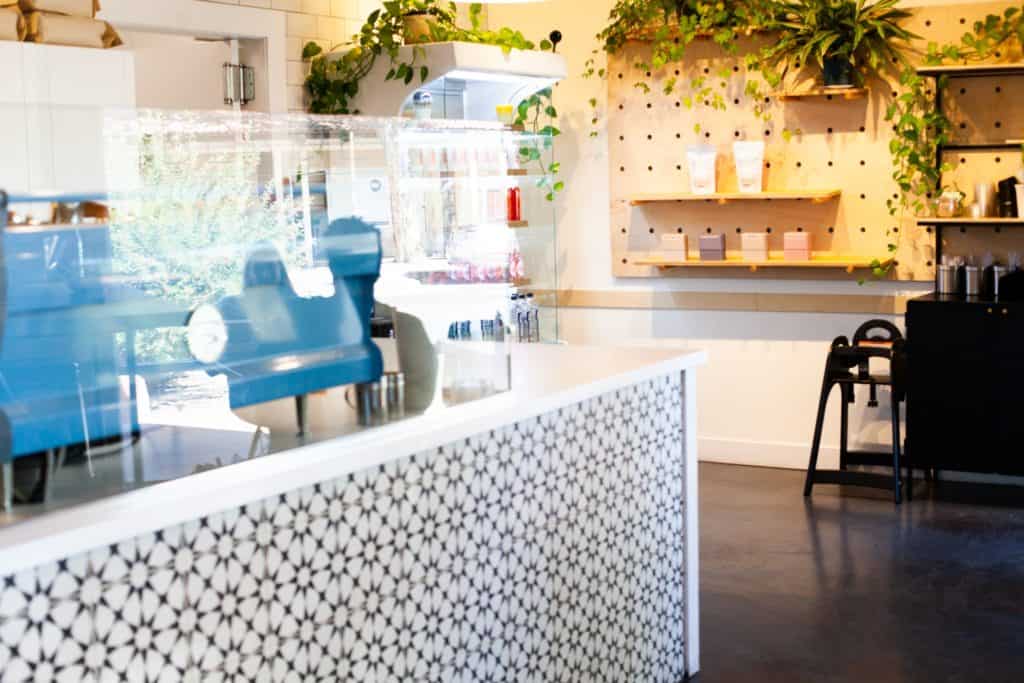 And Ruze Cake Shop? It's a sweet lover's dream, with treats that are as local as it gets, right down to the milk.
Everything at Ruze is 100% handmade and locally sourced ingredients and the milk from a local dairy farm. You can drop in for some macaroons, cookie butter, boba tea with cotton candy on top, and delicious lattes.
Echo is proud that every batch of coffee is roasted with love and passion. You can find a picture of a popular pet on the packaging of any whole-bean coffee. It's not just the friendly staff and pleasant decor that will make you feel at home; the delicious coffee and scrumptious pastries will do the trick. This is perfect for intimate meetings as well as an informal work space too.
Where to Eat in Scottsdale When You Want That Perfect Instagram Picture
Sugar Bowl is a time warp to a retro diner splashed in pink, serving up milkshakes and sundaes that are as pretty as they are delicious. Get your phone out – you're gonna want to remember this.