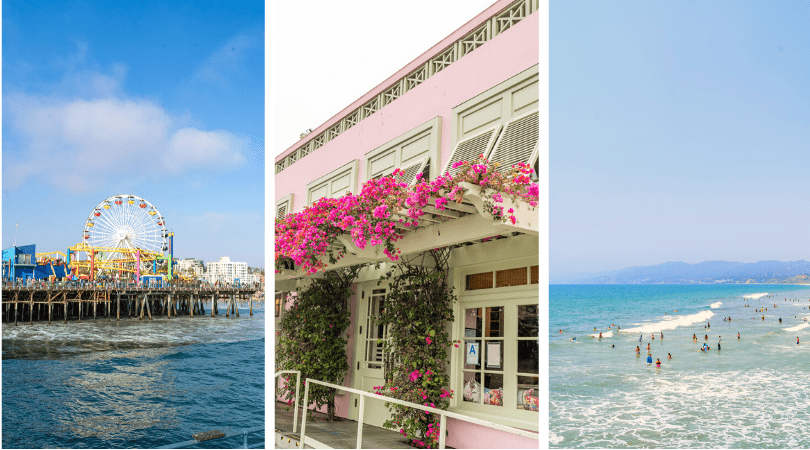 Santa Monica is a beautiful beach city where you can enjoy the backdrop of the beach and famous Santa Monica pier during your stay. We loved our trip to Santa Monica for so many reasons. Once we got there, we didn't need a car and got to spend most of our time traveling by bike. Everything seemed centered around the beach from riding a Ferris wheel overlooking the water, patio drinks with beach views, muscle beach with people working out and doing acrobats in the sand, and so much more. Not to mention the food scene in Santa Monica was fresh with so many healthy options. Keep reading to see all the things to do in Santa Monica in a weekend that we found.
Things to Do in Santa Monica This Weekend
Santa Monica Pier
I mean no trip to Santa Monica is complete without a trip to Santa Monica pier. There is so much to see from street performers, artists creating portraits and other items to take home, food vendors, and of course the rides. Don't forget to take a round on the Ferris wheel for views of the ocean and everything around. Santa Monica pier is also the home to the end of Route 66 and you'll find a sign to commemorate it!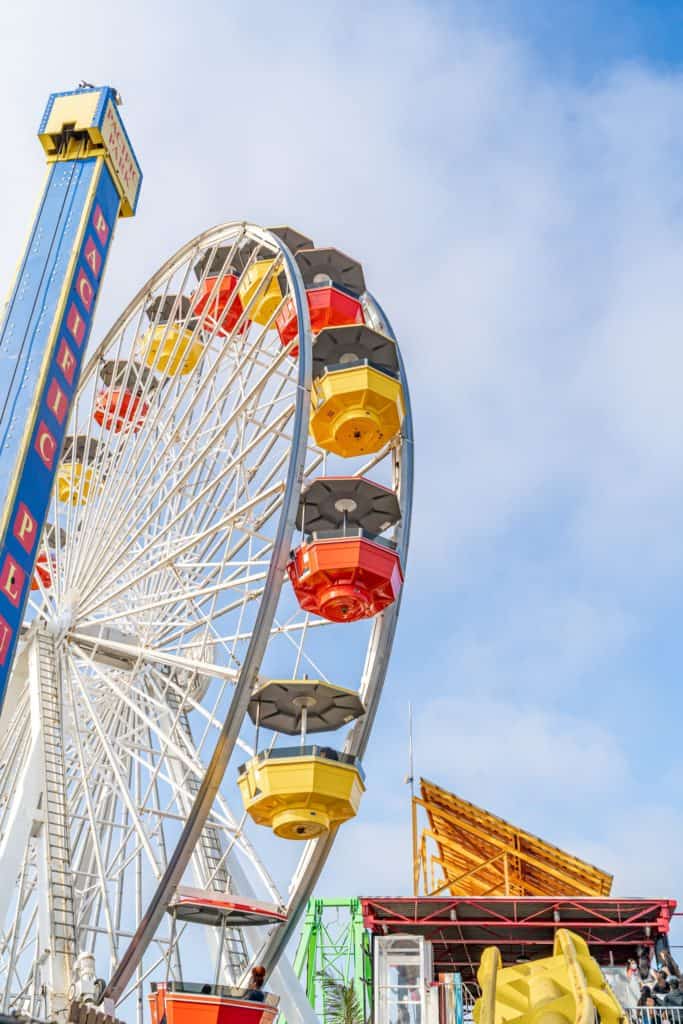 Santa Monica Farmers Market
We had way too much fun exploring the Santa Monica farmers market! There were fruits and vegetables we had never heard of, booths stocked with flowers, and chefs gathering their local produce to use in their restaurants later that evening. Am I crazy for wanting to move to Santa Monica just for the Farmers Markets?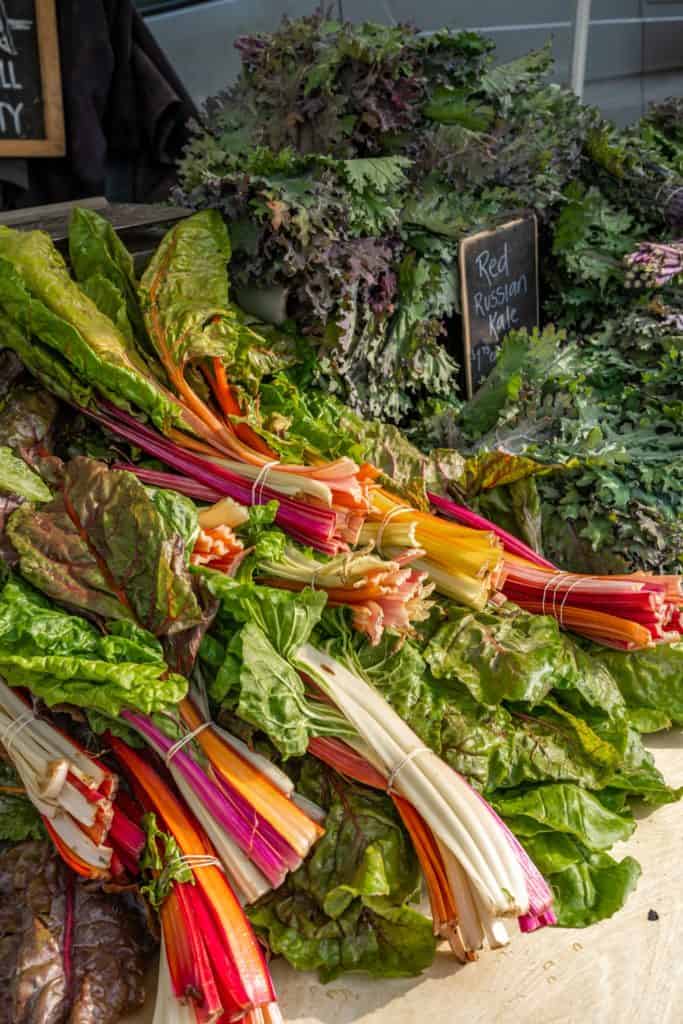 Rent Bikes on the Beach
I loved how bikeable Santa Monica was. If you're flying into Santa Monica there is no need to rent a car. We often would rent out the rideshare bikes to get from our hotel to attractions or would simply walk and it ended up being the best option! However, we did also spend a day renting out bikes for a few hours to be able to go all the way down to Venice Beach and back to Santa Monica pier. The Bike Center has hourly rentals and there is a bike trail along the beach!
Grab Drinks with a View
If I'm at the beach, I want to spend as much time as possible staring at the water. So we went in search of the best bars to grab a drink while still being able to see the beautiful water.
Shutters on the beach has an upstairs patio right on the beach that's about as close to the water you can get while enjoying a drink and light bites. Even if you're not staying here you can enjoy a drink with a view!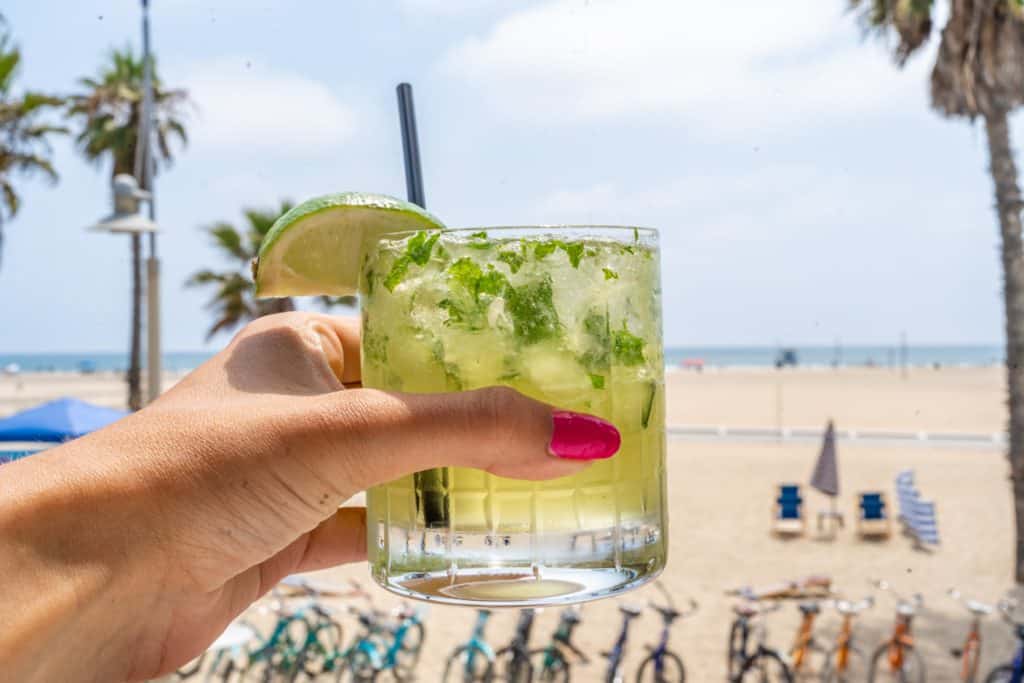 For a view higer up, the Onyx rooftop lounge at the Shangri-la hotel provides beautiful art deco vibes and seating several floors up so you can be at the height of the palm trees while looking out onto the ocean.
Learn to Surf
The waves on Santa Monica Beach are the perfect condition for learning to surf! Aqua Surf does private and group lessons so that you can learn to catch a wave. We were nervous about it at first, but the guides are so skilled at helping you feel condifent at getting up on the board. Our instructor explained it to us this way: "We spend our summers teaching hundreds of kids to surf and if they fall into the water it could ruin their experience and make them not want to surf again, so we want to make sure we're really setting them up and helping them feel good on the board. Same for adults."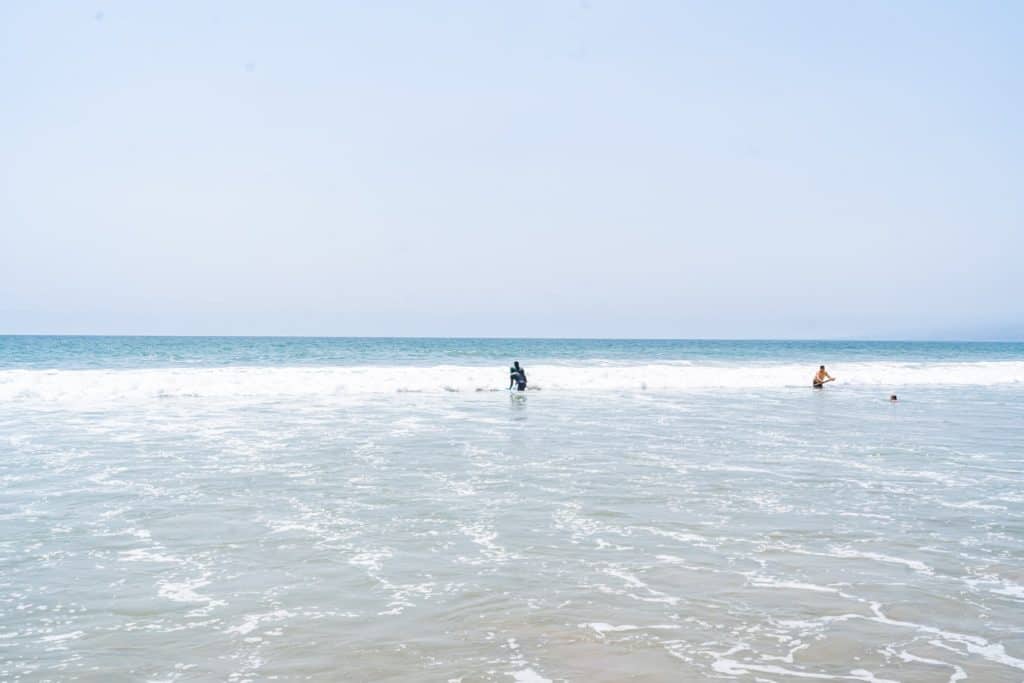 Visit Muscle Beach
Whether you want to get a free workout in or just experieence the energy of Santa Monica, Muscle Beach is an exciting destination. Right next to Santa Monica pier you'll find an outdoor gym, a spot where acrobats can set up their silks, and a community area where you'll see people learning acroyoga, dancing, and even doing some capoeira.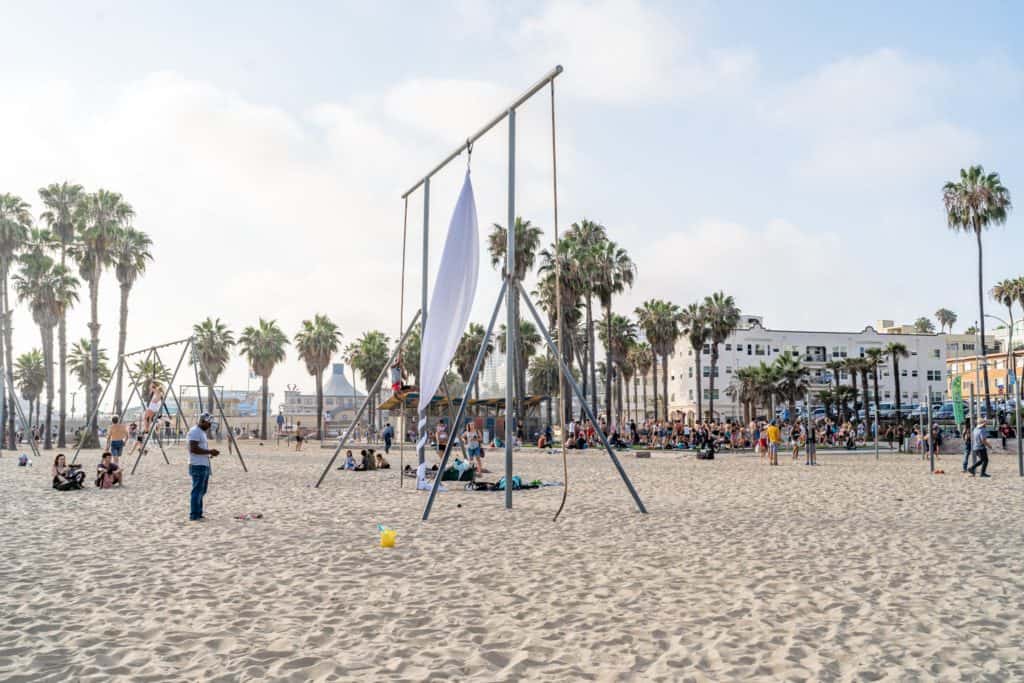 Stay at a Unique Hotel
Santa Monica has some pretty amazing hotels! They're filled with so much personality, come with great pools, and are close to the beach and all the great attractions. We ended up staying at these two hotels!
Hotel Shangri-La
This art deco hotel brings the 20s to the modern era! The hotel was so unique, and I loved how spacious our suite was with a huge tub as well as the pool with fun pink touches. Read all about the Hotel Sangri-La.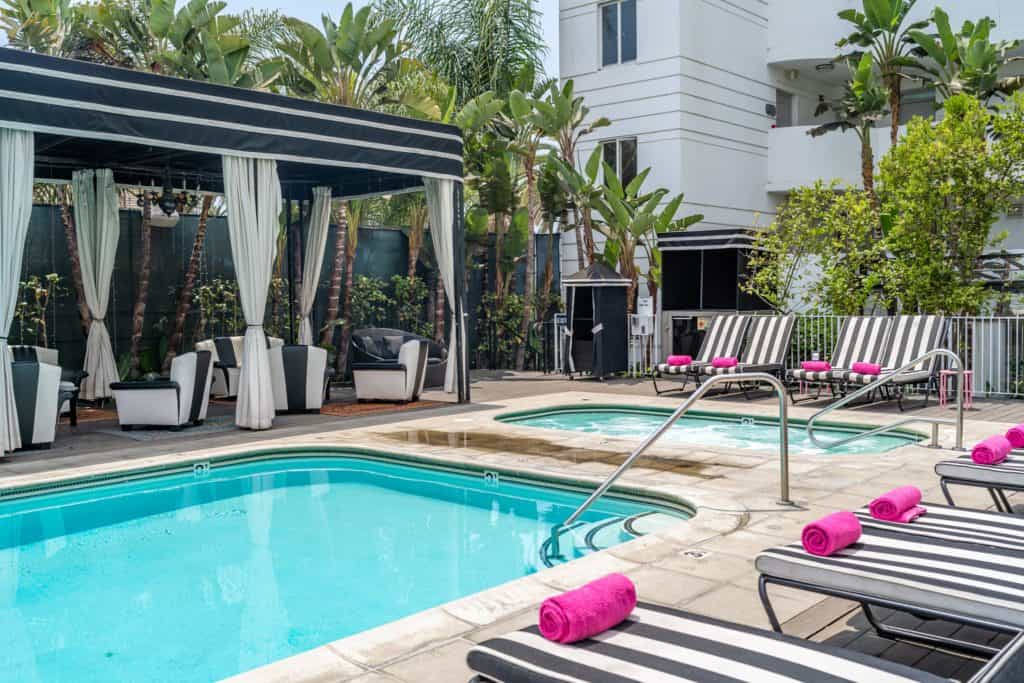 Palihouse
For a little oasis from the energy of Santa Monica, the Palihouse was like being in Spain with their historic hotel with so many little touches. Filled with greens and color, Palihouse is a destination of it's own that you can read more about.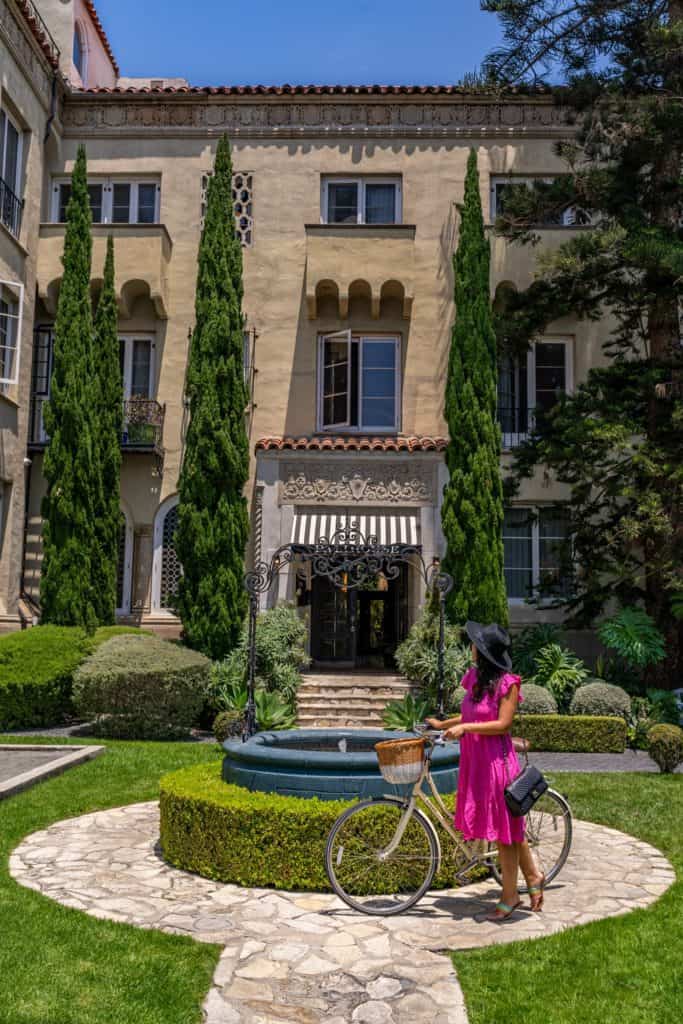 Eat at Some Great Santa Monica Spots
Santa Monica food was so much fun! The food was fresh, fun, and full of history. Whether we were eating at an Itlaian market, enjoying a salad worth dreaming about, or digging into a glitery rainbow pizza, Santa Monica has some great offerings. We're sharing the best spots to eat in Santa Monica.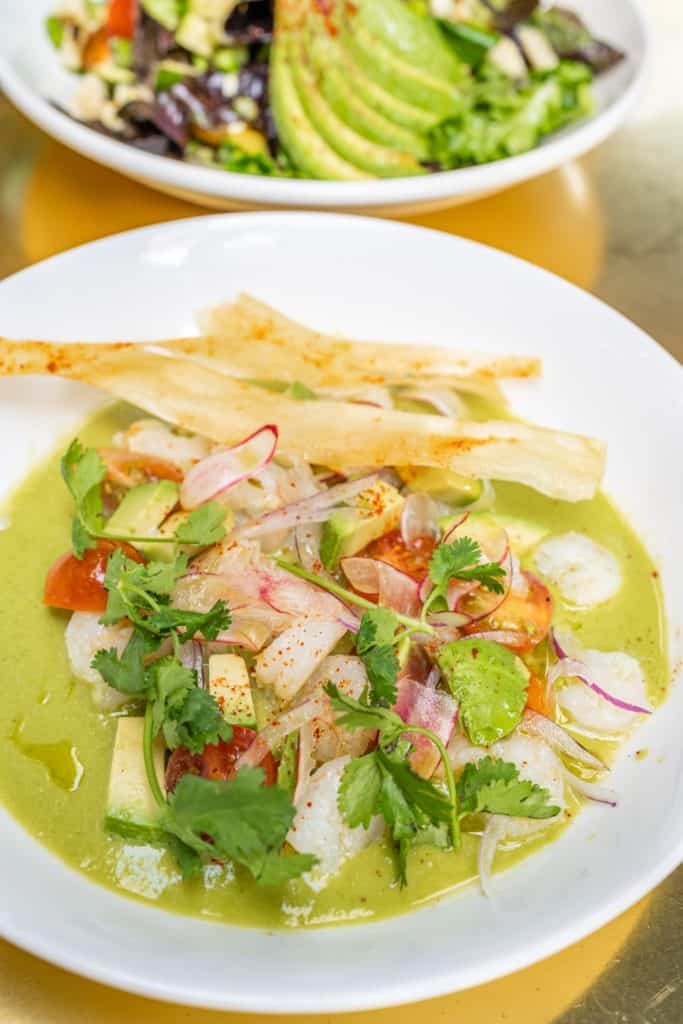 Visit a Brewey
Discover local Santa Monica brews at Santa Monica Brew Works. With indoor & outdoor seating as well as differents brews of all types, Santa Monica Brew Works has something for everyone, even the people who say they don't typically like beer.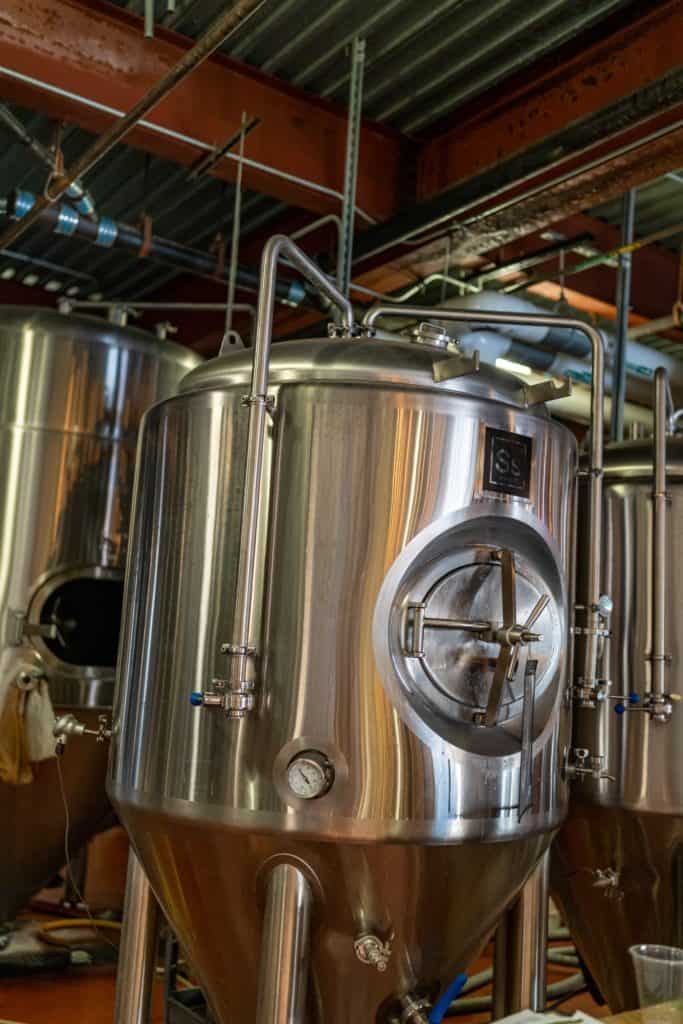 Discover the Local Murals
Pico Boulevard is filled with murals along the road to go around and explore local artists. Santa Monica has a map with a location and description of the murals for you to reference.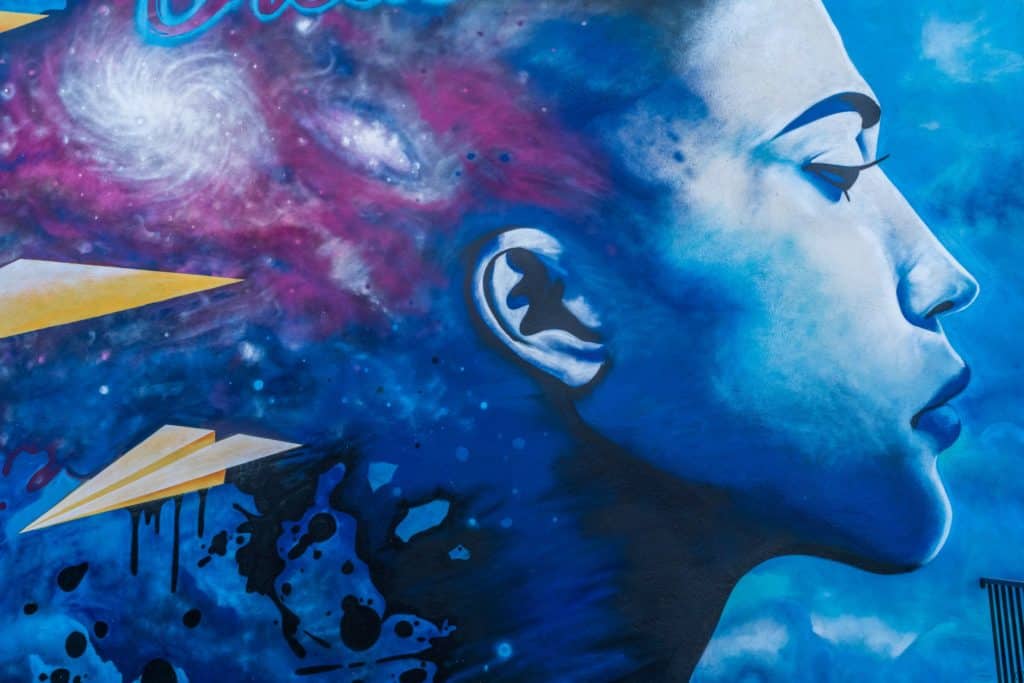 See Downtown Santa Monica
Downtown Santa Monica is filled with vibrant shops, eateries, local art, and different activities. At night you have the colorful lights, and you'll find fun experiences like a 3D art museum. When we were there, they even had a salsa night.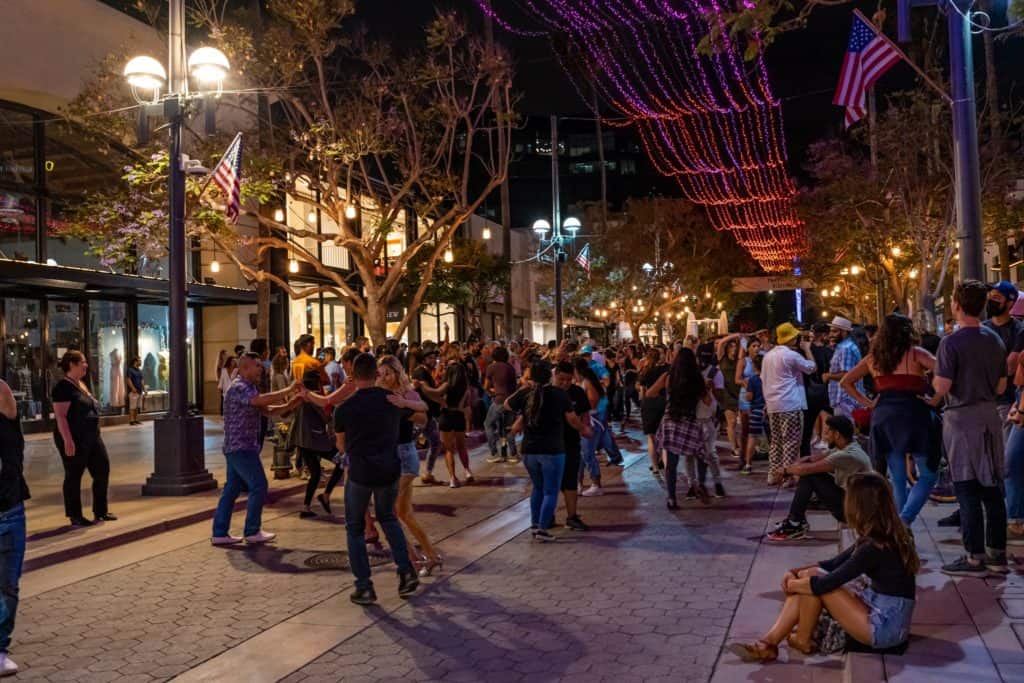 Wander Down Montana Avenue
If you're looking to capture more of the Santa Monica vibe, visit the different shopping districts around Santa Monica, grab a coffee, and wander through the different boutiques. Along Montana Avenue you can find delicious cuisines and plenty of shopping opportunities.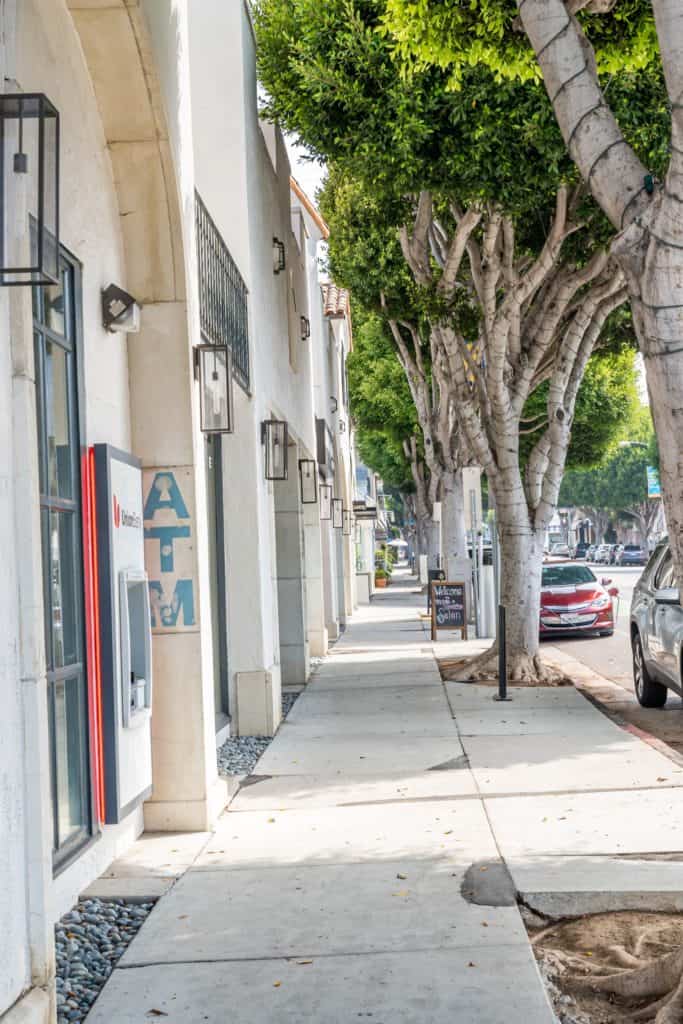 Have a Hard Kombucha Tasting
You can find JuneShine all over, but if you've ever been unsure about hard kombucha or curious about the flavor, you can find the Kombucha tasting room right in Santa Monica.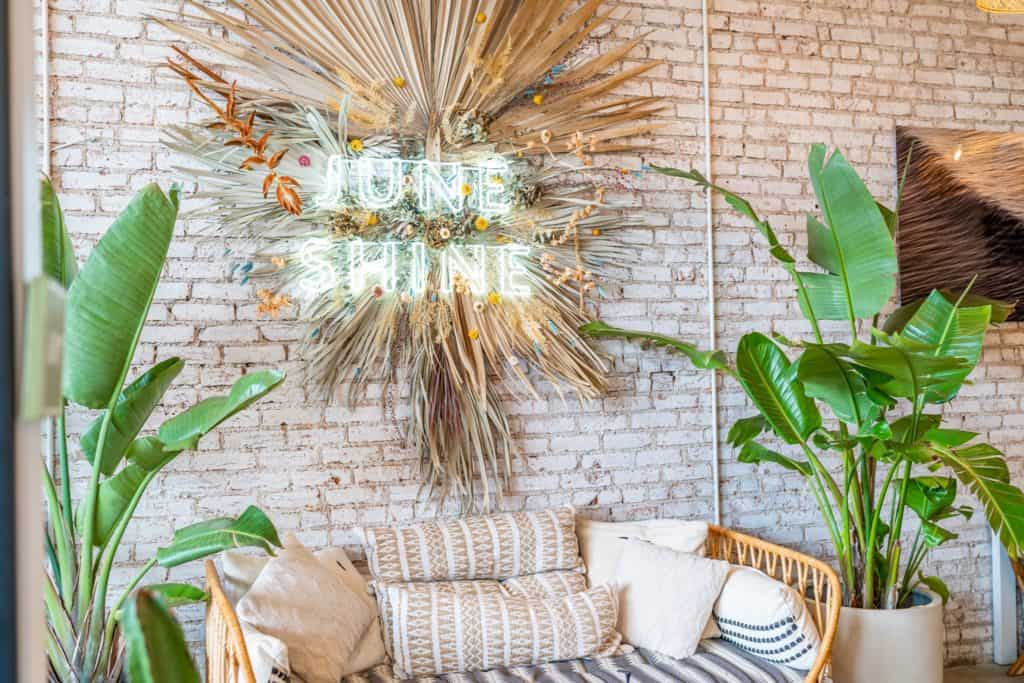 Other Things to Do in Santa Monica This Weekend
Things to Do in Santa Monica: Final Thoughts
We loved visiting Santa Monica. Coming from Texas we had a break from the intense summer heat and there was just nothing like being surrounded with incredible views at all times. From getting to go out enjoy the water by surfing, having fun at the iconic Santa Monica pier, and having the beautiful beach side to enjoy for drinks and meals, I couldn't get enough of Santa Monica.