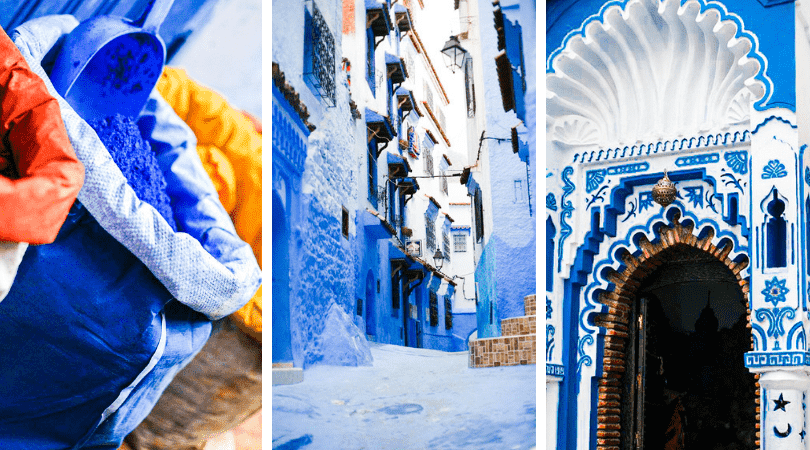 This post has been sponsored by Morocco. As always, all opinions are my own.
Chefchaouen, the city of blue, in Morocco is a captivating place like no other, so I'm sharing the best things to do in Chefchaouen, Morocco. Just a little outside of the major Moroccan cities, Chechen is affordable to get to while also being a several hour bus ride. The beauty of this is that you'll get less tourists and if you stay overnight you'll even have the pleasure of peaceful morning as most people only make day trips here (hint: there are so many great things to do in Chefchaouen, Morocco, that you will want to stay multiple days.)
Catch a View of Chefchaouen
When you're in the middle of the Medina, you're in a beautiful blend of blues all around. Yet, just take a small hike away and the view drastically changes as you see the mixture of white and blue buildings mixed with greenery and all the varying levels of buildings. Depending on the weather, you can even see the cascading fog from the mountains. There are a couple of places you can visit to get the best views of Chefchaouen.
A hike up to the Spanish Mosque will take you to the best views of Chefchaouen for miles around. Now abandoned, the Spanish Mosque still makes for an incredible view.
Additionally, if you don't want to go for the small hike, many hotels have terraces that you can enjoy a view from.
Shop for Rugs
Shopping for rugs in Chefchaouen isn't like shopping for furniture at home, it's a whole experience that involves a runway of rugs being paraded in front of you based upon your interests, warm mint tea to sip on, and conversation with the owners that will have you feeling like friends by the time you're finished. It's amazing to see all different rugs piled high. There are plenty of rug shops throughout,but Local Berbere Artisanal is one of those no-pressure places with a huge selection that you can feel good about.
Take a Guided Tour
Yes Chefchaouen is beautiful, but it also has some incredible history around the city that has a uniquely Spanish style. Plus, you can get your main question answered. Why is the city blue? Actually depending on what guide you go with, you will likely hear something different. When I went, I was told that it was painted blue because the Jewish people who lived there wanted it to be the color of the sky as a reminder of God. Chefchaouen easily becomes a maze of blue that you can get lost in and there are key areas that you'll want to visit and a guide can help share that!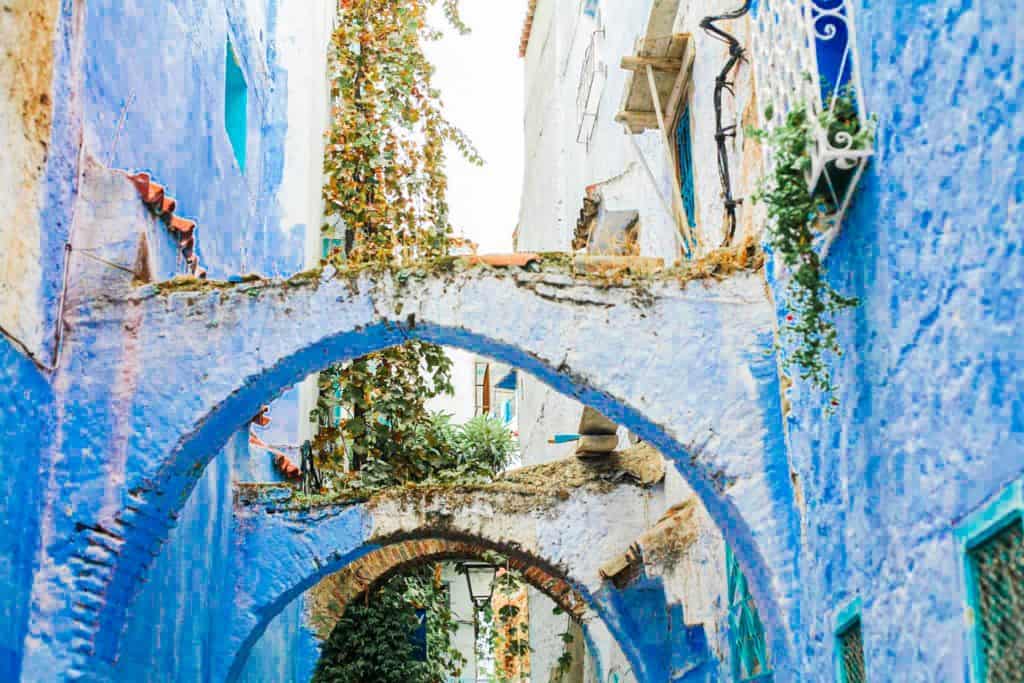 Go For a Hike
Considering Chefchaouen is situated in the Rif Mountains, hiking is a must if you have more than a few hours. And while some people say you can do Chefchaouen in just a few hours, you're really missing out on all of the small gems that make this city extra special! Here are some of the best hikes to take in Chefchaouen:
Jeb Al-Kalaa
This is the hike into the Rif Mountains that you should plan almost a whole day for, but if you thought the view of Chefchaouen from the Spanish Mosque was incredible, wait until you see the miles of greenery after an incredible ascent to Jeb Al-Kalaa.
Talassemtane National Park
Probably the most popular area for hikes, the Talassemtane National has two natural wonders to hike to, including the Bridge of God with crystal blue water at the bottom for swimming and the Akchour Waterfalls or Cascades d'Akchour. It requires a taxi ride to get there, but it is absolutely worth it.
Oued ElKannar
Not much is written about Oued ElKannar, but the pictures when you search it prove that this place is worth the hike.
Take All the Photos
It's no secret that Chefchaouen has grown in popularity due to just how Instagrammable it is! Every corner is filled in photo-worthy shades of blue that are like nowhere else. Of course make sure to be respectful of all of the people who live there. It's just about impossible to take a good picture here. And let's be honest, this about 80 percent of the reason you came here anyways, all of the other fun things to do in Chefchaouen are just extras!
Visit the Spa/Hammams
There are several different options for people who want to spend a day of relaxation and ritual cleansing in Chefchaouen. And it is something you will absolutely want to do while in Chefchaouen. They also vary in different forms of authenticity or luxury.
For the most luxurious experience, Lina Ryad & Spa complete with a beautiful heated pool in the center includes a traditional hammam experience as well as massages and other spa treatments.
For a more traditional experience, head to Hammam el-Blad near the main square (people can happily point you in the right direction). You can pay just to enter or for the entire scrubbing and massage experience, and it all easily comes out to under $15 and will have you feeling brand new!
Still, there are even more hammams in the city. Asking the place you are staying might provide a great and more affordable experience, although it might be harder to read reviews and know what you're getting yourself into.

Check out the Kasbah
For a beautiful Andalusian-style, palace-like building, wander through the Kasbah with it's beautiful arches and garden. There's a little tower that you can climb up to as well that gives a view of the medina.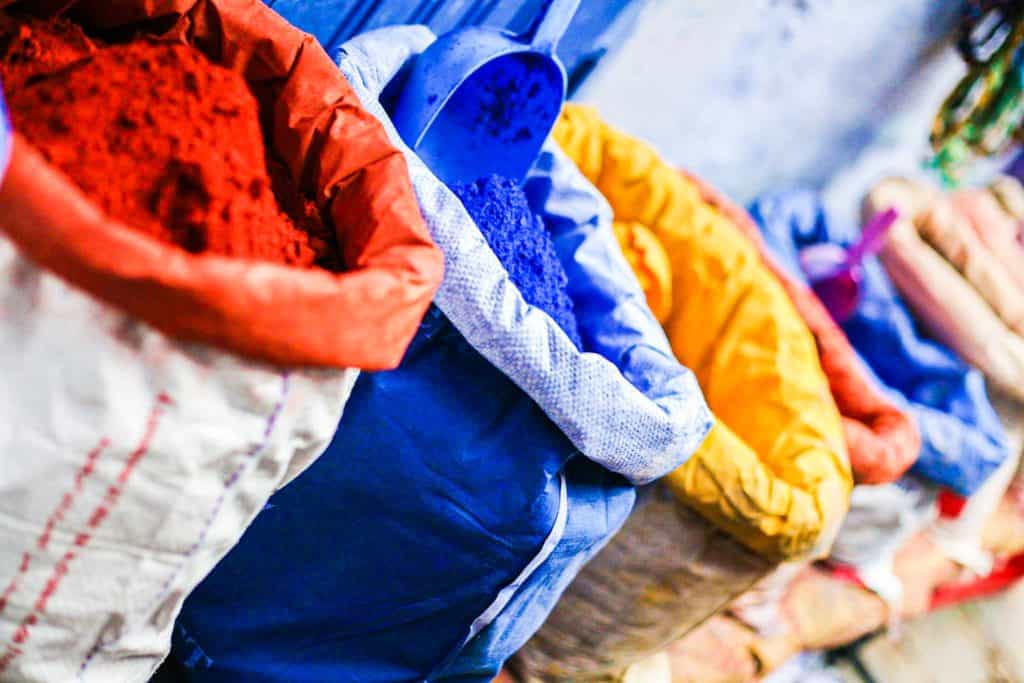 Enjoy all of the Incredible Cuisines
After returning from Morocco, I couldn't get the flavors out of my head. Tagine everyday didn't seem like a bad idea, and with complex ingredients, Moroccan cuisine is something you don't want to miss out on. Right along Place Outa Hammam square, there are multiple restaurants to try. These often have some of the best terrace spots to enjoy a meal, and they are the most frequently visited. However, they tend to be more touristy and you can find better food at some of the options I list below. However, the energy of the area and the view makes it a great place to grab something small and enjoy. Casa Aladdin is a popular spot that looks like it could actually be from the movie.
Babb Sour
Just a little beyond the main square is easily the most popular spot in Morocco with some of the best tagine, tender pieces of meat, incredible service, and afforable prices.
El Jaleo
This spot with it's own terrace and views of the waterfall serves up fresh tagines, lasagnes, lamb, vegetable spreads, and more. The only hard part about eating here is deciding what to order.
Mandala
Sometimes we just want some comfort food like pizza and pasta. They even have seafood options like seafood pasta and pizza.
See the Ras El Maa Waterfall
This scenic area is a common area where people come to do laundry and even go swimming. It's a refreshing spot and a break from the heat where it's popular to grab a fresh juice and enjoy the sounds of the trickling water.
Stay in a Riad
Staying in one of the beautiful blue buildings is part of the experience! Based on your budget there are so many different options.
Lina Ryad & Spa – For a more luxurious, but still great steal for the price, Lina Ryad & Spa is a beautiful place! Enjoy the balcony views, beautiful Moroccan architecture and decor, and an on-site spa.
Riad Cherifa Hotel – For a mid-budget hotel that still feels like your staying in a palace try this place. There's a lovely pool to enjoy, as well as intricate wood carvings, colorful ceiling tiles, and something beautiful to look at around every corner.
Hotel Abi Khancha – The great thing about Chefchaouen is that you can stay here without breaking the bank. The
Chefchaouen Final Thoughts
I couldn't get enough of this charming village of Chefchaouen, and I am already planning a trip back! The colors are mesmerizing and while it remains popular for tourists because of its Instagram-worthy moments, there are often areas that will feel like it's all to yourself. I could spend a whole week wandering, hiking, and just taking this town in.