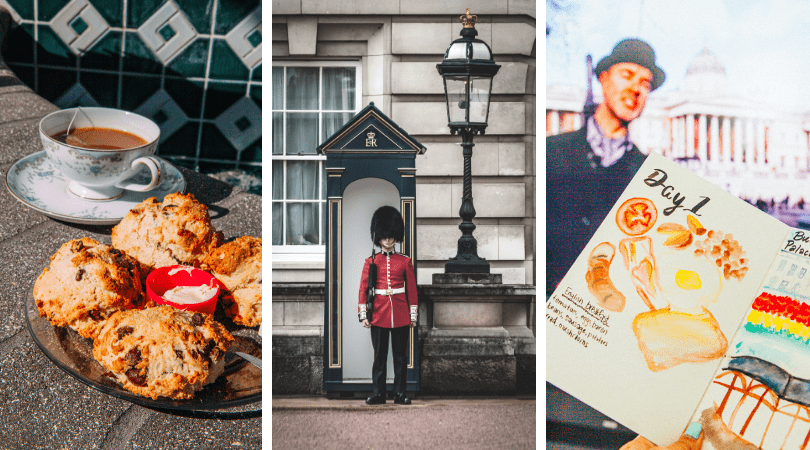 Wish you could hop on a plane to London right now, but missing the plane ticket or stuck at home? With so many cool activities, online attractions, and a little creative you can turn your own home into the city of London.
The thing I love so much about this travel to London from home guide is there are so many options. You can follow the whole day itinerary or you can choose bits and pieces for an international date night! It's fun for all ages from kids to adults! You can add on/replace things/or make it your own! A lot of these are videos paired with an activity that way you can see the London attraction while keeping your hands busy and make it more interesting than just watching videos. You can also see my video at the end to see how we put this all together.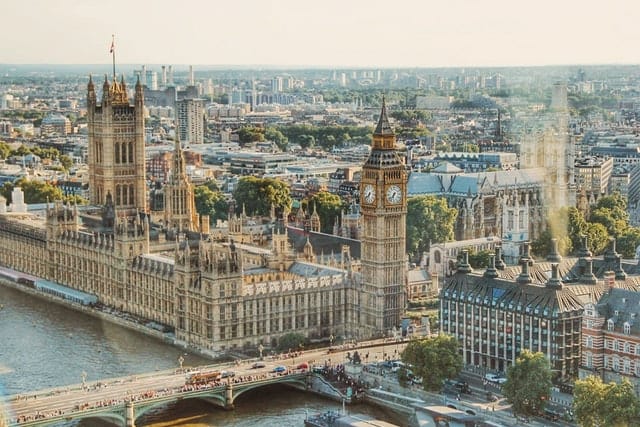 I also tried my best to include things that you most likely had handy or would be affordable. However, you're saving thousands on the plane ticket so feel free to go all out with outfits, fun props, etc. Maybe even check out the thrift store and see what you can recreate. Get decorations and jazz up your place to fit the theme.
I love to dress up in Spring dresses when travelling so I spent all day walking around the house in this beautiful Lulu's dress.
Your London Home Itinerary
Morning in London
Start your London from home with breakfast whether it's breakfast in bed or a traditional sit down. To make your English breakfast fry up some eggs, grill some tomatoes, add in some back bacon, buttered toast, sausage (bangers), mushrooms, beans, and maybe even black pudding. Here is a good resource for an English breakfast and how to make it. While we didn't have mushrooms, I think our English breakfast turned out pretty great!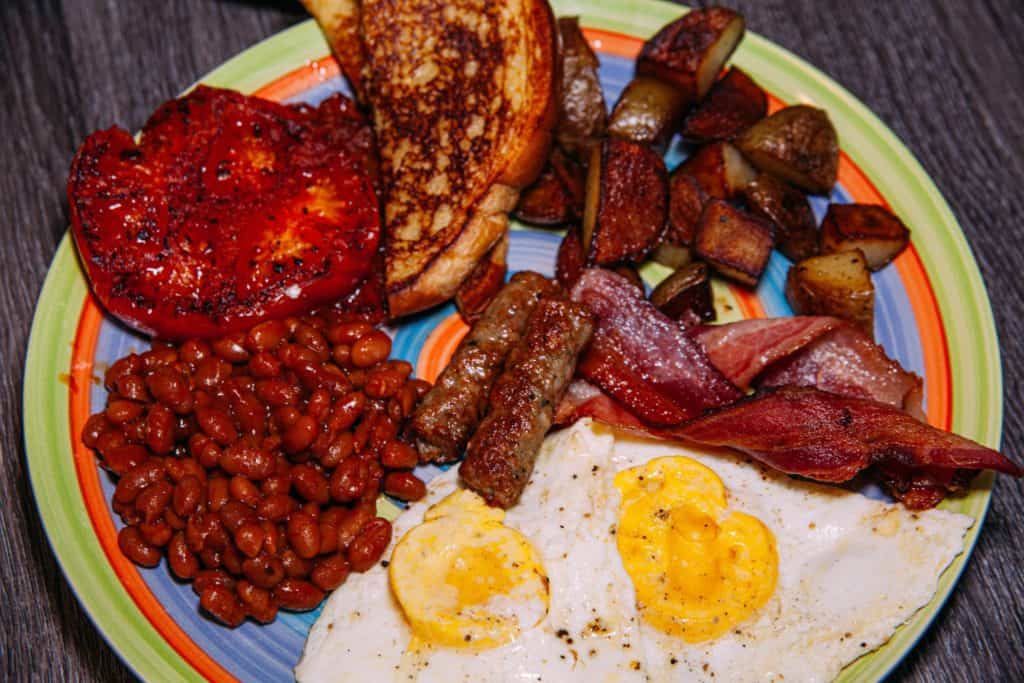 Midmorning in London
Make sure to get up early so you can see all the attractions! I took my friend's London travel guide and tried to see what I could find online and mixed it up with a couple of things I was interested in. They have such a great resource for if you get to go, but it really helped me find the best spots. What's great about traveling London from home is that you have more time for things since you don't have to worry about traveling from place to place or long lines!
The British Museum
The cool thing about the British Museum is that they have the art online. You can actually use this right here to scroll through the different art exhibits. Set it up on your counter so you can feel like you're walking through it. It comes with audio so you can here about each piece if you would like.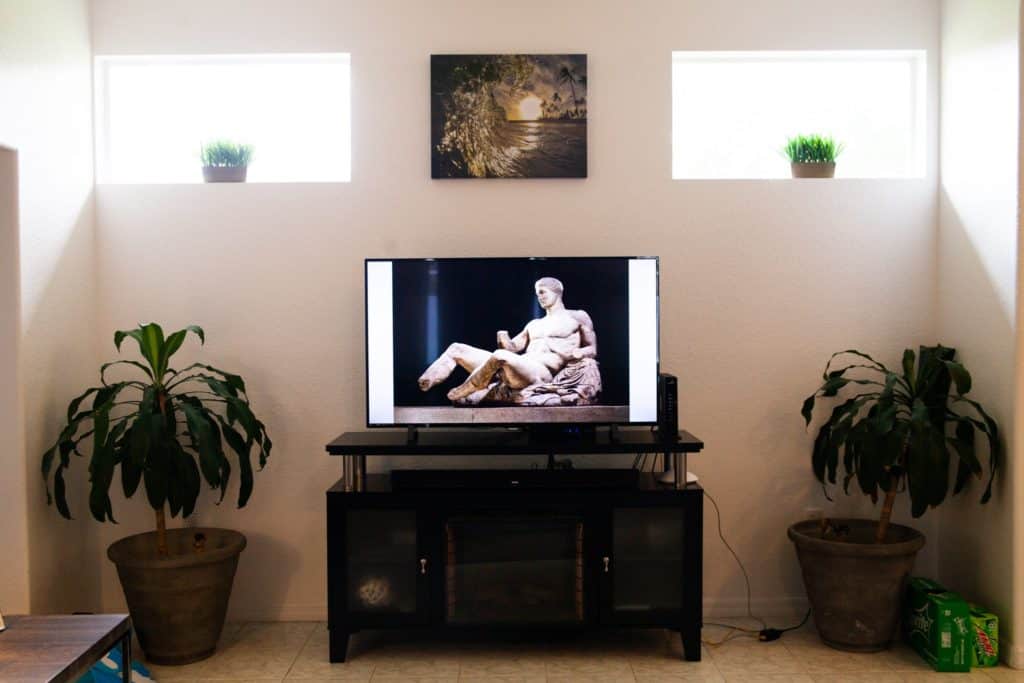 Or if you have several different screens you can set up screens with some of the top art around your house. There is a one hour at the museum tour and you can grab all of the photos and enlarge them here. There's usually a blog post with the art pieces like this Rosetta Stone that you can read about and learn. I loved walking around the house, touring the pieces, and having high quality images right in front of our eyes.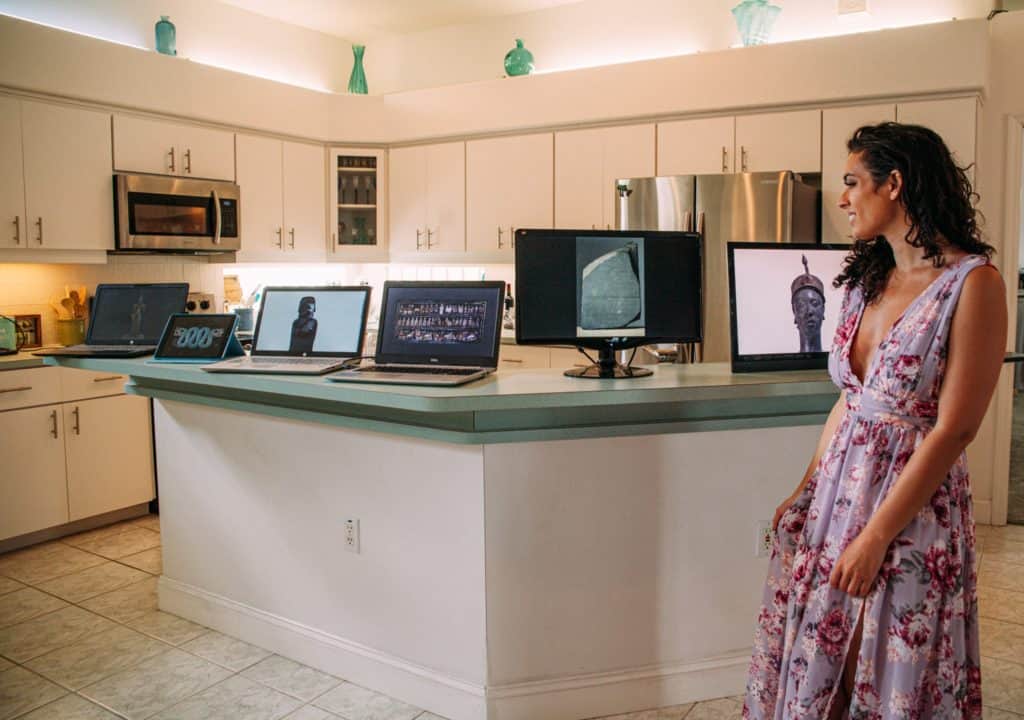 Cardboard Challenge
We decided to get creative with our London stay at home trip and make it interactive and turn it into a date. Both my husband and I chose one London attraction to recreate using just recycled materials such as cardboard. We set a timer and got to work on this while 'touring' the other sites below since most of them could be done by video!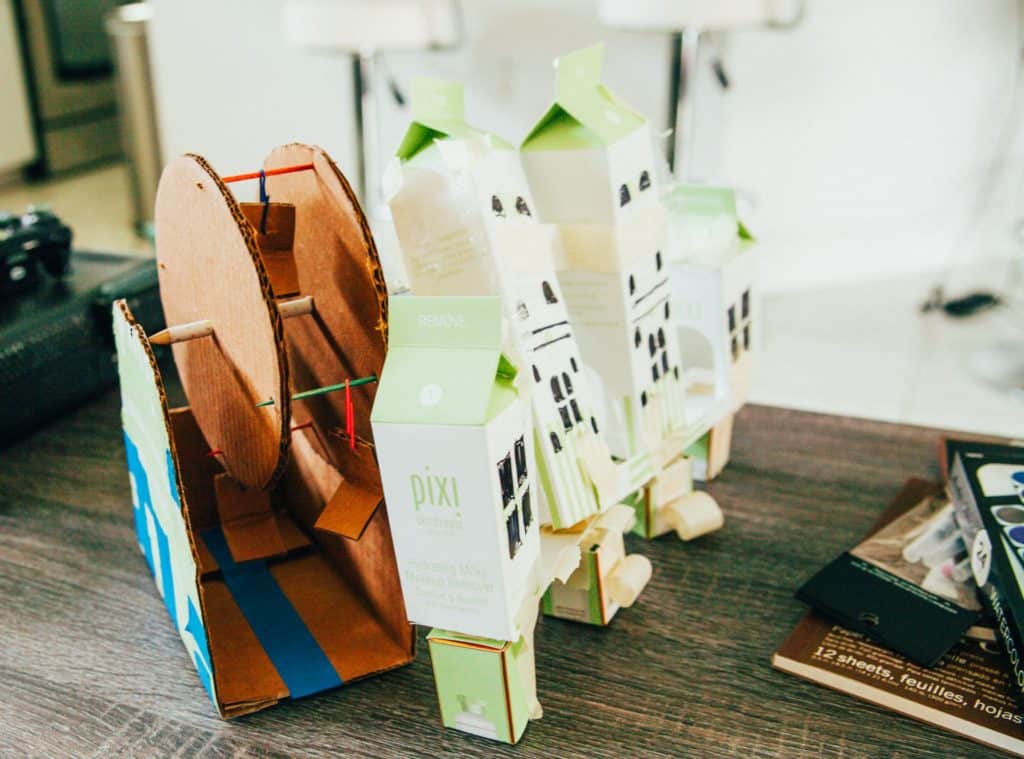 Buckingham Palace
Considering this is where the Queen lives and with 775 rooms, the Buckingham Palace is a site to see for sure. But even if you can't physically be there, there are so many incredible videos to see the different rooms and learn about the palace. Watch the changing of the guard, take a walk through of the palace, a guided tour and even learn about fun things like a hidden door.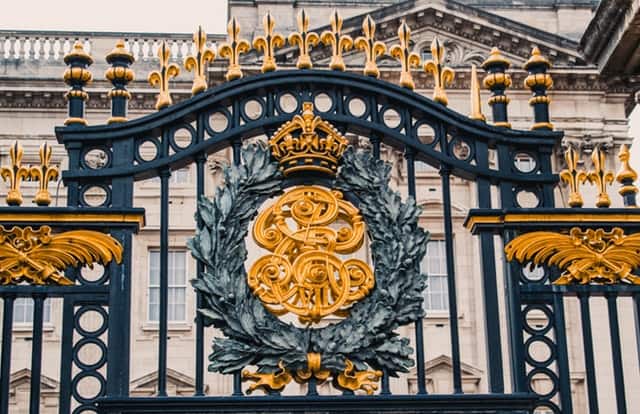 Tower of London
The Tower of London is a castle, a fortress, and even a prison. It's the home to the royal jewels as well as some great tragedies. There are plenty of stories here. You could spend hours at the Tower of London. Many people take the Yeomen Warder Tour to start their tour as they are the people who have guarded the tower for years. It's funny and informational. Afterwards take a tour of the Tower of London here and here. And end with the ceremony of keys.
Or you can take an audio tour and use the gallery as reference. Set up each room in your house as a different area!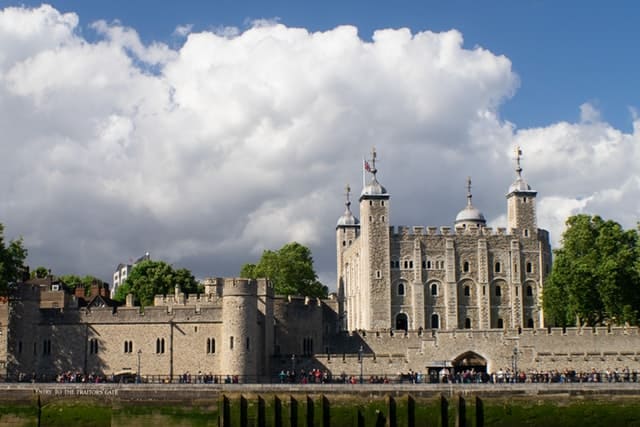 Additional Sites
Depending on how much "time" you have for your itinerary, you can add some of these virtual tours as well!
Shakespeare's Globe
The Shakespeare's Globe is a recreation of William Shakespeare's Globe Theatre in as close of a replica as possible! You can tour the theater and then enjoy some fun Shakespeare activities together. They have fun takes on Shakespeare through their blog you can read together or interact with their different activities. You can even watch a show using Globe Player!
Keep in the mood by playing Shakespeare mad libs (printable here) and figuring out what Shakespeare character you are!
Lunch at the Borough
Travel to lunch at Borough Market where they stalls upon stalls of different foods. Although it might seem hard to travel to market from home, what I love about Borough Market is that they have hundreds of recipes that you can recreate at home. Make your lunch while watching this video tour of the market. If you're looking for a really simple recipe with ingredients from what you probably already have at home then try this classic pancake recipe. We decided to use this braised beef recipe with some changes based on what we had available.
Picnic at Regent Park
Take your creation outside or to a local park, if you can, for a picnic. Bring a blanket, some flowers potentially, and maybe even a bottle of English wine. Enjoy your picnic while playing this stroll through Regent Park.
Afternoon in London
Afternoon Tea
What is a trip to London without an afternoon tea? A simple tea time includes hot tea and scones although you can go as all out as you want with finger sandwiches and more. We opted to keep our affordable and utilize what we already had at home.
For your tea you need your tea with a little bit of milk (added after, apparently this is very important) scones, jam, and clotted cream(bought or made).
We decided to make these scones for our tea which are super easy to customize with whatever ingredients your probably have at home. The one ingredient I didn't have was buttermilk which is actually super easy to make at home. You can even make clotted cream the day before which is simple to make, but just needs to be done at least 24 hours in advance.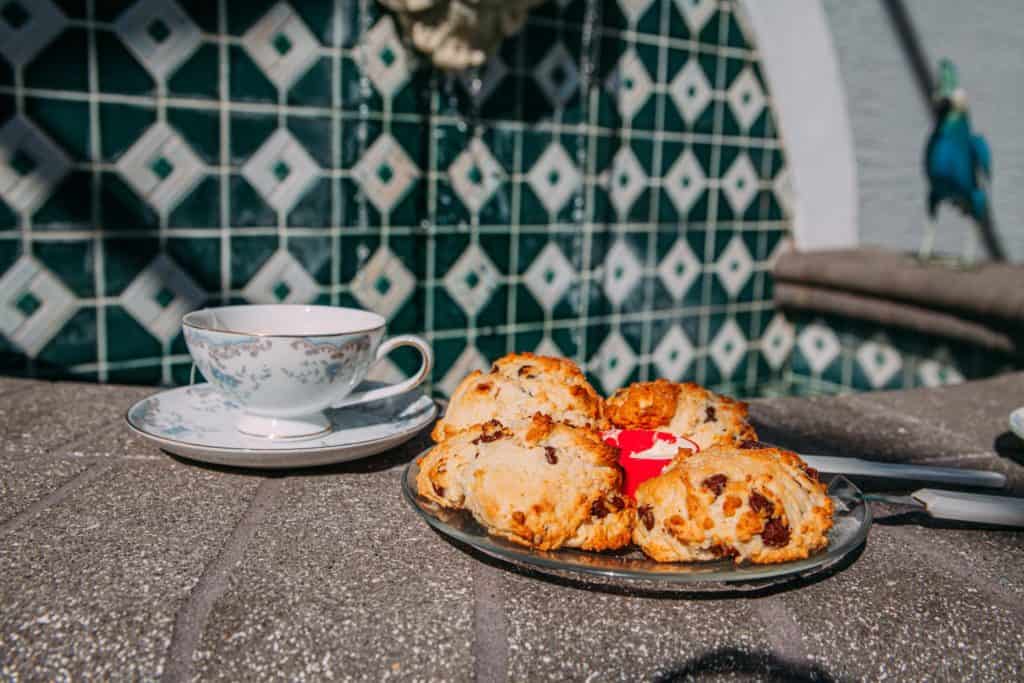 Art & Tours
After a whole morning of fun we decided to settle down with some art journaling. We got some water colors and enjoyed painting the different places and writing in fun things we learned. All of this was done while enjoying a unique walking tour of London. When I traveled in Europe I remember taking these different tours and though they were so unique so I found a few fun walking tours to enjoy.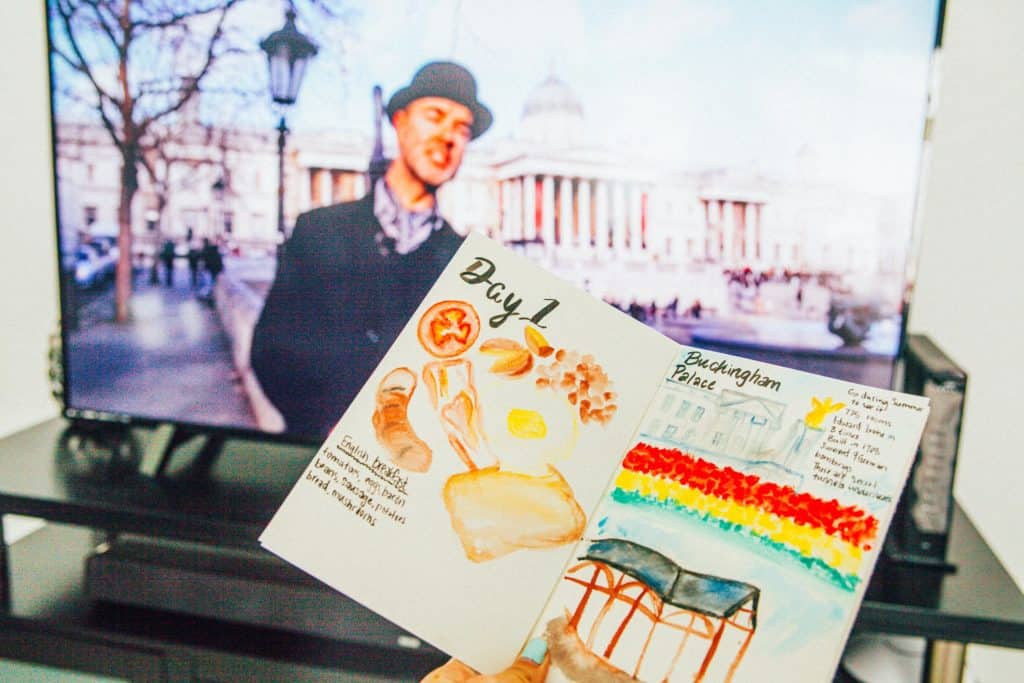 Or there are different documentaries to watch and enjoy if that's something you are more interested in.
Dinner in London
For dinner we opted to enjoy fish & chips as something easy and fun to make! We got little baskets together and enjoyed cooking together. Feel free to choose any British meal you prefer, we just happened to do this since we had these ingredients on home!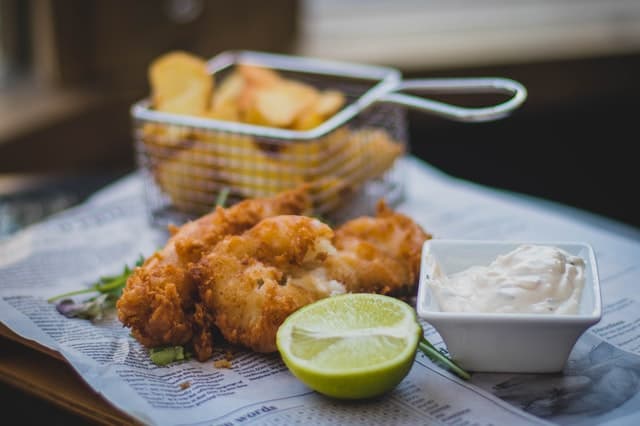 During dinner I put together a fun game involving trivia and silly activities. You can take turns picking up a cards and asking the other person a question and at the end see who has collected the most cards in order to win. The form below allows you to download the cards and then you can print them out yourself. There is a mixture of multiple choice, funny type dares, name 3, etc. You'll find a mixture of culture, entertainment, and history.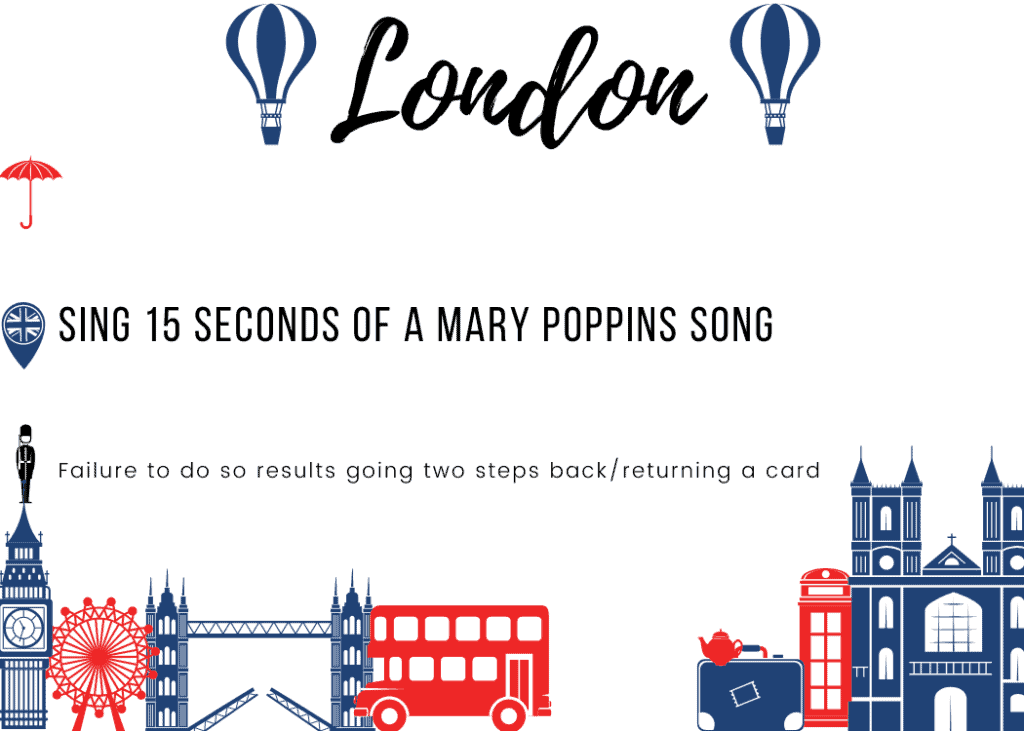 Nightime in London
End your trip to London with one of these nighttime options! You can either choose one option or pick and choose different clips for a night of the London arts as most also have Youtube channels!
Or if you'd rather just settle down with a good movie, check out these top British films on Netflix or rent a movie off Amazon. I'm never against Harry Potter, Sherlock Holmes, and Johnny English.
A Day in London at Home
After a long day of exploring London you can settle down in your own bed without worrying about that long bed back at home. I think I found from this that I was even more excited about traveling to London because I had learned so much, but also satisfied because I had gotten to travel from home. Did you end up creating a day in London? Share in the comments, tag me on Facebook, or Instagram. Or share what else I could add to make this even more exciting!