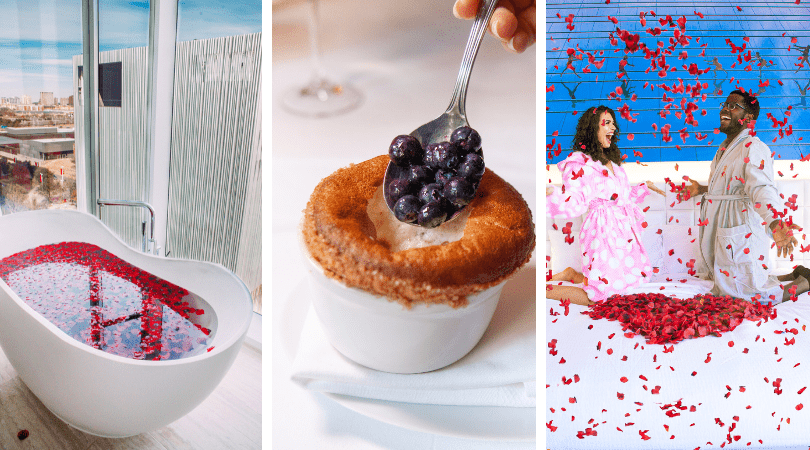 I love a good romantic staycation! You get to feel like you've traveled far away without the hassle of a long flight. If you plan it right, you never have to drive and you can have everything all in one place. I treat it like an all inclusive resort, because although you pay for each thing, it often comes out to much cheaper than those resorts! There are a couple of ingredients that I have found to make a romantic staycation perfect which I've shared below.
Now just a disclaimer. Girls you can read this. But even more so, I recommend you don't. Send this to your significant other and let them surprise you with one of the most romantic weekends right in your own city.
How to Have the Perfect Romantic Staycation: The Hotel
The hotel is one of the key ingredients to planning the perfect staycation. You want to book a hotel that has everything you need to not have to leave. For our most recent staycation in Dallas, we booked a couple of nights at the Hall Arts Hotel for quite a few reasons. The main attraction for us was the bathtub. We had booked a suite of the Hall Arts Hotel, because of the incredible bath with big glass windows overlooking the city, perfect great conversation over a glass of wine and a great view. Look for a place that has something unique and one a kind and will be memorable.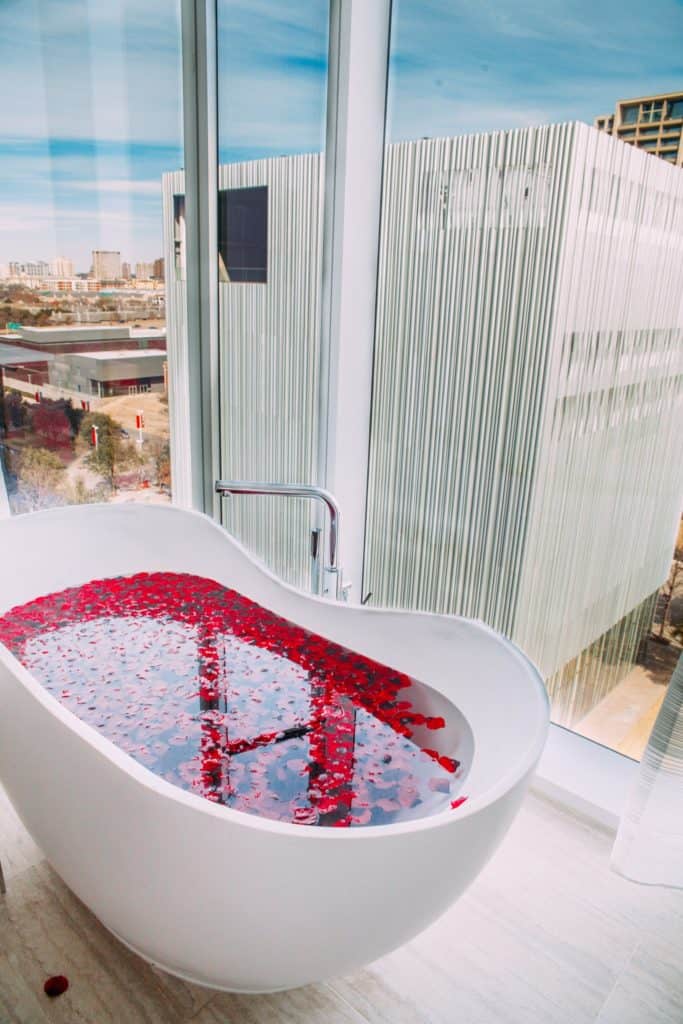 I also think it's so important to look at the amenities and what extra the hotel provides. Splurging on a great hotel becomes worth it since you'll be saving on money from the attractions you might visit. And maybe even splurge on a suite or something else special! Some things that I especially look for are a specialty restaurant for romantic dinners, a noteworthy (preferably rooftop) pool to relax the day away, and a car/shuttle service (just in case you decide to go out at least you don't have to drive), and sometimes even a spa for a wonderful couple's massage.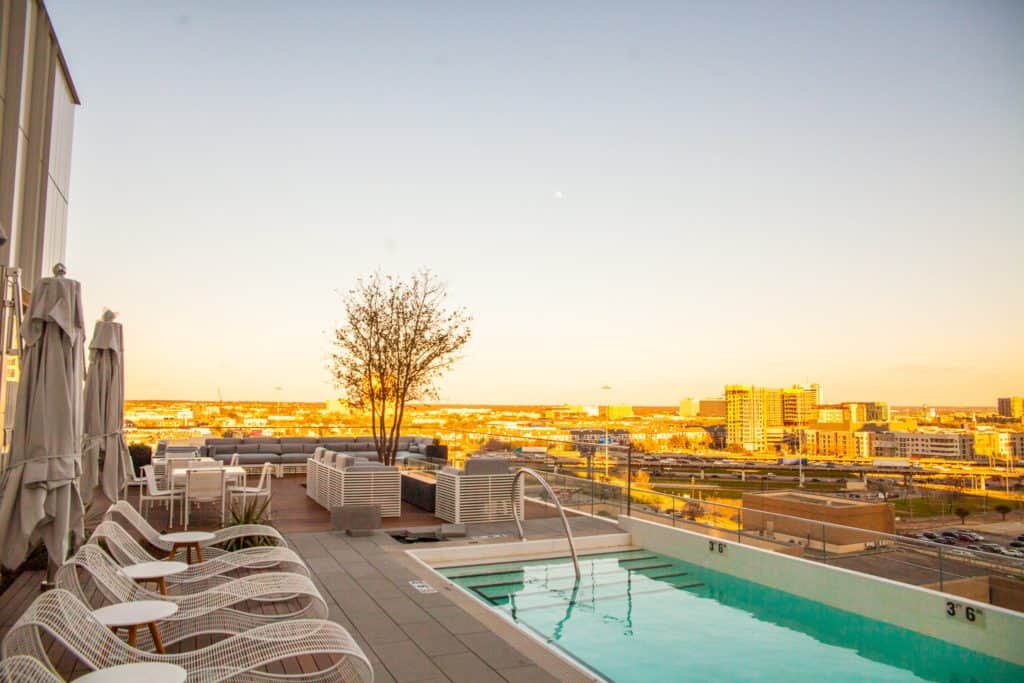 Look at your local boutique hotels and see what places are really going to provide something special. We loved the Hall Arts Hotel because they had live music at night, an art gallery to walk around and see all the different artwork, complimentary wine at check-in, and an impressive gym (for a fun sweat date!).
What to Bring for a Romantic Staycation
Another wonderful thing that makes romantic staycations so well… romantic, is that instead of focusing on all the things to do and see, you can focus on each other! It's the perfect chance to connect and build a strong relationship together. So I like to include a couple of things to make a romantic staycation extra romantic.
If you want to surprise your significant other, I found these rose petals that I used to really set the mood. Distract them downstairs and set out a heart made from roses!

I also love to bring things like couple's games. Since you're focusing on each other, it's a great chance to get to know each other more and spend some quality bonding time.

To me a bath is huge to the perfect romantic staycation and so I love to also have the perfect bath. Epsom salts, bubbles, scrubs, nice lotion, and face masks all come together for extra romance.

And last but not least, a little lingerie. A romantic staycation is the perfect opportunity to pick out some new lingerie. You can even use the opportunity of a nice hotel room and do your own DIY boudoir shoot.

Romantic Staycation Packing List
These are things I like to bring on my romantic staycations, but feel free to create your own list!
Bottle of wine (and sometimes cheese)
Rose Petals
Bath supplies (bubble bath, scrubs, salts)
Face Masks
Couple's Games
Lingerie
My Perfect Romantic Staycation Day
With a whole day ahead where do you even begin. You make your romantic staycation how you want whether that means lying in bed all day or whatever you consider fun, but here's a great little staycation itinerary if you need some help.
Breakfast in Bed
Sweat date at the gym or fun YouTube workout (maybe even YT salsa lessons)
Head to the pool for some sun soaking & poolside lunch
Relax in the room/watch a romantic movie
Enjoy a glass of wine while playing games
Romantic Dinner at the hotel restaurant
Relax in the tub (or maybe hot tub if your hotel has one)
Enjoy the night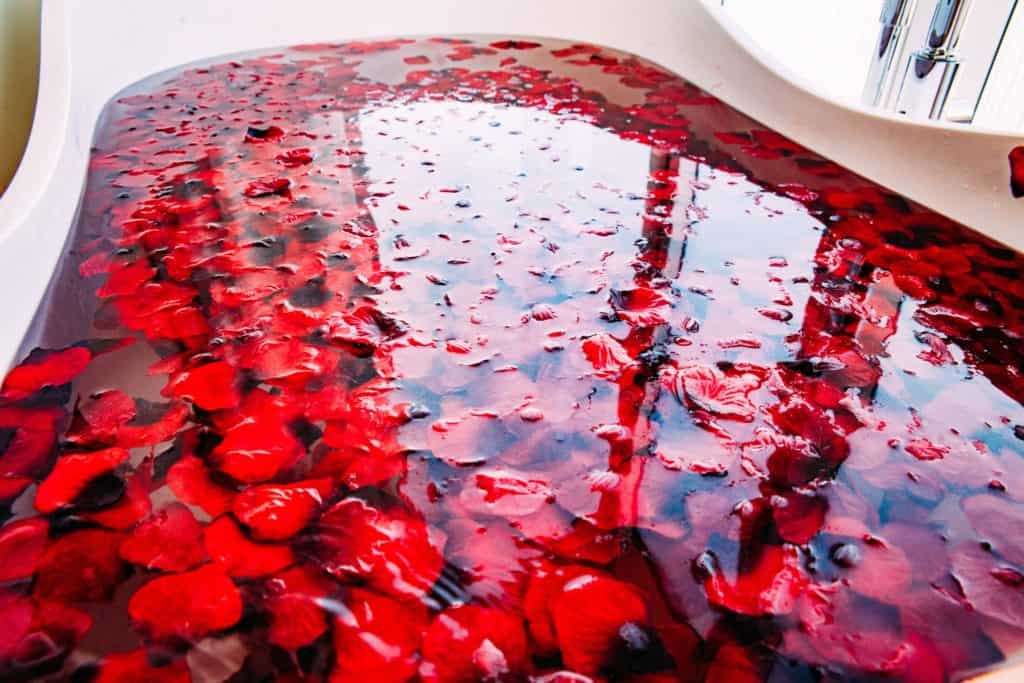 Ingredients for the Perfect Romantic Staycation
The possibilities for the perfect romantic staycation are endless! The only thing that matters is that you get to "travel" and yet still spend that quality time focusing on each other!