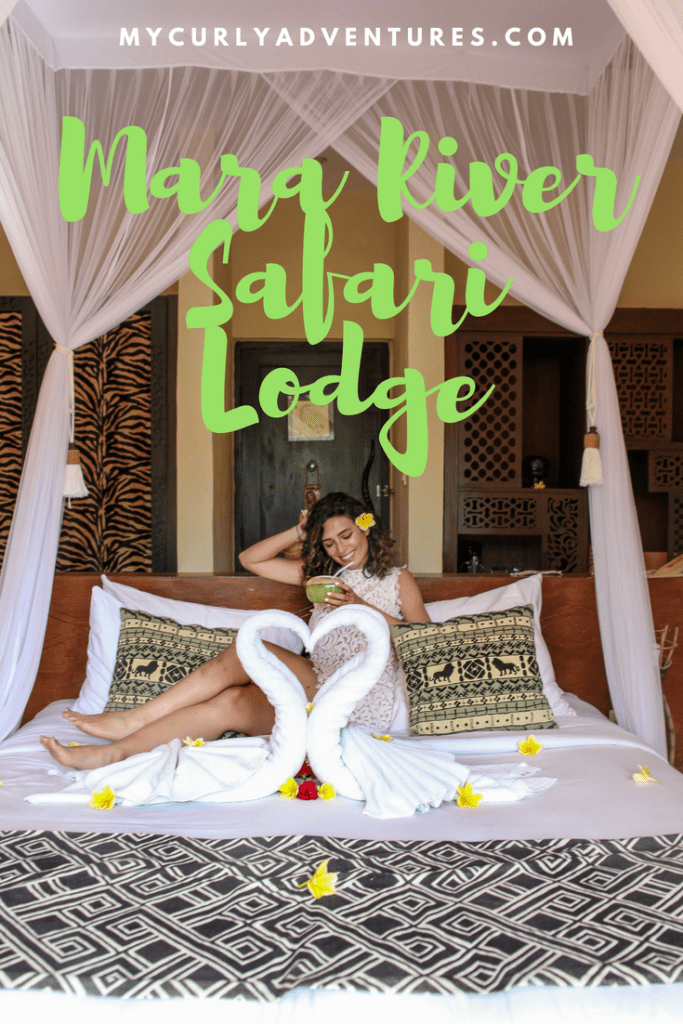 After doing research on Bali, I kept coming across Mara River Safari lodge as a top place to stay. The main charm was that you had a room overlooking zebra, rhinos, ostriches, and other animals and admissions included entrance to the Bali Safari & Marine park. Basically you had activities and lodging in one!
Mara River Safari Lodge was one of the most unique places to stay and I'm so excited to share my experience. I couldn't find a lot of insider views on this park before so I made so to write an in-depth review of Mara River Safari lodge.
We stayed in the Swala Deluxe Room. Upon arrival the staff offered us a sweet orange drink and carried our bags to the room.
Front Entrance of Mara River Safari Lodge and Koi Pond
Staying at Mara River Safari Lodge- Review
Our room came with some water and coffee press for the morning. We also had carrots to throw to the animals! The bed was comfortable. The bathroom was fairly simple and nothing particularly fancy. The one issue I had was the wifi. Connection was not always consistent and I found it was just easier to go to the lobby to connect to the internet.
We went out to the Bali Safari park for some time which I wrote about below before returning to enjoy the rest of the resort.
At the entrance they have a beautiful koi pond which we could relax at. If an attendant is around they let you feed the koi as well!
One of the highlights was their pool for hotel guests! They had a swim up bar and an infinity pool that overlooked the animals. I never thought I would say I would enjoy a margarita over a pool while watching zebras and rhinos grazing nearby.
Tsavo Lion Restaurant
We enjoyed dinner at the Tsavo Lion restaurant. Overall the food was more expensive than most restaurants, but still a great value. It was a mixture of Western and Balinese food. I enjoyed a Tasmanian Salmon and it was too good! Their Sangrias were very strong.
At night they offer different performances. The one we enjoyed was a safari themed dance involving fire.
After a restful nights sleep we woke up for one of the most memorable breakfasts of my life! Mara River Safari Lodge offers a complimentary breakfast buffet with lions! If you want a seat next to the glass make sure to reserve it the night before.
Breakfast at Mara River Safari Lodge
Their breakfast buffet included a mixture of Balinese food, American food, and Eastern food. I was able to try so many dishes I had never heard of! Sweet danishes, fried rice, dried fruits, and cheese, flavored pancakes, and this cool been porridge. I know this sounds funny, but this place knows how to make bacon! I still dream of that bacon haha! This was the most decadent breakfast buffet I have ever had!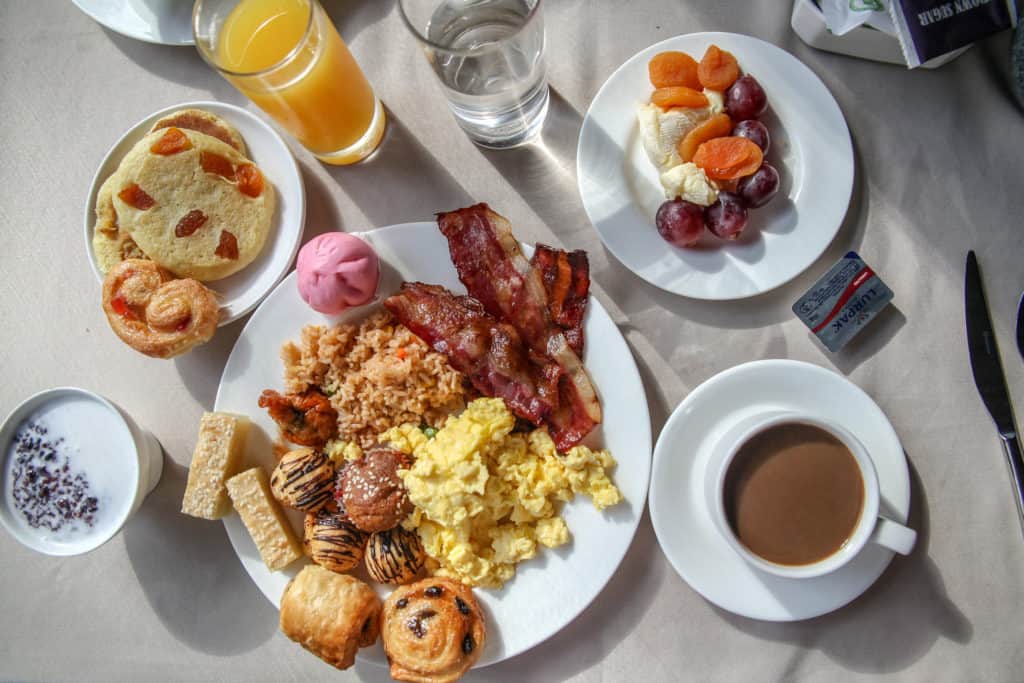 The best part was that all of this happened while we enjoyed lions resting and playing nearby!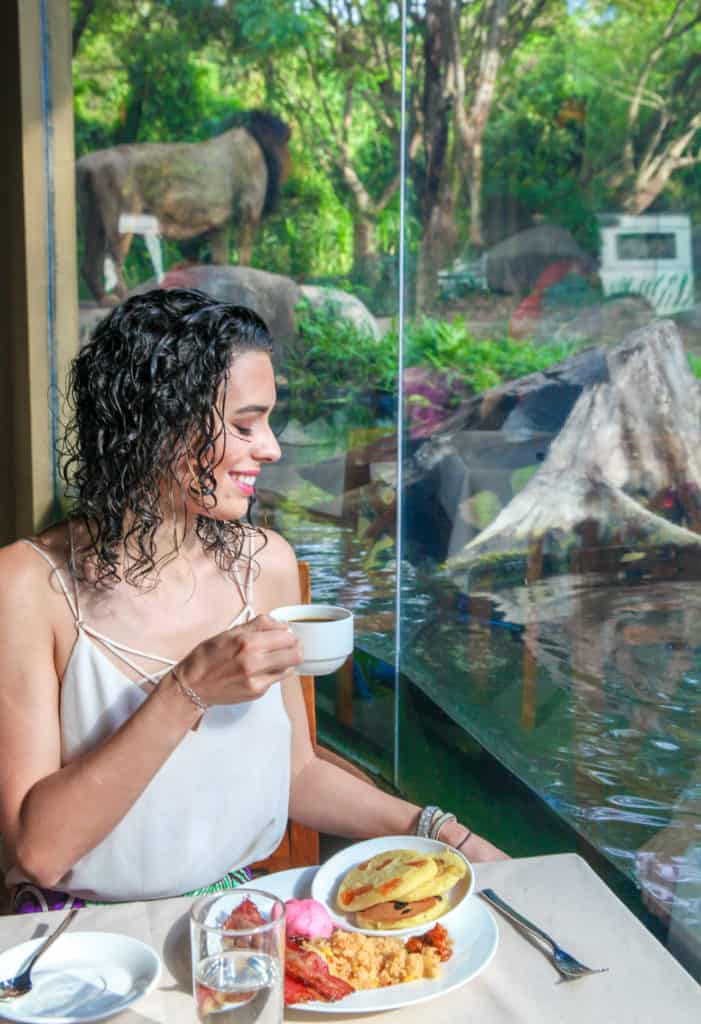 For a small fee we were able to reserve a meerkat feeding. They gave us fruits and crickets and played with meerkats!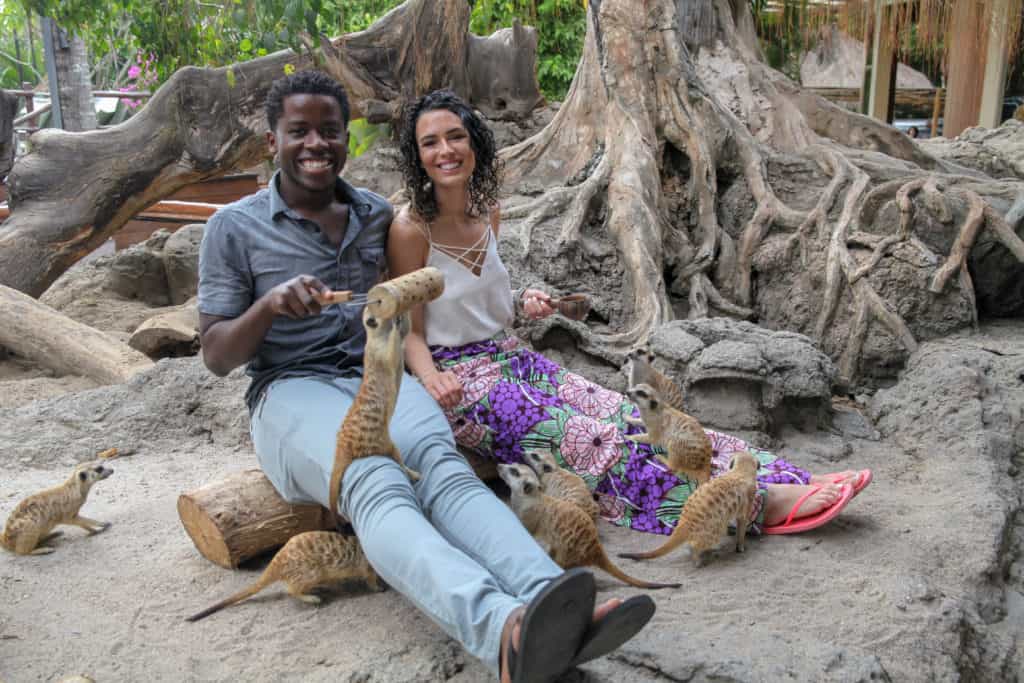 The one thing we did not get to experience was the spa, but everything at Mara River Safari Lodge was more than I could have imagined. Having everything in one spot left us with endless fun and great memories! I loved that we were able to walk to the Bali Marine & Safari Park.
While I was there they were adding an even greater aquatic section, but we did not get to experience that.
Mara River Safari Lodge Review of Safari Park
At the Bali Safari Park we got to take pictures with a Binturang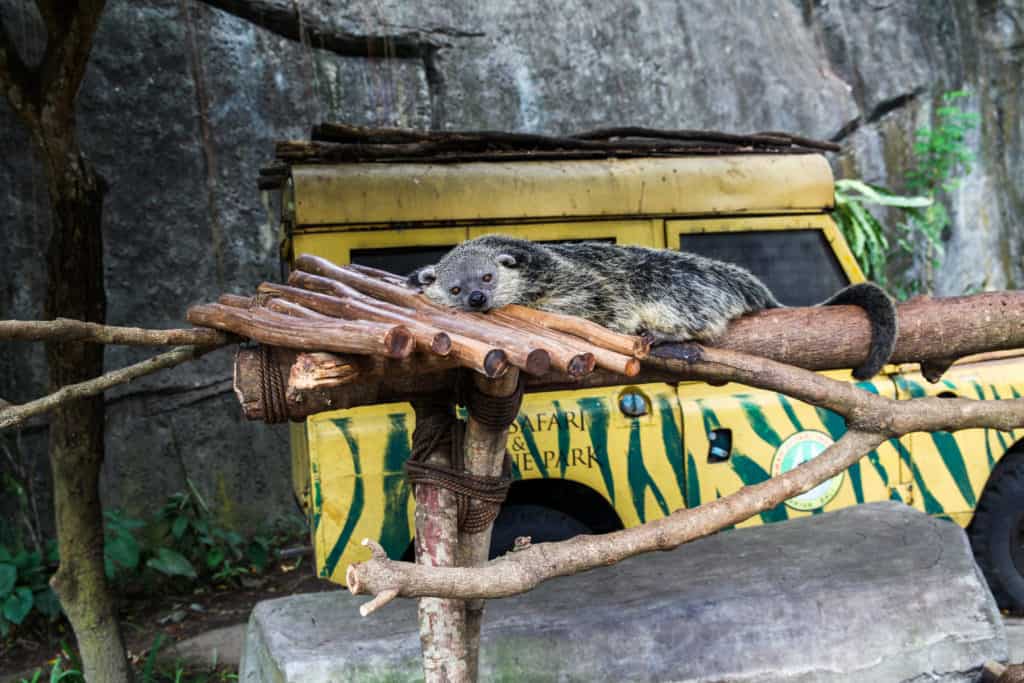 Make friends with an Organgutan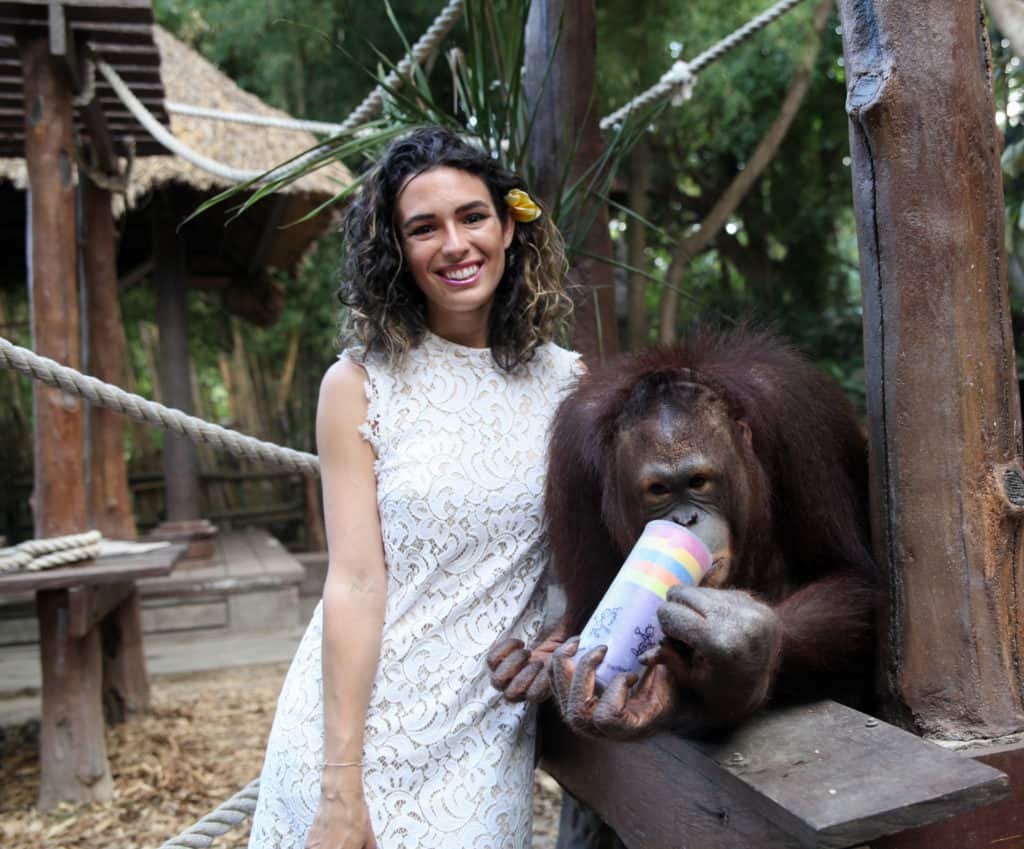 And chill out with some birds!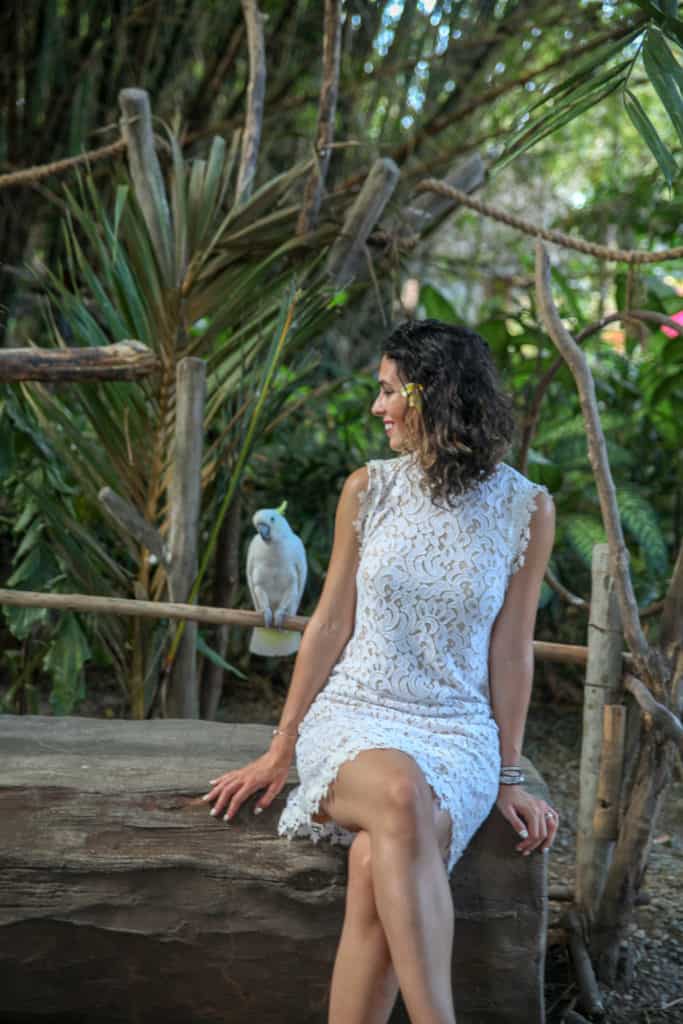 There was a section to feed elephants. These elephants are not playing around! They go straight for the food and snatch it out of your hand!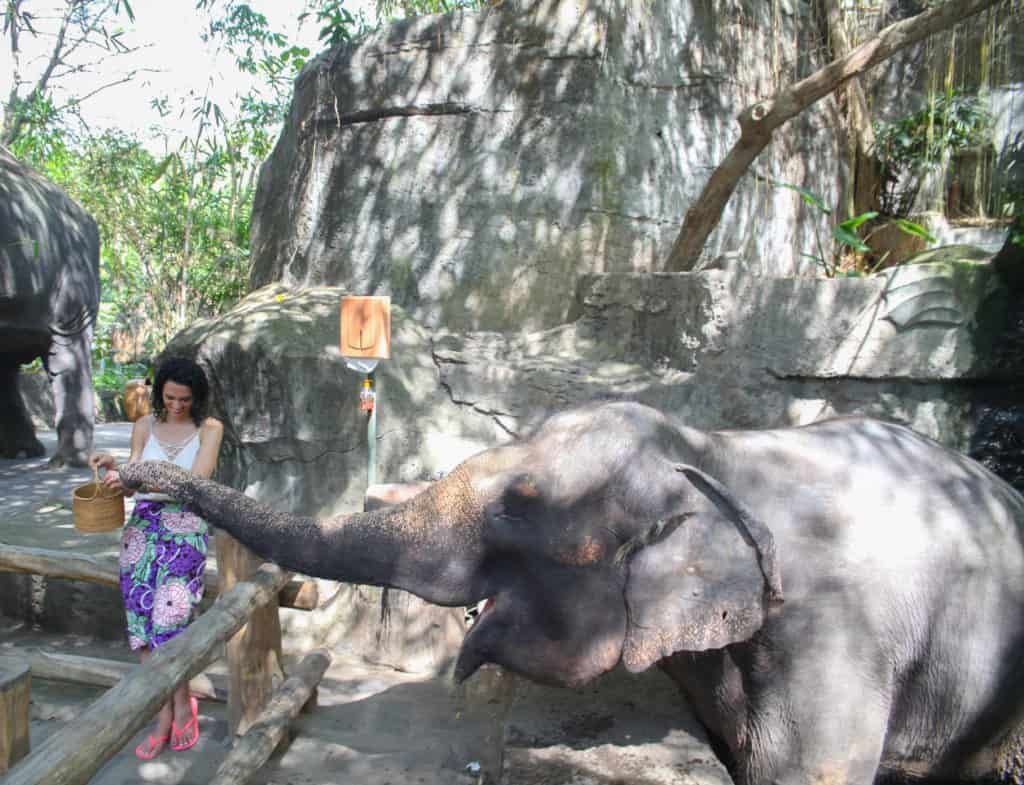 They have a few animal shows and of course lots of animal viewings. I loved that mixture of architecture and all the beautiful mixture of their culture. Throughout the day you can also participate in a little bit of a dance class. I thought it was a group class at first, but basically you go mirror a dancer who goes through some fairly simple, but beautiful dance steps. I was still stepping over my own two feet!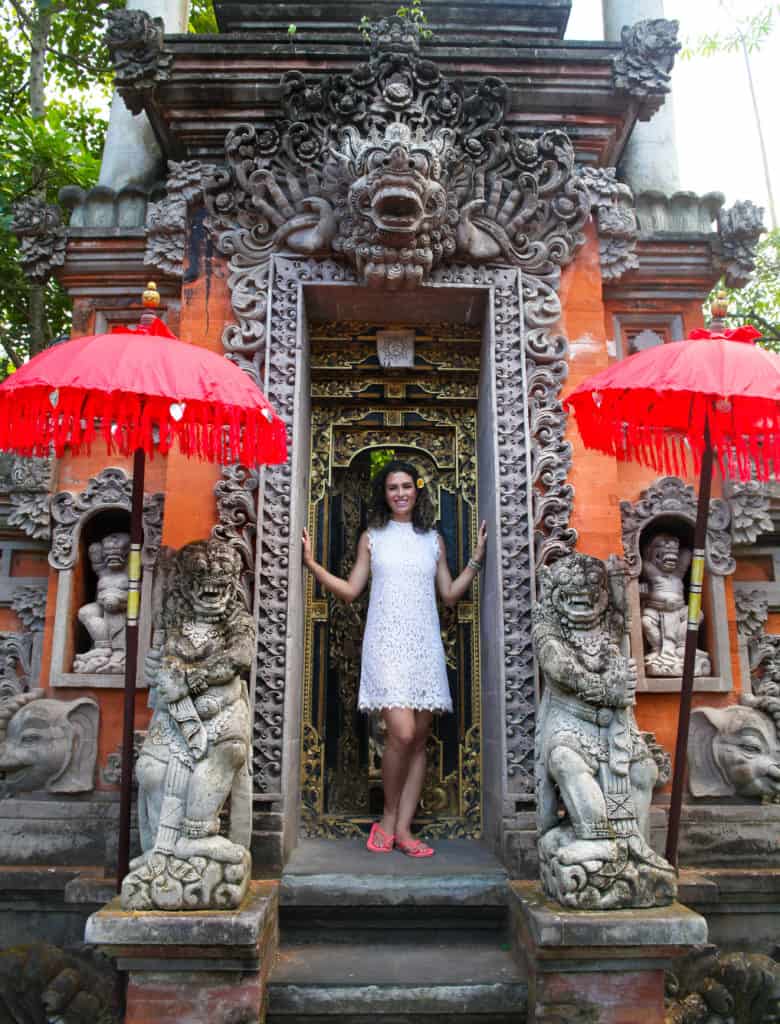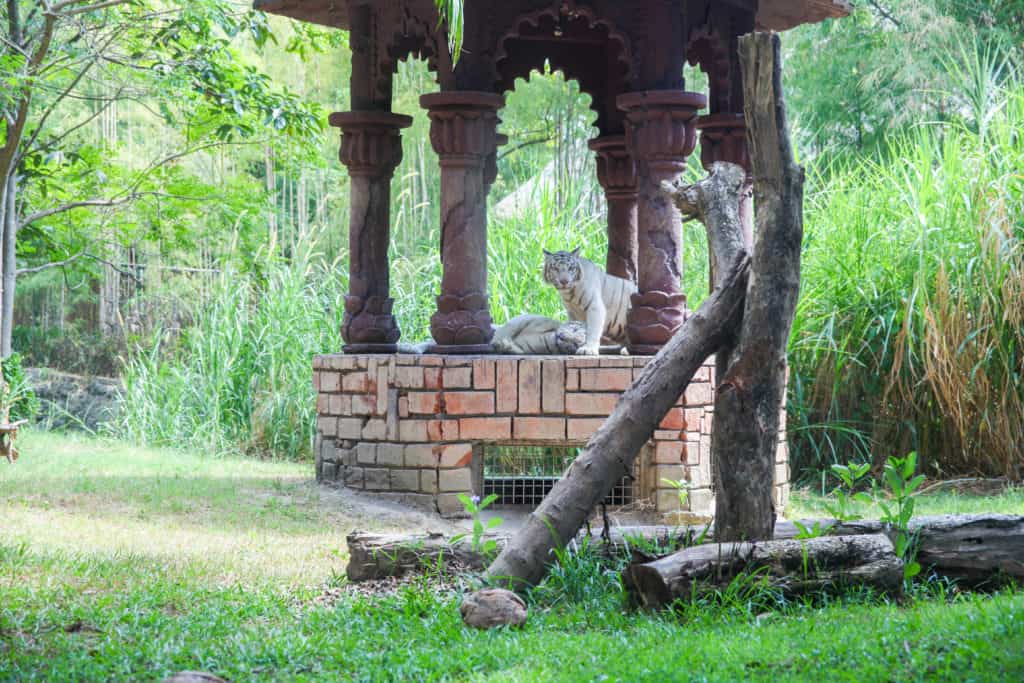 Final Thoughts on Mara River Safari Park
Between the Safari Park and  and the special accommodations that we received on location, the stay at Mara River Safari Lodge was beyond phenomenal. If anyone has at least one day to spare in Bali I cannot recommend this place enough. Do be ready to step away from your phone though because wifi is not the best. You can book your stay here.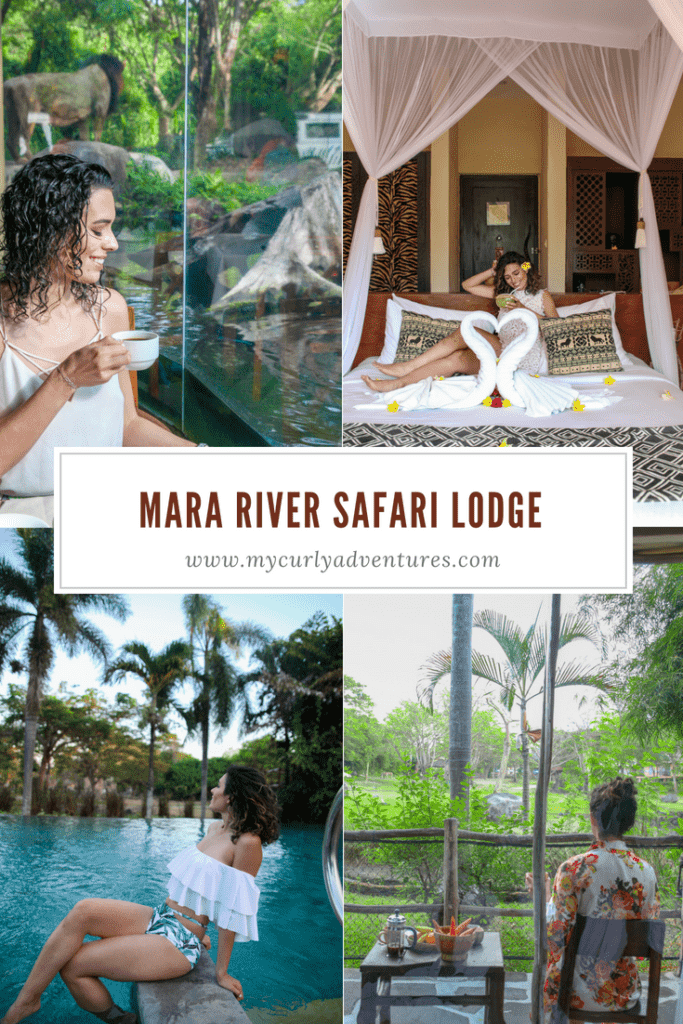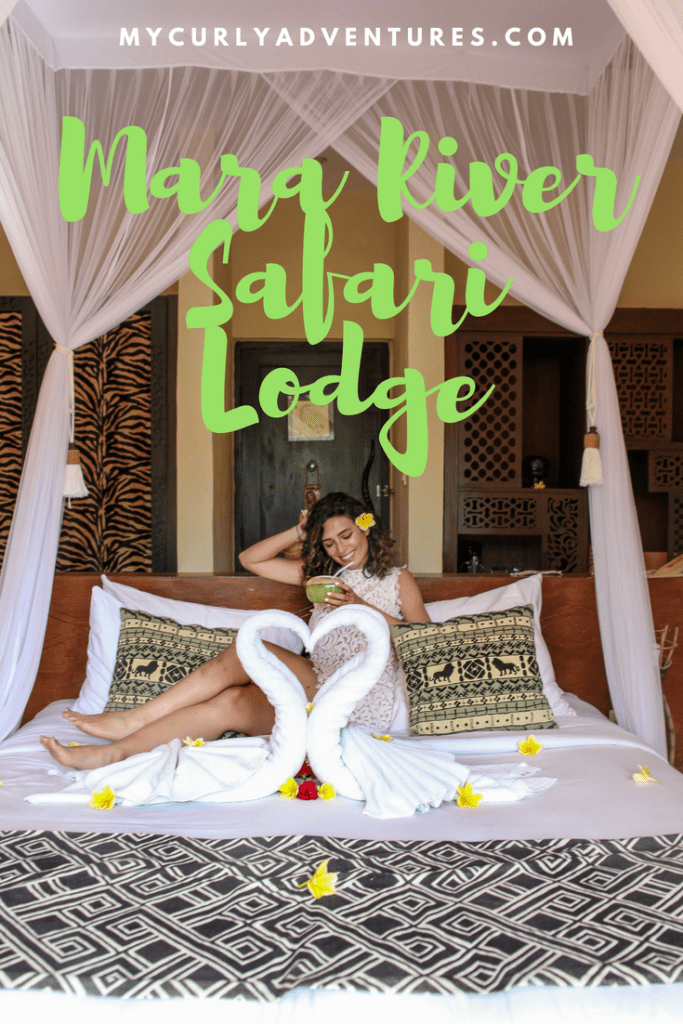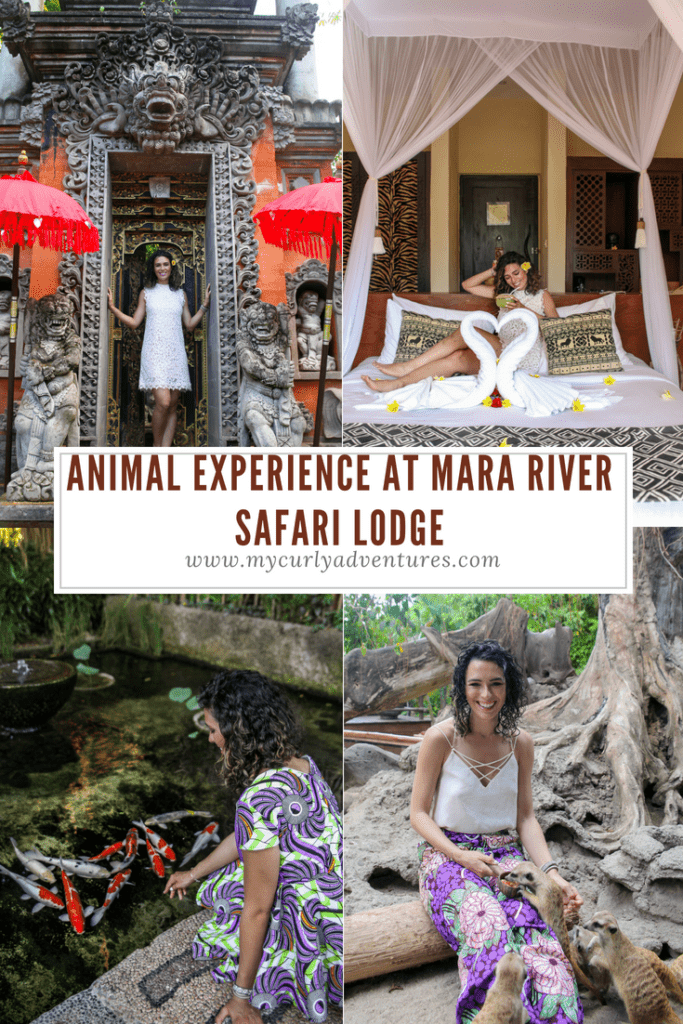 This Mara River Safari Lodge review is in no way sponsored by or affiliated with Mara River Lodge. I simply wanted to share a place I loved. As always (sponsored or not) all opinions are my own.