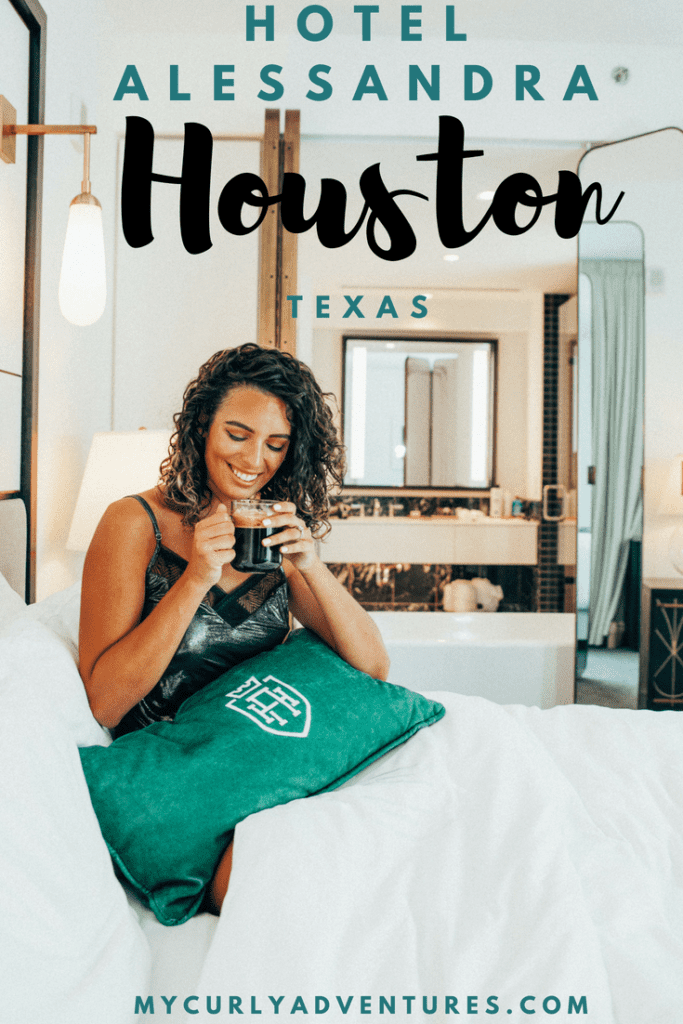 If you are looking for a luxurious getaway in the heart of Downtown Houston, Hotel Alessandra is perfect! With a Maserati that will take you around downtown, a lavish tub, and a grand staircase walking into Hotel Alessandra is like being transported to a European hotel. We recently stayed at Hotel Alessandra on a trip to Houston and loved staying here! I'm so excited to share my Hotel Alessandra review and overall experience. You can book your stay here.
Review of the Hotel Alessandra: Our First Impressions
The first thing we were greeted with when we entered was this grand staircase! I sadly never got the chance but imagined walking down it in a long fancy dress. Walking into the main lobby really set the tone for a luxurious getaway in downtown Houston. You can tell that the designers put a lot of thought into the design of the details from the marble walls to the green accents, to the various art placed around the hotel. As if the decor wasn't stunning enough, Hotel Alessandra has unique offerings that added to the luxury of the hotel.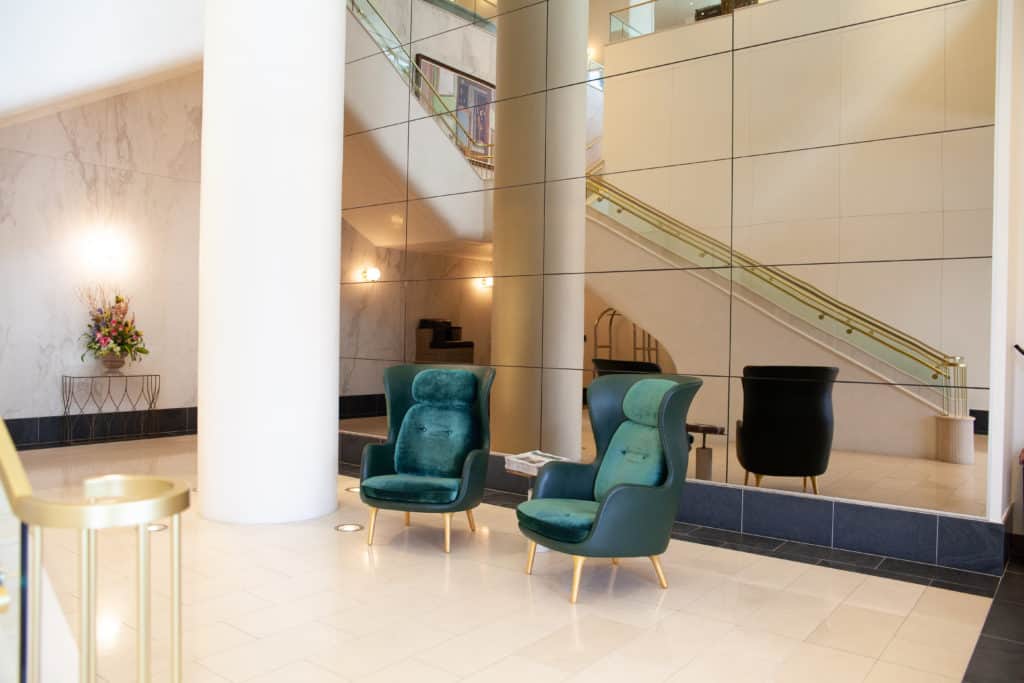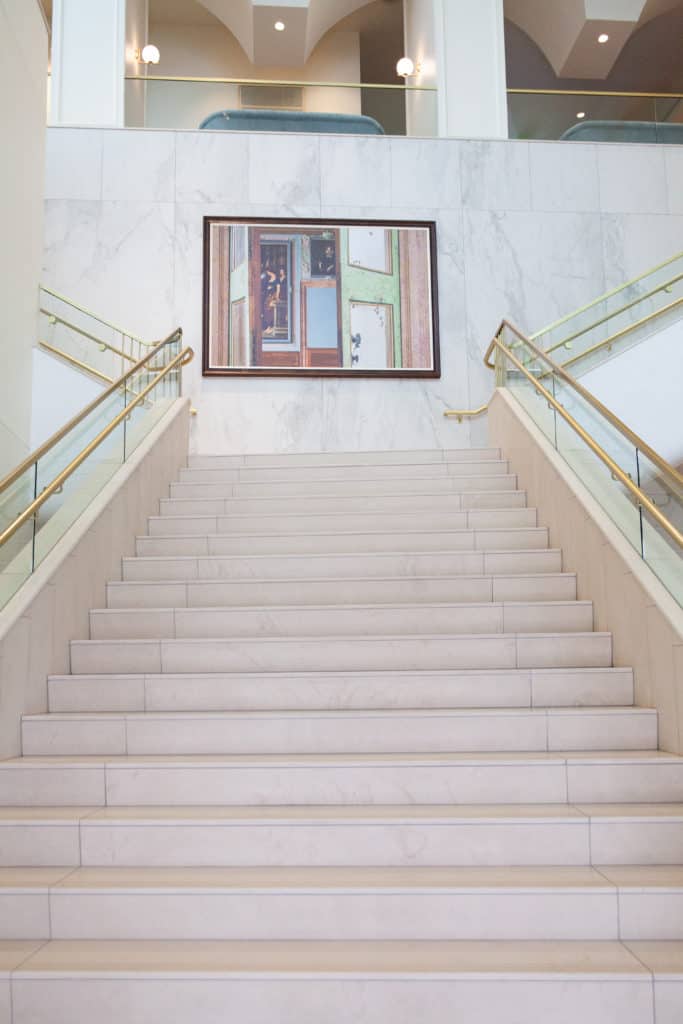 For instance, if you are looking for a romantic night why not use the complimentary Maserati? Yep! A staff member of Hotel Alessandra will take you anywhere in downtown Houston! Nothing like driving up to a restaurant in a luxury car!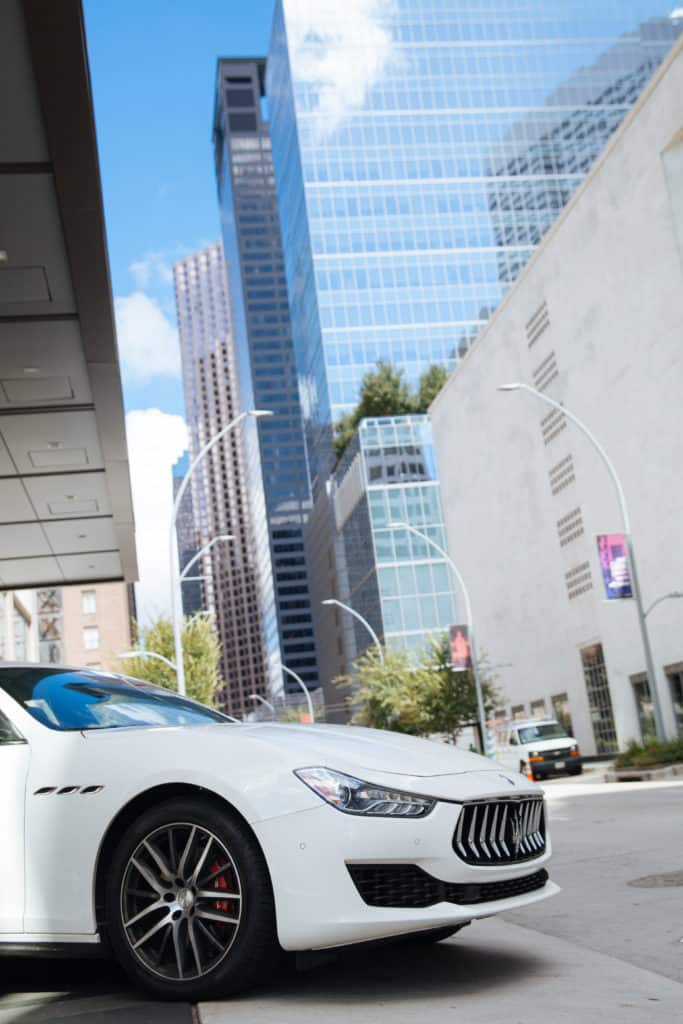 Review of the Hotel Alessandra: The Rooms
I could have stayed in this room all day with how gorgeous it was! Like I said this hotel was very European, so I loved that our room came stocked with Nespresso coffee! The worst part about the room was I didn't want to leave! Sinking into the bed was like sinking into a giant plush pillow and I wasn't ready to get out in the morning.
The one thing I was not expecting was how stunning the bathroom would be. The mirrored wall opened up to a beautiful marble bathroom with a gorgeous tub. I spent plenty of time unwinding after a fun day there. A bonus perk is you can see the TV from the tub. Just get me a rom-cam and a glass of champagne and I am ready for a night in!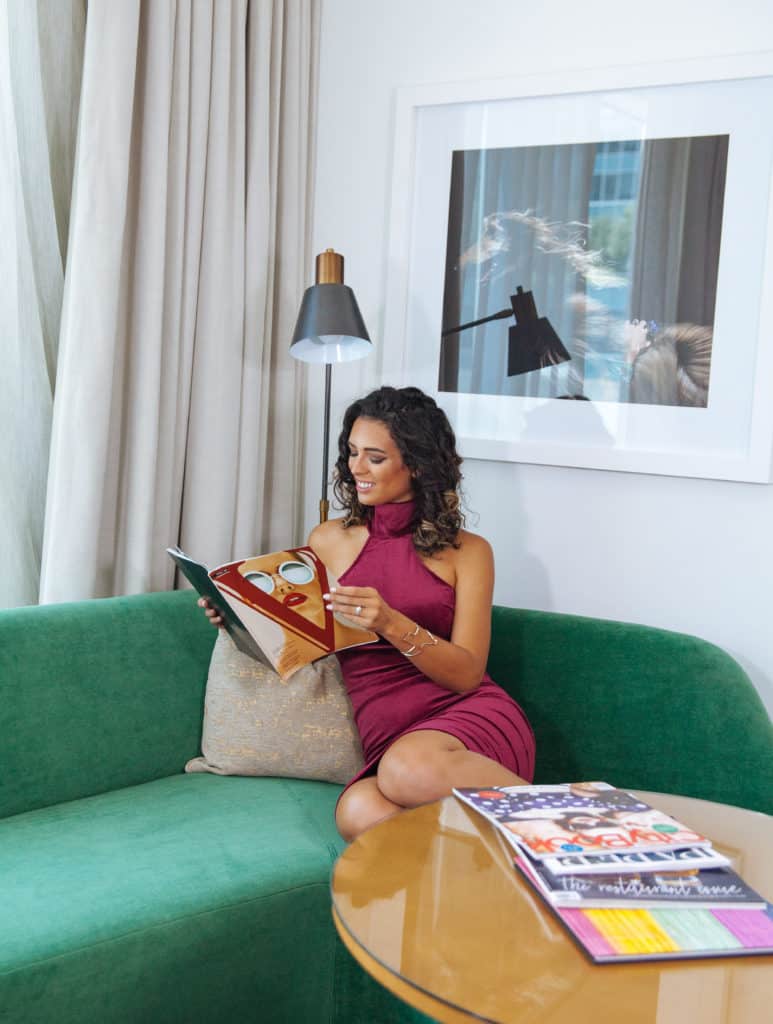 Since my stay at Hotel Alessandra also included getting work done, I enjoyed that the room came with a beautiful lounge chair to get work done (working not pictured below!). Plus, how cute is this photo above me?!
Review of the Hotel Alessandra Review: The Pool
I got to enjoy a few hours relaxing at this gorgeous pool with views of downtown Houston! I enjoyed how serene it was and felt that this place catered to adults. There are also poolside drinks and dining available.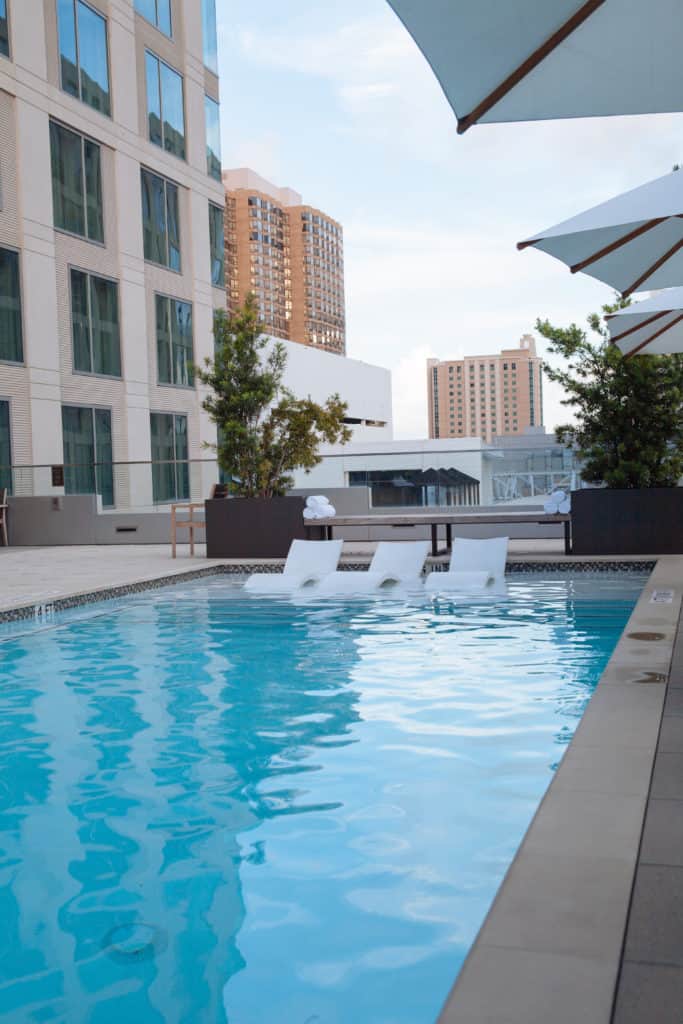 Review of the Hotel Alessandra: Eating and Drinking
With open windows letting plenty of lights in and a clean and crisp design, I feel that I would make a trip to the bar at Hotel Alessandra even if I wasn't staying at the hotel!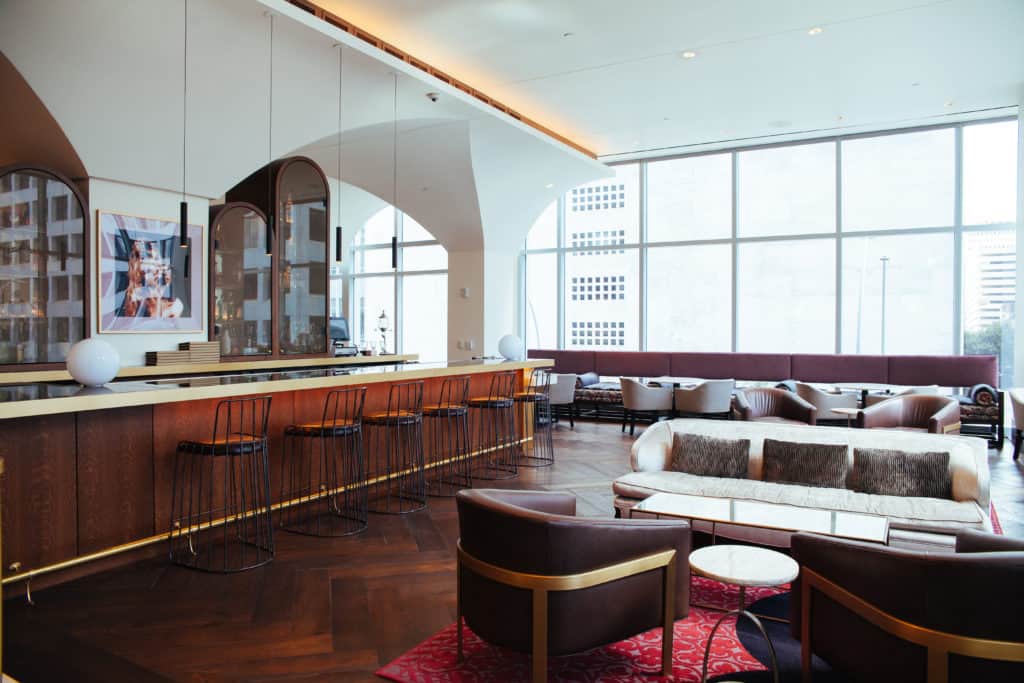 The cafe was absolutely adorable and serves up delicious meals from breakfast to dinner! I loved the mint-colored chairs and tables.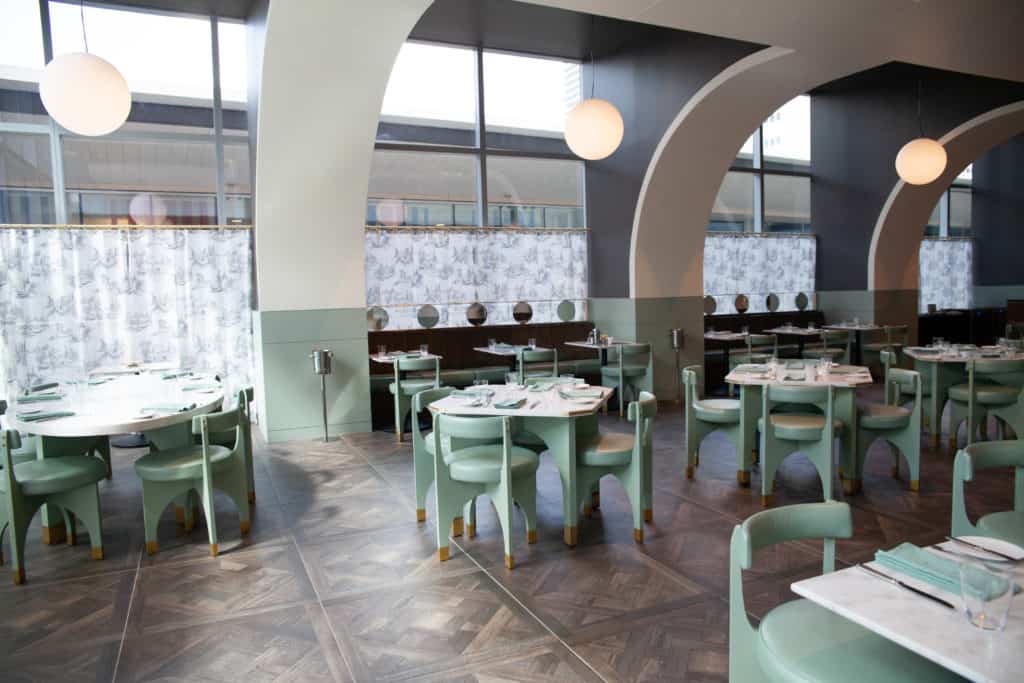 Review of the Hotel Alessandra: Final Thoughts
Overall, I loved the European design and modern luxury of this beautiful downtown Houston hotel! I keep trying to figure out my favorite part about Hotel Alessandra, but I can't decide if it's the tub, the gorgeous decor, or the complimentary Maserati. Hotel Alessandra makes for a beautiful and romantic retreat in Houston for anyone looking for something out of the ordinary, but still luxurious. You can book your stay here.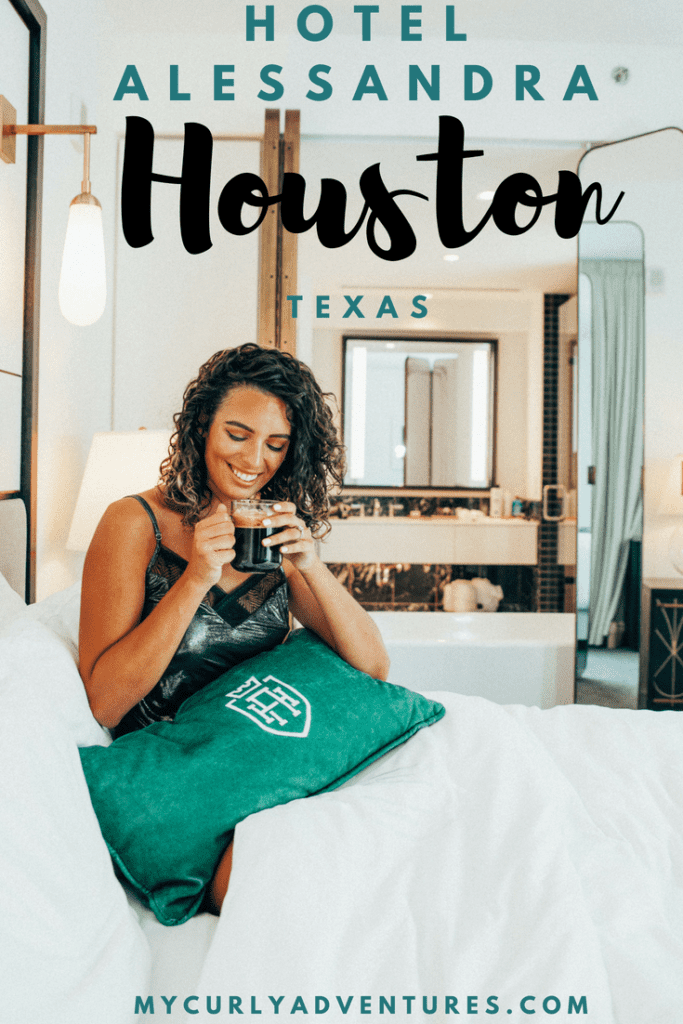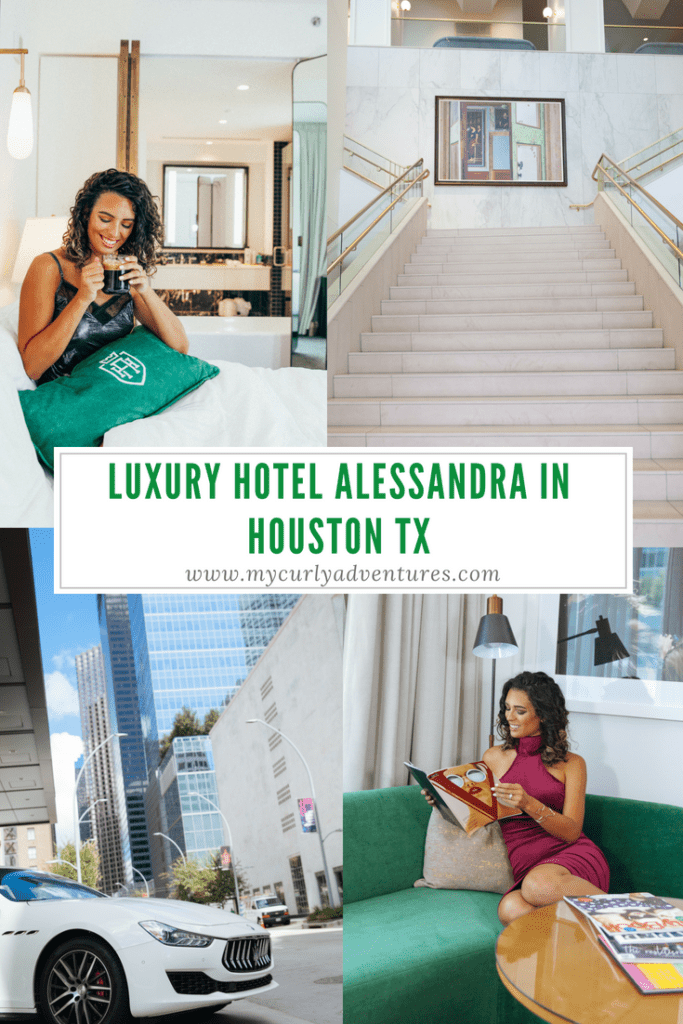 I was given a complimentary stay at Hotel Alessandra. As always, all opinions are my own.