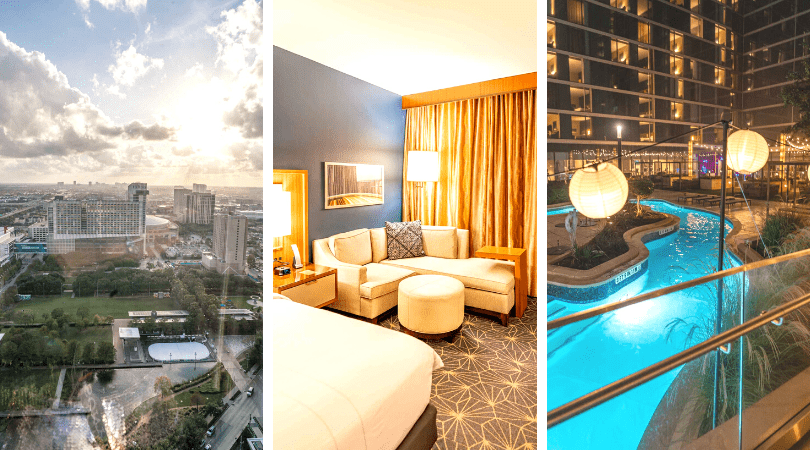 The Marriott Marquis Houston hotel is by far one of the best places to stay in Houston, no matter the occasion. Located in the center of downtown, it sits in close proximity to an array of Houston's best attractions and offers easy access to nearby destinations. Marriott Marquis Houston is also a great spot to stay and relax, as it features luxurious rooms with gorgeous views, incredible dining options, a relaxing spa, and a stunning rooftop pool. With all of its amenities and its proximity to everything the city has to offer, Marriott Marquis Houston is the place to stay in Houston. Excited for your next stay? Book here now!
Stay in a Room with a View
The Marriott Marquis Houston hotel offers a wide variety of guest rooms and suites to choose from. Each room has modern furnishings, including a desk and ergonomic chair, a smart TV, and a spacious, marble bathroom featuring a backlit mirror. The larger suites offer even more space for a small gathering if desired. There are private bedrooms, large sofas, armchairs, and dining room tables. Some of the suites have multiple bathrooms or a bathtub overlooking downtown Houston.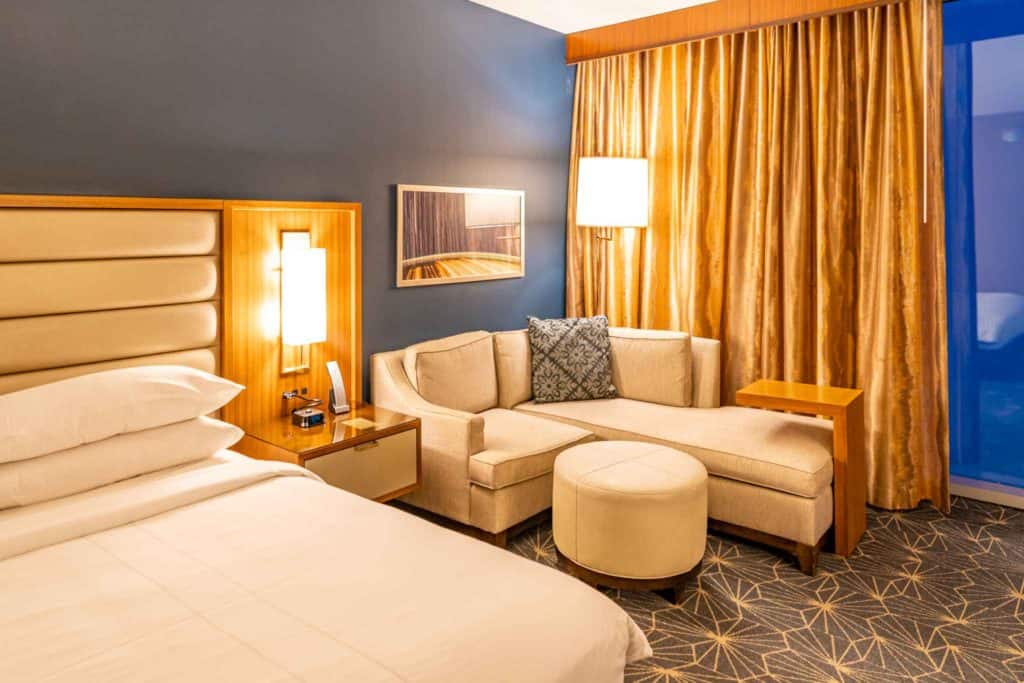 The rooms are all beautifully decorated, with lots of cozy furniture and painted walls with hardwood accents. All of the rooms at the Marriott Marquis Houston hotel come with breathtaking views of the surrounding area. Depending on which room you choose, you can enjoy uninhibited views of the hotel's pool, the city skyline, or Minute Maid Park across the street.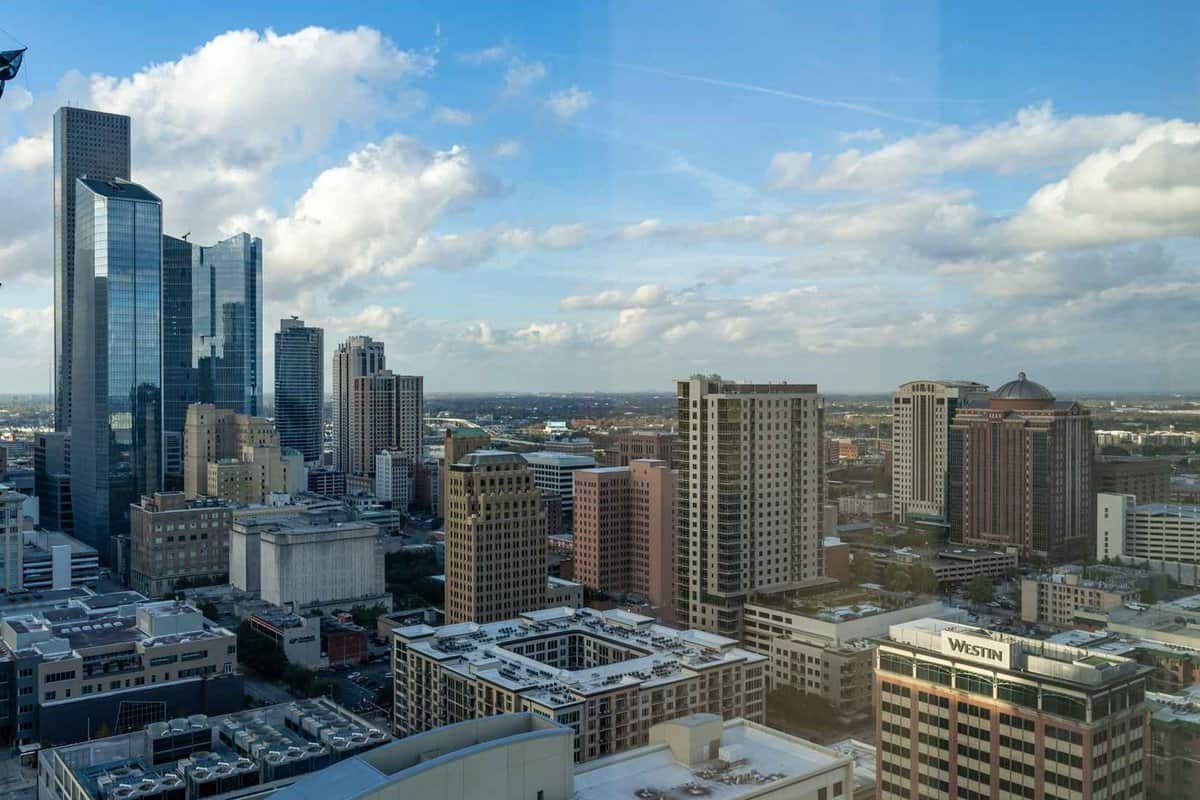 Spend a Day at the Spa
If you are looking to relax and find some inner peace in a calming atmosphere, Pure Spa is the place to go. It is a 5,000-square foot day spa at Marriott Marquis Houston, offering a variety of treatments and specials, including a couples massage, facials, body scrubs, manicures, pedicures, waxing, and fitness classes.
Lounge on a Rooftop
The Altitude Rooftop & Pool can be found on the 6th floor of the hotel, the perfect spot to hangout when the weather is nice. The rooftop offers incredible views of downtown Houston and includes an infinity pool, hot tub, and a lazy river. Both the pool and lazy river are heated during the colder months, so if you're planning to stay at the Marriott Marquis in Houston, pack your bathing suit! The lazy river is definitely one of the highlights of the hotel, designed in the shape of Texas with space to lounge in the middle.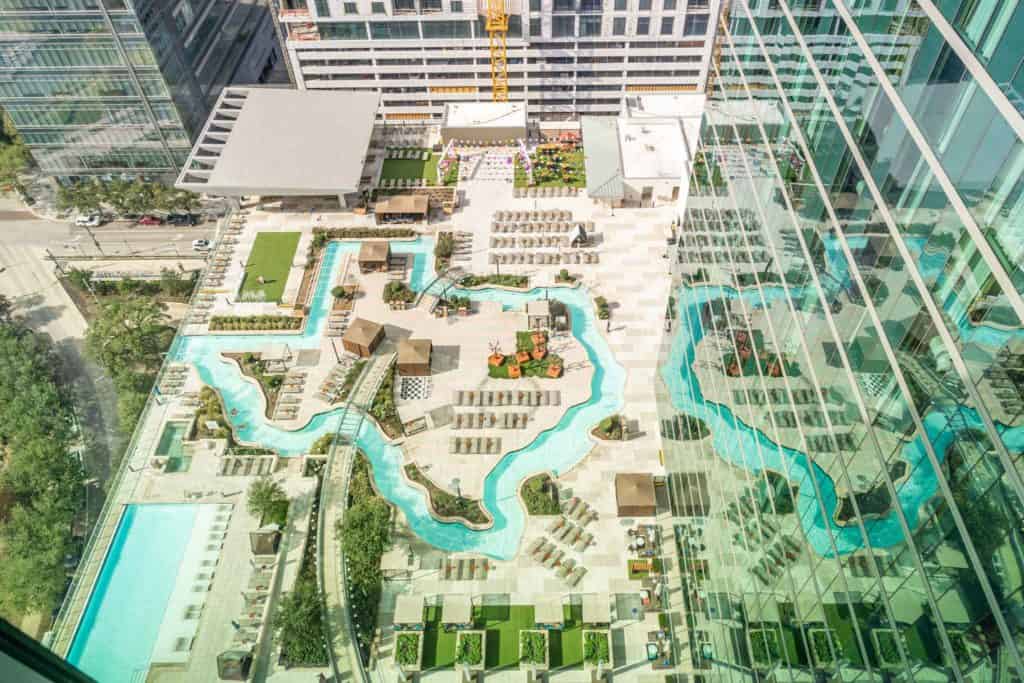 Cabanas and pergolas are available for rent year-round and come with chilled towels and water bottles. There are also dozens of lounge chairs by the pool where you can sip on a cocktail from the Sky Bar, or you can enjoy relaxed dining at the rooftop High Dive Restaurant. The Marriott Marquis Houston even hosts live music events and a summer pool party, as well as light displays and decor during the holidays.
Dine at Authentic Houston Restaurants
The Marriott Marquis Houston hotel has several restaurants on-site. Between the six different dining locations, there is nearly every kind of cuisine or dining experience you could want: from smaller cafes with lighter fare and farm-fresh ingredients to sports bars featuring classic favorites and an extensive drink menu.
Biggio's is a popular sports bar found at Marriott Marquis Houston, aside from its tasty menu, it also features two 30-foot media screens for customers to watch sporting events.
Serving traditional Oaxacan cuisine, Xochi is run by Chef Hugo Ortega, who has won a James Beard Award for his culinary work. The menu is incredible, offering a wide array of Oaxacan-inspired dishes made with house made Masa, mole, and chocolate, as well as other ingredients imported from Oaxaca. Xochi also serves a variety of mezcals, tequilas, and Mexican craft beer.
Marriott Marquis Houston has two stores on-site: Lone Star Traders and Lone Star Sundries, a souvenir and snack shop, respectively, if you're in need of a quick little something.
Treat Yourself to the VIP Treatment
The M Club at the Marriott Marquis allows guests to enjoy a taste of VIP treatment during their stay. 24-hour M Club access, which features a lounge, two private rooms, and complimentary snacks and drinks, is included when you book a Club Level Room/Suite.
Things to Do Near the Houston Marriott
Just minutes from the Marriott Marquis Houston hotel, you can see any number of sporting events, including the Astros or the Texans, attend a concert at Toyota Center, explore the Theatre District and a variety of museums, or visit attractions such as the downtown Aquarium. There is even a man-made waterfall nearby in Waterfall Park! With all of the things to do in Houston, rain or shine, there could not be a better place to stay while visiting than the Marriott Marquis Houston hotel.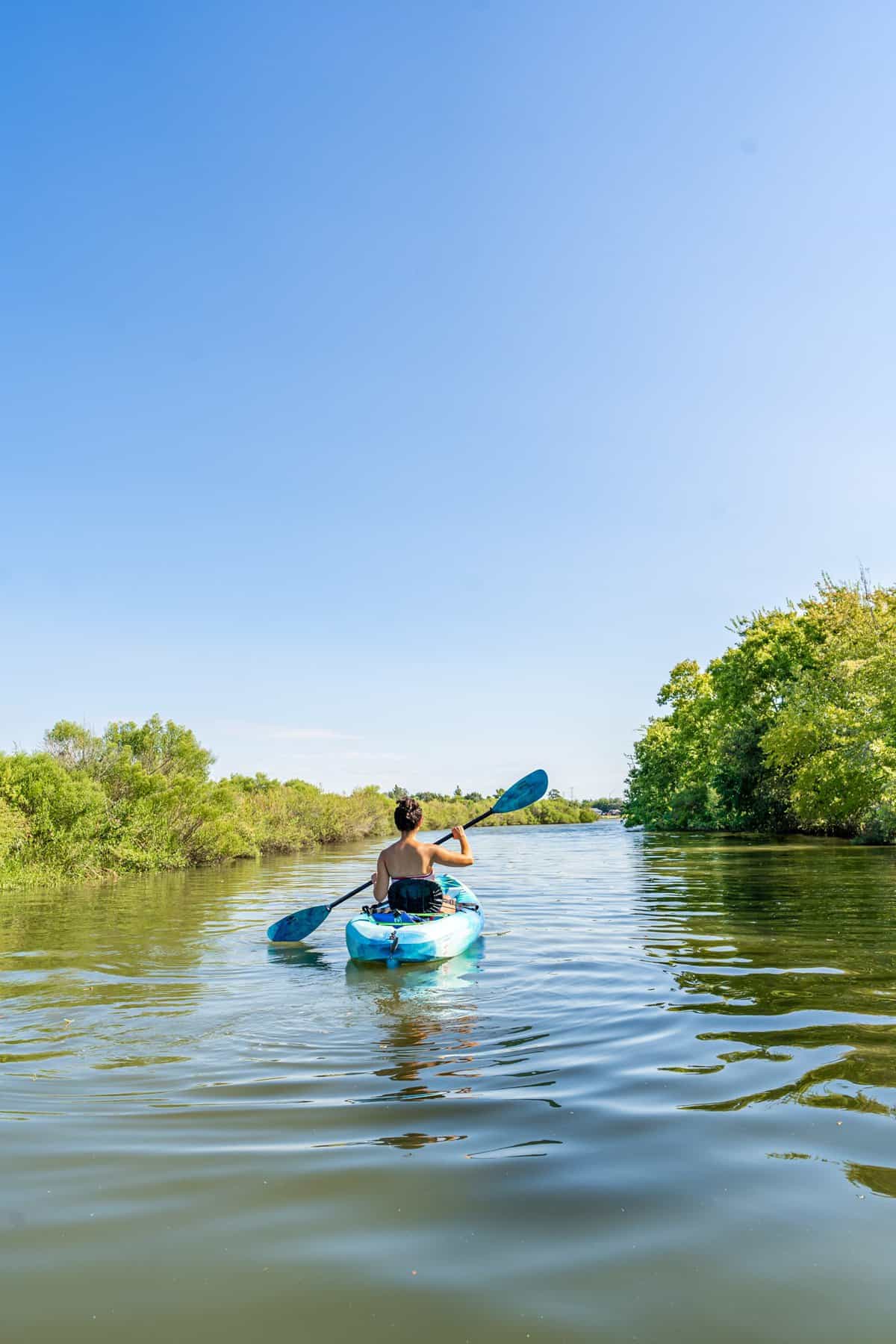 Review of the Houston Marriott: Final Thoughts
The Marriott Marquis Houston's offerings ensure that you'll have everything you could possibly want during your stay, with the beautiful and luxurious guest rooms, delicious restaurants, relaxing spa and rooftop pool, and unmatched views of Houston. Not only does Marriott Marquis Houston feature plenty of sources of joy on-site, but it is also located right in the center of downtown Houston, making it easy to experience everything Houston has to offer.