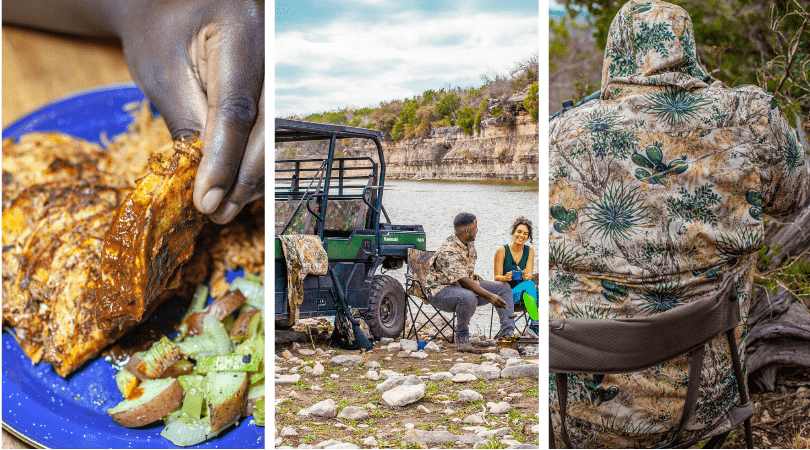 Thank you Texas Parks and Wildlife for making this post possible. As always all opinions are my own.
This post is brought to you in partnership with Texas Parks and Wildlife Department & Texas Wildlife Association. Visit tpwd.texas.gov/WildTable and use promo code ADVENTURE to win a mentored hunting trip. Valid until May 31st.
My husband and I had the opportunity to participate in a mentored hunting trip for wild hog with the Texas Parks and Wildlife Department (TPWD) and Texas Wildlife Association (TWA).These hunting workshops give new hunters like us the opportunity to learn about something new and share our experience with other Texans.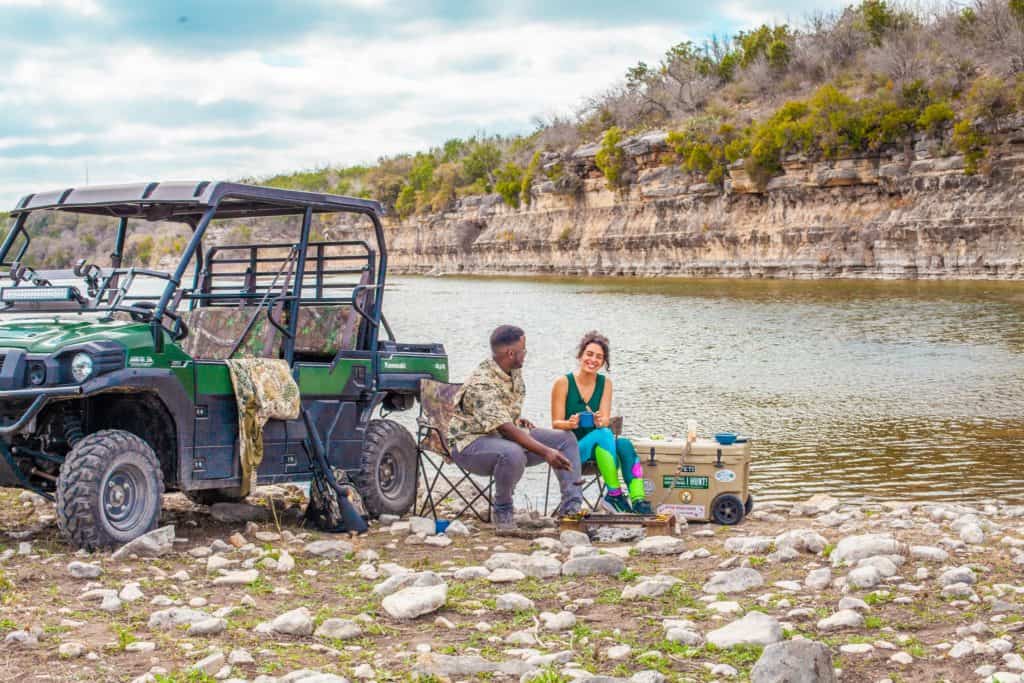 At first we weren't exactly sure what to expect. I'd been a little unsure about hunting in the past, but as we got to the lodge, met the people behind the Texas Parks and Wildlife Department, and learned about the amount of care that goes into preserving the wildlife and preserving our ecosystems, I gained a respect for the part that hunting plays. I learned that hunting is part of maintaining our complex ecosystem . By being a part of the hunting process, I know exactly where my meat is coming from and that throughout its life, this animal has gotten to wander free. 
Hunting has not only allowed us to find a sustainable way to nourish our bodies, but taught us that it's also a way to ensure that the wildlife populations remain at an optimum level so that the animals are able to get enough nutrition from the land and live healthy lives. We have biologists who monitor the lands and analyze what's best for the wildlife. Needless to say, I have so much appreciation for what goes on behind the scenes. 
TPWD and TWA offer mentored hunting trips so that you can learn about hunting and be guided through your first experience with experts who care for the land and the wildlife. With their expertise and care, new and potential hunters can gain a perspective and have the guidance to feel more comfortable when going on the hunt. They take you through education, set you up in ideal locations, and walk you through all of the steps. This was a judgement free zone where even if I decided in the end that I didn't want to pull the trigger, I would walk away with new knowledge and appreciation. 
The Guided Hunting Experience Day 1
My husband and I arrived on the first day to our cabin to get acquainted and comfortable. Previously my husband had gone dove hunting and having grown up in Zambia, he was familiar with harvesting his own meat. However, overall we had very minimal experience (and I had none) and so we came in with a lot of curiosity.
When we arrived we got acquainted with the team. Depending on the guided hunt you go on, you can stay in group cabins or have a more private experience. One of our hosts provided a charcuterie board with homemade cheese and addax sausage that they had harvested. As a charcuterie lover, we enjoyed the opportunity to try a different twist on our normal meat and cheese experience.
Afterwards we walked through safe firearm handling. Our guides taught us about the way that they constantly evaluate the environment around to maintain the balance of the ecosystem. With an imbalance of wildlife, the plant resources are drained so that everyone suffers and the wildlife compete for limited food. Through hunting we make sure that there is a balance between the wildlife and the habitat that sustains them so that they can live their healthiest life.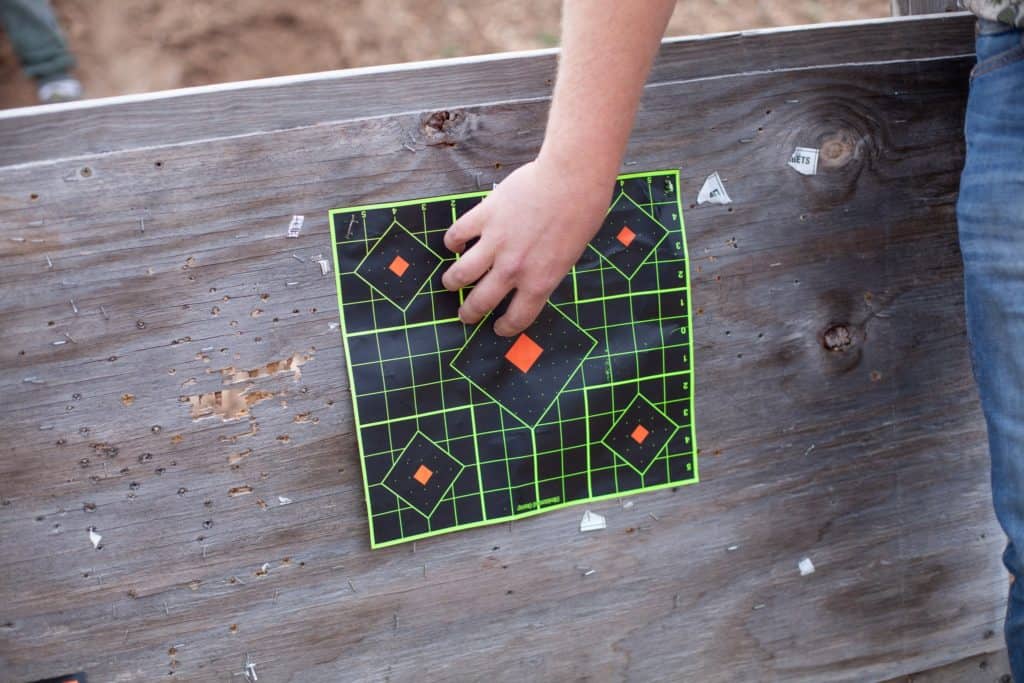 With the proper knowledge we went out to the shooting range. Our mentors helped us line up our shot and practice getting comfortable with our firearm. We were able to practice until we were comfortable and were happy to be in such patient hands.
That night we went back to our cabin. One thing I appreciated about our trip was how they incorporated wild game into every meal. Throughout our entire stay we got to try something different that was locally harvested. There are a few restaurants in Texas such as Starlight Theatre in Terlingua where we've gotten to try wild game dishes, but having it during our guided hunt created an extra connection. We went to bed early in preparation for an early morning.
The Guided Hunting Experience Day 2
We woke up just before sunrise where we set up in a spot overlooking where we expected wild hogs to be. Wild hogs tend to be destructive to property and so even being a part of the hog hunt helped to reduce this overpopulation.
We spent several hours out in nature where we got to watch the sun rise over the Texas Hill Country. While we didn't see hogs, we watched as wild turkeys passed by and deer came to graze. In a time when everything is constantly go, go, go, we had the opportunity to slow things down and sit with our thoughts. It was a chance to clear our mind and focus on the vast nature all around us.
Although we didn't see a hog, another part of our group did harvest a hog and so our next step involved processing the meat.
From the waiting and watching and then processing the game, we gained so much more of an appreciation for the work that goes into harvesting your own food. When you just walk into the grocery store to pick up your meat you don't know what goes on behind the scenes and it just takes a few minutes. However, for us we knew everything from where this animal came from, how it lived, and the process to get the meat from the animal. It was the next step from farm to table where we were responsible for our own meal. We had the chance to honor the animal and feel a true sense of gratefulness for the sustenance it provided. It took me back to how we used to harvest game in their natural environment.
We returned home for lunch over more conversations of wildlife, Texas nature, and just how much goes into preserving the land that we never would have guessed. Afterwards we went out again to a new area with another beautiful view. We had a similar experience of the beautiful nature around us watching wildlife. Turns out that a full day of nature and minimal technology does a soul good. We didn't see hogs, but we had so much time to meditate. We still had the next day to potentially see a hog and so we returned to the cabin for another wonderful wild game meal.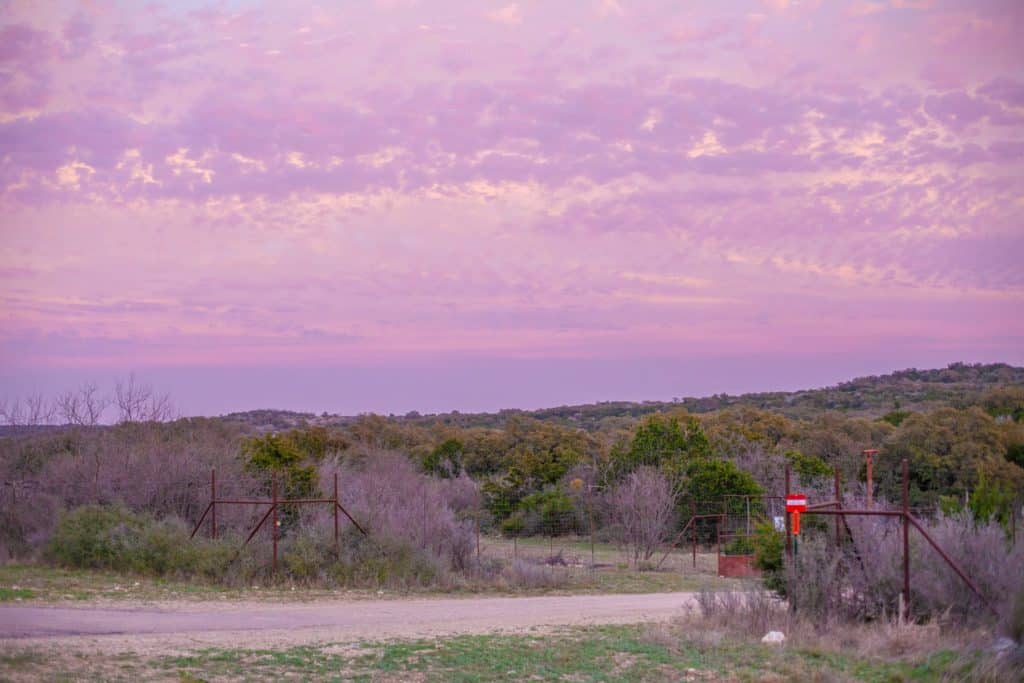 Texas Guided Hunting Experience Day 3
Our final morning looked much like the previous one. Wildlife around us, no hogs, and peaceful hours passing by in nature. In the end we didn't get our own personal experience to harvest a hog, but we were fortunate enough to learn about meat processing with a hog from the ranch. We headed home with some wild boar meat to prepare our own meals.
Texas Guided Hunting Experience Final Thoughts
What started out as uncertainty turned into an informed appreciation of hunting and the role it plays in sustainability and environmental protection. Not only does this process keep the ecosystem balanced, but even the hunting licenses provide a large portion of funds that go to different conservation efforts across Texas. So even before you go on your first hunt, that license already makes a step to protecting the wildlife and land of Texas.
When out on our hunt our mentors reminded us that if we ever felt uncomfortable pulling the trigger, that we were in no way pressured to. With that I realized I could come in with an open mind and that at the very least I would walk away with 3 days out in nature and new knowledge about our Texas environment although in the end I walked away with much more. With the expertise and compassion of our mentors, we could be responsible hunters and feel confident in what we learned and in our contribution to conservation in Texas.
For anyone who is interested in hunting or someone who may be considering but are unsure, the Texas Parks and Wildlife Department and Texas Wildlife Association's mentored hunting workshops are incredible options. You get walked through safety and appropriate firearm handling. You get to learn about the responsibility of hunting and its part in conservation. You get to interact with experienced hunters and learn from them and see first-hand just how passionate they are about conservation and the well-being of wildlife. It's an experience that I can put to words, but that still won't truly capture the full depth of the experience and respect you gain.