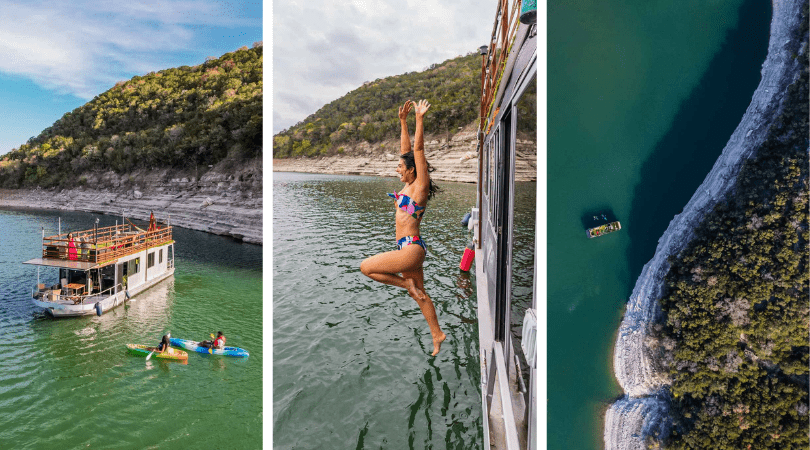 Looking for a relaxing weekend getaway or a quick trip with friends for some lake time fun? Looking to do something different from the usual hotels and cabins? If that's the case, then this houseboat on Lake Travis is the perfect spot to base your next vacation. Located in central Texas, this two-story houseboat is available to rent for groups of up to 12 people and is the perfect setting for any number of occasions.
There are several great on-site amenities to make your stay as pleasant as possible. Plus, its location on Lake Travis offers easy access to tons of other fun activities and destinations, including all the things to do in Austin. Next time you are looking for an Airbnb in Texas, make sure this houseboat on Lake Travis is at the top of your list of places to stay.
Sleep on a Beautiful Houseboat
This houseboat is a spacious, two-story, 55-foot place with a master bedroom looking out over the water, and a downstairs loft with multiple beds. Thanks to a couple of hammocks on the houseboat, you can even spend a night sleeping under the stars visible over Lake Travis or for just relaxing on the deck. There are two bathrooms with running water but be prepared for showers to be a little cold. The houseboat itself is beautiful, with hardwood floors and elegant decor. It normally rests in one spot on Lake Travis, but it can be moved to various locations across the lake upon request.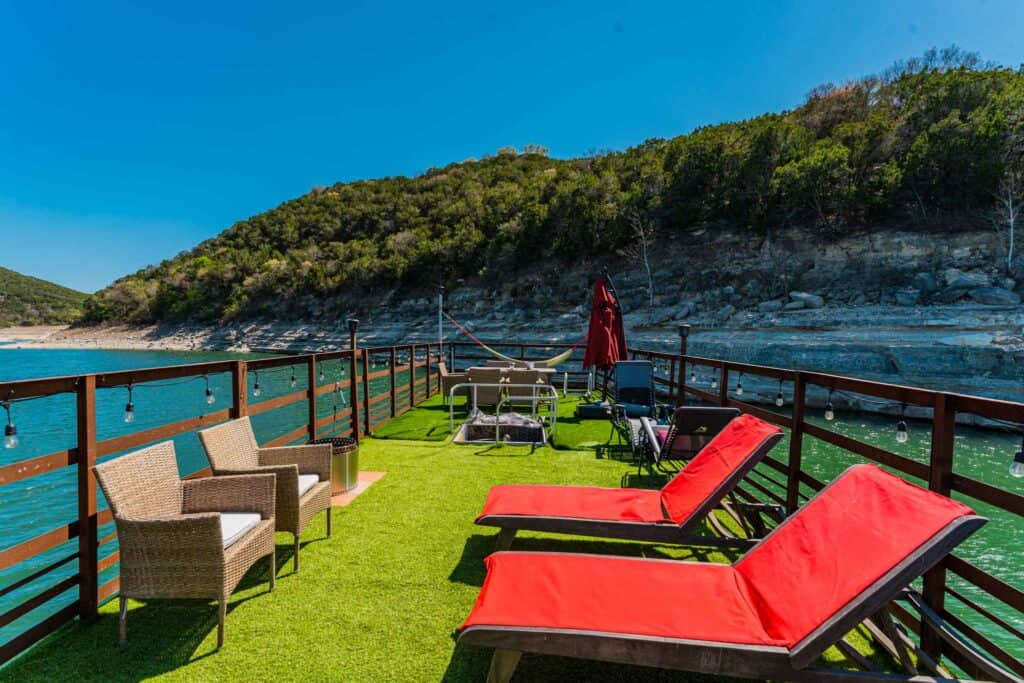 Experience Life on the Lake
There are not many places where you can sleep in a boat out on the water, making this houseboat on Lake Travis particularly unique. The houseboat is anchored in a beautiful cove on Lake Travis, so in order to reach it, you and your luggage will be picked up from shore by another boat. There is a small kitchen onboard where you can cook meals; things may not always work perfectly since it is a boat, but there is a dock about 100-yards away that you can reach by kayak to order delivery or pickup food if you'd like. One important thing to note is that you must bring your own drinking water; the water on the houseboat is not potable.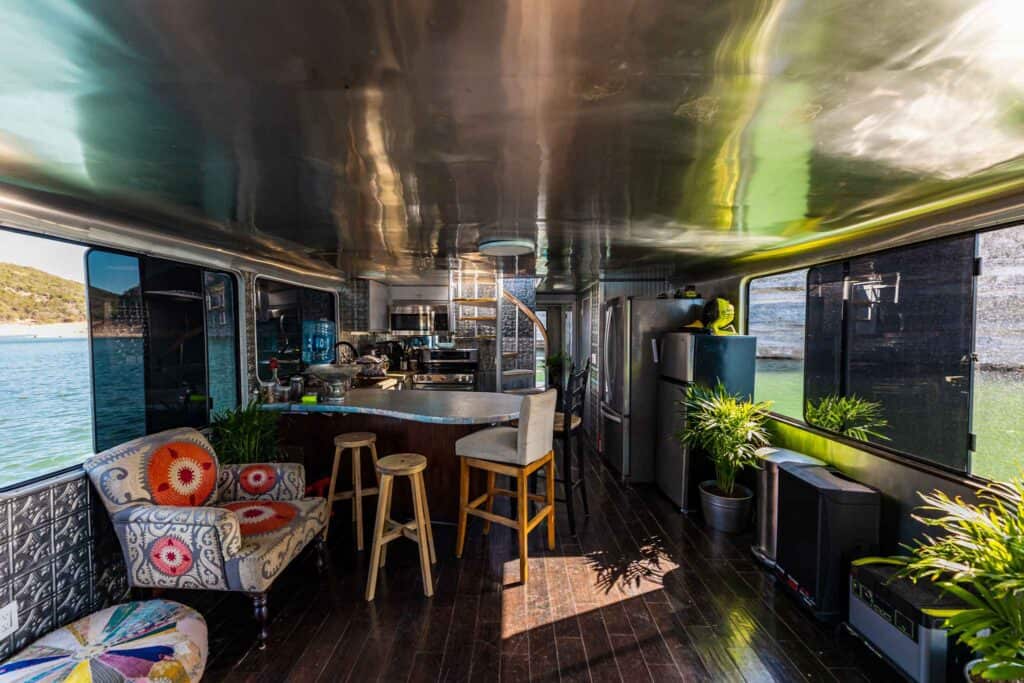 Enjoy Fun Activities on Deck or in the Water
This Lake Travis houseboat has an upstairs deck that features light workout equipment, plenty of seating, and a hammock. There are also free kayaks available, as well as additional equipment for rent upon request, such as a canoe or inflatable mattress. With all of these amenities available, it is easy to be active both on the upper deck and in the gorgeous water. You are even allowed to have pets onboard, so you can have some extra fun on Lake Travis with your four-legged best friend.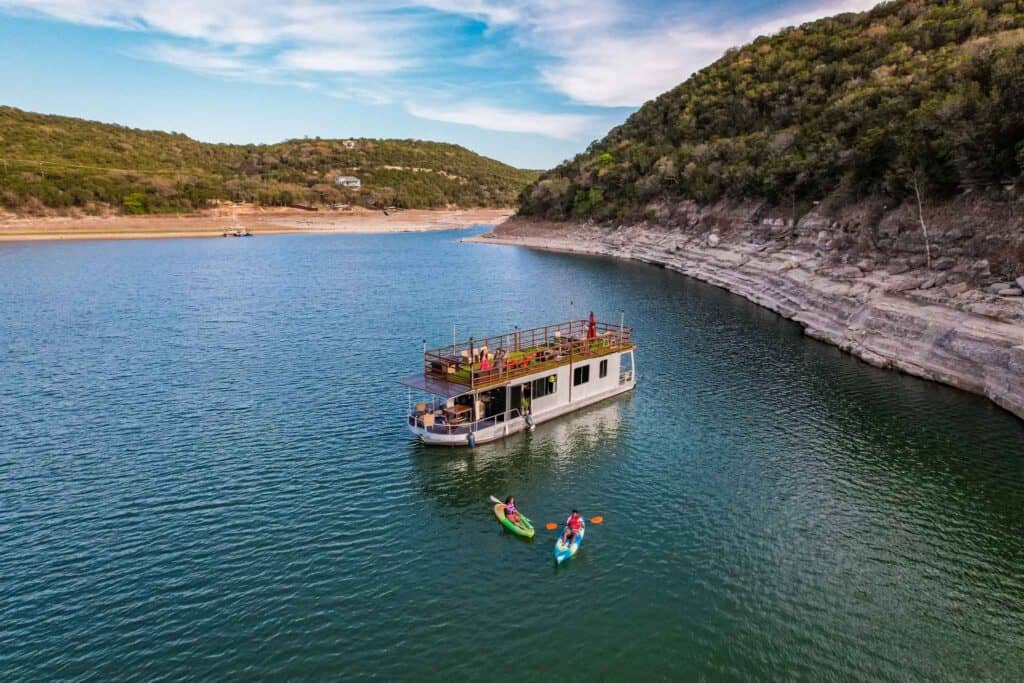 Things to Do Near the Houseboat on Lake Travis
One of the great things about staying at this Airbnb on Lake Travis is that it is still easy to find and get to things to do near your docking spot. The cove where the houseboat normally sits on Lake Travis is right next to Zip Line Adventures and Waterloo Adventures, so you can easily enjoy some adventurous activities off the boat. Aside from this, there are a couple of nearby waterfront restaurants you can try out as well, which the hosts can provide transportation to via a pontoon for a small fee. The Oasis on Lake Travis is a great option for food, and the sprawling space offers spectacular views of the sunset. Don't forget about all the things to do in nearby Austin as well!
Things to Keep in Mind
Staying on this beautiful houseboat is overall a great, unique experience, just be prepared for all of the differences that come with living on a boat. Having potable water is the most significant. A water jug is provided, but it should be advised to bring additional water for safety. Make sure you also bring towels for showers and swimming. However, these details do not in any way detract from the amazing experience that you can have while renting this houseboat on Lake Travis.
Stay in a Houseboat on Lake Travis: Final Thoughts
This houseboat on Lake Travis is a great place to stay, as there is so much to see and do on and around the lake, especially with its close proximity to all the things to do in Austin. It may not be for everyone but staying on this houseboat is definitely worth it if you are interested in having a one-of-a-kind vacationing experience.