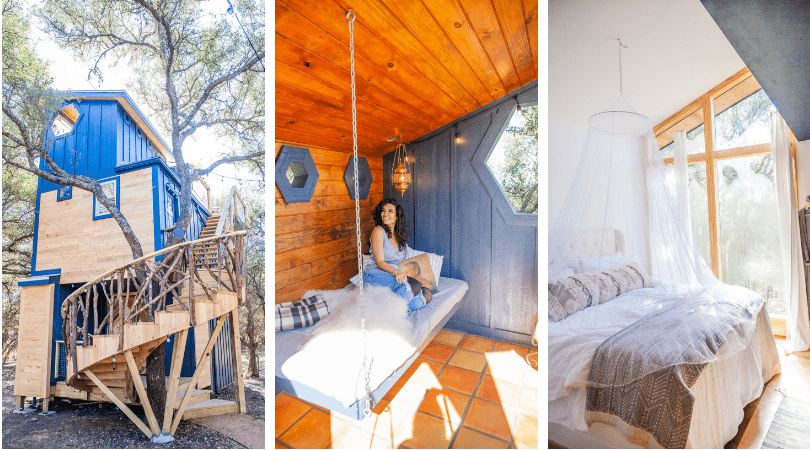 There's something so magical about staying in a treehouse, being up in the trees and close to nature. Fredericksburg already makes for a fun destination with the wine trail and German history. Then add on top a cool experience like sleeping in a treehouse, and you have a weekend of fun!
We got to stay at one of the five treehouses right outside of Fredericksburg, Texas, all with a different look and different amenities. The Acorn is one of their newest treehouses, and we found some fun surprises there! You can also use this link for a discount off your booking!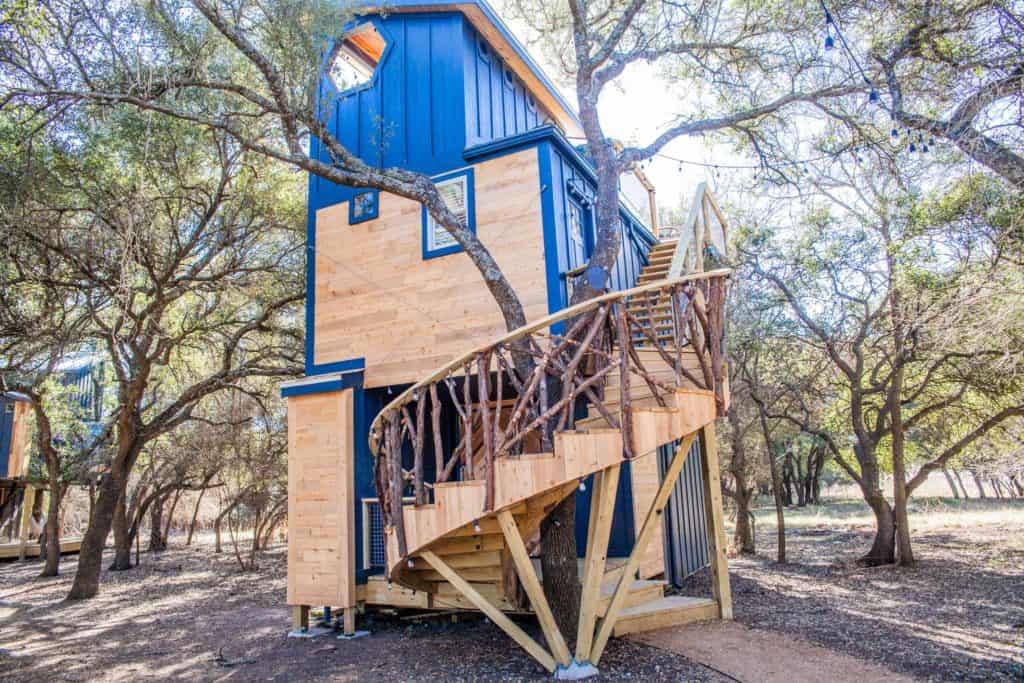 When we arrived, there were string lights illuminating our way, making it feel magical. As you climb the beautiful winding staircase, it definitely has a treehouse feel. Once you step inside, it's a combination of modern and natural, with floor-to-ceiling windows, fresh white paint, and wooden architecture including a tree trunk that looks like it's coming through the floor. Art pieces give it additional character and make it fun.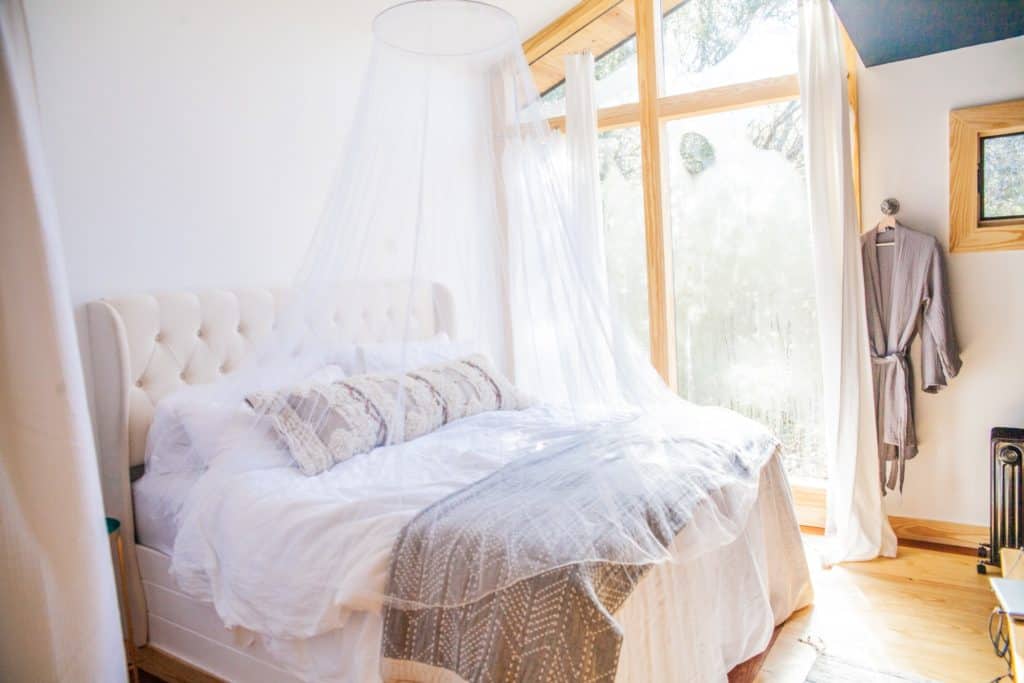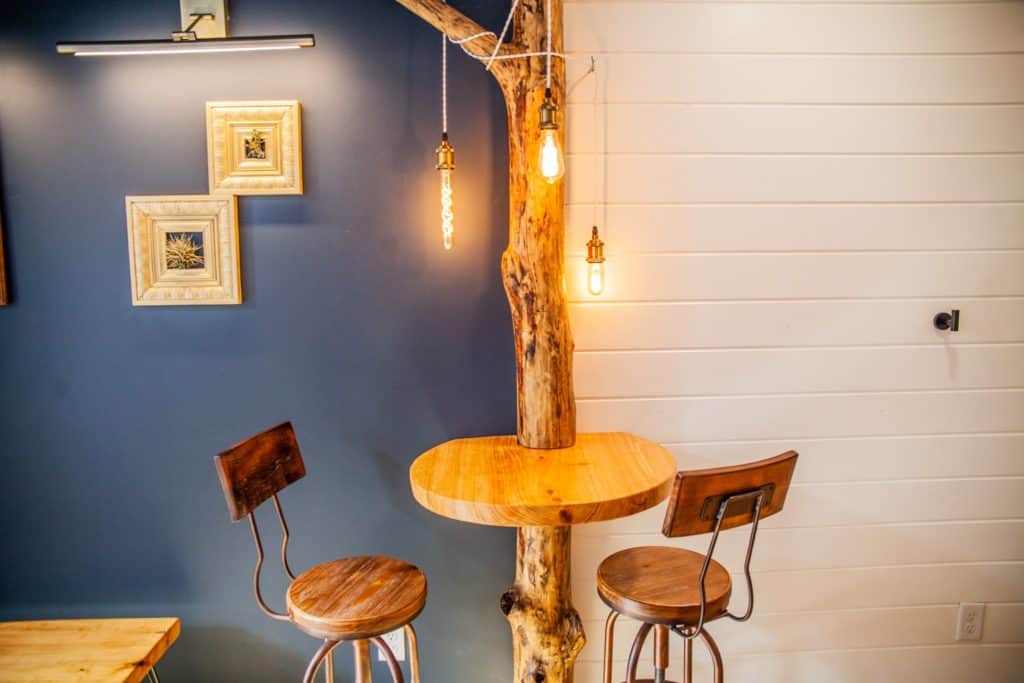 There's a small kitchen complete with sink, small refrigerator, microwave and dishes, everything you need for your stay. The bathroom is beautifully designed with a glass-wall shower and lots of space. There were even some fun board games for those days you just want to stay in and relax. Oh, and the A/C and heat work very well!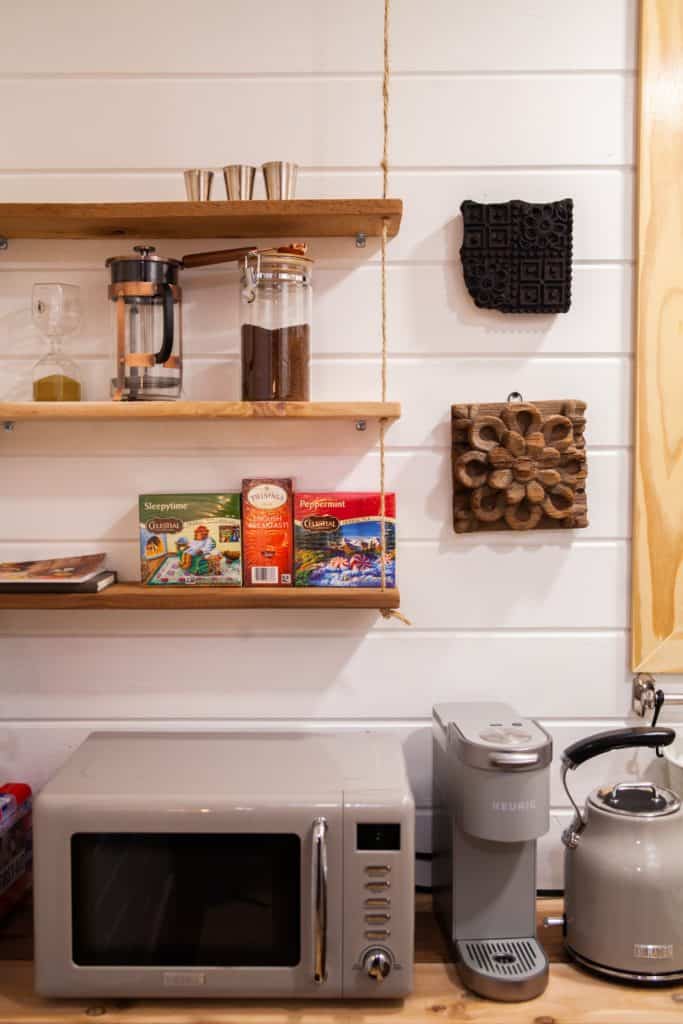 The really fun surprises are at the top and bottom of the treehouse. When we got up the next morning, we discovered there was a rooftop terrace with a fun suspended lounging bed, hanging swing, chimenea and seating. It's a great area for looking out among the trees and enjoying the beauty of the outdoors.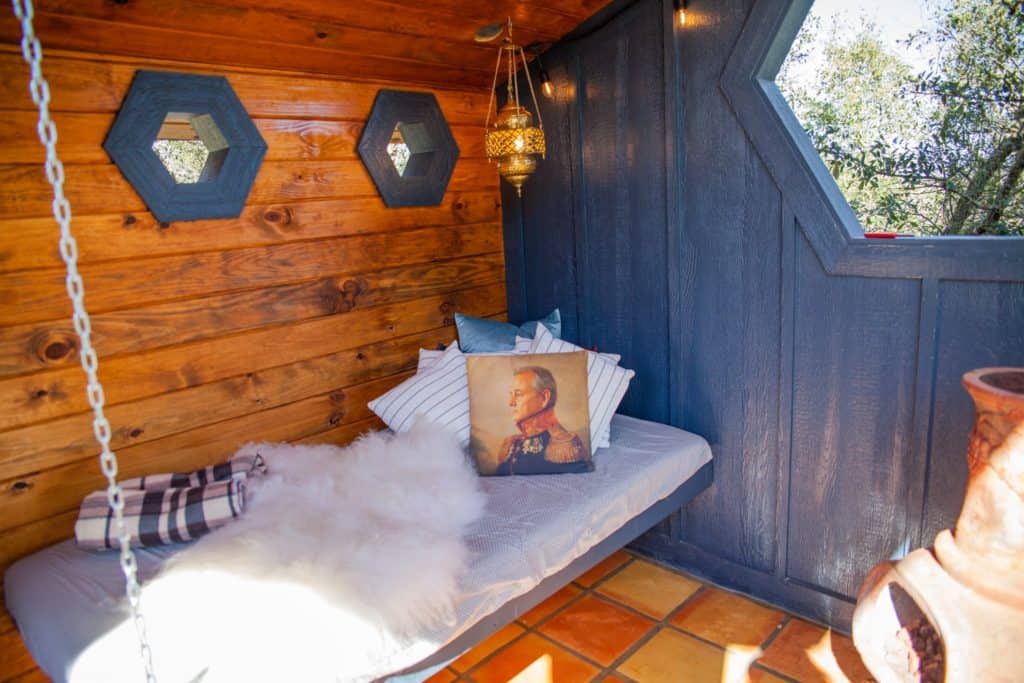 On the bottom landing, there is a sliding barn-like door that opens into a room with a sunken soaking tub and a swing – great for enjoying a hot bath in the winter! Grab your copy of 50 Texas Trips Under $50 and soak away!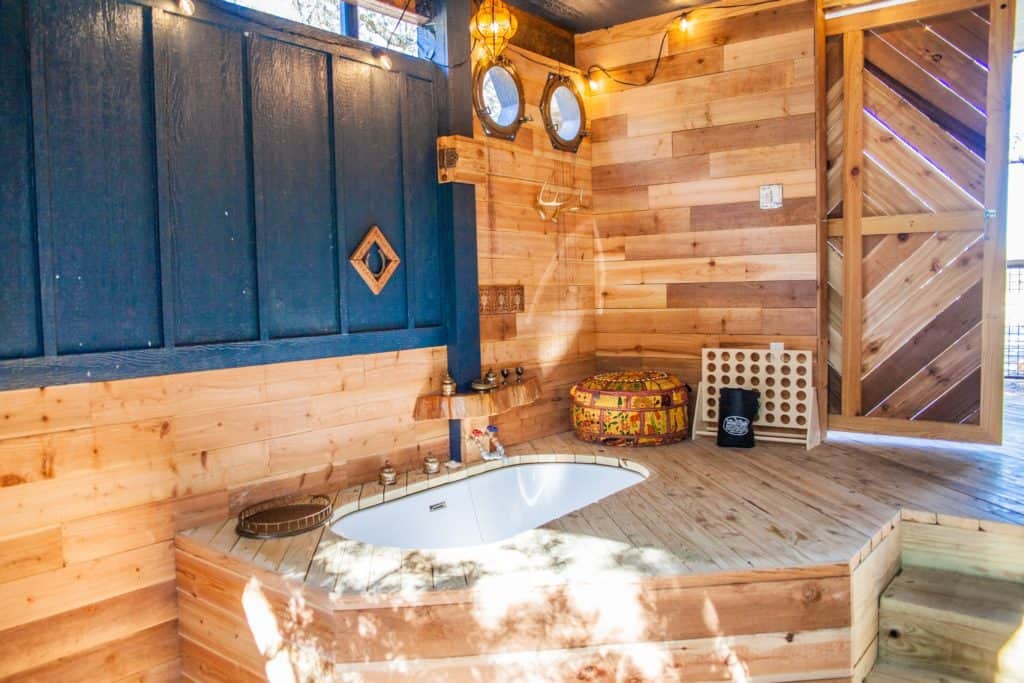 And that's just the start of it! There's are multiple different treehouses with different themes and ways to experience tree house living. You can keep coming back to Fredericksburg to experience each one! Another one we enjoyed was the Sapling Treehouse which came with a beautiful bathtub and an open and spacious design.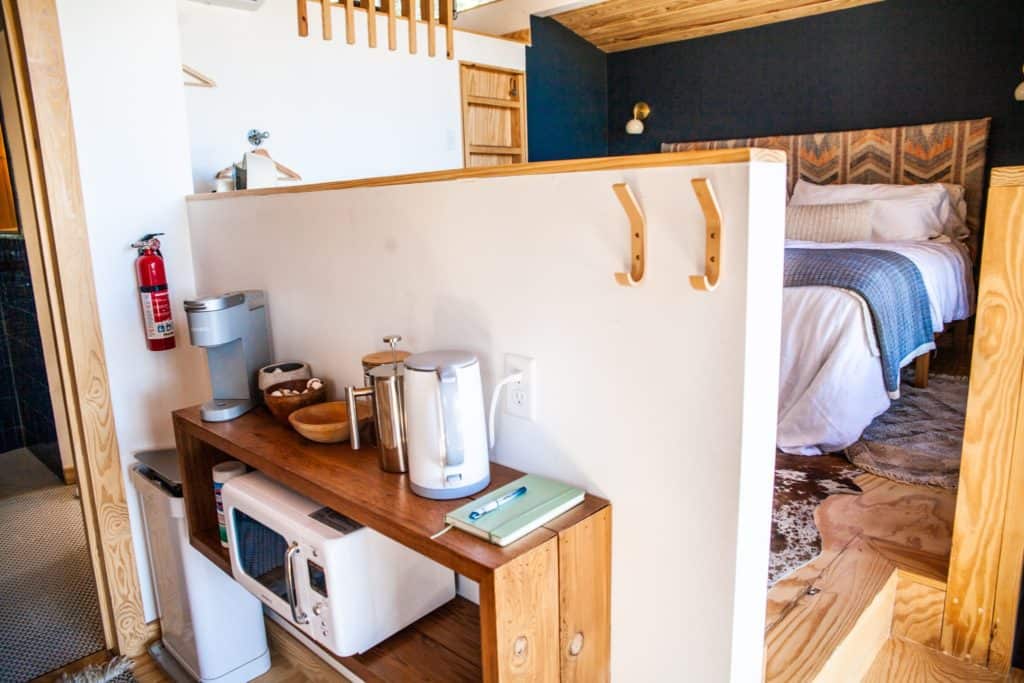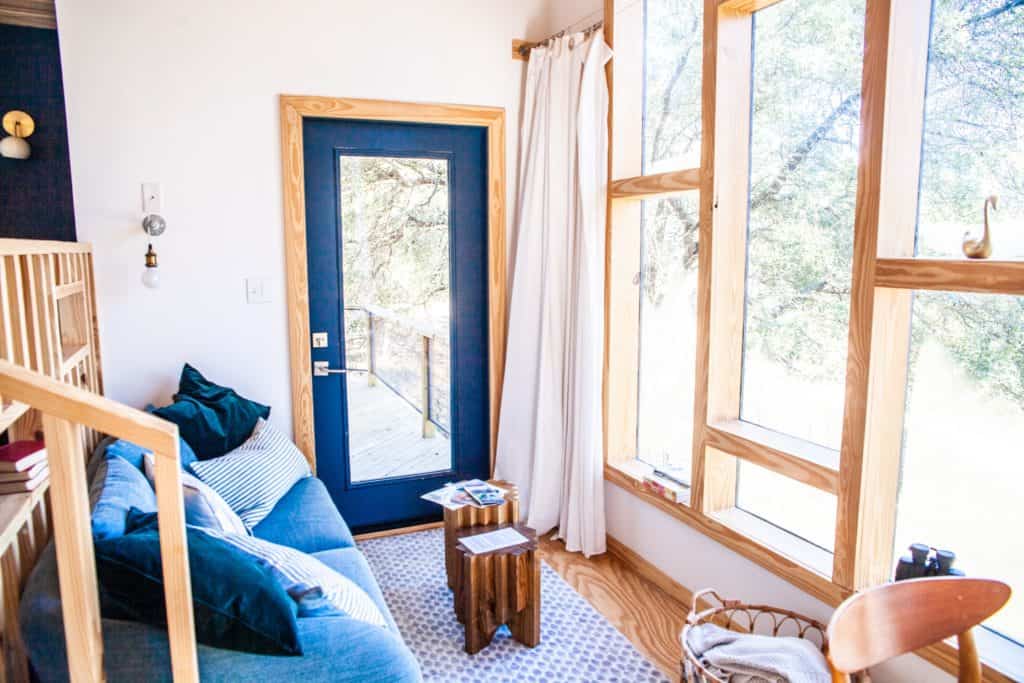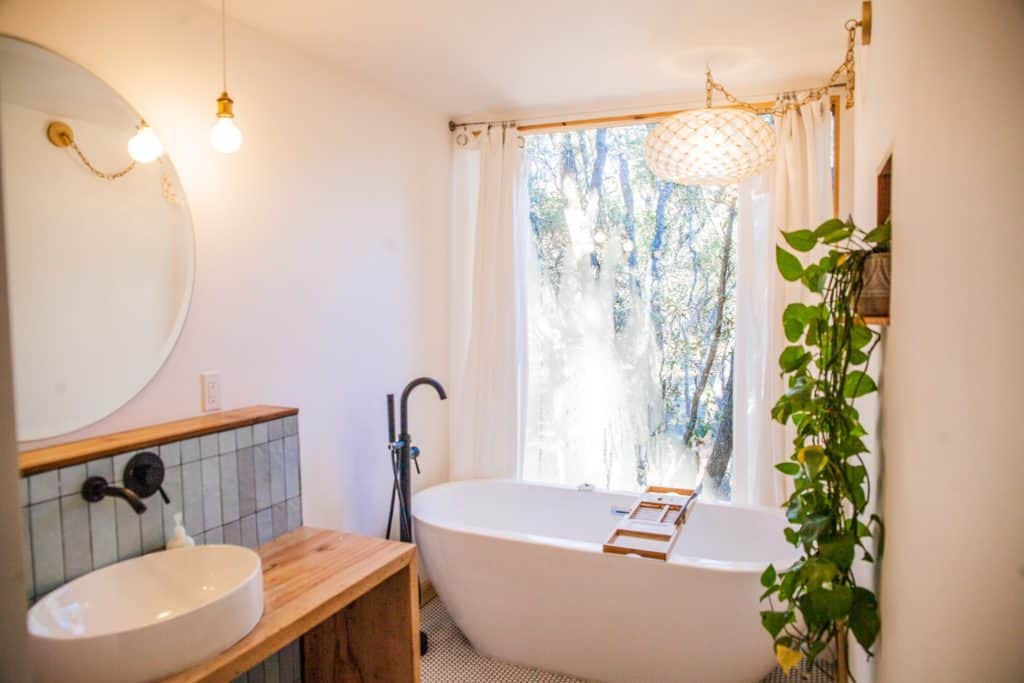 Overall, the treehouses give you a glamping feel, located peacefully just outside of town, but close enough to get to all of the great things to do in Fredericksburg. While you're there be sure to check out all of the other fun things to do in Fredericksburg.