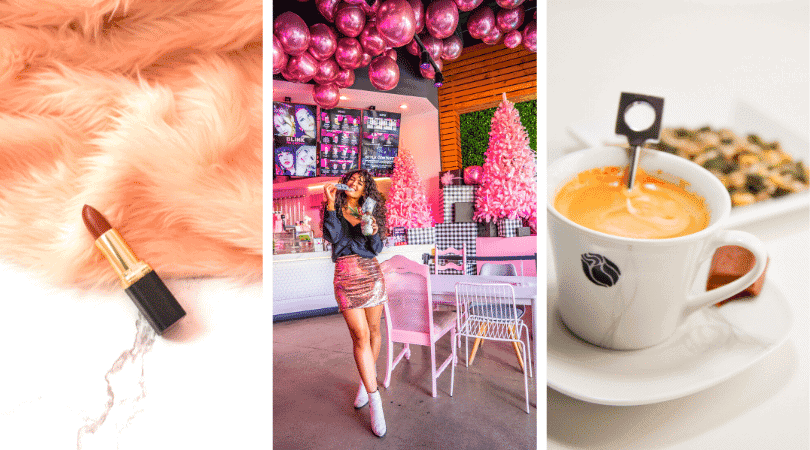 Holiday shopping is upon us. Unless you're reading this after and looking for a birthday gift/etc. However, I wanted to share some of my favorite products that I use regularly and love. There is everything for every budget and I tried to keep it pretty well mixed up for people looking for different things. Plus check out our other gift guides including gifts for him, curly hair gifts, and Texas gifts. We even have our own little shop we're pretty proud of!
Koko & Claire Nail Polish
I love gel nail polish, but I hate having to remove it! It's such a pain and takes forever. So, when I came across the Koko & Claire nail polish that comes off with water I was hooked. You do your nails like most nail polishes, but then you also create a seal with their kit. When you're ready to remove the nail polish you simply file your nail to break the seal and then soak your hands for a minute. I can't get over how easy it is! I don't exaggerate when I say it really is that easy.
Kurt Geiger Purse
Obsessed is going to be a word I use quite often in this guide, but they're my favorite products for a reason! I have eyed the Kurt Geiger Kensington bags for years so finally getting a bag was so exciting. Despite being so colorful it seems to go with everything and I get non-stop compliments for it.

Airplane Foot Hammock
If you fly then this hammock is the best! Not only does it pack up nicely to take almost no space in your luggage, but it's so simple to use. Being stuck in one position forever can really wear out my legs. The hammock helps prop them up nicely and you can adjust it based on your needs. I don't go on a flight without this.

Glitter Wands for Eyes
I'm a big fan of glitter. I love how a little bit of sparkle goes a long way! I love how subtle these are since it's a neutral color, but still adds a pop of personality!

Red Glitter Lipstick
Like I said, I like glitter! The UOMA lipsticks are a Black owned makeup brands, but my favorite lipstick of all time is the Black Magic in shade On Fire because it glitters but still applies so smooth!

H-E-B Candles
I'm sorry if you don't live in Texas. Although they're still worth shipping if you don't have. For being as affordable as they are, they are extremely strong and come in delicious smells like brownie, blueberry muffin, and even warm buttered tortilla (something only people who understand HEB get).
Shower Speaker
I don't know why it took me so long to get this, but now I'm changed! It's great for music, but as a big audiobook person I love being able to listen to them in the shower. I've tried multiple speakers, but this is the only way I can actually hear what they're saying.

Bathtub Tray
There's nothing like a nice bath with a glass of wine and a book or a movie. These bathtub trays make it so easy to have everything you need in one place for ultimate relaxation and they're adjustable to fit your bath size.

Heated Blanket
Cold winter mornings are now so much better without a nice warm cocoon. This is another one of those purchases that I always wonder why I didn't get one sooner.

Thai Tea Kit
After a Thai restaurant moved in right by my apartment I found myself going every down almost daily for a little pick me up. Soon it was my afternoon addiction and my wallet was feeling it! I grabbed this Thai tea mix and it's just such a fun fancy feeling addition to my day!

Nespresso Machine
I start every morning with my Nespresso. It was a little bit of a splurge but worth it for all the money I save by not going to a coffee shop. It's so nice to have a latte in seconds every morning and I can always sweeten it up with a little bit of mocha if I want or create my own unique concoctions. I included the more pricey one (it's just ultimate convenience), but I've had the mini for years and it workds great!

More Shopping Ideas
Still in need of more holiday ideas? Make sure to check our other shopping guides.