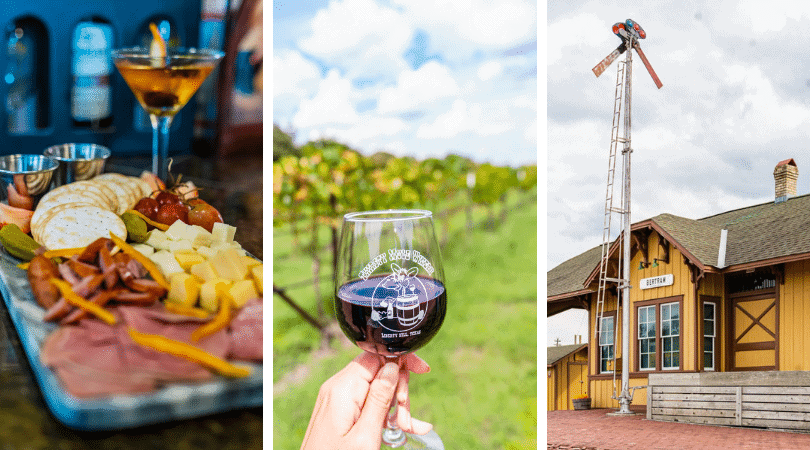 A small town nestled in the Texas Hill Country; Bertram is an underrated city that actually has so many things to do this weekend if you're in need of a mini vacation. You might be thinking to yourself… How many things to do in Bertram could there possibly be? This quaint town will pleasantly surprise you – There is history, horseback riding, wineries, parks, and so much more! Now, take your pick of all the things to do in Bertram, Texas!
Catch a Film at the Local Theater
Established in 1935, the Globe Theatre is a historic building whose vintage charm has been revitalized, where locals and visitors can come and watch a classic film, enjoy live music, and partake in holiday events, like scary movies during Halloween.
Go Horseback Riding in the Texas Hill Country
When you're looking for things to do in Bertram, definitely consider galivanting across the Texas hills on horseback. Colbert Ranch has a wonderful horseback riding program and includes helpful and knowledgeable staff, experienced & calm/friendly horses, and miles of beautiful scenic trails to explore! They also have hayrides, cowboy golf, and fishing, among other things! Create memories with your family that will last a lifetime.
Take a Wine Tour
Flanigan's Texas Distillery & Winery
Among the countless places to visit, Flanigan's Texas Distillery & Winery is one of the vineyards you have to add to your list of things to do in Bertram! This historic building from 1904 has been transformed into what is now a wine-tasting room, owners Kevin & Dana opened up Flanigan's to share their love of quality wines and spirits. Blending southern charm with their Irish roots, they have managed to create a cozy, swanky environment with your choice of a sommelier wine-tasting, distilled spirits, or one of their signature cocktails.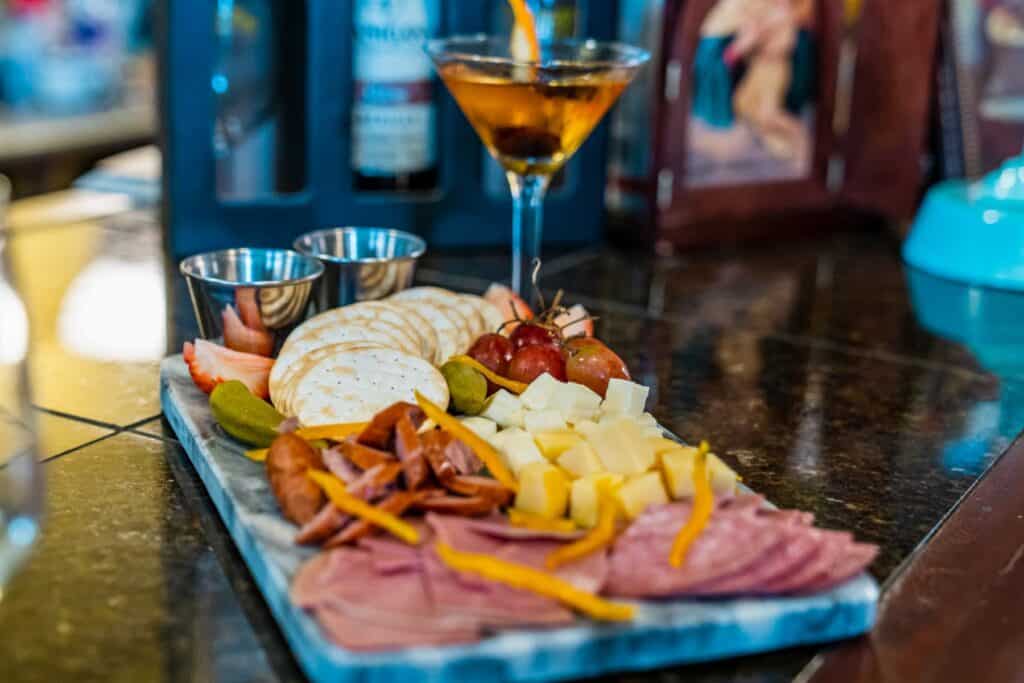 Decadent Saint Winery
Located on 25 acres of land, Decadent Saint Winery doesn't fall short of the gorgeous views of the Texas Hill Country. Their menu includes a list of fine wines and craft cocktails to choose from. There is also stunning outdoor seating and live entertainment on the weekends! 
KFire Winery and Vineyard
A winery inspired by Bertram Firefighters, KFire Winery and Vineyard has a broad selection of vino to choose from. Overlooking the stunning Texas Hill Country, you can experience a wine-tasting with your favorite people. The owners also offer Firefighters a complimentary glass of wine if they bring their patch – I'll cheers to that!
Walk Through an Art Gallery
Going solo, this European artist, Museo Benini, opened his studio to the public back in the 1960s. Benini's craft encompasses a variety of different styles, like figurative paintings and three-dimensional art pieces. His gallery is open on Saturdays by appointment, so you won't have to miss out on adding it to your weekend list of things to do in Bertram. You can take a stroll inside the fine arts library or outside with the sculptures that international artists have designed over the years.
Snap Pictures at the Pumpkin Patch
If you happen to visit Bertram in the fall, drop by the Nomad Ranch. Come and take cute pictures and make memories. The pumpkin patch typically opens in early October and lasts until Halloween! To make a whole day out of it, Nomad Ranch also offers hayrides, pumpkin painting, and more!
Get a Workout in
If you don't have time for all the outdoorsy things to do in Bertram, you can still get some movement in on your next Texas road trip. This all-women's gym allows you to be surrounded by like-minded ladies who can support you in your health and fitness journey. EMPOWERED Women's Fitness Center offers workout classes every day by certified instructors, and young ladies 12+ can join in too! 
Things to Do Near Bertram, Texas
Torr Na Lochs Vineyard & Winery (Burnet)
If you're looking for a farmhouse-style ambiance and tasty wines, you should pop into the Torr Na Lochs Vineyard & Winery! Inspired by their travels to Scotland, Blake & Karen brought their vision to life by redesigning their ranch property into a vineyard for the public to come and enjoy a glass of vino.
Fort Croghan Grounds and Museum (Burnet)
Travel back in time and experience the history that Fort Croghan Grounds and Museum has to offer. To preserve what makes Burnet County what it is today, this lovely museum goes above and beyond to show locals and visitors just how rich the history is here! In October, they host Fort Croghan Day, and guess what? Admission is free! 
Highland Lakes Squadron Museum (Burnet)
For even more historical affairs, pay a visit to the Highland Lakes Squadron. A branch of the Commemorative Air Force, it is just a short 14-minute drive away, making it convenient to add to your list of things to do in Bertram. If you are a plane spotter at heart, this museum will blow you away…literally. They are home to some of the oldest aircrafts from the WWII era along with mementos and exhibits. Check out all that this vintage airplane museum has to offer!
Take a Hike (Burnet)
In the heart of the Texas Hill Country and in the nearby town of Burnet, Longhorn Cavern State Park is one of those places that you just can't pass up. They offer guided visits of the cave and walk you through the history of this beautiful Texas wonder.
Spider Mountain Bike Park (Burnet)
Roll out your mountain bikes and go explore the Spider Mountain Bike Park, just 23 minutes out from Bertram. This is every cyclist's dream destination! They have year-round, lift-served trails ranging from beginner to expert level, so there is a path for everyone! You can also find campsites and other lodging options for an overnight stay.
Thirsty Mule Winery & Vineyard (Liberty Hill)
This stunning winery, located just 15 minutes outside of Bertram, is built on California grapes grown right here in Texas. Get the full vineyard experience with one of Thirsty Mule's wine tastings. Oh, and did I mention that they are the only underground winery in all of Texas? Yeah. Enough said. It definitely needs to be on your list of things to do in Bertram!
Grab a Cold One at the Brewery (Liberty Hill)
If you or your travel buddy is more of a beer fan, there is a brewery in town you can tack onto your list of things to do in Bertram. There is no lack of booze at the San Gabriel River Brewery. This local beer factory is a great spot if you are searching for somewhere to enjoy a nice, cold beer in the Hill Country. They offer tastings, pints, growler fills, and more! 
Keystone Square Museum (Lampasas)
Explore the deep history that lies in the "Saratoga of the South", otherwise known as the Keystone Square Museum. Helping to translate the story of Lampasas, Texas, this exhibit is full of old-timey antiques like the Hanna Springs Bathhouse, a card table from the early saloon, and a 1911 death basket that they used to use during the time of the Horrell-Higgins Feud in the 1870s!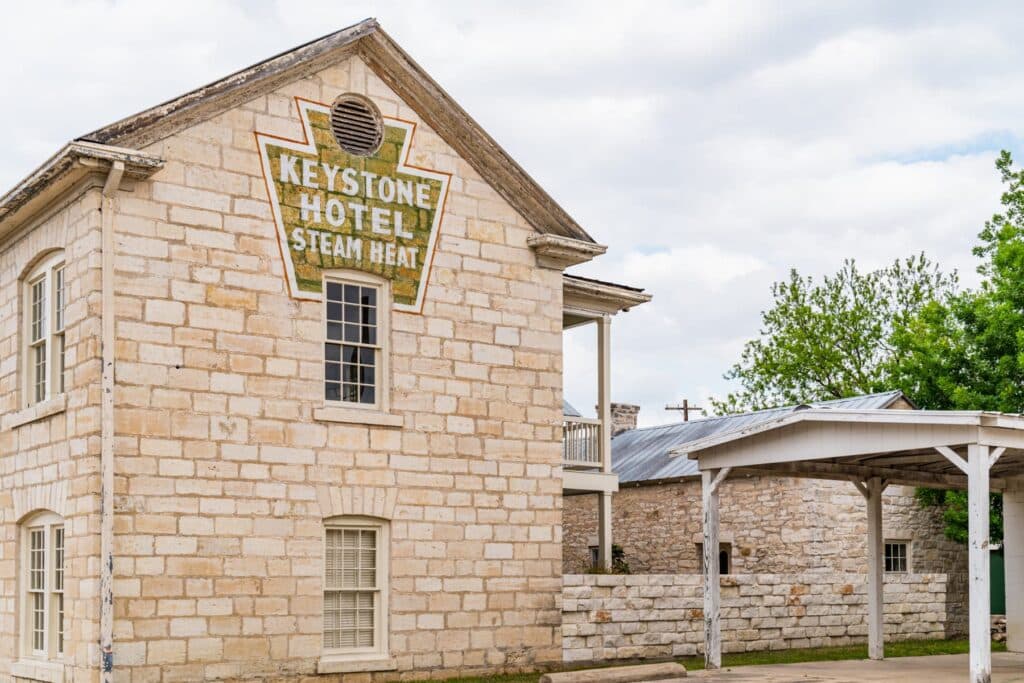 Hidden Falls Adventure Park (Marble Falls)
Take your car out for a spin at this off-roading trail, Hidden Falls Adventure Park. This one is for all the adrenaline junkies who seek exciting experiences! If you want to make a weekend out of it, they offer camping grounds for you to lodge at, as well as shooting ranges. Bring your ride out and see where the road takes you!
Balcones Canyonlands National Wildlife Refuge (Marble Falls)
Home to some of the most beautiful wildlife like the golden-cheeked warbler, the Balcones Canyonlands National Wildlife Refuge maintains the animals and their native habitats that are flourishing in the Texas Hill Country. This is what makes the refuge so special!
Jim Hogg Park (Georgetown)
Everything you desire out of a park is here at Jim Hogg Park, located 29 minutes outside of Bertram, Texas! Alongside a serene lake, you can take your boat out for the day, enjoy the beautiful weather, and go for a splash in the water. Did I mention that they also have great campsites, hiking/biking trails, in addition to hunting & fishing? Go check it out!
Cedar Breaks Park (Georgetown)
Cedar Breaks Park, a picturesque outdoor space, provides you with a fully equipped camping site to stay in along with warm showers & multiple dump stations. The activities are in abundance here, such as paddling, picnicking, boating, hiking, and so much more!
Ride the Hill Country Flyer (Cedar Park)
Pick your choice of train rides aboard the Hill Country Flyer. Ride into Bertram from Cedar Park for a 2-hour layover and do some exploring; ride the North Pole Flyer out of Bertram during the holidays; board the Wildflower Express during bluebonnet season with a quick 15-minute stop in Bertram, or the Pumpkin Express for a 30-minute stop at the Bertram depot's pumpkin patch.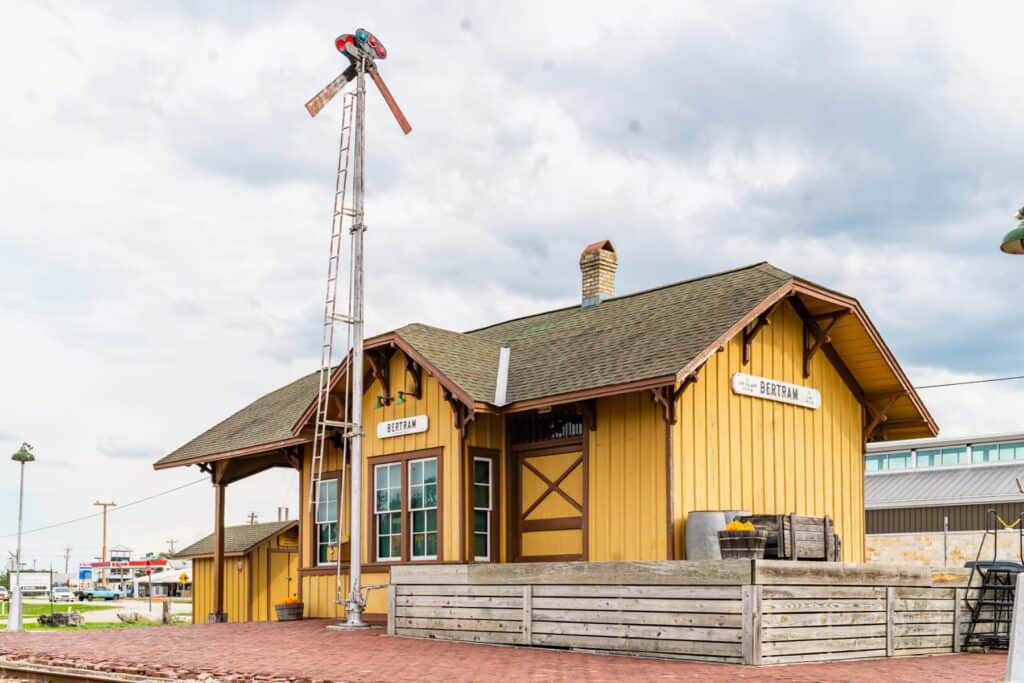 Things to Do This Weekend in Bertram, Texas: Final Thoughts
Although Bertram, Texas is a small town, they certainly make up for it with their abundance of things to do. If you are seeking out a road trip into the Texas Hill Country, don't pass up this cute little city and be sure to use our list of things to do in Bertram for a fun-filled weekend of adventure!
Check out these guides to plan a whole road trip through part of the Texas Hill Country:
Burnet – Visit Inks Lake State Park
Lampasas – See the World's Largest Spur and visit Colorado Bend State Park
Where to stay in Marble Falls – Sleep in geodesic domes or a cabin with a rope bridge and private pool
Georgetown – Swim at the Blue Hole and visit the Inner Space Caverns