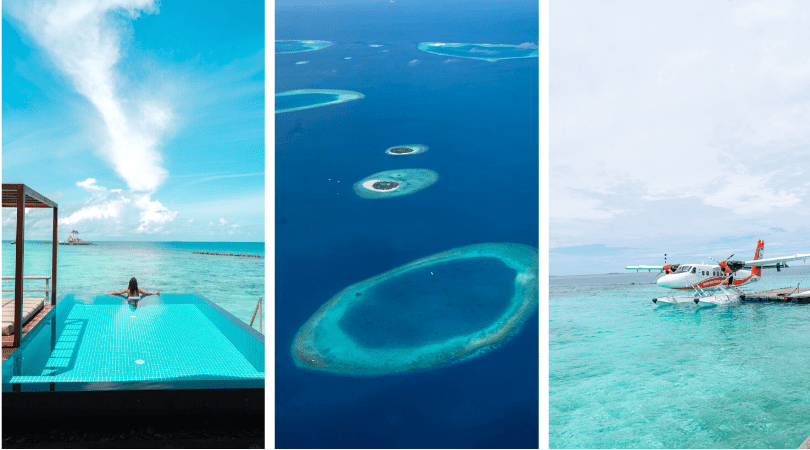 Going to the Maldives has been a bucket list dream of ours, as it so for many, so when we found a good deal, we jumped on it! During our trip and in preparation we had so many questions as well as questions from those who wanted to go to the Maldives and so we put together this Maldives Travel Guide that I hope will be helpful to anyone looking to visit. All of these are based off of questions we had or that people asked us.
How much does it cost to travel to the Maldives?
Traveling to the Maldives is about as expensive as most international travel. We've been to Spain and Bali and found our tickets comparable. Flights really do vary on seasons, how far out you book, and specials, but expect to pay anywhere from $1000-$1500 per round trip flight (we'll talk more about saving on flights later).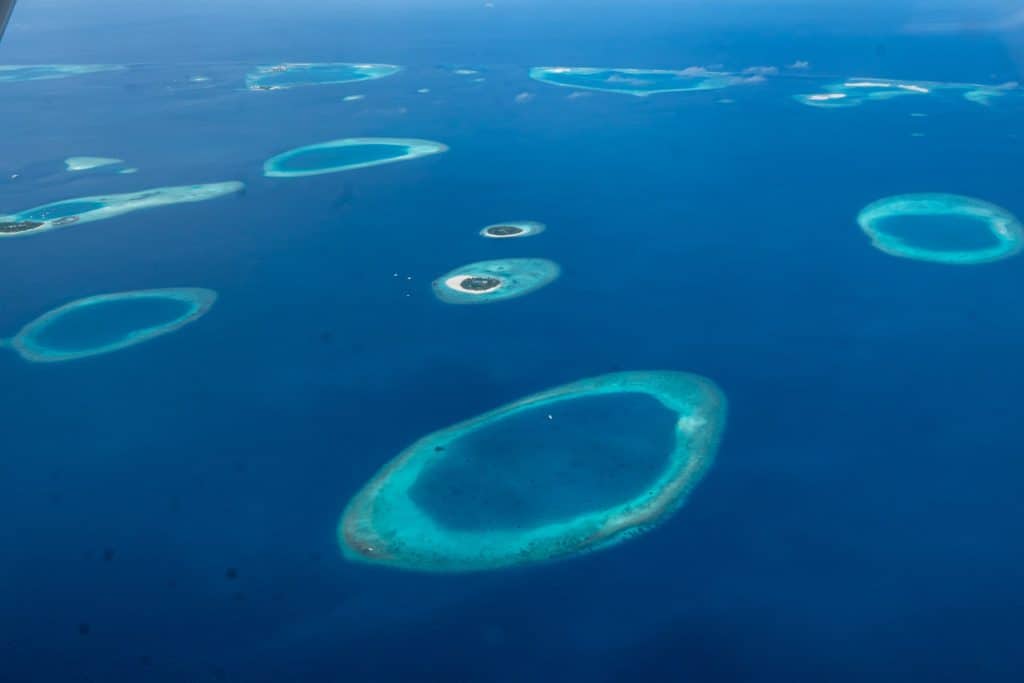 On top of flying to the airport, people who want to visit the Maldives will also have to travel to their islands. There are different options from seaplanes to boat depending on where you visit that vary from around $200-$600 roundtrip depending on how far your island is.
Now the resorts are where prices really start changing. A quick search and you can really pay anywhere from $100-$10,000 based on what you're looking for. I'll say the biggest reason for us specifically choosing the Maldives was for the overwater bungalow experience. There's not many places where you can walk out of your room and immediately plunge into crystal blue waters with colorful fish swimming all around. I would say on average the typical overwater villa can range from $500-$1000 a night and depends a lot on what resort you want to stay at.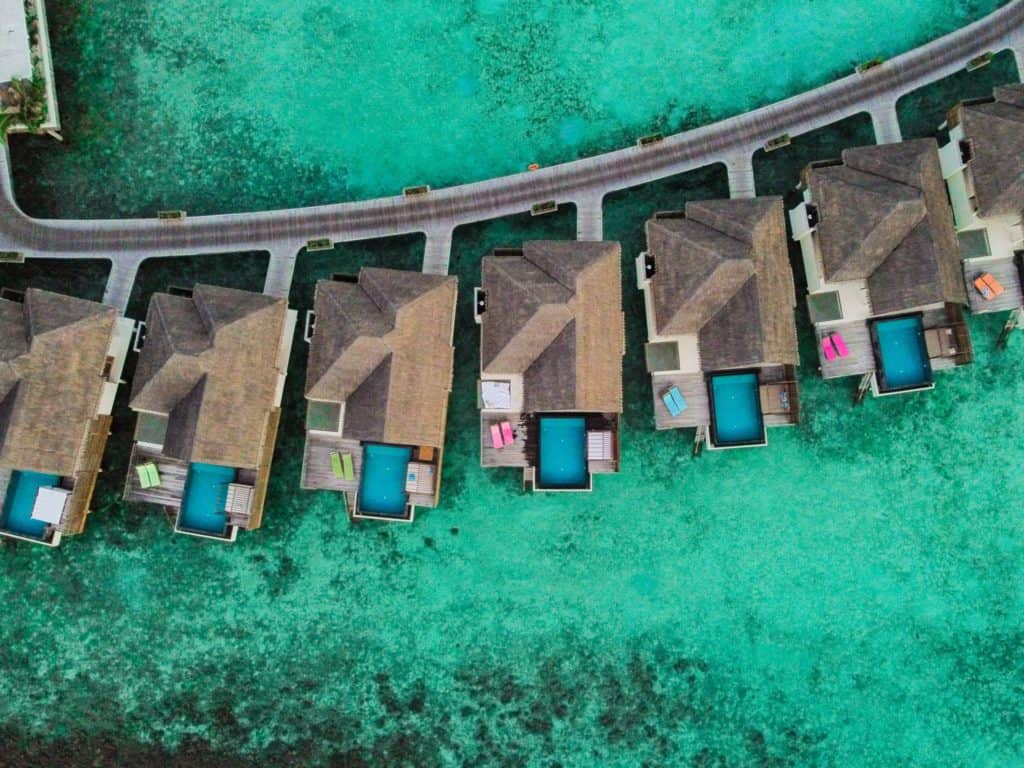 Dining is also a huge thing to factor in. It is more expensive just because of how remote these islands are. Many places include breakfast and options such as half board (breakfast + lunch) or all-inclusive. A good rule of thumb is budgeting $200 a day on food.
These are the basic costs of the Maldives although prices do tend to go up based on excursions, add-ons etc. We broke down our costs on Instagram based on all our unique factors, but things will completely change.
How to travel to make the Maldives budget-friendly?
There's no way around it. The Maldives is a splurge. However, there are so many ways to still make it budget friendly. My personal opinion is that what makes the Maldives so special is the overwater bungalows just because there are already so many other destinations that can be more budget friendly if you're looking for crystal clear waters (the Caribbean), private pools (Bali), and incredible snorkeling (Aruba). However, I also understand the joy of being on a tiny island and the fact the Maldives does have blue water that seems to have its own unique shade.
If you're looking to visit the Maldives on a budget many great resorts have beautiful rooms for about $100 (we saw the resort we stayed at and highly recommend, Furaveri having rates that low if booked a year ahead). Just play around with dates and you'll come across some great deals. There's still plenty to do including incredible snorkeling & relaxing poolside. The Maldives is just as much an enjoyable vacation if you're they're to relax and enjoy its beauty without excursions. Just make sure you read reviews to make sure it's high quality. If you can book those rooms and then splurge on one night over the water! Don't forget to factor in flight cost to the actual island (the closer to the airport, the cheaper).
When it comes to flights it's best to be flexible for a budget-friendly trip to the Maldives. Set up flight alerts for the Maldives. We like looking through SkyScanner, setting up Google flight alerts, searching Scott's Cheap Flights, and checking TravelZoo (which occasionally has Maldives travel packages that also includes hotel!).
Food is another option that you can't really get out of. However, you can look for resorts that offer free breakfast & half board (breakfast + lunch). We personally did half board which cost about $90 more per day ($45 each) and found it more than satisfying.
Another, but less popular option, is to stay in Male and take day trip excursions. There are several public beaches and snorkeling nearby!
How many days is it worth traveling to the Maldives?
We spent 5 nights/6 days in the Maldives and while I absolutely wish we had more time, I completely felt it was satisfactory. We arrived at the resort around 12 on the first day and left around 4 on the second and those hours definitely helped. That first day was spent sleeping from all that jetlag. Our second day we did some snorkeling and swimming, but I definitely felt all the jetlag. Our third day I felt recovered and spent the day out snorkeling on the beach all day and a little windsurfing. Our fourth day was spent almost entirely in our villa relaxing in our hammock, enjoying the tub, snorkeling, and swimming. Our 5th day we enjoyed some excursions. Our 6th day involved more time at our villa snorkeling and swimming. It was the perfect mixture of relaxation and fun.
If we had more time I would absolutely enjoyed some of the spa and additional excursions. 7 days would have been wonderful. However, I left feeling like I had a wonderful vacation and with some of the tips I share below, the flight ended up being much easier than expected.
How do you get to the Maldives?
We had to take two flights to get to the Male airport. We went from DFW-DOHA (Qatar) for a 14-hour flight and then an additional 4 1/2 hours. There are many different routes that can be taken although travel time is anywhere from 24-30 hours. Luckily the international flights come with the best movies, meals, and free alcohol and we share all the best long flight travel tips.
Once you arrive in Male, to get to your individual island you must take a seaplane or boat that is coordinated with your resort that can take anywhere from 30min-2 hours.
Visiting other islands is possible, but don't expect to island hop (except with very specific packages). I only recommend visiting another resort if you are staying for a prolonged period of time. However, you can also look around at resorts that are in your same island region.
How to survive the long plane ride?
There's no way out of it, the flights are long and not completely comfortable unless you upgrade (and you can find some great deals on Qatar Airlines if you book far enough ahead of time). However, after much trial and error I didn't feel as if our flight was too bad and actually spent most of my time sleeping. I still felt bleh when we arrived home, but a shower, hot meal, and good night's rest later and it wasn't that bad.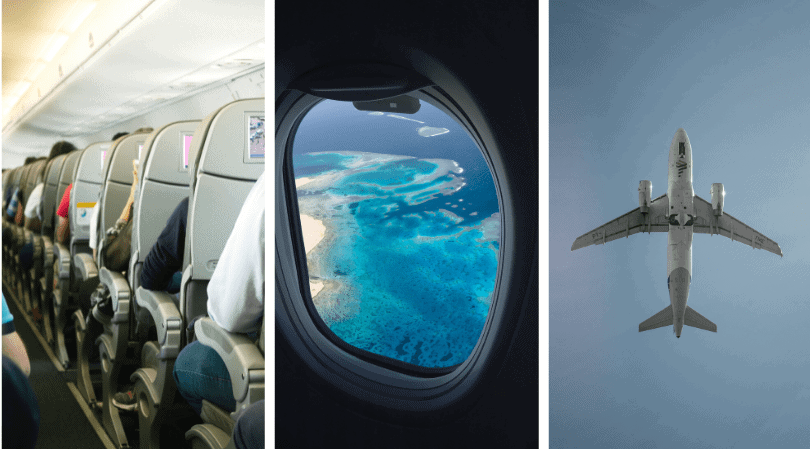 Preparing for this flight I feel as if I tried every travel pillow and flight accessory possible. If you have flights before, I recommend trying the same and figuring out which works for you. For me I found the side neck pillow and adjustable neck pillow to be a life saver. I explain this and more ways to survive a long haul flight in economy here.
How do you choose which resort to stay at in the Maldives?
There really are so many factors to consider what resort to choose when visiting the Maldives. There are over 200 resorts wo there are so many options. Are you looking for budget-friendly? Incredible excursions? The best reef? All inclusive? Something else? Choose your top priorities first and then work from there.
For us we were looking for a resort that had a private pool, a hammock, and a tub to enjoy the view from (I knew I would get cold sometimes and the hot water was a way for me to still enjoy our villa and view) at the best price. We worked our way through all the resorts and compared what we wanted to price until we found about 3-5 that were in our top picks. Then we started to compare other smaller preferences until we finalized Furaveri as our top choice.
We easily went through about 50 tabs, but it wasn't overwhelming as we built an idea of what we were looking for in our mind. We personally booked through the Chase Travel Portal, but I also enjoy TripAdvisor since it does a lot of price comparison and has quite a few reviews.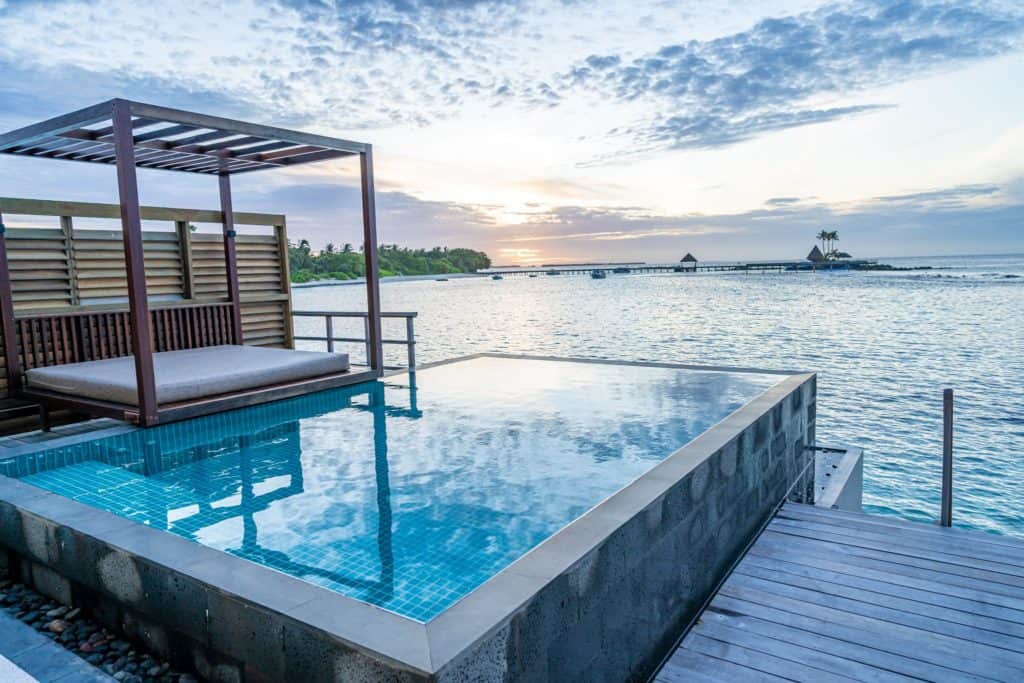 What's there to do in the Maldives?
Most people go to the Maldives for relaxation and crystal blue beaches! For someone who wants to do nothing but sit back and chill on the beach, the Maldives is perfect for that. As someone who wanted to practically be forced to do nothing, this made the trip perfect. However, there is still plenty to do for those who are looking to get out more. Most resorts have amazing coral reefs on property and for free or minimal fees it's easy to spend your days seeing so many beautiful fish, sting rays, and even sharks!
Apart from that, many resorts also come with a wide range of activities such as motorized & non-motorized watersports, incredible spas, culinary experiences, and excursions. You can visit uninhabited islands, and sandbanks, go scuba diving, snorkel with turtles/sting rays/sharks/whale sharks, see dolphins on sunset cruises, visit ship wrecks, experience Maldivian culture, surfing, experience bioluminescence, and other resort activities. Many people looking for local culture can take trips to the local islands from their resort.
Language/Culture in the Maldives
When visiting the resorts, many of the people you interact with speak English. However, it never hurts to learn a few phrases of their language: Dhivehi/Maldivian. We were surprised to find everything in US dollars despite it being an international resort with minimum North Americans visiting and we never felt the need to change currency. We could pay and tip in USD.
The resorts are very much resort living. You may get to experience the food and they may have culture nights/activities, but you likely will have to look a little further to take in the culture of the Maldives either through island tours with your resort or spending an additional day or two in Male. It is a Muslim country and so if you're visiting the local islands you will be expected to cover up. However, the resorts do not have these dress codes.
What do you pack/wear for the Maldives?
I really tried to pack light for this trip! The seaplanes tend to charge extra beyond a backpack & small carryon and we had our camera equipment to account for as well! Considering we basically lived in the water, I brought several swimsuits, swim suit coverups that doubled as outfits, and my outfit for the airport. Apart from that we made sure to bring reef safe sunscreen (or risk paying $25 for a small bottle at the resort), some snacks, some meds like ibuprofen, charger pack for the phones, a portable speaker, and that's about it! The resort has everything you need so there's not much to really pack. One thing I was happy to have brought was a long sleeve swimsuit. Despite applying lots of sunblock, my shoulders get burnt easily and so I always bring one for when my shoulders start getting too much sun! Also, thank goodness our resort had a huge bottle of lotion, because usually those small hotel lotions just don't do it.

How to manage curly hair in the Maldives?
I just love that I get asked this! I love having an amazing curly travel community. Honestly, I packed all my hair products and instead only managed to condition my hair twice. At one point I washed my hair and then jumped in the water an hour later! Luckily salt water does curls well and although my curls weren't defined, I didn't worry much.