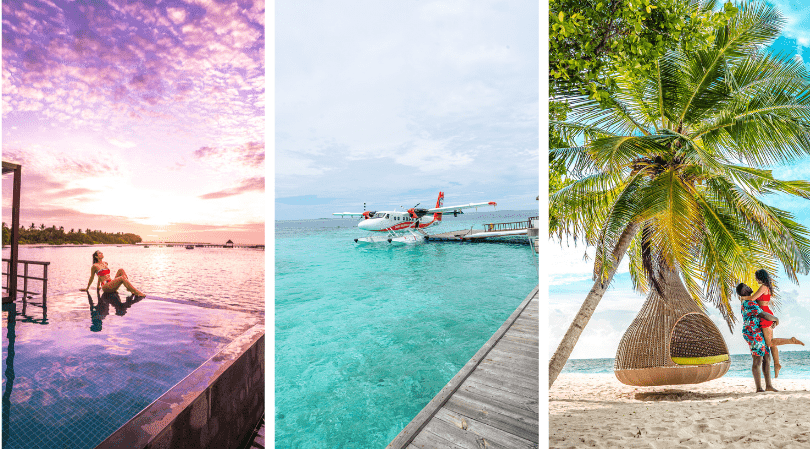 On our recent trip to the Maldives, we had the pleasure of staying at the Furaveri Resort and had a wonderful time. In our search for where to stay we were looking for a place where we could relax and for an overwater bungalow that had all the fun amenities to feel like we would never want to leave. In all our comparisons we ended up choosing Furaveri Resort for several different reasons. Read our Furaveri Maldives Resort Review and what this resort offered. Plus get all our tips plus frequently asked Maldives questions answered here.
Furaveri Maldives Resort Review: Our Experience
We went to the Maldives for a 5 day trip where our main goal was relaxation. As someone who loves exploring, I'm the kind of person who wants to see everything and explore every hidden gem. Part of the reason we chose the Maldives in the first place because the secluded island would in a way force me to slow down and relax. There were excursions, but I wanted to really try to spend all my days alternating between relaxing in a pool and snorkeling on the beach. Five days of just this mixed in with a couple of activities was the perfect balance I needed to come back from our trip fully refreshed.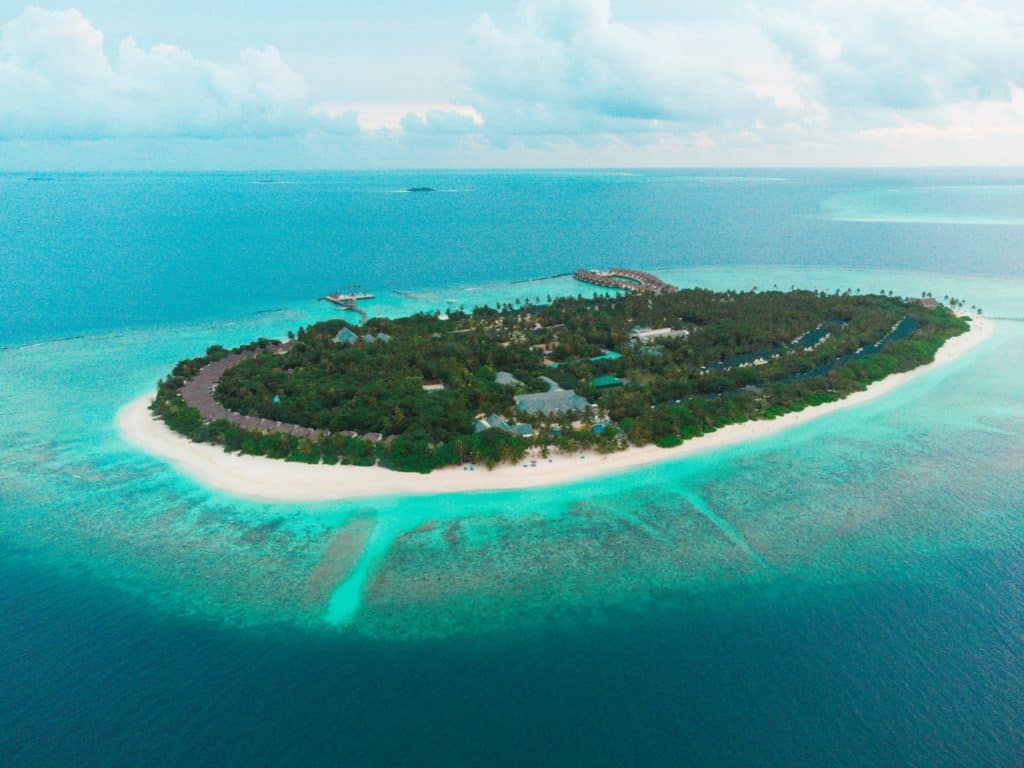 After we booked our resort, we received an email from Furaveri Maldives Resort to get our flight information to book a seaplane (Once you arrive at the Maldivian airport, you have to take a boat or plane to the resort for an extra fee). The experience from beginning to end was amazing. As soon as we landed we had someone waiting with a sign to greet us. Despite feeling lost in a new country, we had assistance from getting from the airport to the seaplane that made it a breeze. Basically as soon as we landed we were already on our next plane to actually be at the resort. The plane ride was so scenic and was part of the excitement of the journey!
Even on our way back, I was so grateful for the assistance! As soon as we disembarked from the plane, there was a representative to help us get checked into our flight and assist us with our bags. We even got to learn more about the Maldives by speaking with him! The customer service was part of what made our trip so special!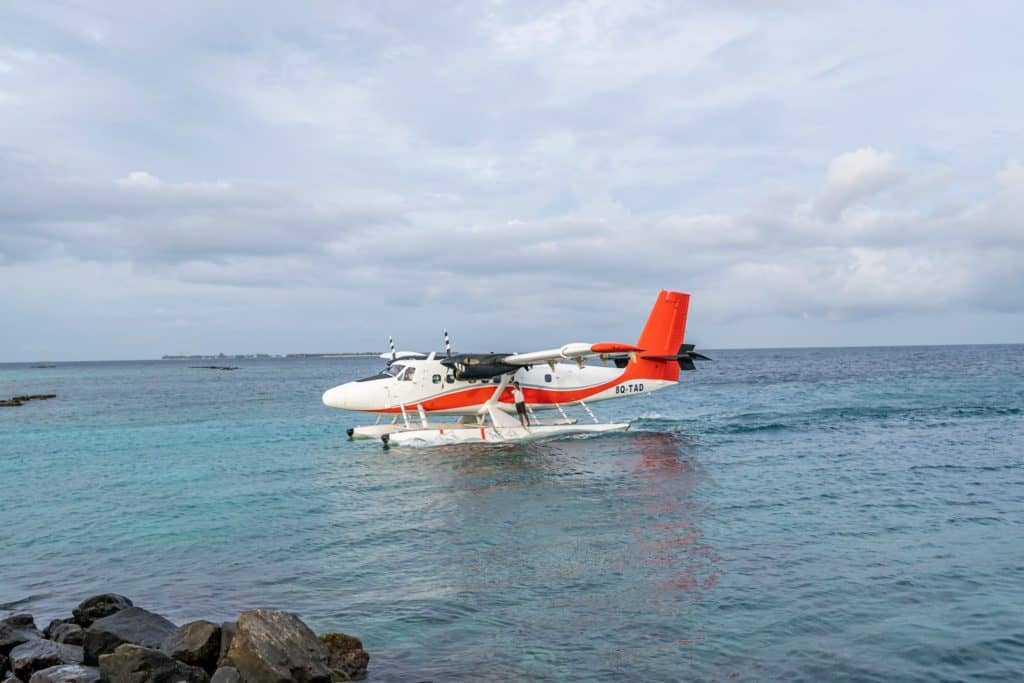 Upon arrival we were greeted by the staff. We never had to touch our luggage! We got there before check in and so enjoyed the pool until it was time. We had someone there during our entire stay who we talked to through whatsapp in case we needed anything (like ear plugs thanks to an unexpected ear infection), wanted to book something, or just had a question. They were so accommodating and we never wanted for anything!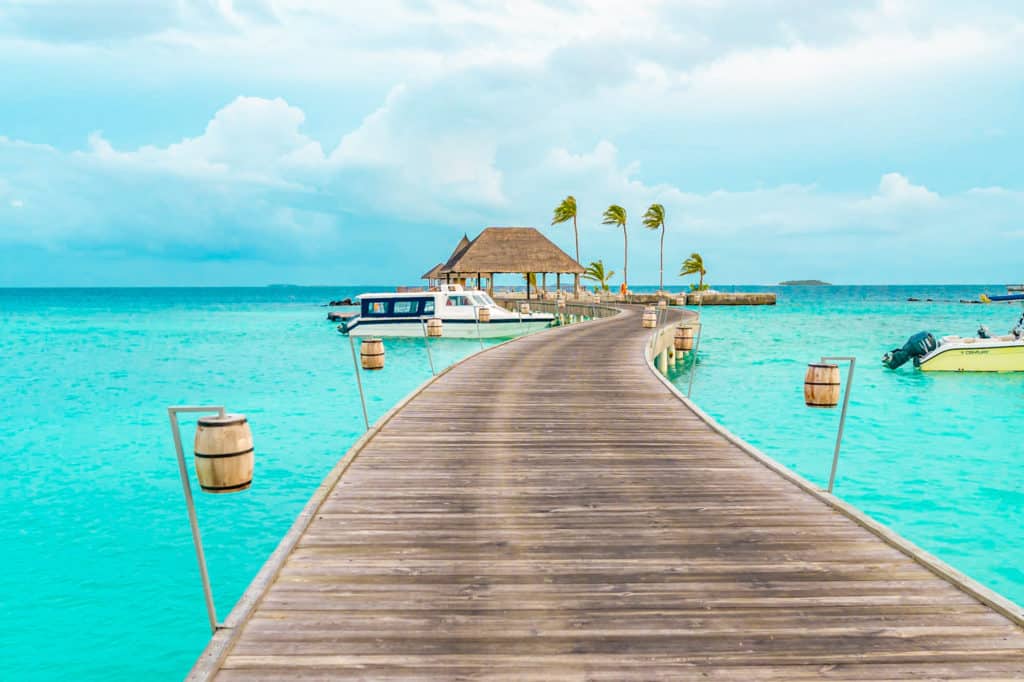 Furaveri Maldives Resort Review: The Rooms
One of the main reasons I chose Furaveri Maldives was the room! I wanted a decked out overwater bungalow that I could spend all day enjoying! The room itself was spacious with our bed overlooking the water with the best sunrises every morning (they also have sunset rooms as an upgrade!). I knew I would be spending most of my time outside and the great thing about our deck was that it came with it's own private infinity pool, day bed, overwater hammock, and outdoor tub! We had stairs that led out to the crystal blue waters with great snorkeling (I was so excited to see a shark and so many colorful fish). It was so easy to snorkel until I was tired, swim at our pool when I wanted to rest, sunbathe in the different spots, and still enjoy the view with a warm bath when it got too cold!
Everyday we had someone come clean our room (which was so appreciated because we tracked in quite a bit of sand). They constantly had water provided to our room and even gave us extras since we drink so much! Our room was kind of far from all of the activities/restaurants, but we could always call a golf cart to pick us up and took full advantage of this.
Even though we did get an overwater villa, they do have some beautiful rooms where the beach is just a few feet from your room as well and I wouldn't have minded staying in those!
Furaveri Maldives Resort Review: The Food
There are several booking options when it comes to the Furaveri Maldives. Since you are on the island you are limited to what's there, but we didn't mind that. The resort comes with complimentary breakfast and you can upgrade to half board (breakfast + dinner), full board (all three meals), or premium all inclusive (meals + drinks + activities).
We ended up going with half board which worked out perfectly for us! We'd have a big breakfast, packed some snacks in case we got hungry, and then enjoyed dinner. It actually ended up being convenient because since the restaurant was far from our room, it would have been an inconvenience to go to the restaurant 3 times a day and would have taken away from enjoying everything. If we ever did get hungry, we could just order in-room dining or try their other dining options. We also opted out of premium all inclusive after calculating costs. We figured we wouldn't spend 5 days drinking and that even the included activities (snorkeling/kayaking) did not make enough sense. In the end we had so much to do that we bought a total of one drink despite enjoying beach vacations with a drink regularly in hand.
The dining plans covered their buffet restaurant. We never experienced lunch so I can't speak to it. Breakfast was a large spread that consisted of all the typical American breakfast foods (eggs/bacon/pancakes/etc), some Indian breakfast items (dahl + roshi), pastries, yogurt, and fresh fruit. It was quite the spread! We got to enjoy lattes every morning which was such a nice touch!
Dinner changed nightly based on themes! They had International/Mediterranean/French/Indian/Maldivian/BBQ/Asian night. I was so sad that we missed Maldivian night as we were only there 5 days, however, there was Maldivian cuisine included in every meal. We had such a wide range of cuisines that were amazing from Filipino adobo, to fresh tandoori chicken, lasagna, and lamb meatballs. We loved trying new dishes, but for people who aren't as adventurous, there was plenty of familiar foods, and even things like chicken nuggets for kids. I was impressed at the quality of the food! Yes it was a buffet, but it was still great flavor and something we looked forward to. I'd say it was on par with high quality buffet food (but of course still buffet food). One thing I learned on the first night was that drinks were not included in our half board (water too), so we always brought our own water bottle for dinner.
The desert section was also massive and usually in live with whatever theme was happening!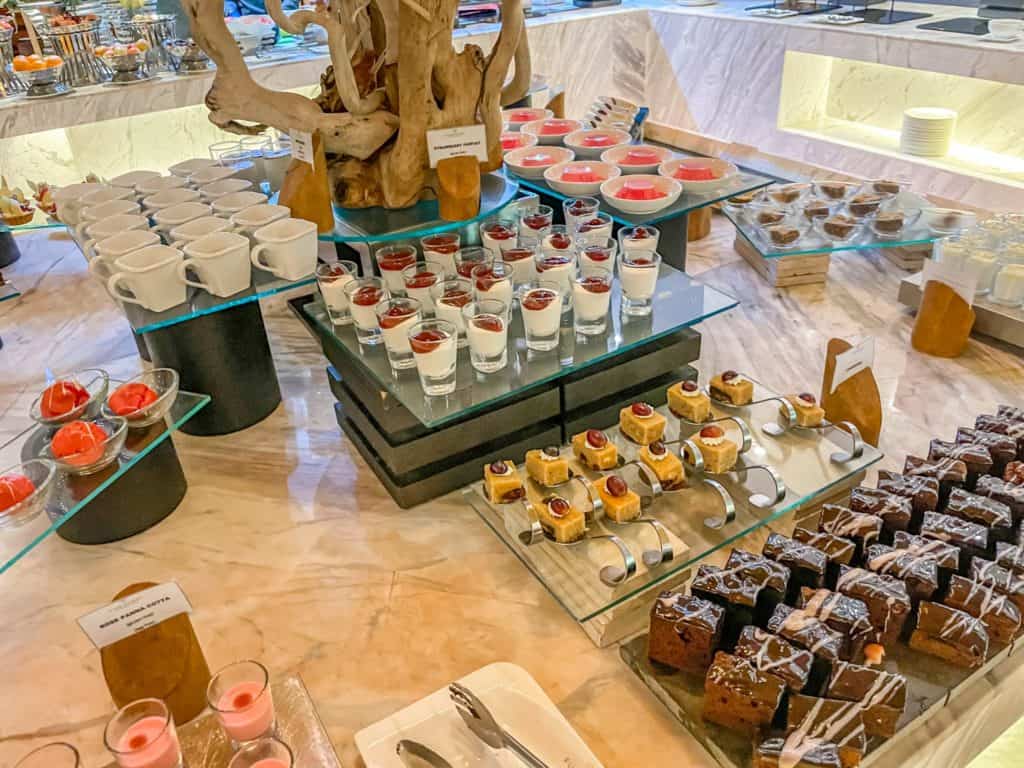 Apart from the buffet, there were other dining options. They had in room/bar dining menu which we took advantage of the first day when we arrived early. There are some Maldivian dishes, burgers, and other items. Prices are higher than usual, but as to be expected when on an island where it's expensive to ship things. They have a Mexican restaurant that was closed when we went, but I didn't feel like I missed out since it's the type of food we get a lot of living in Texas! The other restaurant was a fine dining Asian restaurant that you reserve. People can have multicourse meals or try different Asian dishes. We ate there on the last day since we had to leave after lunch. We went for the Kandu Kukulhu which was a traditional Maldivian dish packed with flavor and was amazing. If anything my biggest complaint would be that there weren't many options to try Maldivian dishes (which may have been available on Maldivian night), but overall we beyond satisfied.
If you are looking for drinks, the resort has a huge list of nearly 100 cocktails, some mocktails, and fresh coconut juice! They had premium liqour options. Also good to note, that their premium all inclusive package does only offer limited drink choices.
Furaveri Maldives Resort Review: Community Areas
While we spent a lot of time in our resort, we also spent a decent amount of time out by the beach in pool as well. Since it was right where the main restaurant was, it was easy to just stop by and enjoy the swing by the beach or to grab some snorkeling gear to explore the reefs on this side for a change of scenery.
The pool was huge and despite the resort being full, we it still felt like an intimate property. It was always easy to find a chair to sit in and the pool was never crowded. Our resort was family friendly, but was still very relaxed and while there were kids around, everything was still laid back. Usually we look for adults-only resorts, but did not feel bothered at all that this one wasn't. We also got to meet people from all over the world which was a nice experience as well!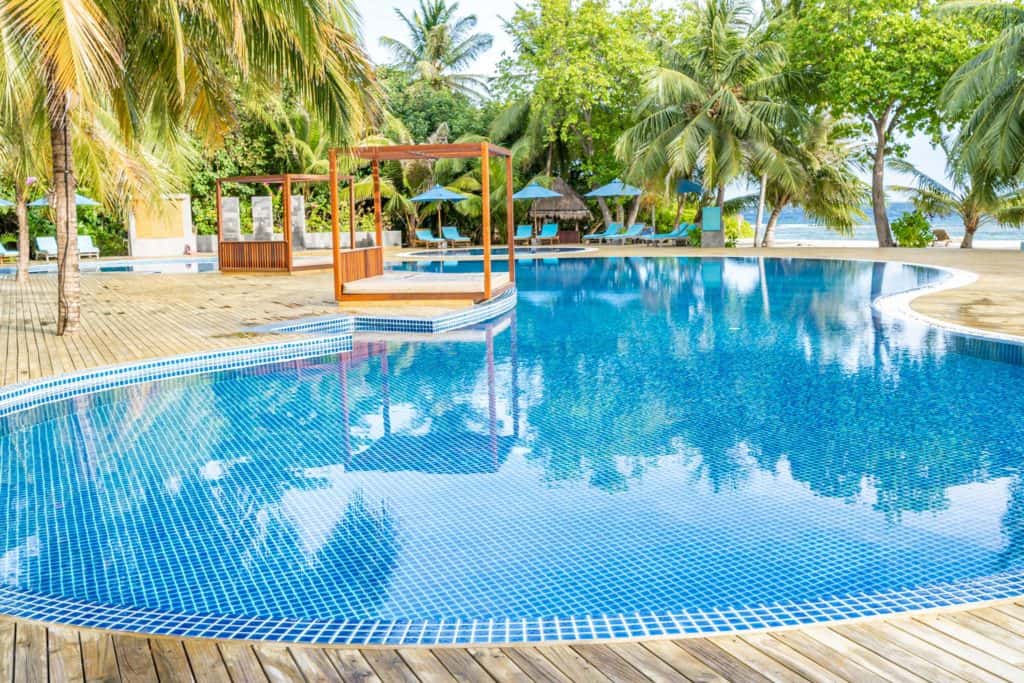 Furaveri Maldives Resort Review: Things to Do
One of the things we heard a lot when choosing where to stay was find a resort with enough activities so you won't get bored since you'll mostly be on that island. We were at Furaveri Maldives for 5 days so we didn't need too many activities, but it is important to take into account your goals.
Our resorts included activities were a daily shark feeding, tennis courts, and nightly activities (movie night/karaoke/Maldivian night). There were fun swings all over, hammocks, and just walking the island was an adventure where you'd see large bats flying around and enjoy the beautiful florals and luscious plants. Hanging out in our room, swimming, and sunbathing was quite satisfying in itself.
Snorkeling gear was only $6 a day and for our 5 day trip would have been enough just because there was so much to see. However there were plenty of options for rentals including tube/banana rides, catamaran sailing/lessons, windsurfing, stand up paddle boarding, jet skis, and kayaking. We went windsurfing in Aruba and it's been one of my favorites so I had to try it again here in the Maldives (I forgot how hard it was and spent most of time falling, but it was worth it!).
There are also individual and group excursions. We ended up getting to snorkel with turtles & did a jetskiing tour to these sandbanks which I can't recommend enough. There is just something so incredible about standing on an island even more secluded than the resort and the water is so clear. I was amazed at waves crashing against each other from opposite sides because the sandbank was so narrow!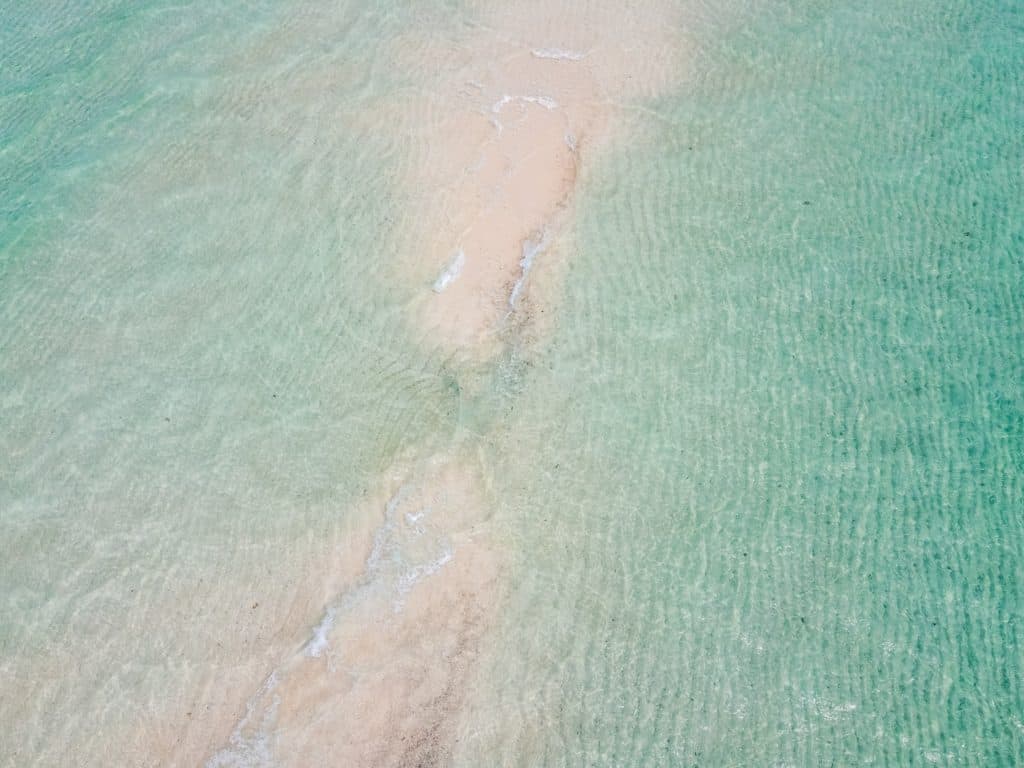 Other tours include manta ray snorkeling, deep sea fishing, sunset cruises with dolphins, and trips to the local islands. They also offered private beach dinners! The spa had a large array of options. We tried not to jam pack our schedule (we were really trying to relax) and I wish we had a few more days to enjoy some of the additional activities!
Furaveri Maldives Resort Review: Final Thoughts
Staying at the Furaveri Maldives was a dream. We did a lot of research to choose a place we loved and I feel like we made the right choice. Our first priority was the room and I'm happy that it had everything we needed and we fully utilized all of the utilities and felt the prices were also the best for what we were looking for. The activities were satisfying and the food was better than we had expected. The quality of service was amazing and you could tell everyone truly wanted to make our experience special. From the moment we landed from the airport until the moment we checked in, we were so well taken care of! I also learned from our airport concierge (although cannot 100% confirm) that we had booked a Maldivian owned resort which to me was a nice touch.
I wasn't sure if 5 days was enough. It felt short considering how long it took to travel (about 30 hours each way) and while I would have loved at least an extra 2 days I left fully satisfied having spent 5 blissful days staring into gatorade blue waters and swimming amongst such colorful fish. At the time all we had was this amount of time, but one day I do hope to go back to experience more of the Maldivian culture and try some other unique experiences.