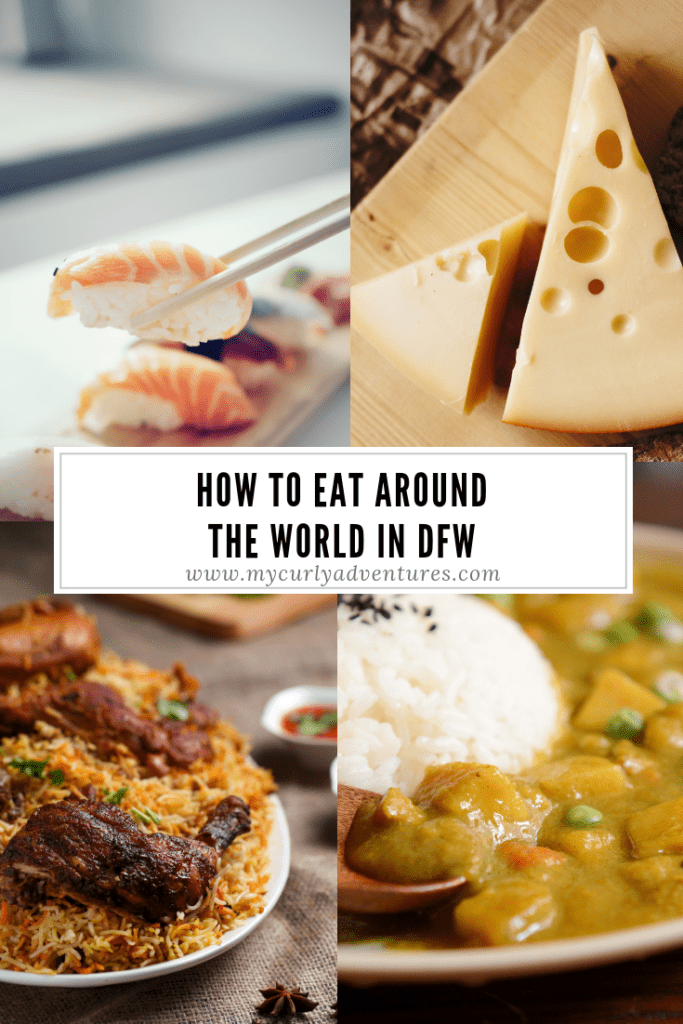 Dallas-Fort Worth is a conglomerate of multiple cultures and ethnicities. Even though we dream of travelling the world, that's not always a possibility. Luckily there is rich culture diversity in DFW that allows us to experience the tastes and flavors of countries all over the world without having to travel far.
Chief and I have been on a mission to try as many different foods as possible, and while we haven't hit up every restaurant, we have tried quite a few. I would say enough to make us experts on the best ways to eat internationally without leaving the city.
We have compiled a list of the best restaurants. Some restaurants, such as Mexican, Chinese, Italian, and others were not included because there are just too many choices to choose one.
Eat in Bangladesh – Chameli
I used to live near this restaurant and would go here as often as my pocketbook allowed! It's one of those hole in the wall restaurants, but it is amazing! Bengali food is similar to Pakistani food, but has a different cooking style. I asked them which dish was specifically Bengali and was told that their katchi byrani was a popular Bengladesh dish (although everything on their menu is absolutely amazing!)
Eat in Ethiopia – Yenet Guada
Ethiopian food is becoming a more popular food, and many shops have been popping up throughout DFW. Yenet Guada features a large range of Ethiopian dishes. It's best to come with either 2 or 4 people. They have a vegetarian platter which is basically a sampler of their different vegetables – lentils, salad, cheese and other rotating vegetables on top of Njera. We always order a platter for one and then choose a meat (the best are Doro Wat and Yebeg Tibs ). Feeling experimental? Try beef tartare-uncooked beef and a popular Ethiopian food.
Eat in France – Rise No1
Rise No1 is famous for the soufflés. Start off with marshmallow soup (marshmallows not included), have a soufflé for an entrée (maybe the sundried pesto or jambon and gruyere) and finish off with a soufflé for dessert. Grand Mariner is the most popular, but they also have other fun desert soufflés and non-soufflés. They also boast an extensive wine menu.
Eat in Germany – Bavarian Grill
The Bavarian Grill features an extensive menu of German food. They have a lot of varieties of schnitzels as well as dishes with names like Augsuburger Kohlrouladen and Knuspriger Entenbraten. Want a drink? Take your pick from a huge list of German beers, wines, brandies, kaffee, and more beer. In the Fall you can also check out the different places to celebrate Oktoberfest.
Eat in Hungary – Armoury DE
Located in Deep Ellum, Armoury DE is a popular bar spot. When I first walked in I thought I was in the wrong spot. Sure everyone around you is drinking, but if you want to try Hungarian food this is the place to go! Chicken paprika is one of the most popular Hungarian dishes, but they also have dishes such as Hortobagyi Palascinta and Porkolt. I don't know if their damn burger has any Hungarian influence, but add some duck bacon and damn it's good! I ate here shortly after returning from Budapest and the flavors tasted similar!
Eat in Sri Lanka – Spicy Zest
Fish curry, deviled chicken with Sri Lankan spices, mutton and more can be found here. They even have some unique Thai styled burgers for an Sri Lankan- American fusion.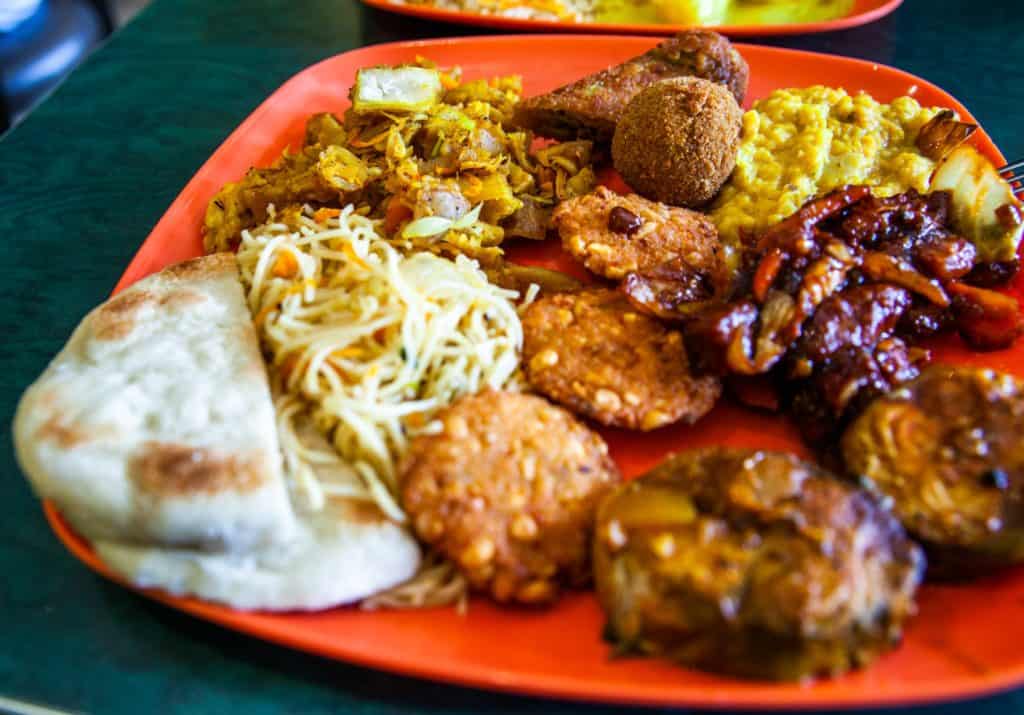 Eat in Iran – Kasra Persian Cuisine
Kasra serves a mixture of Persian and Afghan dishes. They pride their distinctly Persian and Afghan décor and traditional and authentic dishes. They serve a popular Persian dish, Fesnejan, a pomegranate and walnut chicken which is worth the trip. I'm obsessed over this unique dish that is hard to describe and that you have to try for yourself. For those who have not had Persian food before, they also have a buffet so you can try multiple dishes.
Eat in Jamaica – Elaine's Kitchen
This South Dallas restaurant is THE go-to for good Jamaican food. We've visited a few in DFW, but we continuously come back here because of how good the food is! Served in a styrofoam box, they are generous with their portions. Jerk chicken is always a popular dish, but I also recommend trying the curry goat and peppered steak.
Eat in Kenya – Afrika Fusion
Afrika Fusion is a combination of several African countries, but is a place where you can get delicious Kenyan dishes. Nairobi Karanga, Ng'ombe Beef Stew, Chips Mayai, and more. My favorite is definitely the Nyama Choma which you can eat with ugali or chipati. Don't be afraid to eat with your hands!
Eat in Morocco – Kasbah Grill
There are quite a few good Moroccan restaurants in DFW. However, Kasbah in Irving reminds me the most of the flavors of Morocco. They have multiple tagines, couscous dishes, and kabobs. Make sure to end your meal with Moroccan Mint tea!
Eat in Nigeria – Lagos
Many of these dishes are spicy, but packed with flavor! Popular dishes include Jollof rice. Whenever I get sick, my fiancé always grabs me a bowl of goat pepper soup. It's so good, but so spicy, and I can only handle the spice when I'm sick. Add a side of Suya if you can.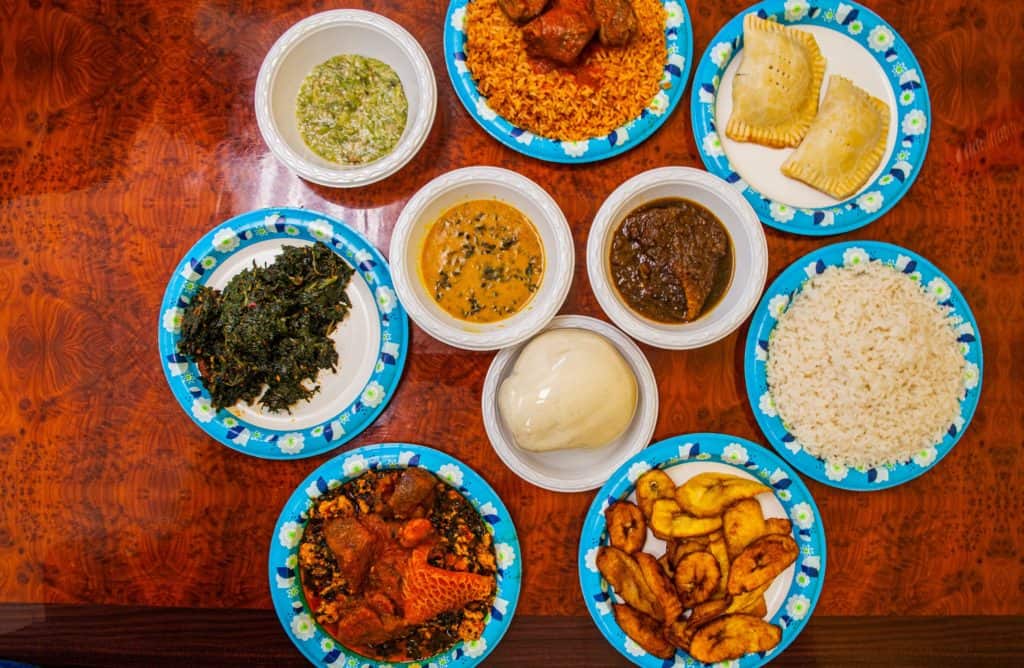 Eat in Peru – Tineo Peruvian Café
I was surprised by how much I enjoyed Peruvian food! I knew it would be good, but for a few weeks I would return to this restaurant several times to try all their dishes! Popular Peruvian dishes include Pollo a la Brasa, Salchipapa, and Lomo Saltado. They also serve Peruvian styled breakfasts for those who are interested.
Eat in the Philippines – Café de Manila
Every once in a while, when I was a kid, my dad would make dishes that his mom made. I loved Filipino food, but never got enough. So I was excited to learn about Café de Manila. This restaurant is very laid back so most of the time the customers seem to be friends. Their menu regularly changes based on whatever they have at the time, but they consistently have a meat and seafood buju – a mixture of different dishes and rice. Popular Filipino dishes include Adobo, Pancit, Lumpia, and Halo-Halo.
Eat In Poland – Taste of Poland
A mixture of restaurant and grocery store, this café serves Polish dies such as pierogis, bigos, stuffed cabbage, and potato pancakes. If you've never had Polish food, this is closest to it in DFW.
Eat in Burma/Myanmar – Dingdi Myanmar Restaurant
Myanmar is an incredible country rich in culture and beautiful architecture. Plus their food is tasty! Dingdi Myanmar in Lewisville serves up authentic Burmese food such as Palata, a flat Burmese pancake, coconut chicken noodle soup, and more!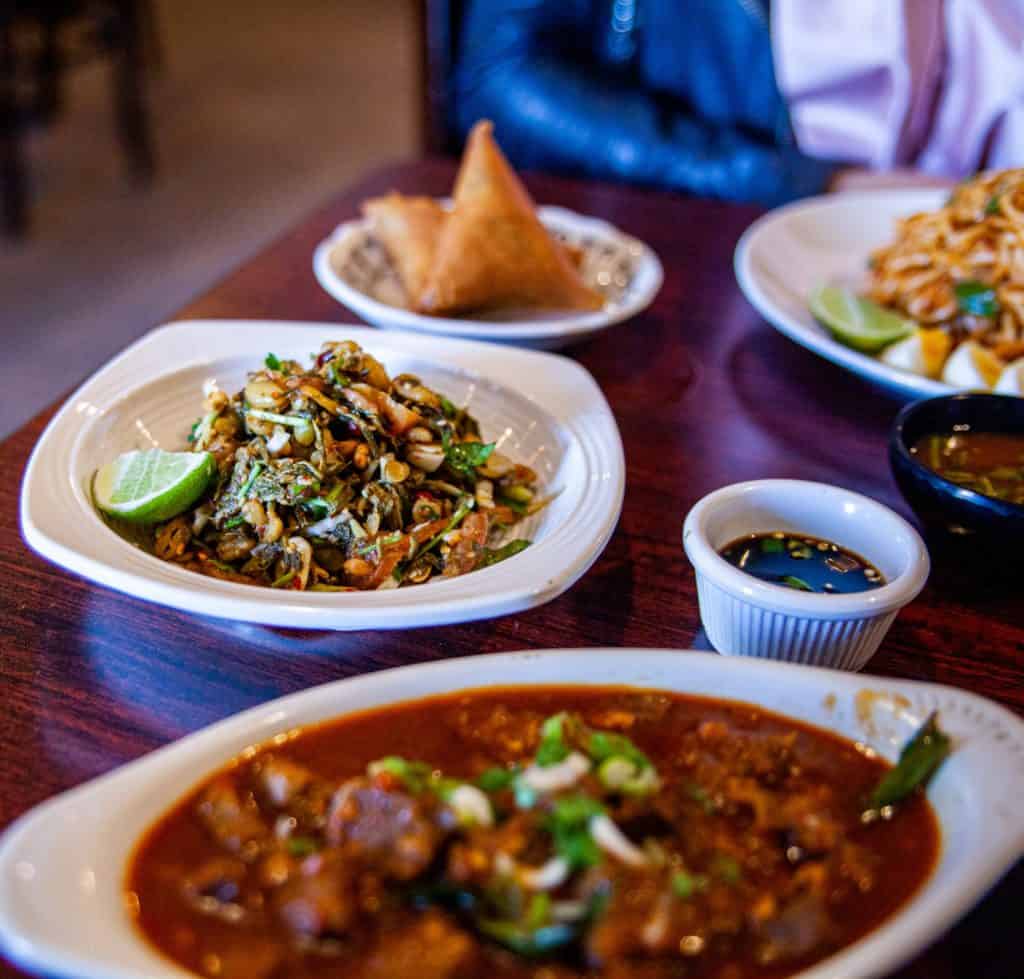 Eat in Egypt – King Tut
A short trip to Fort Worth and you can be feasting like the Egyptians on Cosharee and Scabeg. And Egyptian pizza? Yeah! That's a thing.
Eat in Spain – Café Madrid
After living in Spain for 3 months I had a serious craving for Spanish food, and Café Madrid immediately brought back the flavors and memories of the place I called home for a short time. Their happy hour is the best time to go to try multiple dishes. Make sure to try the Tortilla Espanola, croquetas, albondigas, and pulpo.
Eat in Nepal – Everest Restaurant
Irving boasts one of the highest percentages of different nationalities in one zip code, so you're sure to find an array of incredibly diverse restaurants in this city. One of them is Everest Restaurant where you can get a taste of the Himalayas with dishes like puffed rice and pickled vegetables, but I'm so glad I got to try it. For people who aren't too adventurous, they have momos which are basically Nepalese dumplings. For those who are more adventurous, you have to try the Tash which is goat cubes!
Eat in Laos – Laos Thai Food
Thai food is pretty common, but right next to Thailand is the beautiful country of Laos with its own distinct dishes such as Larb beed and Taos sausage..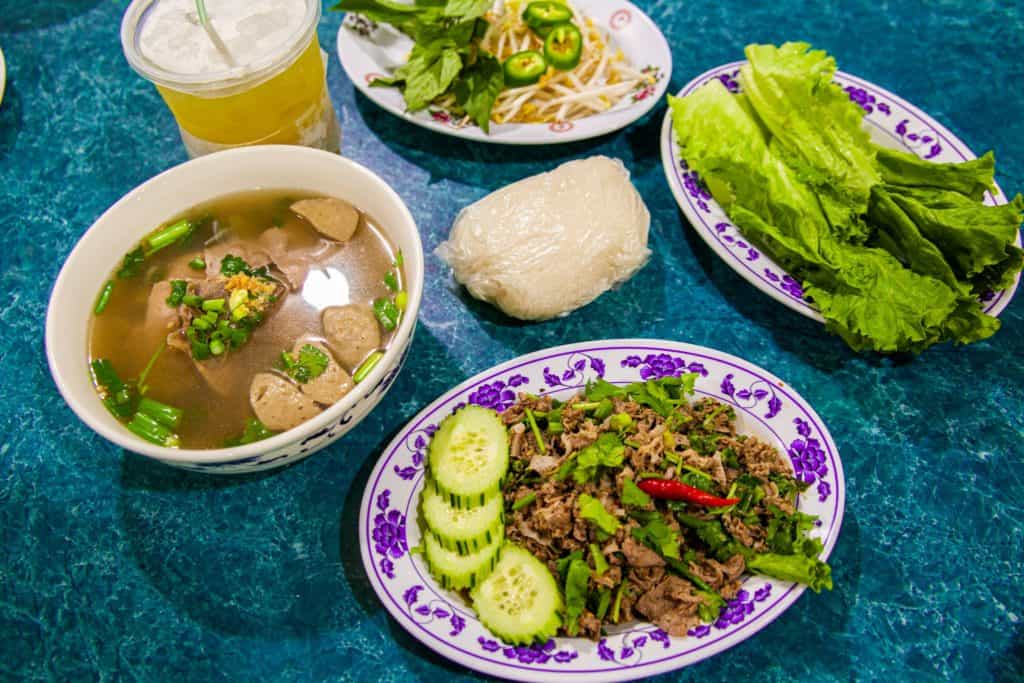 Eat in Turkey – Flying Carpet Turkish Cafe
Go on a magic carpet ride to Turkey at Flying Carpet Turkish Café and sample dishes like Ajili Ezme, a spicy red pepper dish, and Hünkâr Beyindi, lamb in tomato sauce and eggplant puree. Yumm!!
Have a favorite restaurant that serves an international dish you love? Share below!