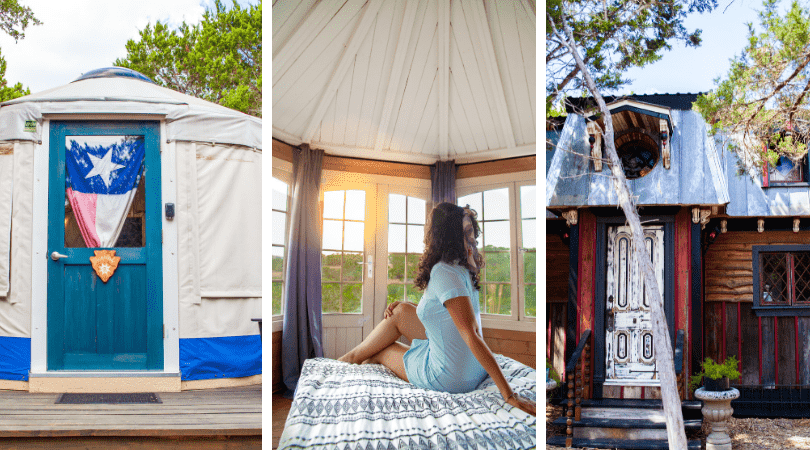 I love Dripping Springs! The hills roll out before you in all directions, the wine flows abundantly, and there are some seriously unique places to stay! If you're planning a trip, make sure to just start planning your second one, because this small town has so many cool spots that will keep you coming back! What I love is that Dripping Springs has something for every budget. If you're looking for something more luxurious, there are some places that will make you wonder if you're even in the US. If you're looking for something more budget friendly, you're still able to get a one-of-a-kind experience!
Unique Places in Dripping Springs: A Treehouse Safari
If you're looking for a luxurious safari retreat in Dripping Springs, check out Stay Asante! Couples can stay in a lovely tree house that overlooks grazing springbok. As part of the stay, you can also book an experience to go on a personal guided tour of the Asante reservation where there are numerous exotic animals including Nyala, Nile Lechwe originally from Ethiopia, Kudu, and Dama Gazelles.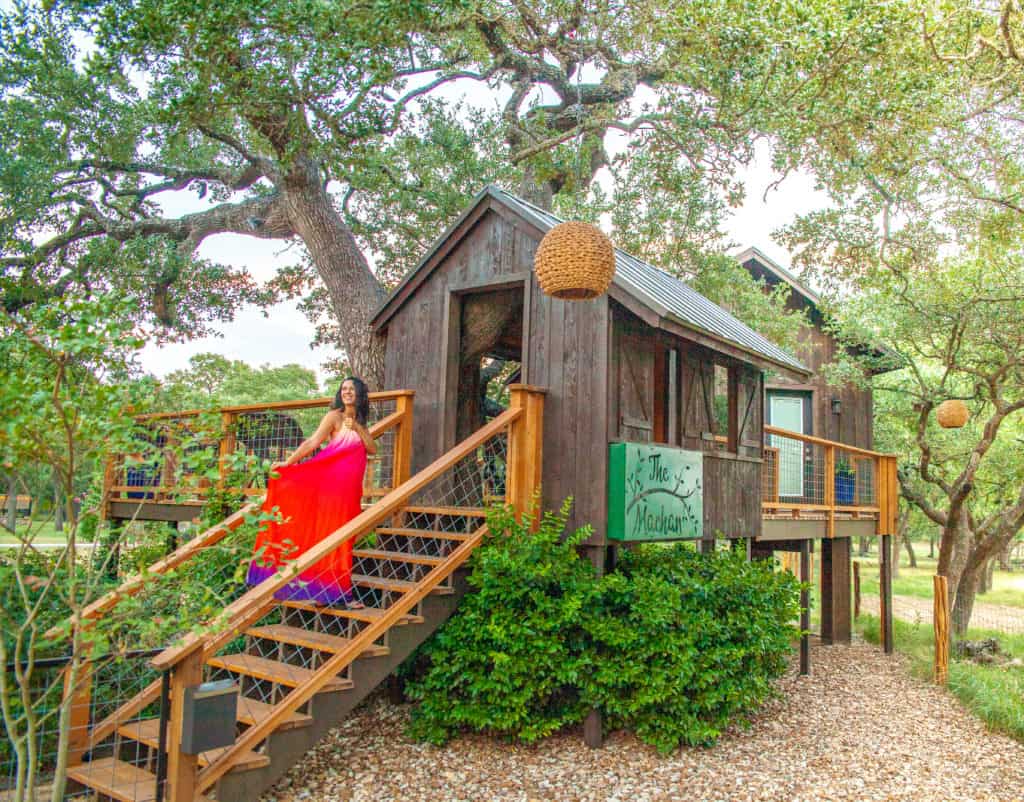 There are also options for families interested in a luxurious Hill Country getaway.
Unique Places in Dripping Springs: A Fairytale Cottage Tiny Home
Step inside a storybook home made of reclaimed wood over at Havenwald! With stained glass windows, a cozy bedroom nook, and a kitchen fit for a runaway princess, you can escape into another world right in Texas! Plus have a picnic basket breakfast delivered to your door each morning. I can't think of a place more magical!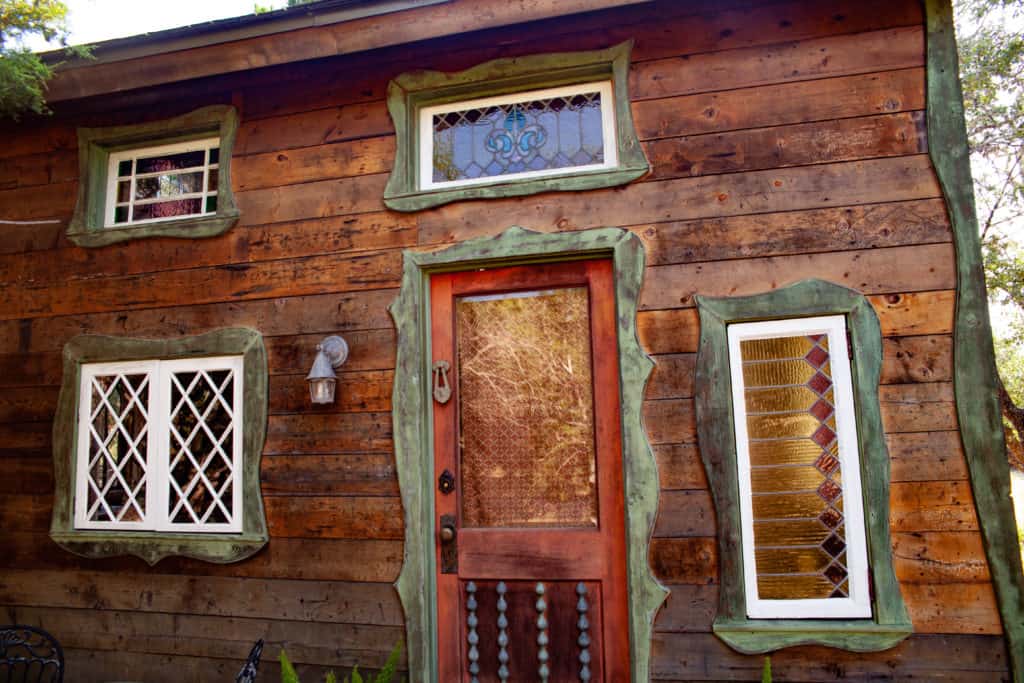 Unique Places in Dripping Springs: Glamping Yurt
Glamping in a yurt is my go-to when it comes to being out in the wild! You get the scenic views and a funky place to sleep in with all the modern comforts like A/C! They did such a great job with all the decorations, like the Texas flag on the door and the record player in the room!
If you're looking for a fun friend's trip, this is perfect because you can each have your own place, but then hang out at the pool and other areas. They have a pool, darts, and other activities all on site!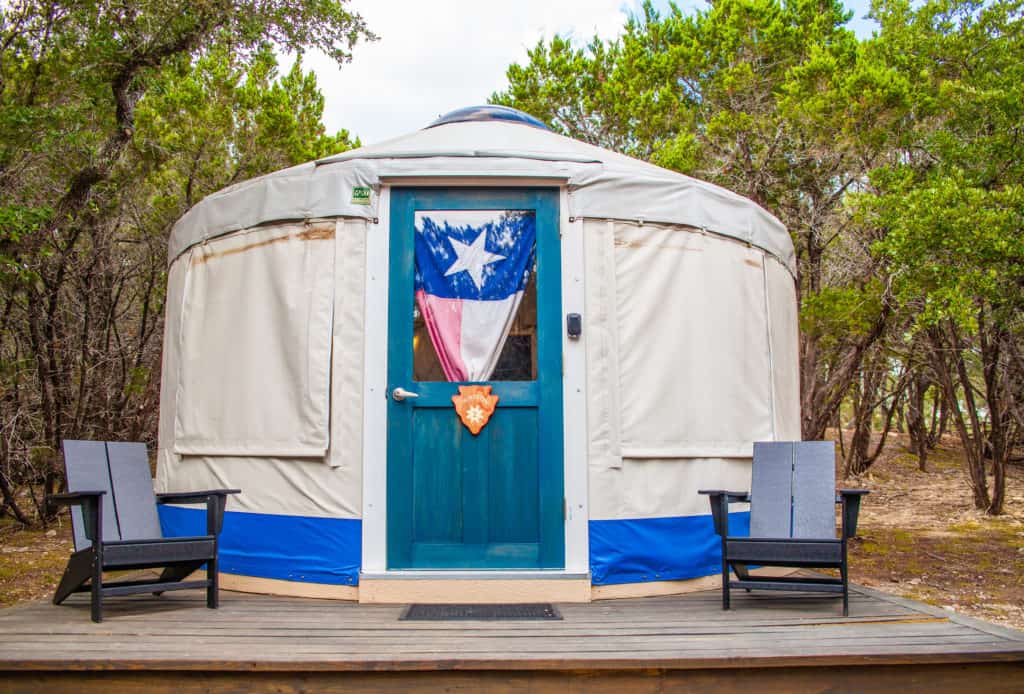 Unique Places in Dripping Springs: A Scenic Cabin
Sure to fulfill all your wild hippy desires, this cabin is perfect for someone looking for a budget friendly option in Dripping Springs. You can rent a tiny cabin with large windows that give you the best views of the Hill Country. It's perfectly situated so that you feel like you're all alone!