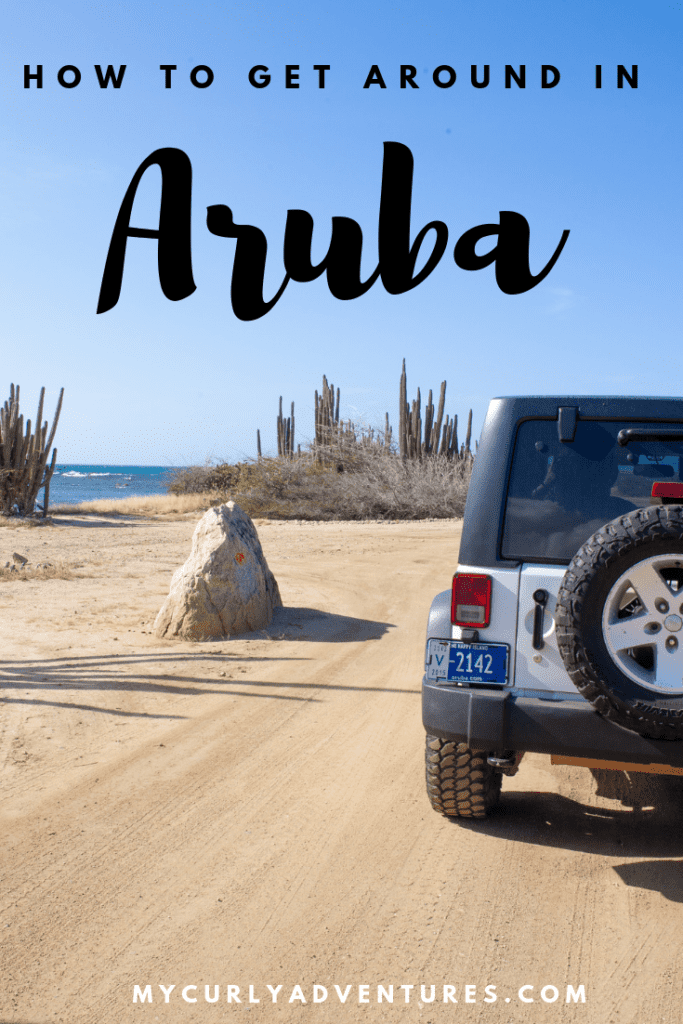 One thing that I always struggle with when traveling to another country is transportation. There are a lot of great options for transportation in Aruba, and fortunately there are quite a few budget friendly ones. The one thing that I didn't cover here is taxis as there were so many other options that I never needed one!
Public Transportation in Aruba
The public transportation in Aruba is awesome! If you're on a budget and want to go to Aruba, you do not have to be hindered by transportation. While we did rent a car for part of our trip, we ended up using the public transportation quite often and were so happy – although we made a few mistakes at first.
Most places you will visit in Aruba will be in the main areas of Noord and Oranjestead. While staying at the Hilton we would often take the bus to get to a place where we had dinner or a beach. We used the bus to get from our Hotel to downtown Oranjstead, to Arashi beach, and other destinations with no problem.
Once you get to Aruba, you can check out the bus routes which are easy to understand. Most waits in between buses for packed areas were 15-30 minutes.
Now here's the one part that confused me. There are the big buses, the ones that are usually used for transportation in the city. These have a set route and cost $2.50 per ride or $10.00 for a day pass. These can pass by every 15-30 minutes.
Then there are smaller ones that look like cargo vans that only held about 10 people. These were my favorite because they run much more frequently (I would see them pass about every 5-10 minutes). They're not as obviously marked, although they usually say bus or autobus on the side. I always saw these buses headed towards Oranjestead, and if you were at a bus station or waved them down, they will pull over as long as they are not full.
Typically what would happen is I would find the larger vans going North and the smaller vans going South. Also, make sure to memorize the fares as we saw one group get charged more. You can pay in dollars or Aruban florin, but the small buses do not count for the all-day pass. If you are confused, definitely ask a local about the smaller autobuses, but don't be afraid to use them as they make travelling much quicker.
I always felt safe on the buses and there was usually a good mixture of locals, tourists, and expats. Never be afraid to ask someone. If you plan on using the bus as you as you get off the plane, there is a bus that goes there as well.
Scroll to the bottom to learn about our first day using public transportation and all the mistakes we made so you don't have to.
Renting a Car in Aruba
If you get the chance, I absolutely recommend renting a car in Aruba. While the public transportation is great, there will be areas that either take too long to get to or that you can't access by bus.
The very top of Aruba and the East side are only accessible by 4x4s. We rented a Jeep for a few days from Amigos Rentals and I'm so glad we did. On the first day, we took the van to the North of the island. We went past Arashi beach where the buses stop all the way to Westpunt Boca The sandy beaches turn to jagged cliffs and crashing waves that are stunning. Despite going during the busy season, we barely saw a soul. Head here to read about the best beaches in Aruba.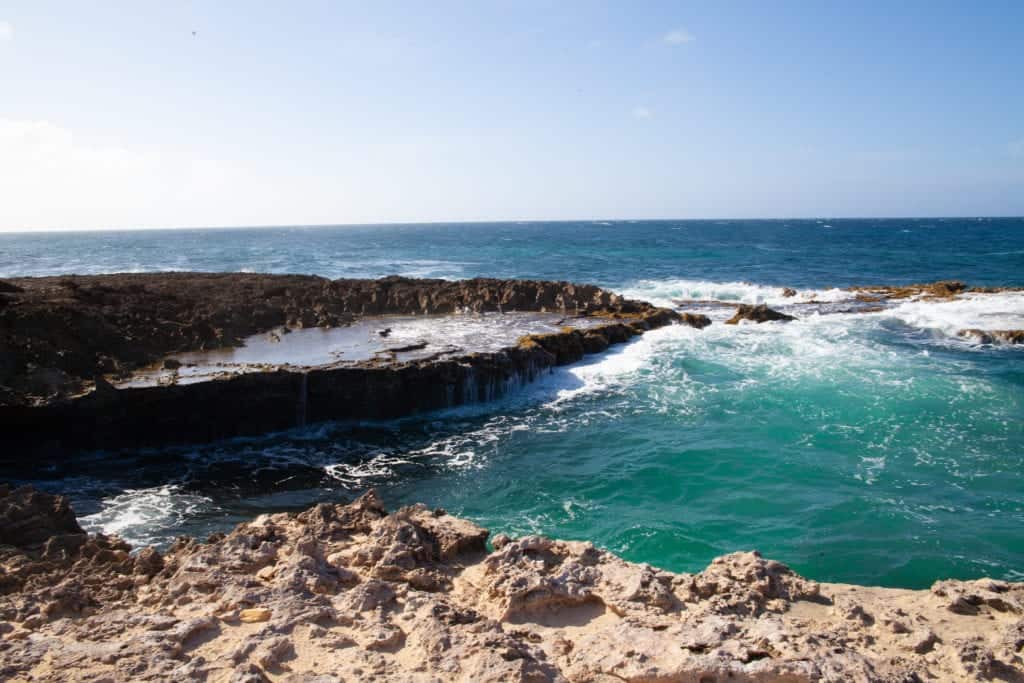 Another day we went South to see the other beaches. Other days we simply explored the island. While we went on a UTV tour, you can also take the Jeeps to Arikok National Park, a must in Aruba!
UTVs, ATVs, and Tail-Buggys
If you don't rent a jeep, then rent an off-road vehicle to explore Arikok National Park. There are so many incredible wonders such as the Fontein Caves, the Natural Pools, the Natural Bridge, and more that you don't want to miss out on. You can either go on a tour like we did, or go yourself. There's a park ranger at the front of the park who will help you find the most scenic places.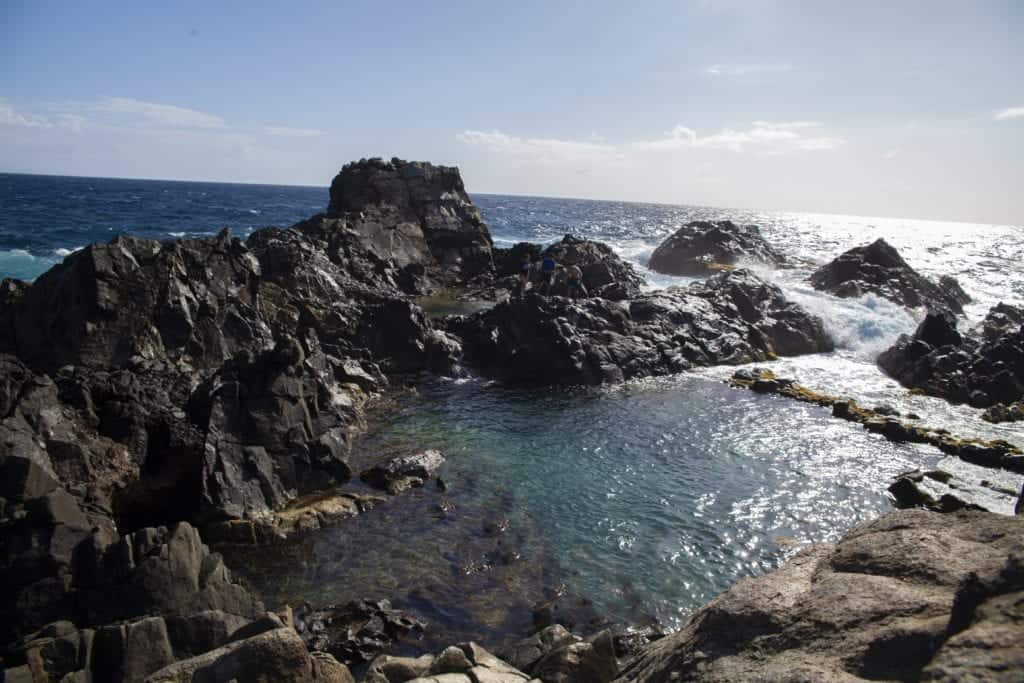 Bike Rentals
While I don't advise going far on these, the bikes make a great option for traveling shorter distances and getting in a workout. Greenbikes Aruba has kiosks located around the island, and you can rent the bikes for an hourly rate, a couple days or a week. When I went to their website, I immediately got a coupon for 30 minutes free!
Our first Public Transportation Lesson
Our first time trying to use the bus was a bit of a disaster. Luckily, we made all the mistakes so you don't have to.
Getting on the first bus was relatively easy. We purchased a day pass. We then checked the first map and saw that there were 3 buses to Malmok beach, where we wanted to go that day. Within 5 minutes the bus pulled up. Since we weren't sure when exactly to pull over we told the driver our destination and he said he would stop there.
We spent time on Malmok beach and walked about 15 minutes South to another area to go windsurfing before heading back to the hotel. We had a dinner reservation that night and didn't want to be late. We left the beach and walked along the path looking for a bus stop.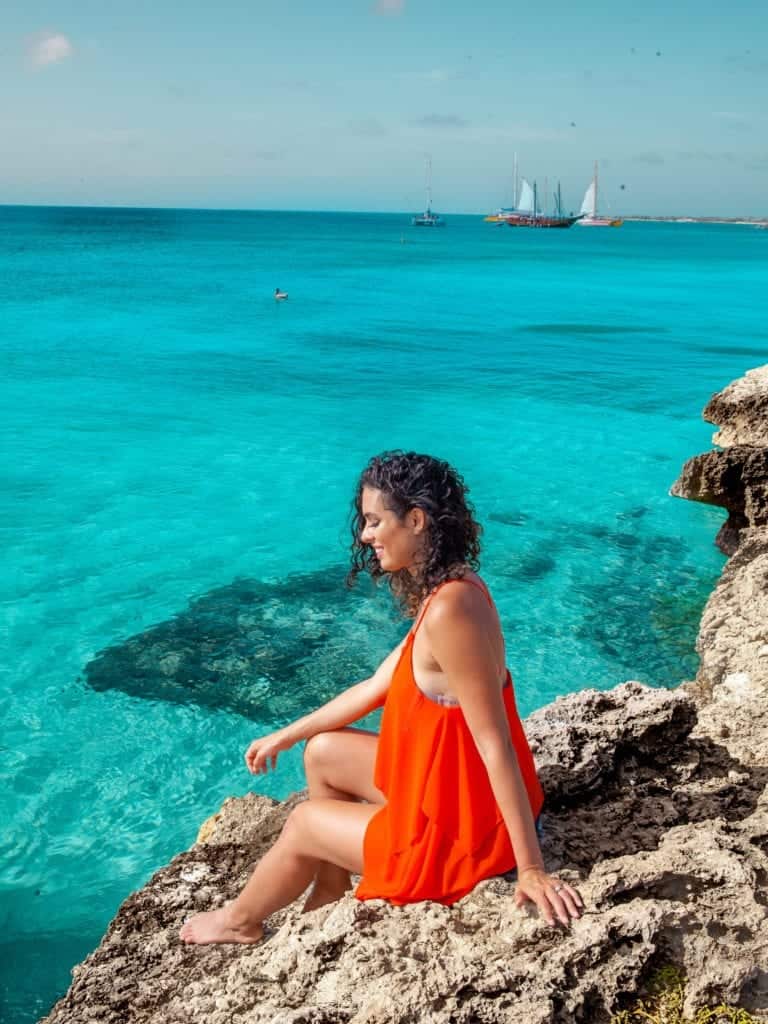 It turns out, on the drive where all the beaches are, there aren't official bus stops so they pull over wherever and pick you up wherever. However, I was not aware of this and kept walking looking for a bus stop well beyond this road.
About 15 minutes of walking later and with the help of Google Maps, we came across what we thought was a bus stop, meaning it was marked on our phone maps and there was a road sign, but no official sign. We saw some locals there so we assumed all was good.
Two minutes later, a large cargo van marked autobus came by and picked them up. We assumed it was part of the bus system so tried to give them our pass, but they wouldn't take it (turns out it was part of the bus system, but they only took cash).
So we waited for our bus. 15 minutes pass and the bus rushes past us. It's then that we realized we were not at an official stop and had to walk another 15 minutes during which time a 2nd bus passed us. Once we found the real bus stop we waited 30 minutes before getting on another bus that took us home. During this time 5+ of the smaller buses had passed us. It wasn't until we got back and asked that we learned about the smaller buses.