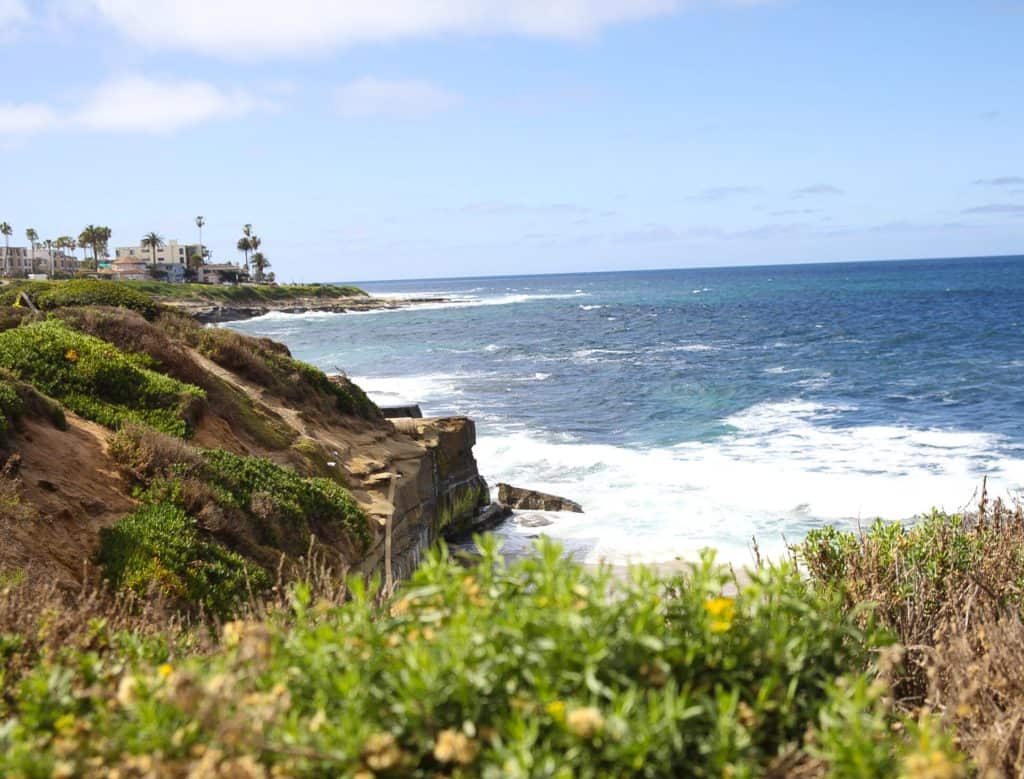 San Diego is a fun city for sure! I think you need a solid two weeks to truly enjoy all the things to do in San Diego. Just the city of La Jolla is enough to keep one busy! We stayed in La Jolla and had an absolute blast without having to venture far. Here I will share the best things to do in La Jolla, California.
And the rooms and accommodations were absolutely lovely. We enjoyed modernly designed rooms, a heated pool and hot tub, and a rooftop breakfast overseeing the beach. You can read more about the hotel here.
Active and Healthy Things to do in La Jolla
La Jolla is known for fresh and healthy fare! One of the first things we did is walk down to Trilogy Sanctuary, a yoga and vegan eats location. Chief and I tried low aerial yoga. We were part of a small group of about 6 with an instructor who was patient with us despite having no experience.
Aerial yoga was difficult, but fun. We tested our flexibility in a unique way. Chief didn't think he would like it, but even though it was hard, he couldn't stop talking about it after. We had a blast spinning on fabric and practicing a new way of yoga. When you have so much fun it's easy to forget you're working out! They have a large mixture of different aerial and floor yoga classes and also a rooftop yoga class. I would have been content just practicing yoga here everyday! For the weary male- don't cross this off your list- you might have more fun than expected!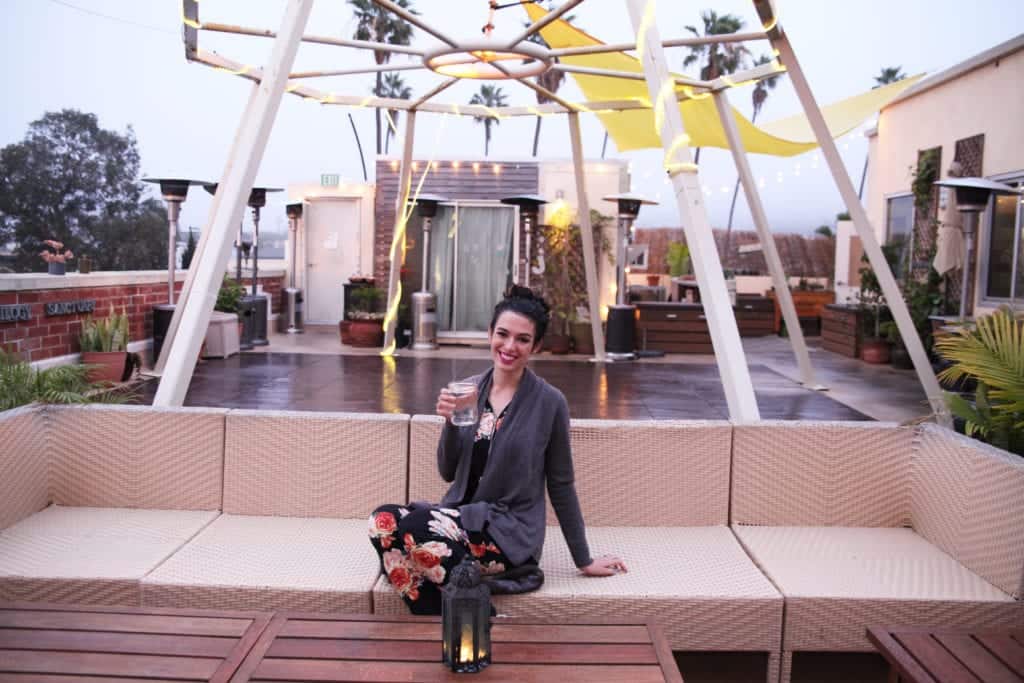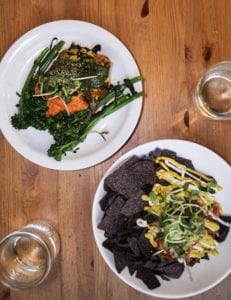 After a fun workout we headed to their restaurant. All of their items are vegan. Again I was worried about bringing Chief here because he is a self proclaimed carnivore. And again we were pleasantly surprised. We tried the enticing eggplant and vegan nachos. The eggplant was covered in cashew cheeze (I didn't even know!), maple sweet potatoes, pesto, and other ingredients to create a well rounded dish. The seemingly unhealthy nachos included all the necessities- cheese sauce and sour cream (only created with cashews) on top of avocado, quinoa, and other flesh flavors. Both were packed with flavor and lacked nothing. We finished it off with transcendence- a vegan brownie topped with coconut ice cream. This dish could be described nothing short of decadent. The best part of all of this is that even though we felt as if we had indulged in guilty pleasures, we left feeling refreshed and perfectly satisfied.
Seals and Sea Lions in La Jolla
Trilogy Sanctuary was about a 10 minute walk from our hotel so we walked back and took the scenic route along the beach. We walked by the La Jolla tide pools where we were greeted by multiple seals. My favorite part of La Jolla is how nature and city mingle together! Seals were sunbathing on the beaches while we watched and took photos from a safe, but intimate distance!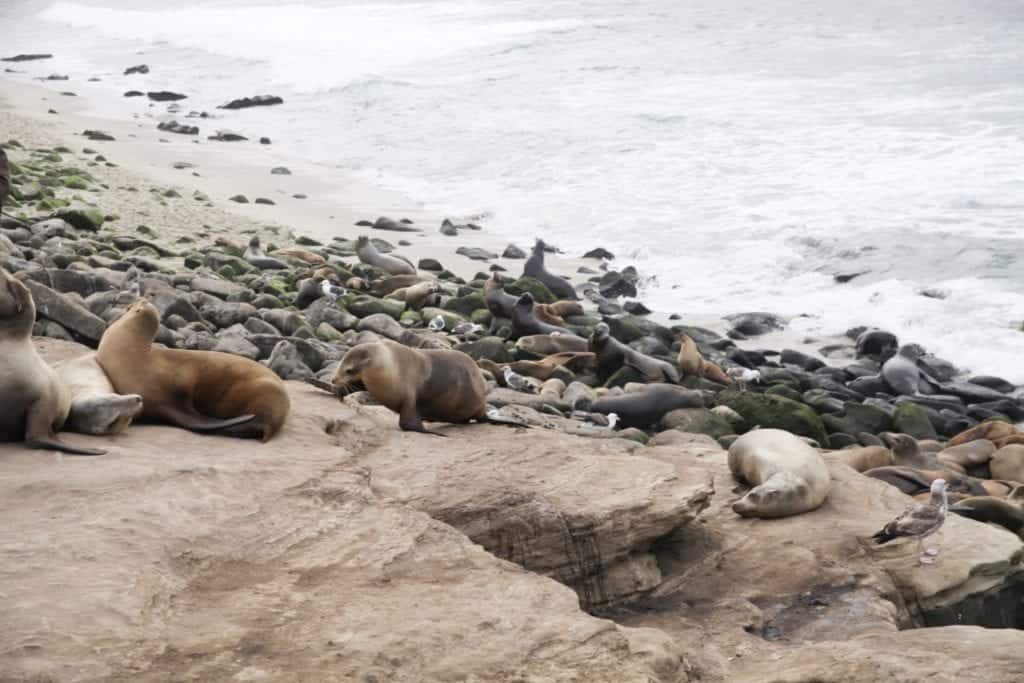 A little further down the path and closer to our hotel is where the sea lions lounge! Along the rocks there were hundreds of sea lions roaming about! Some ventured closer to us and the view and experience took my breath away! We spent a great amount of time relaxing and watching the wildlife.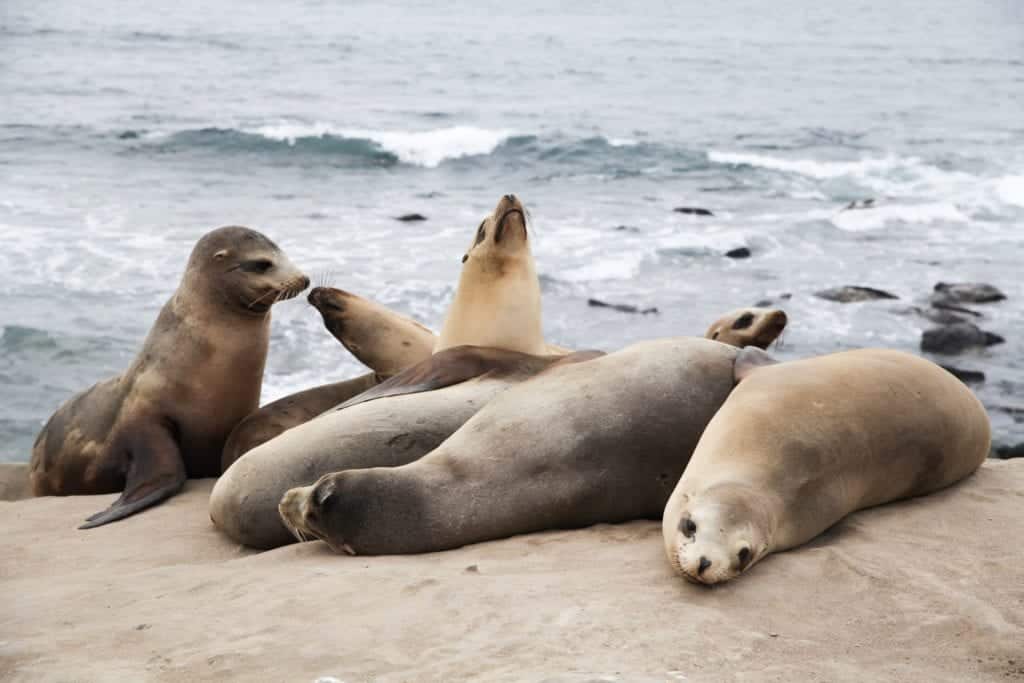 Also along the main La Jolla strip is a mixture of fun boutiques, unique art galleries, and beauty salons. La Jolla is a perfect place to fulfill all your art and shopping needs! They have a mixture of national and local shops.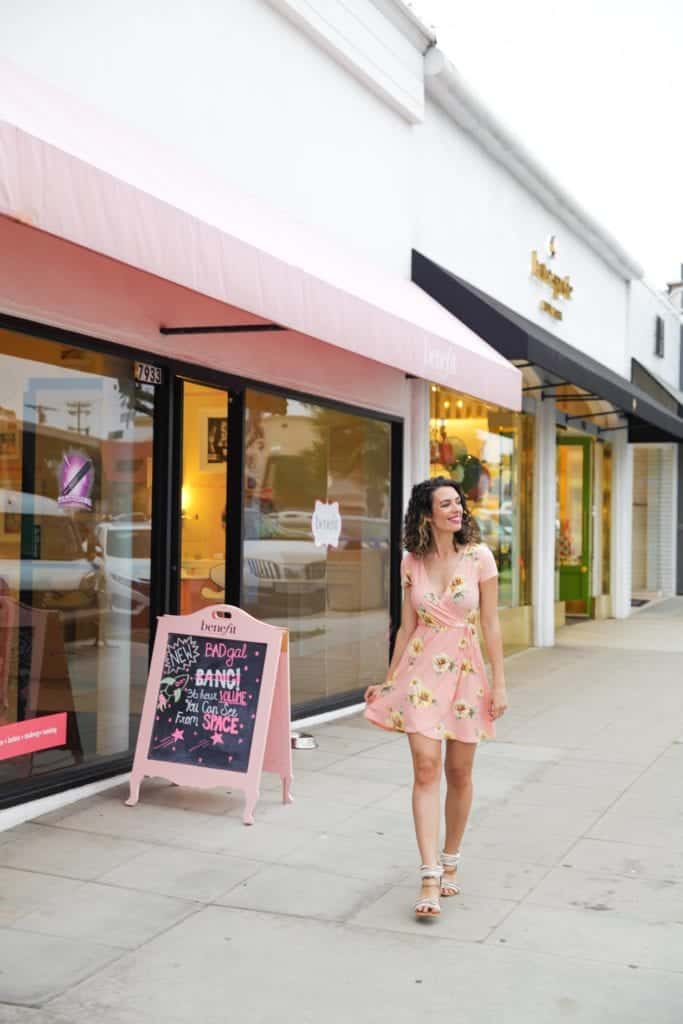 Afterwards we returned to la Jolla Cove Hotel and Suites to unwind and enjoy the heated pool and hot tub.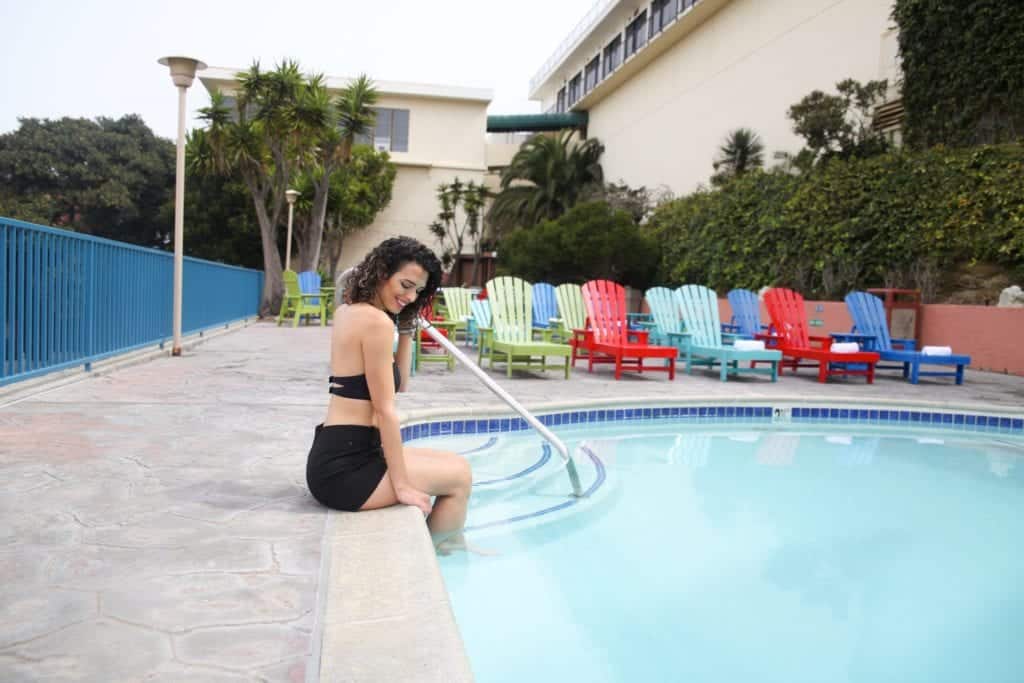 The next day we woke up early in the morning to enjoy breakfast by the beach before heading out to La Jolla kayaks. We spent a solid 2-3 hours on the water. Kayaking in La Jolla is like no other because as you're kayaking sea lions regularly swim beside your kayak! Something I didn't expect was seeing a whale out in the distance. Kayaking in La Jolla can be affected by the weather so I recommend making sure to plan out your trip accordingly. However, you can always stop by the beach If you don't get the chance.
Feeling exhilarated and exhausted we returned from La Jolla Kayaks and walked over to Shore Rider's, a casual beach bar with outstanding food. The thing that I loved about Shore Rider is that you can come as you are rather than having to get dressed up- the perfect place to stop after a kayak!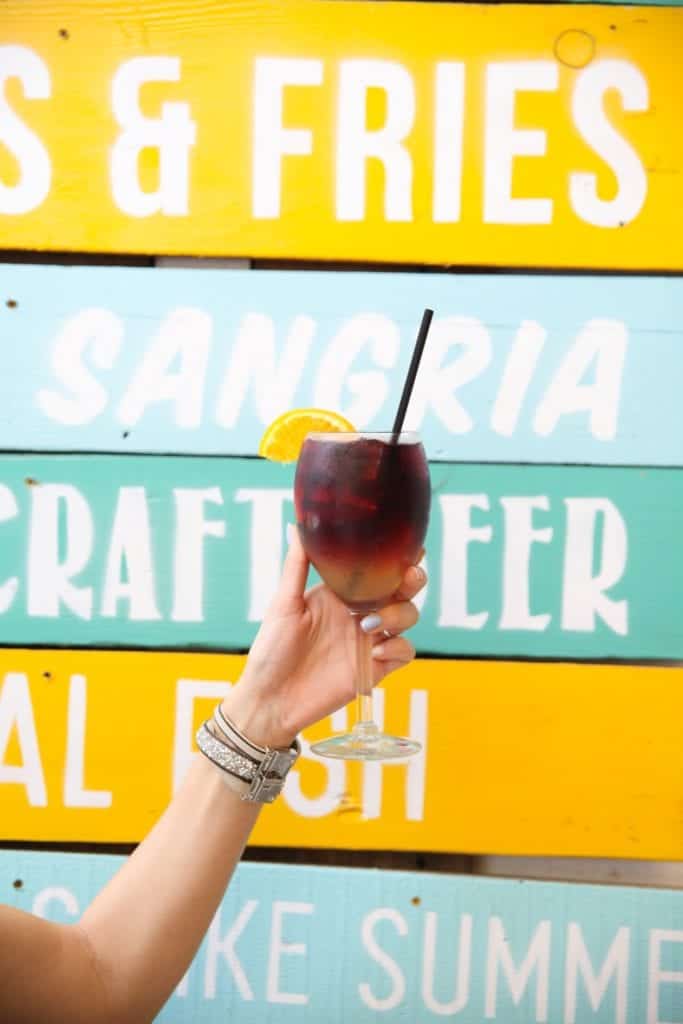 Sticking to the California healthy trend we order ceviche, ahi tuna salad, and an ahi tuna sandwich. The ceviche was loaded with fresh citrusy flavors and the ahi tuna was perfectly crusted with seasonings. I managed to convince Chief to try the salad and he ended up eating most of it! They also have some incredibly enticing burgers for those not sticking to a diet!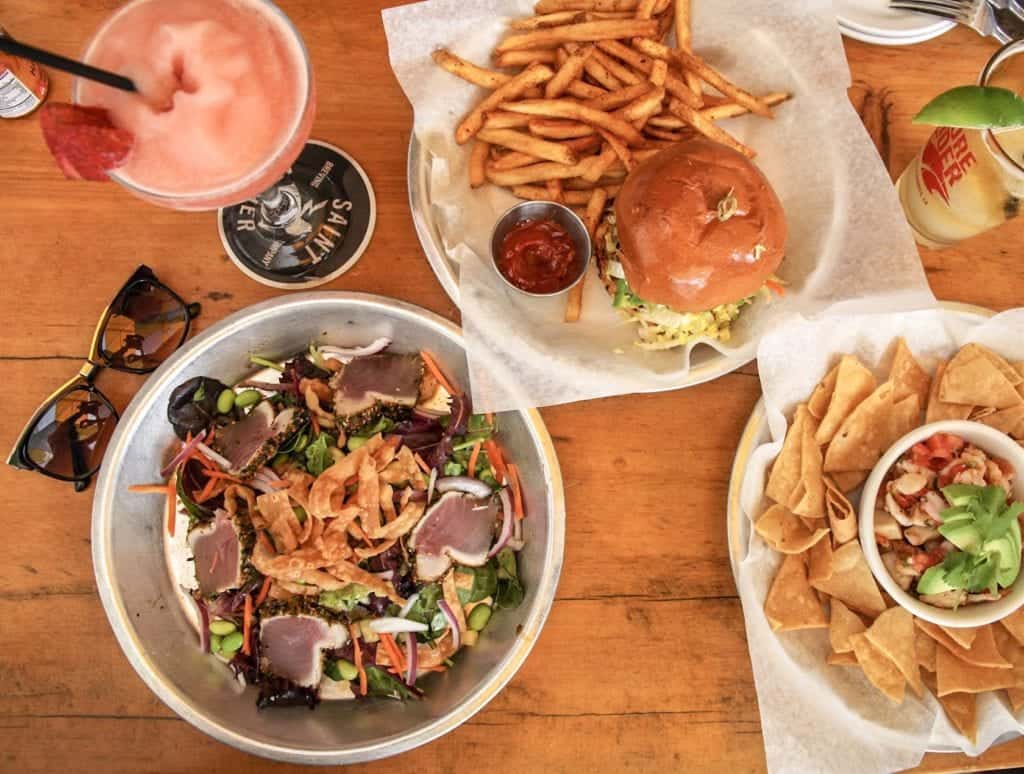 We also tried the Picoli- Modelo mixed with a frozen margarita, a frose, and a sangria. Okay- so we weren't completely healthy, but it evens out right? Let me just say that modelo and margarita pair perfectly together and went perfectly with the ahi tuna sandwich! All of this was enjoyed with fun beach décor! I recommend this place for people who are looking for a fun atmosphere, a casual setting, and fresh seafood!
The Birch Aquarium was on our list of must dos to truly appreciate all the wildlife we experienced. We walked through exhibits of brightly colored fish and plant life. One amazing exhibit featured a giant sea turtle with the first and only 3D printed shell. A chunk of it's shell had been removed and so the team created a new one to allow the turtle to survive. The exhibit ends with some fun hands on activities perfect for the kid (or the kid at heart!).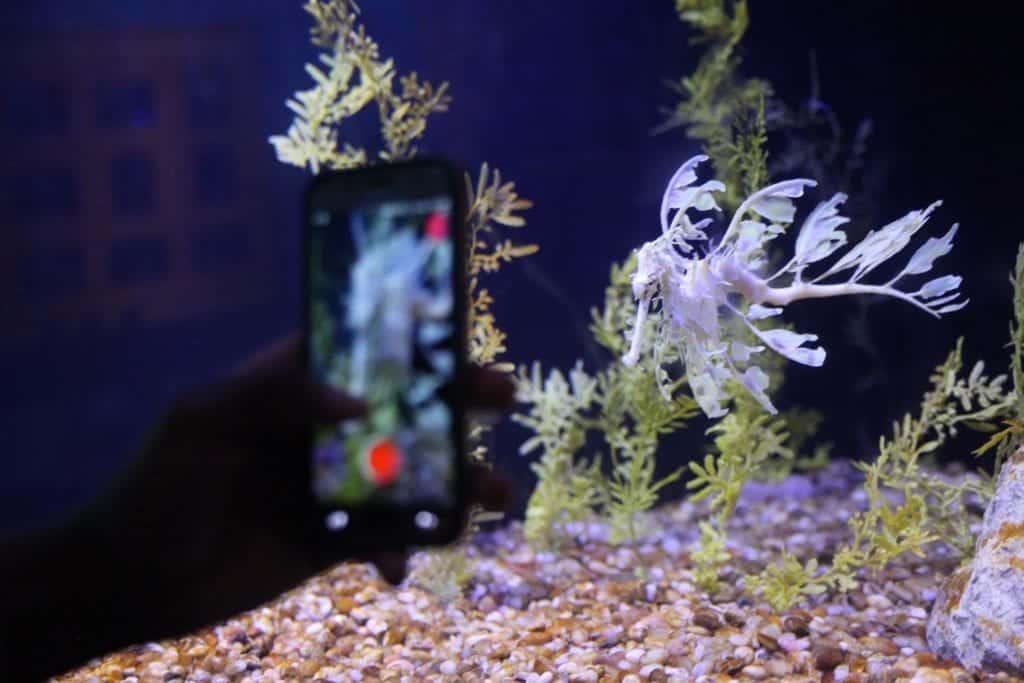 For the last part of our trip we ventured slightly out of La Jolla to go to Flower Hill Promenade in Del Mar. This fun shopping area features unique boutiques, things to do, and great photo opportunities. We had a delightful charcuterie board from Venissimo with capicola, salami, finocchiona, heublumen, vlaskass gouda, and Mt .Tam goat cheese. Everything was delicious and how cute is this cheese board!?
Afterwards we walked through the shops and enjoyed photo opportunities before departing.
Where to Stay in La Jolla California
We stayed in La Jolla Cove Hotel & Suites while in La Jolla. This is right along the coast and created an absolute memorable stay. Every night we fell asleep to the sound of crashing waves and every morning we woke up to the barks of sea lions. (For those who enjoy a more quiet environment, they have more serene options as well). Parking can sometimes be hard to find along the coast so it was so perfect that we could walk to the shore and almost all of the activities in La Jolla.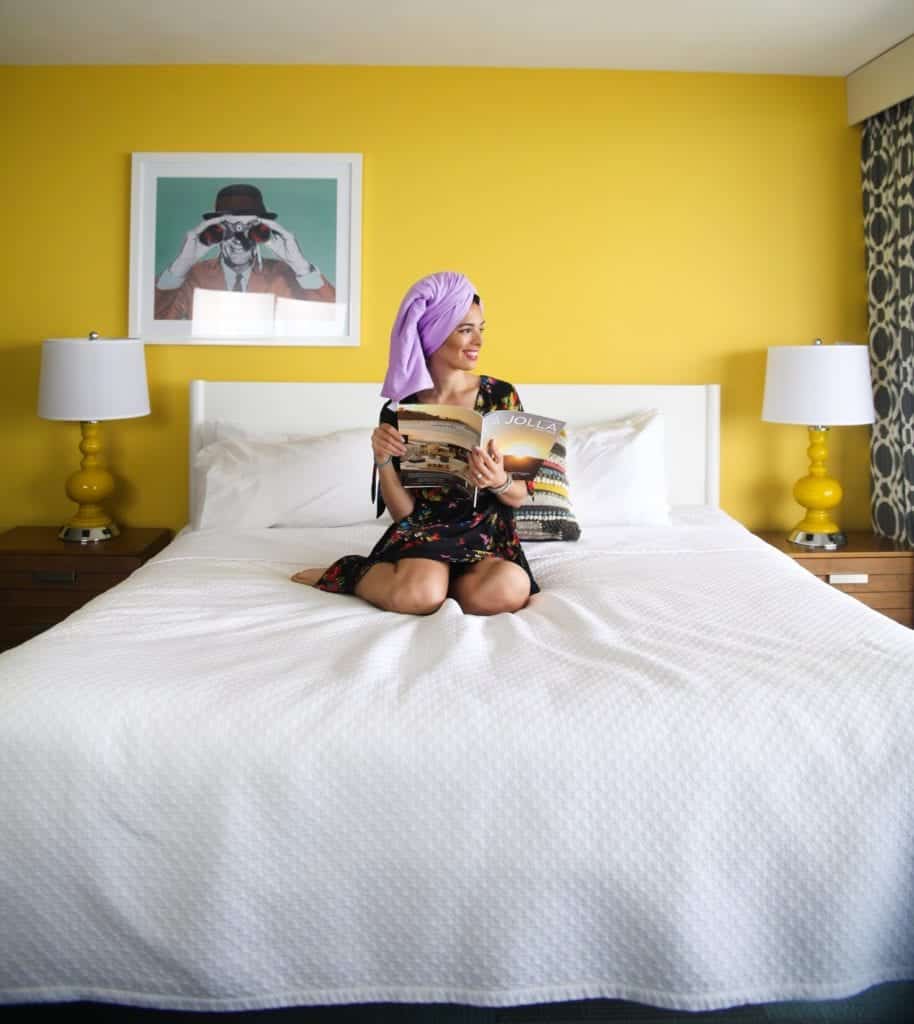 Other Places to Stay in La Jolla
La Jolla is one my favorite destinations that I could visit over and over. The seal and sea lion experience is magical and I know I will be back. Next time I hope to venture further around San Diego to capture all of the amazing things to do! Until next time California!!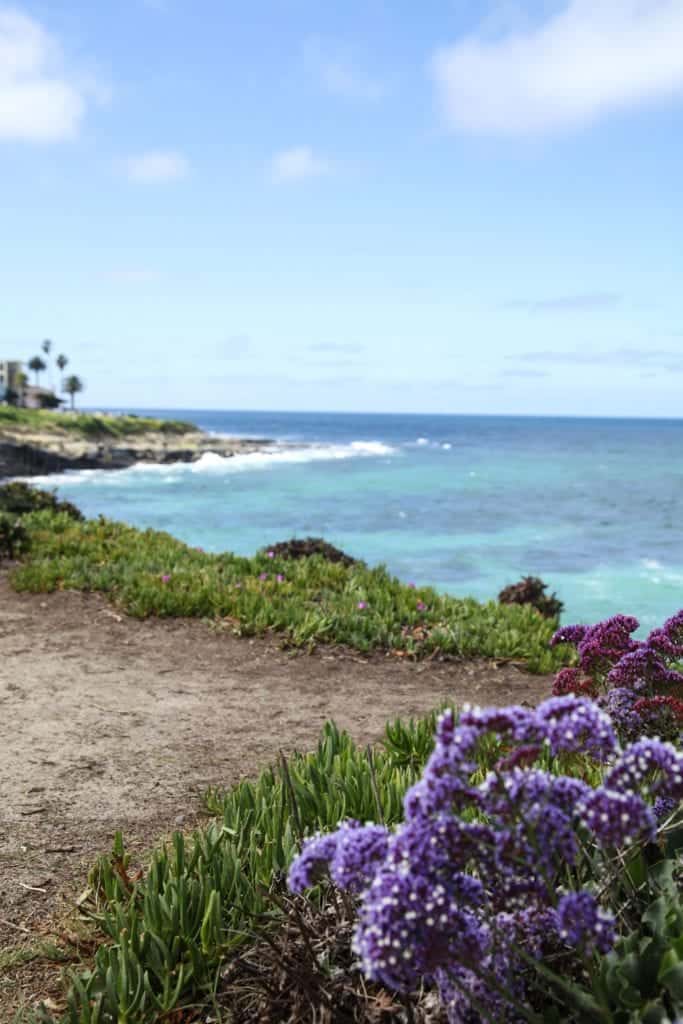 Saw an outfit you like? All photos can be shopped by clicking on the image or using the shop my insta tab.
I received accommodations at the places mentioned above. As always, all opinions are my own.