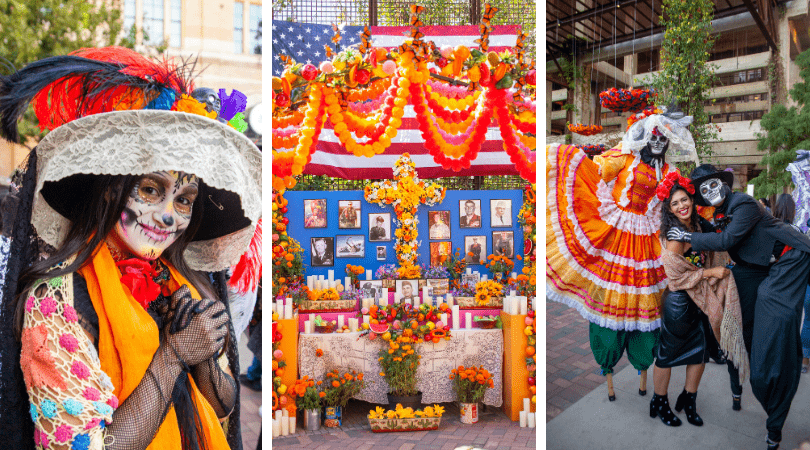 Day of the Dead, or Dia de los Muertos, originated in Mexico and Central America thousands of years ago and is a celebration of loved ones who have passed. Since San Antonio is filled with Mexican influence and generations of Mexican-Americans, including myself, it only makes sense for a San Antonio Day of the Dead Festival to take place here.
Filled with ofrendas in local spaces, parades, indigenous ceremonies, and more, San Antonio has brought Day of the Dead to life to celebrate locally and help educate people on a historic and UNESCO recognized tradition. The entire celebration occurs over the span of two weekends.
While I've since moved away from my beloved city, every time I return it still feels like home. This year I came back to celebrate the Day of the Dead and was amazed at how the whole city showed up to celebrate. Each bit of San Antonio had something they were doing in honor of Day of the Dead. There were so many San Antonio Day of the Dead Festival activities, and we tried our best to do everything that we could.
Find the perfect attire and accessories in our Texas Latina collection to celebrate the Day of the Dead in San Antonio.
Day 1: San Antonio Day of the Dead Festival
Our San Antonio Day of the Dead itinerary began on a Friday, and we immediately set off to explore the different activities!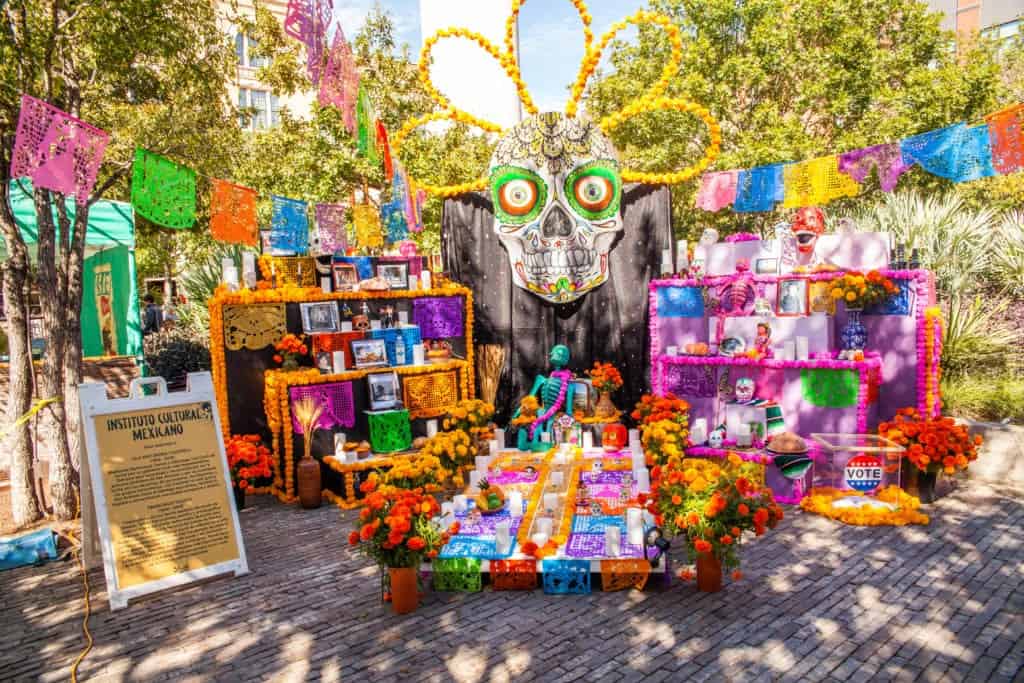 Almas Creativas at the Briscoe Western Art Museum
Our first stop to celebrate the Day of the Dead in San Antonio was to the Briscoe Western Art Museum where they had a special exhibit of beaded sculptures created by the Huichol, descendants of the Aztecs who are known for their beaded and woven artwork. There was a beaded piece of Frida Kahlo and other famous figures with more than 1 million beads used, as well as some yarn pieces. Up close, these statues were incredible with all the intricate details and lively colors.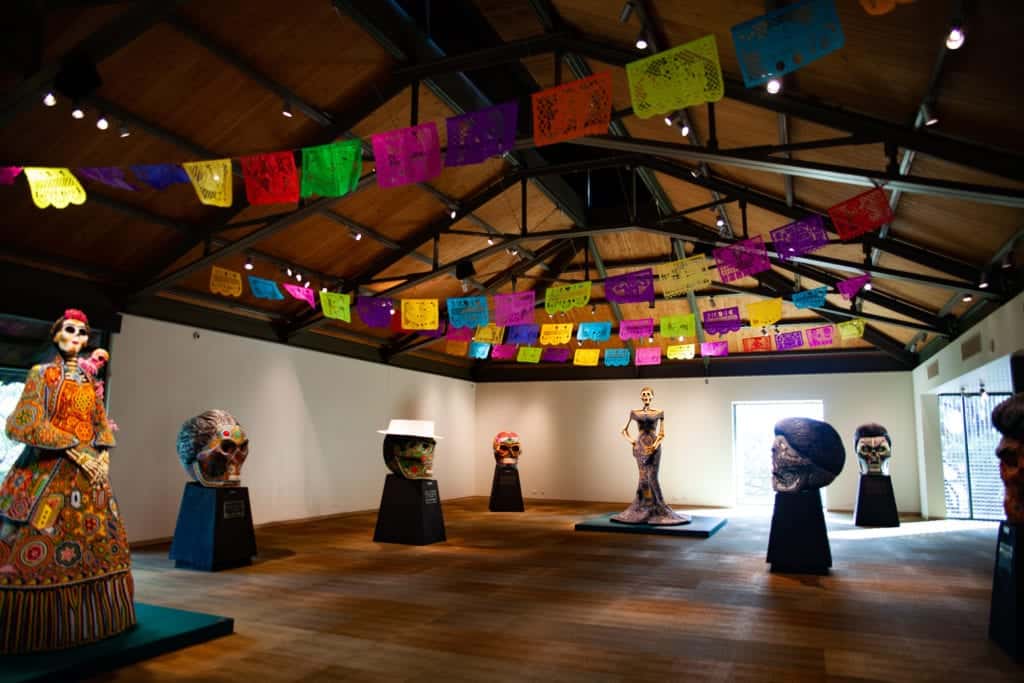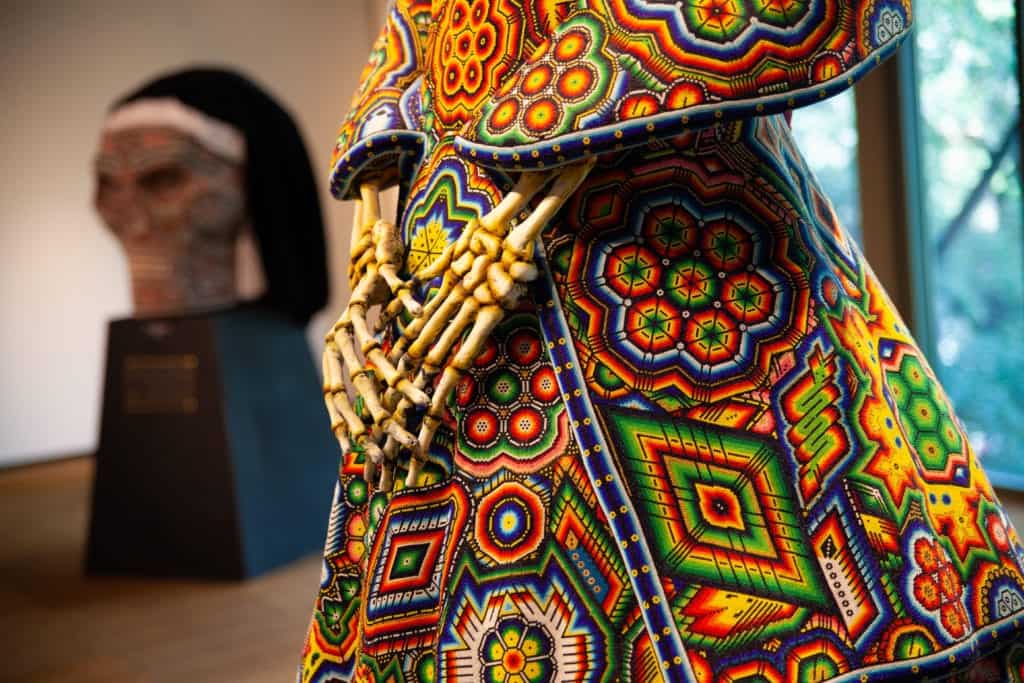 San Antonio Day of the Dead Parade
As the sun set, we grabbed seats for the Day of the Dead festival parade featuring floats on the San Antonio River Walk which was covered in lights. Some included ofrendas, others included dancing catrinas and ornate displays. Music played from each float making it a fun little party.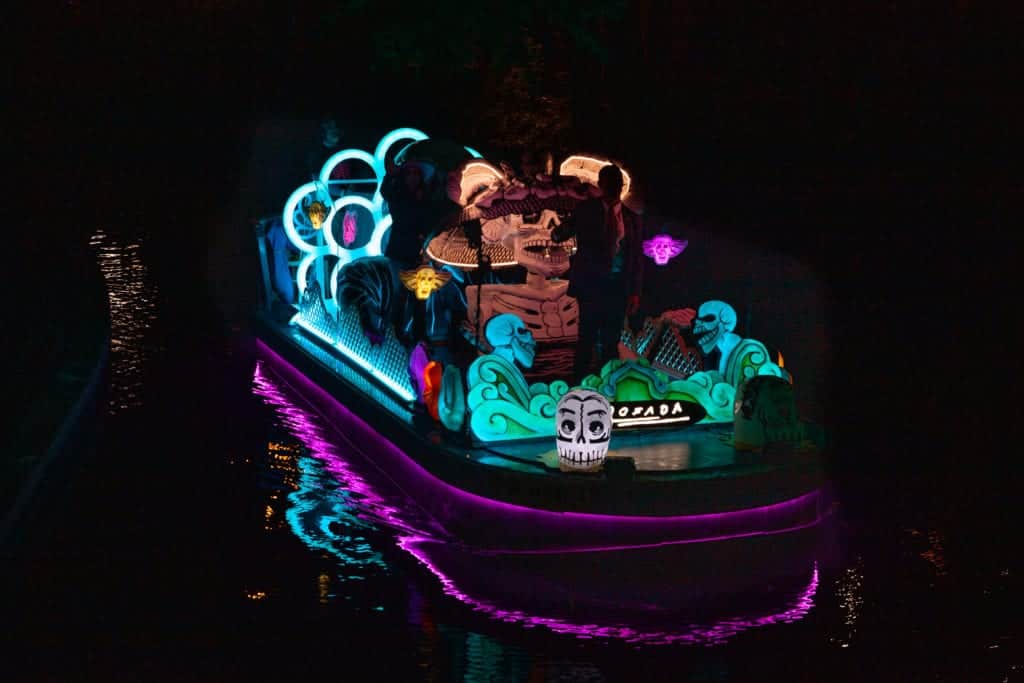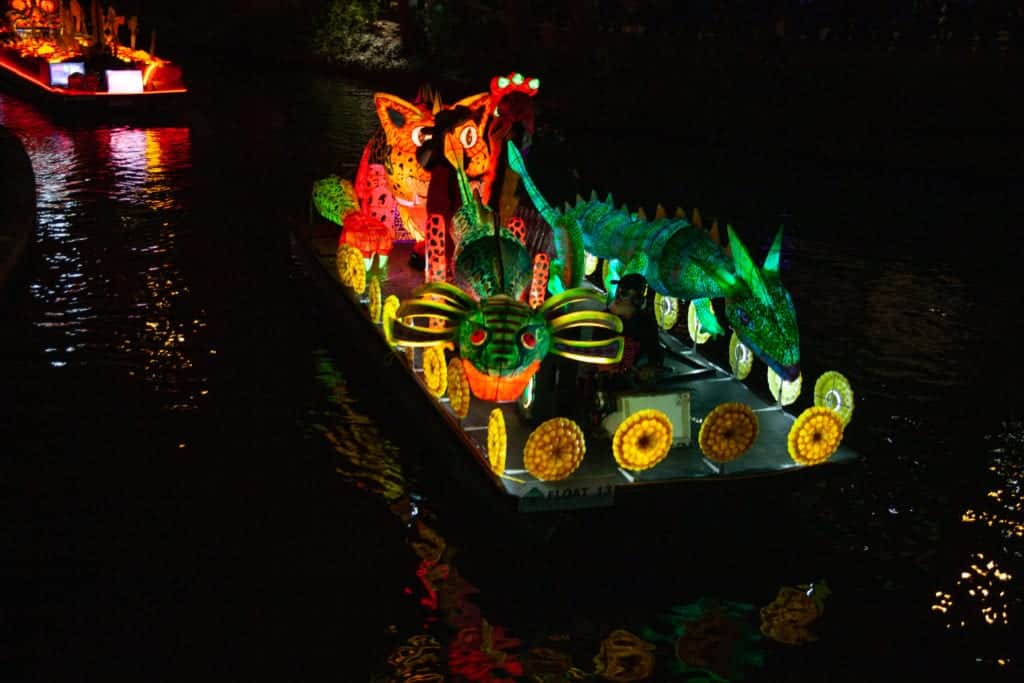 First Friday Muertitos Fest
We ended our first day of the San Antonio Day of the Dead festival celebrations at the Say Si foundation for the first Friday Muertitos Fest. There were so many activities for kids and adults. You could get your face painted, paint and design a skull, and create a sugar skull.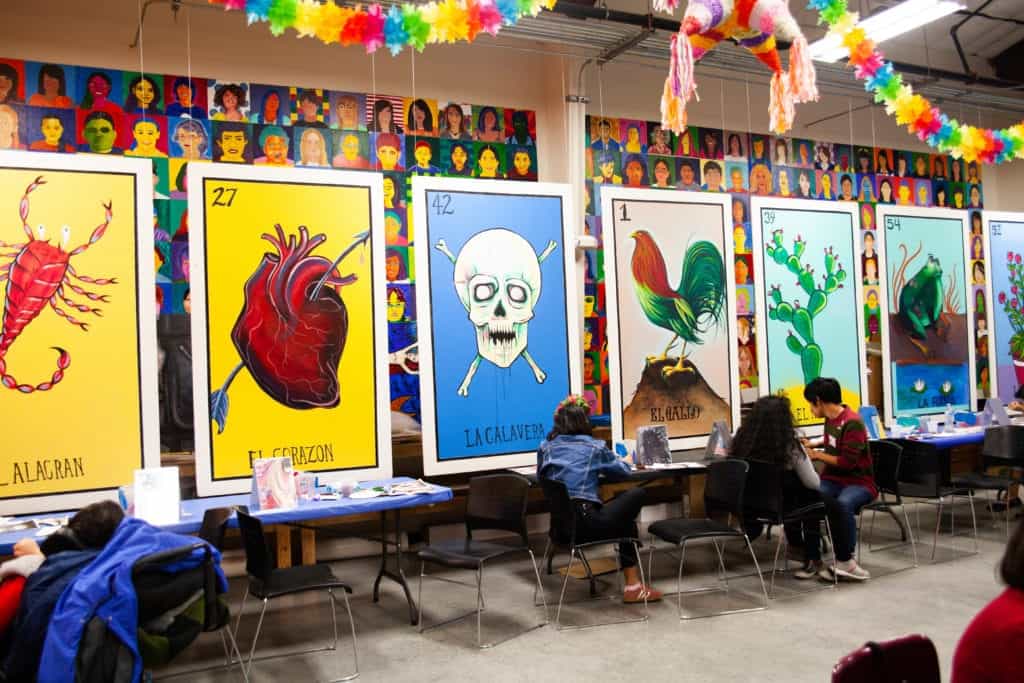 There was a live band playing and people dancing, a costume contest and local vendors selling handmade goods and art. The students at Say Si shared artwork that represented Dia de los Muertos and had local performances. Overall we had an absolute blast and loved supporting a local organization.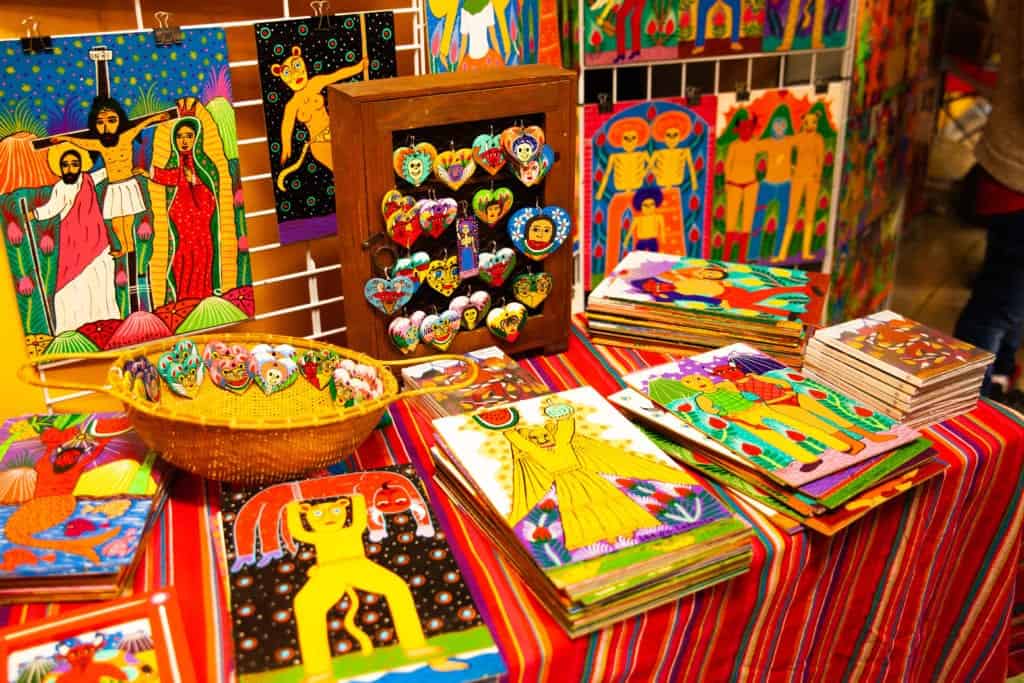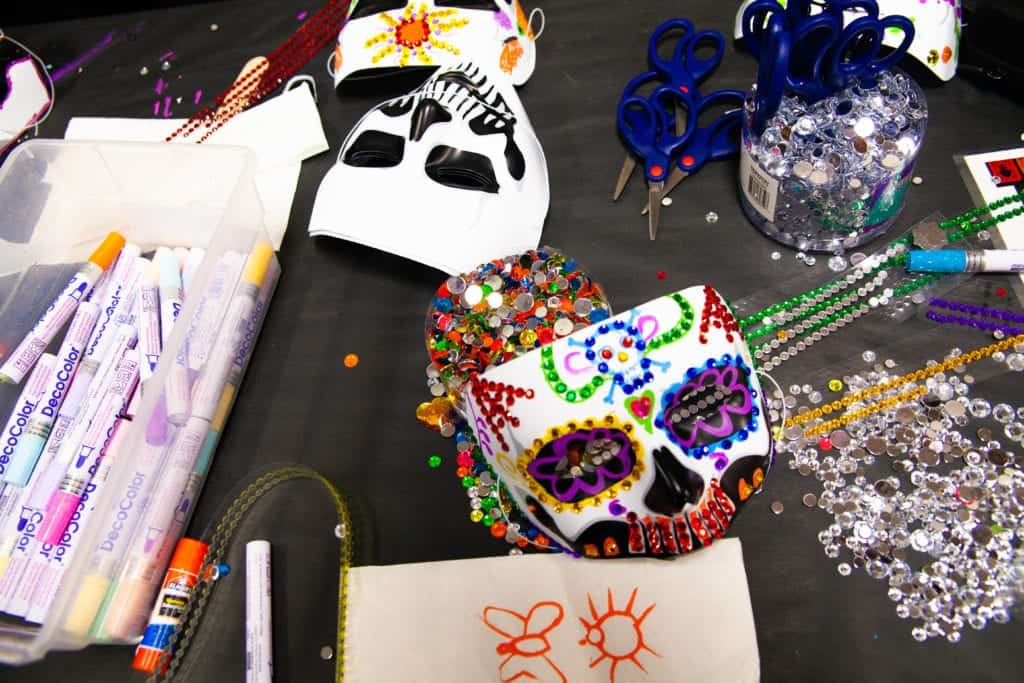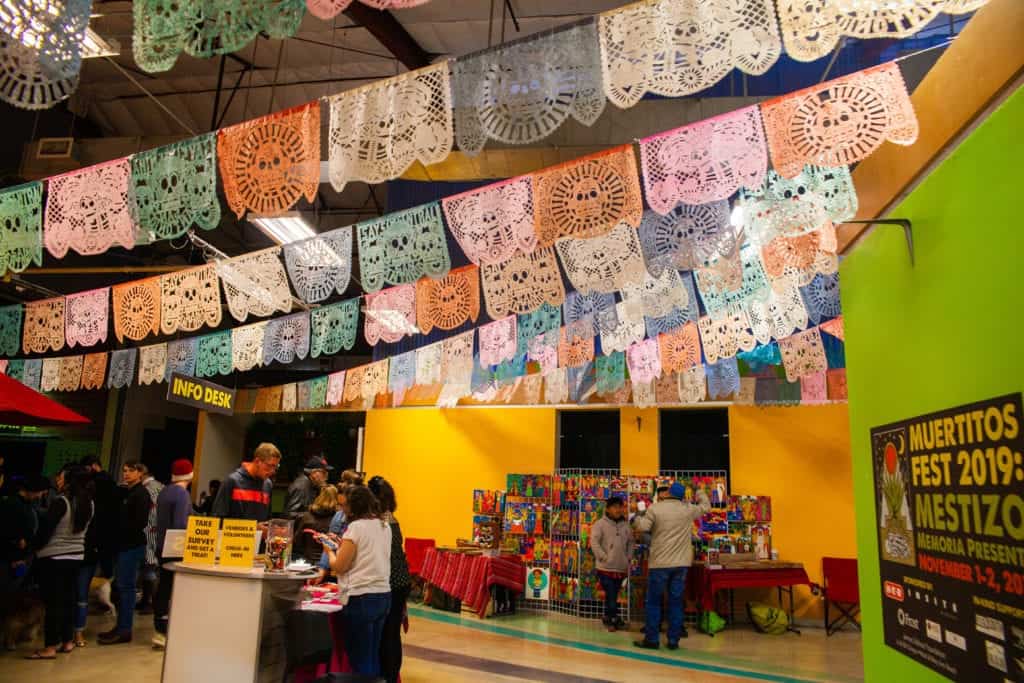 At the end of the day we happily tucked into bed at the Grand Hyatt Hotel. Conveniently located on the San Antonio River Walk, we were often just a walk away from most of the San Antonio Day of the Dead Festival activities. We enjoyed some of the most spectacular sunsets overlooking downtown San Antonio and the Tower of the Americas. You can read all about our stay at the Grand Hyatt San Antonio here.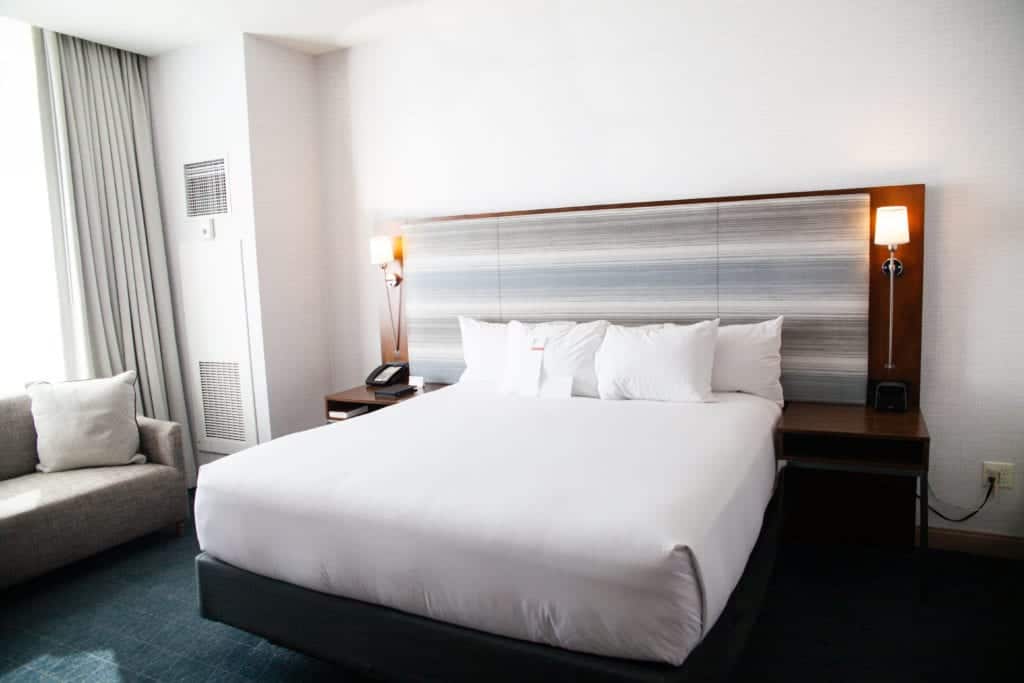 Day 2: San Antonio Day of the Dead Festival
Historic Pearl
We actually ended up visiting the Historic Pearl for the Day of the Dead festival multiple times. We first went in the morning when the Historic Pearl hosts its farmers market, which is the biggest I have seen in Texas! In between all the booths were beautiful ofrendas to the military, local figures in San Antonio, and to others made by local students. There was even an interactive section where people could write notes to their own loved ones.
On Friday evening, they had a large parade of people dressed up. On Saturday, there was a band playing and the Pearl was filled with people listening to music. There were catrinas everywhere and San Antonio had completely transformed into a celebration. I love visiting the Historic Pearl, and it was fun to revisit multiple times during the weekend to see how it had transformed based on what they were celebrating.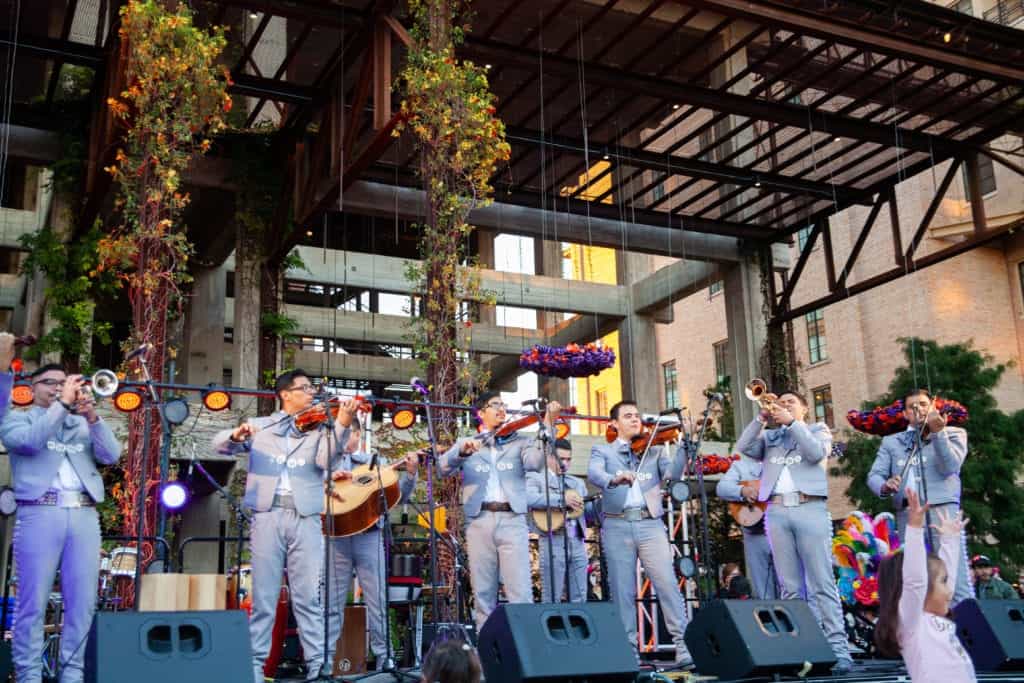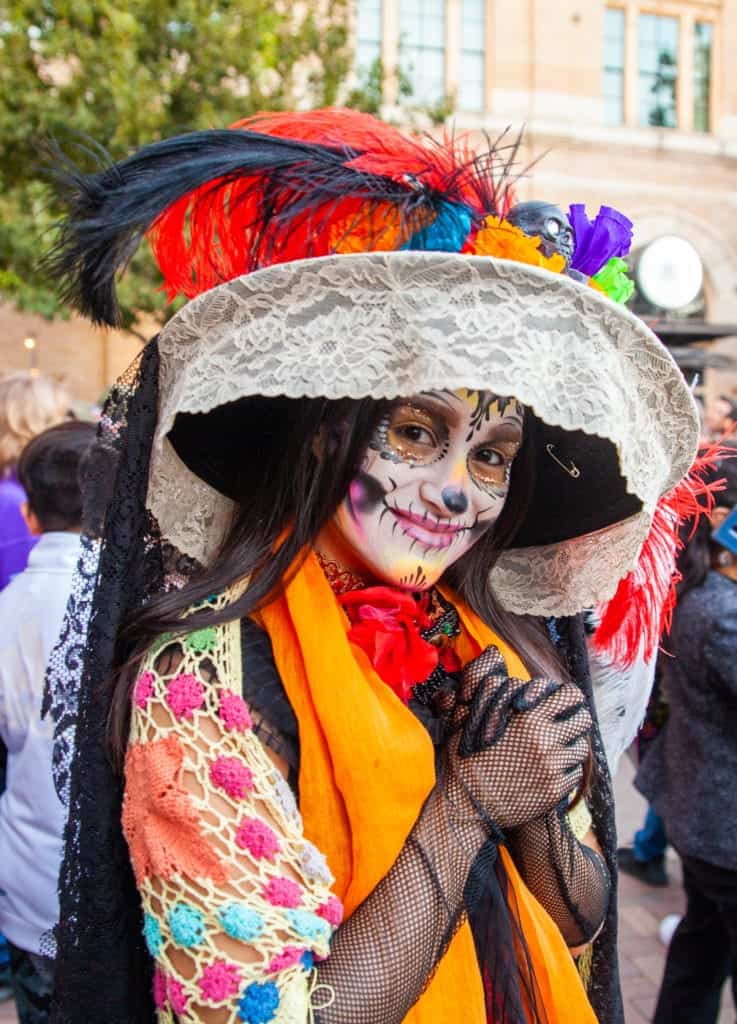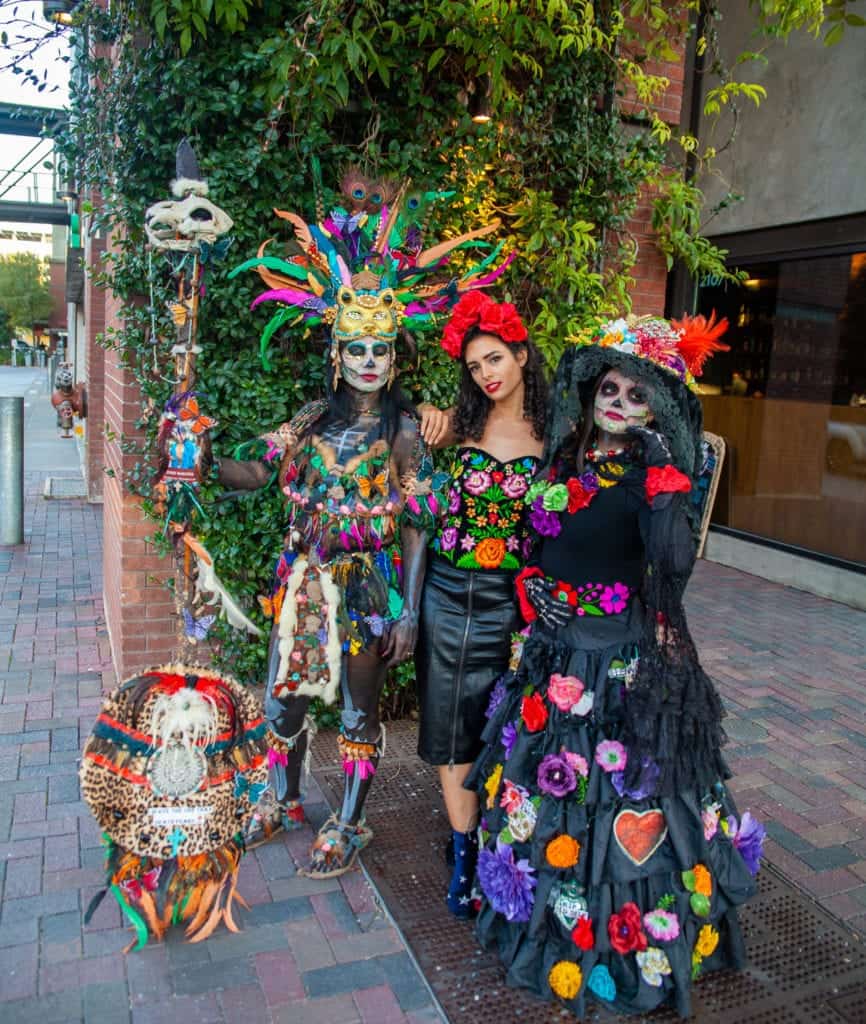 Celebrando Las Misiones
One of the most incredible moments we had was at Mission San Jose. We started in front of the mission where the descendants of the missions offered ofrendas through rhythm and dance.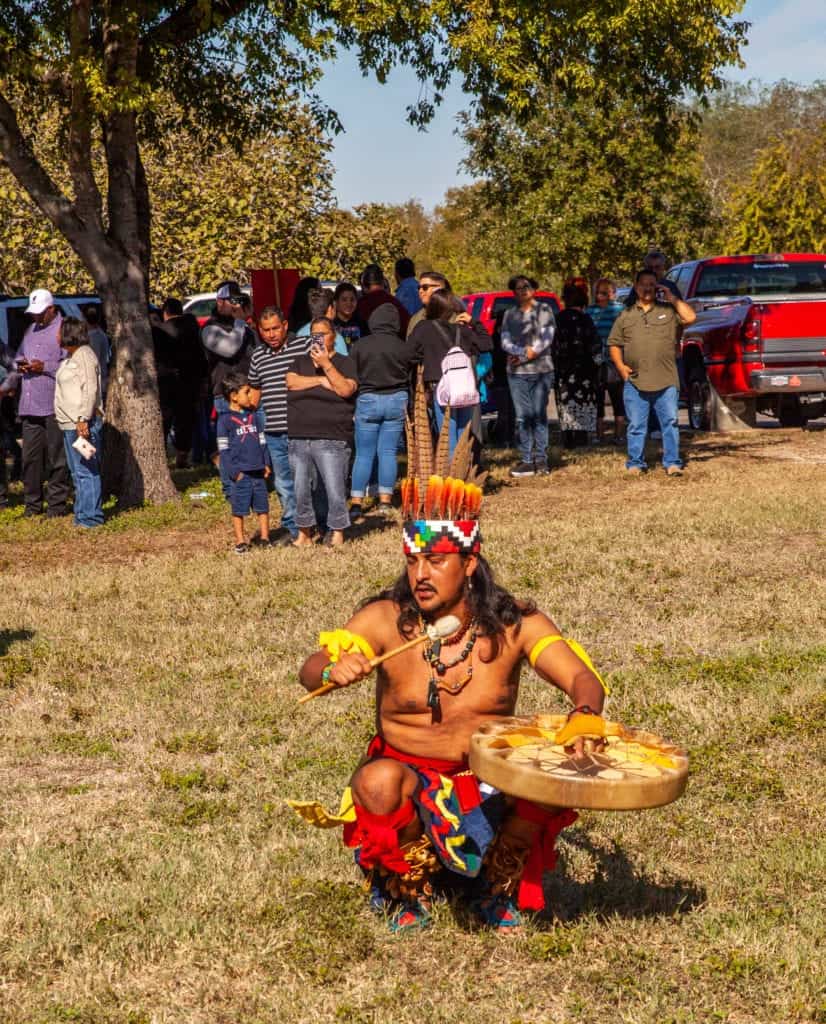 From there, they hosted a procession to the Mission Marquee Plaza where they invited people to join along.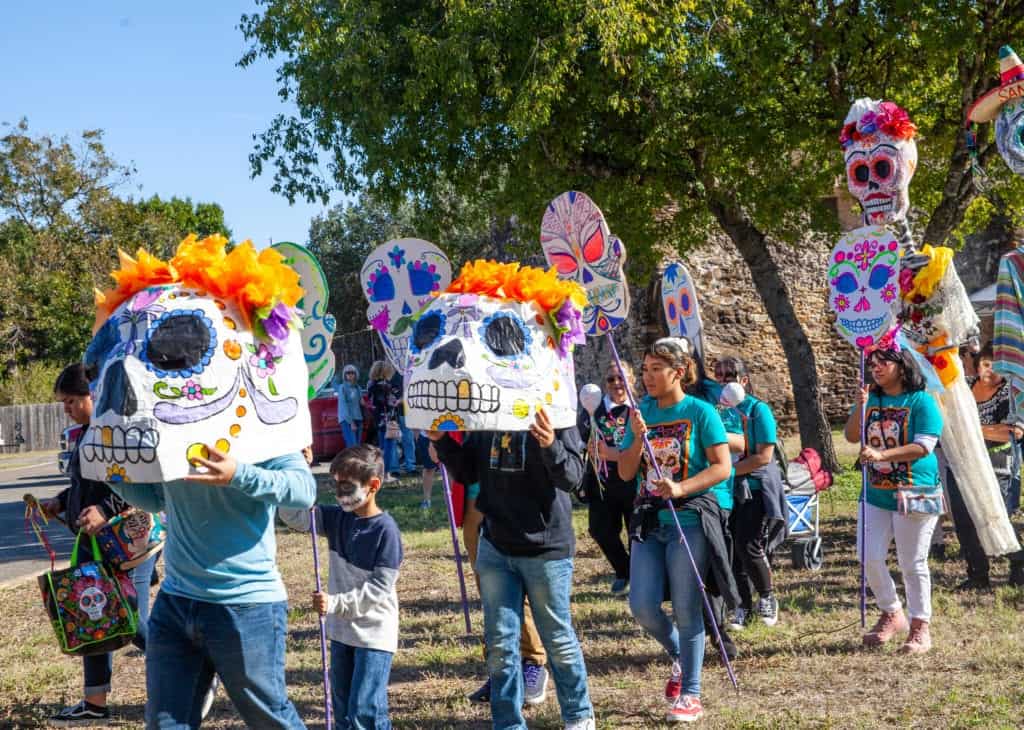 They gathered once more at the Mission Marquee Plaza to continue the celebration. Around the area were locals selling handmade goods. They would later have educational workshops, dance performances and a screening of "Coco."
Overall, I thought it was incredible the descendants of the Missions would open up something so personal to educate others and share in their culture.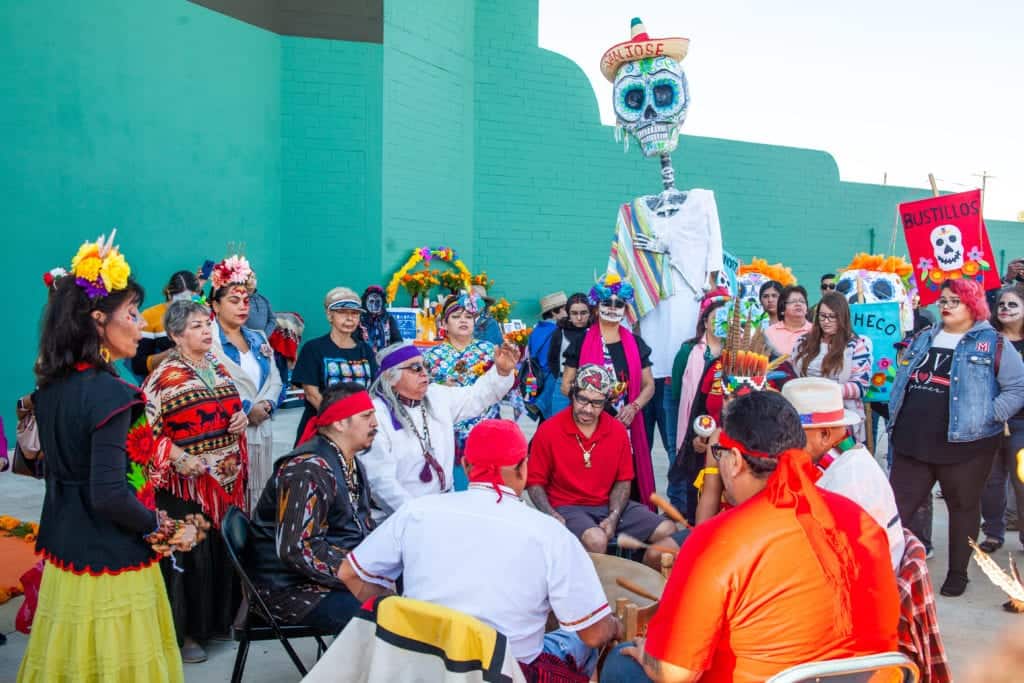 Witte Museum
At the Witte Museum, we were able to see their special display of alebrijes which are mythical creatures by Pedro Linares in the 1930s and have grown in popularity in Mexico since.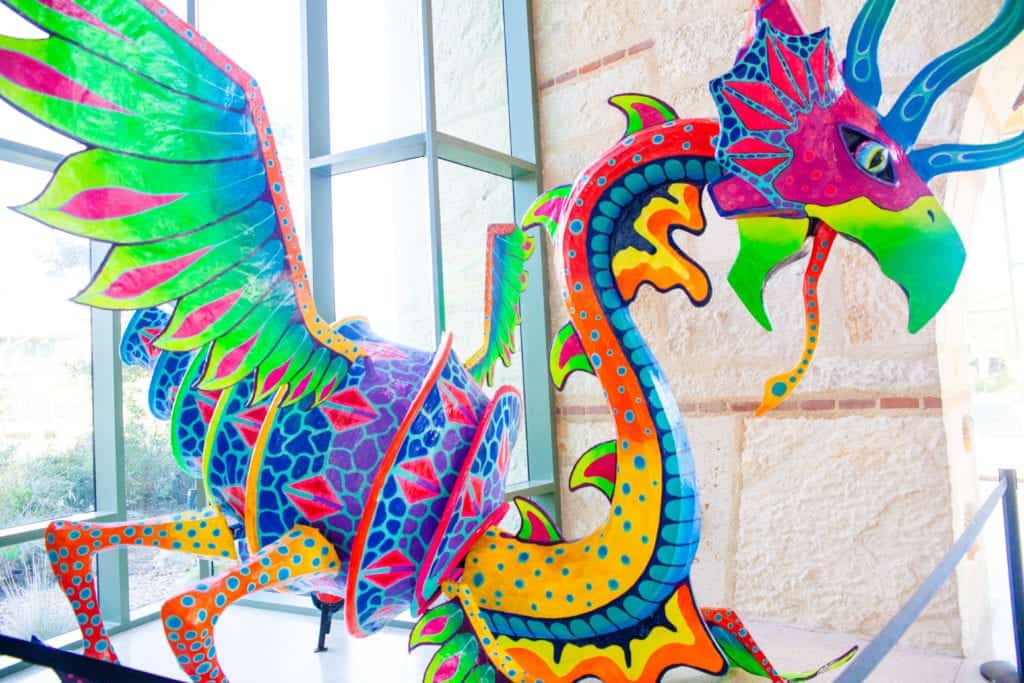 Essex Art Gallery
From the Witte Museum we went back to the Historic Pearl before checking out the Essex Art gallery. The newly opened Essex hosted an event with local vendors and food trucks. Tickets included drinks where you could walk around and check out the local art while a band played.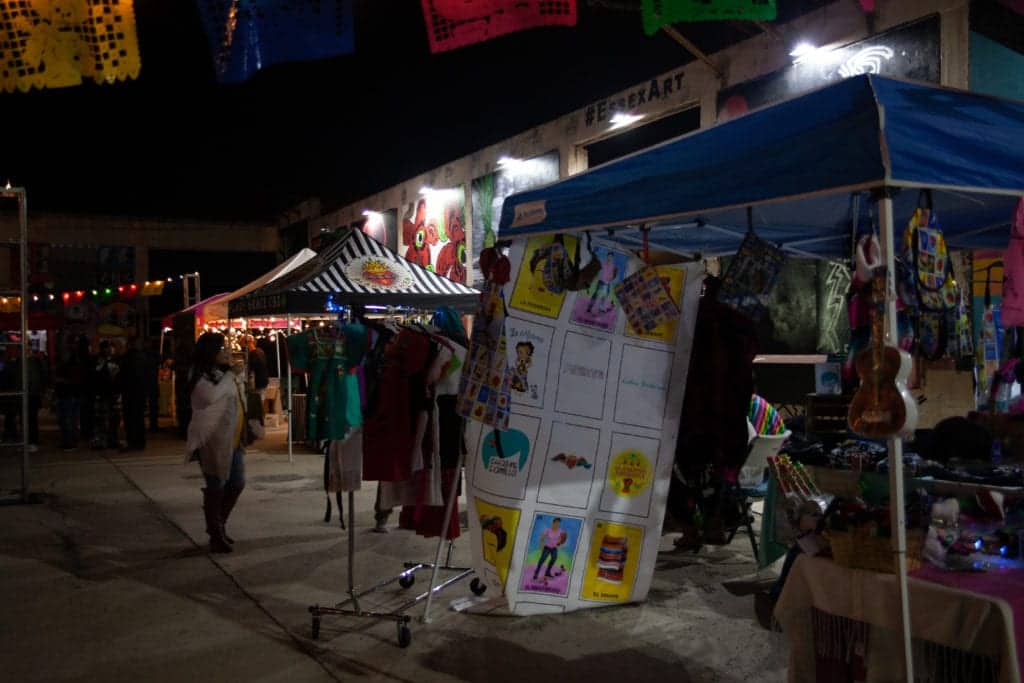 Day 3: San Antonio Day of the Dead Festival
Market Square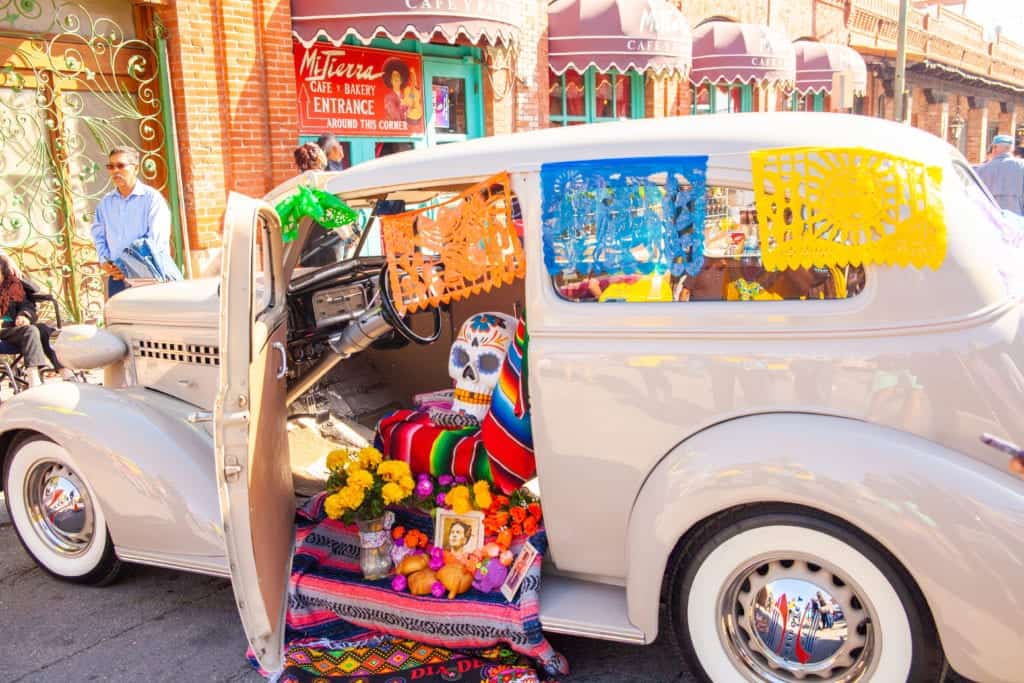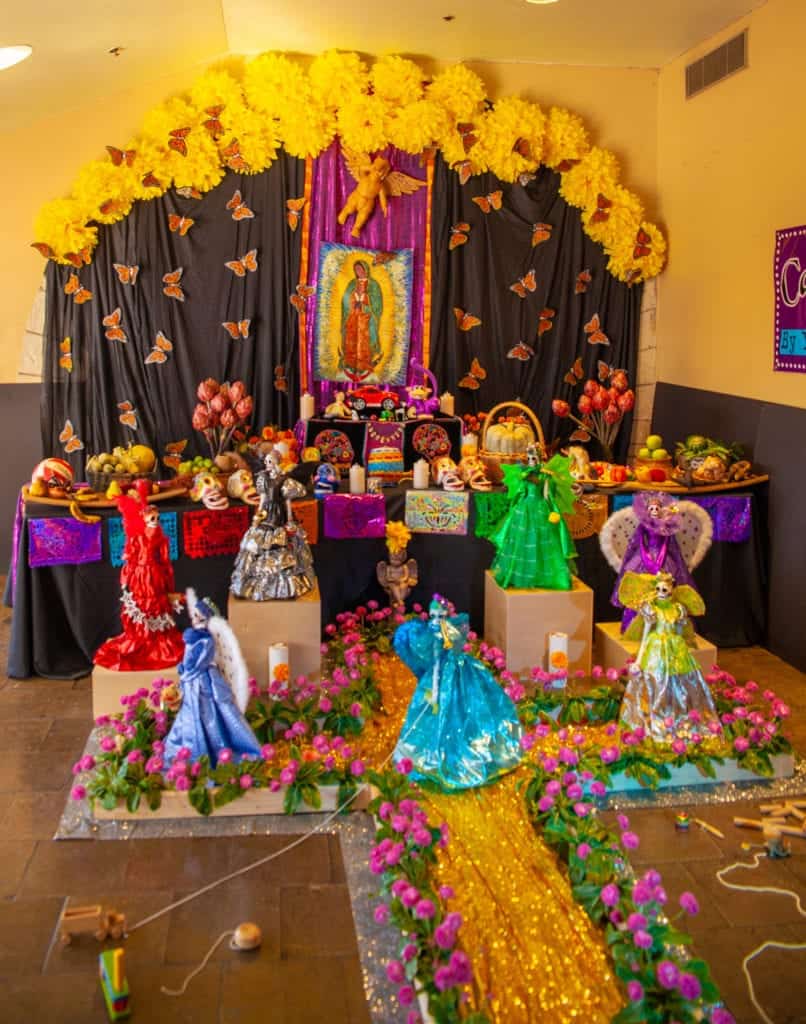 La Villita
Our final San Antonio Day of the Dead Celebration was spent at La Villita. There were so many wonderful things going on here. Large figurines were all throughout the festival, people came dressed up in their best, and there were all kinds of activities. There were multiple performances and dances, pinatas for the kids, face painting and more.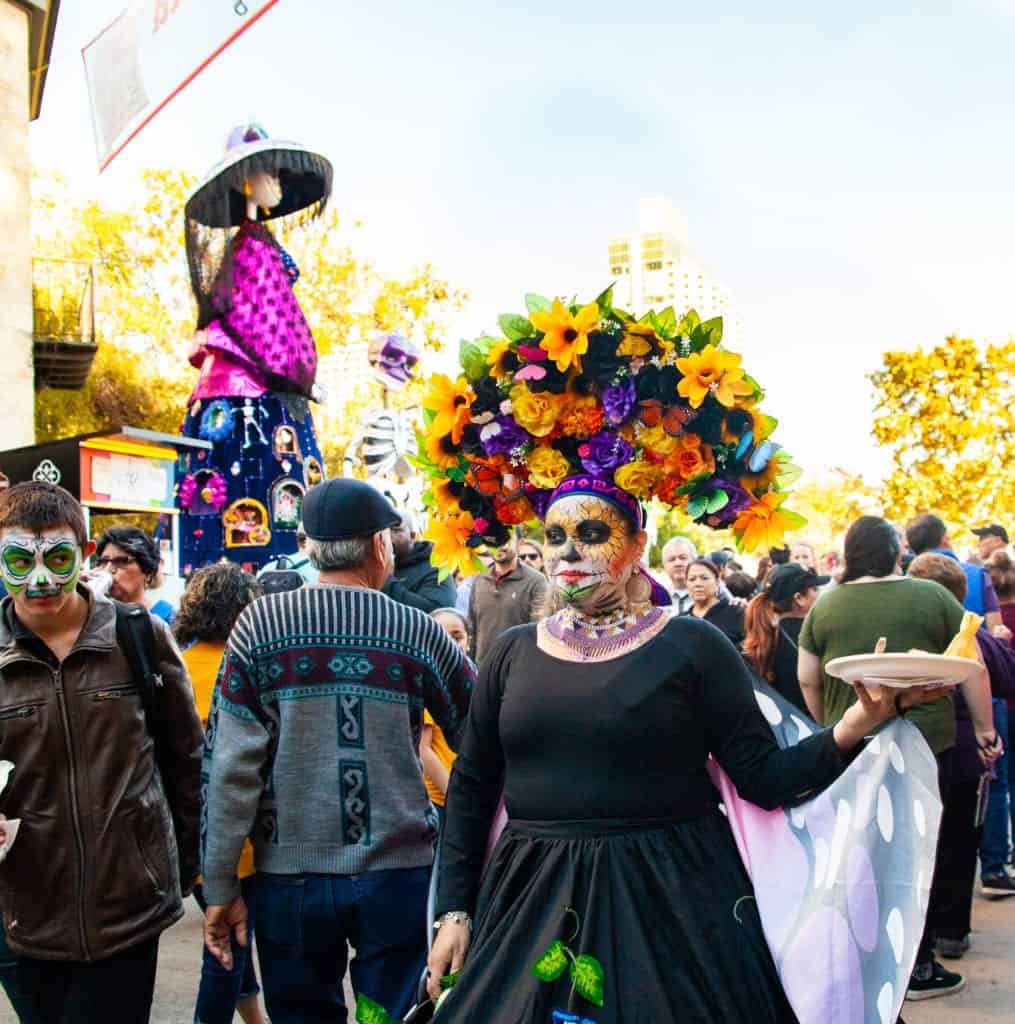 At the Arneson River Theatre, they had a mariachi band, dancers, and more all while the GO RIO River Cruises floated by, something we would do later that night.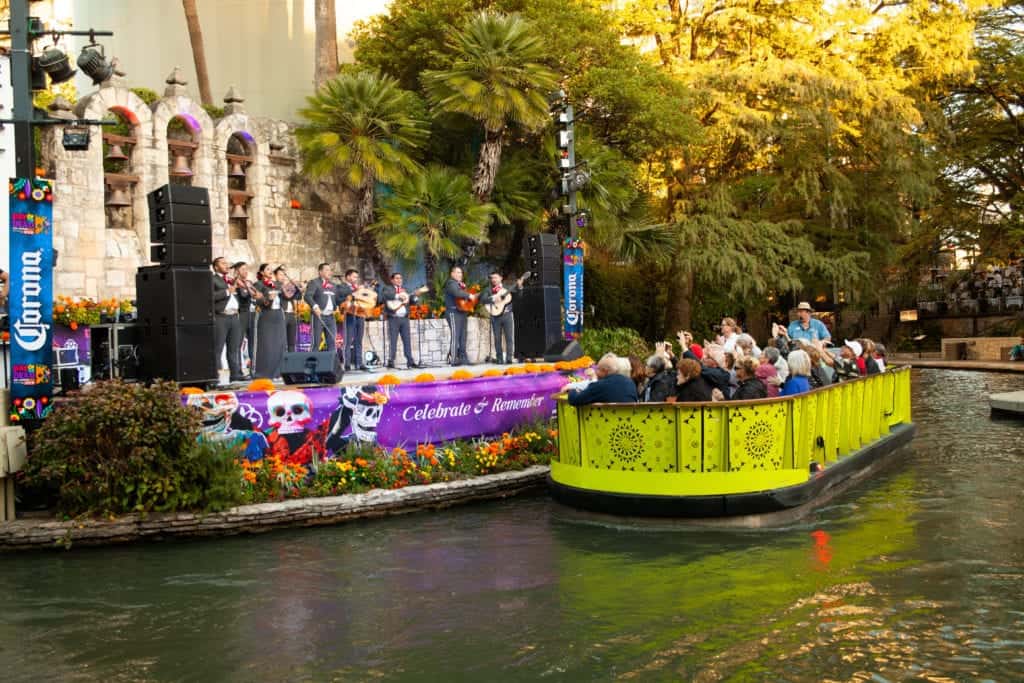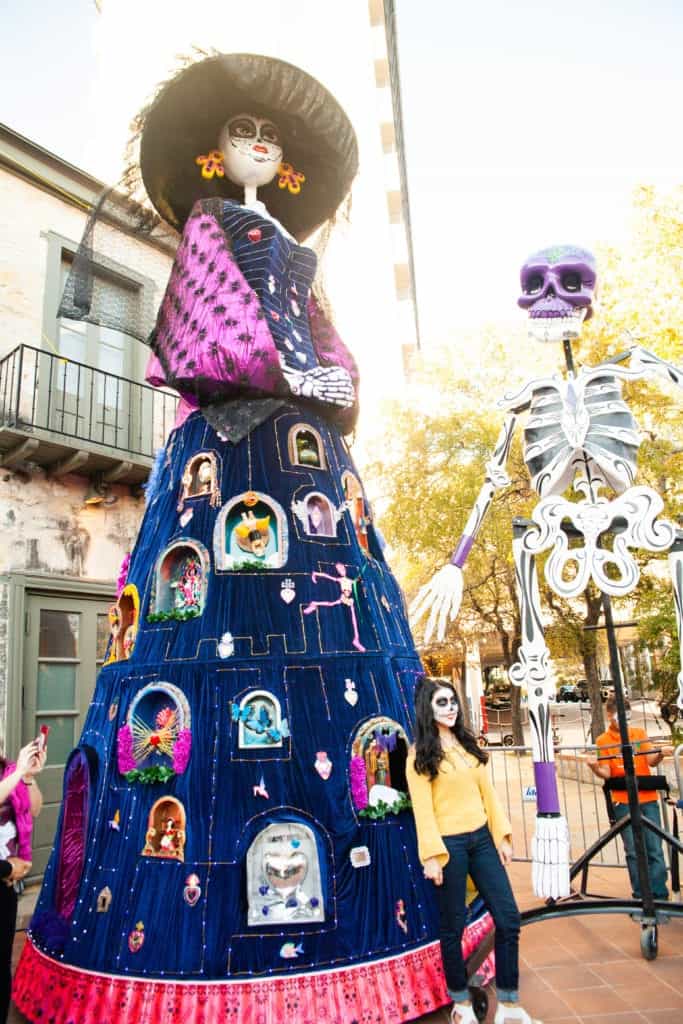 There was also plenty of delicious Mexican and Tex-Mex foods including tamales, marsico soup, chimichangas, pan de muerte and more to enjoy.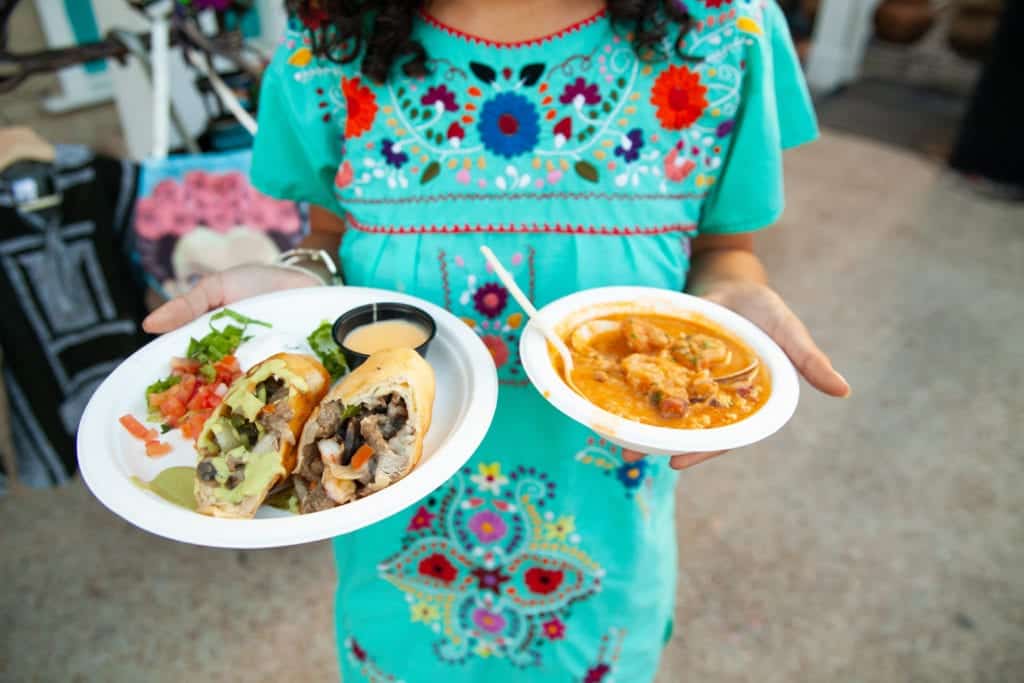 San Antonio Day of the Dead Festival: Final Thoughts
I couldn't think of a better way to celebrate Day of the Dead than in San Antonio, a city that is so full of Mexican culture. We were able to celebrate with so many different events and it was incredible how they had the ofrendas and so many teachable moments to respect the holiday. I'm already so pumped for next year! Make sure to check out their website for all of the events that are going on.
And click the button below to browse our Texas Latina collection, perfect for celebrating Dia de Los Muertos!