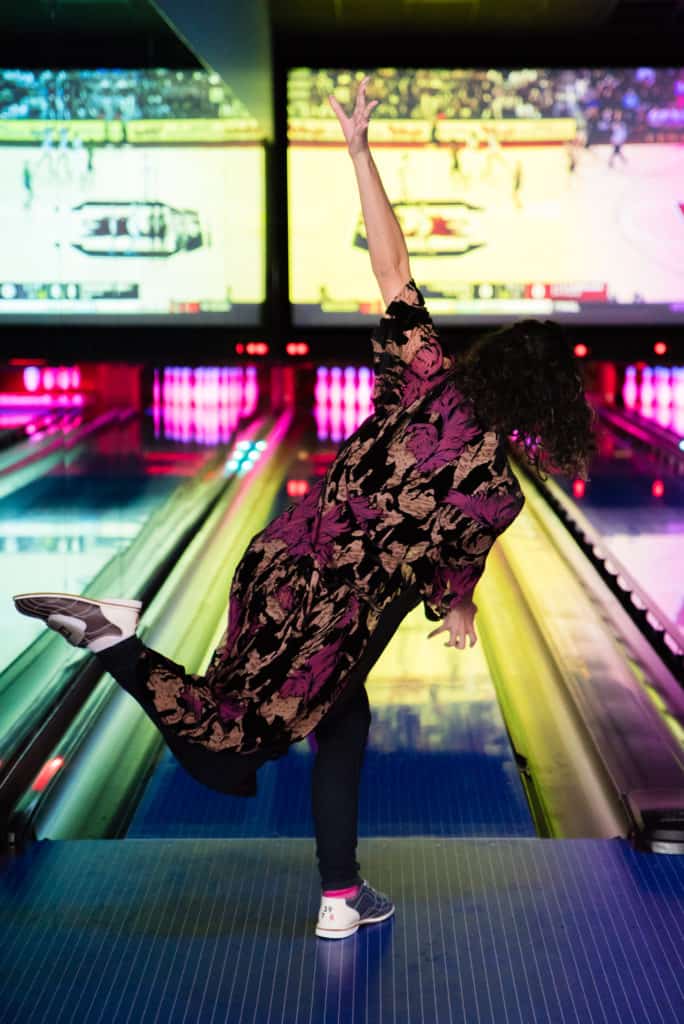 My mom and step-dad spent most of their time dating at a bowling alley, so most of my memories involve the brightly colored bowling balls, cheesy tv screens, and the typical bowling alley food (a greasy grilled cheese followed by a strawberry ice pop). While it was fun, most of it had a dingy feel and bowling just didn't feel like my thing. Recently I had the chance to go to PinStack in Allen and I was so surprised at how bowling has changed. With top shelf drinks, food as good as the top DFW restaurants, a VIP bowling lounge, an arcade, and more-PinStack Allen makes the best destination for those of us who are, and are not, fond of bowling!
What to Expect at PinStack Allen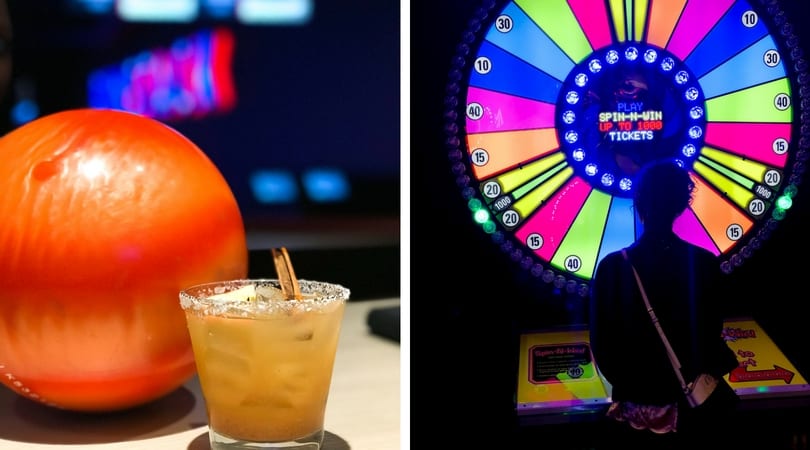 What I love about Pinstack Allen is that it's great for all ages. You can go full adult and drink specialty margaritas while bowling in the VIP lounge that is kid-free or let your inner kid out, drink a margarita, and then get competitive at the bumper cars and laser tag arena.
How about brunch and bowling? I know-sounds crazy! However, the staff told me to try the chicken and waffles and these are some of the best I have EVER had. A little bit of spicy and a lot a bit of sweet. The chefs did not skimp out on flavor just because this was a bowling lounge. The waffle had a cinnamon french toast taste with the perfect amount of crunch.
Pinstack Allen has other items such as your not-so-typical pizza, a decadent cheese platter, and mouth-watering burgers. When thinking about the food at Pinstack don't think about a bowling alley with a restaurant- think of a top Dallas restaurant with a bowling alley.
While there I got to enjoy the VIP lounge. There are about 6 lanes and you have personal attendants always available to help you with food orders, refill drinks, and take care of other requests. Would you call this the room service of bowling? Also, a couple of drinks make bowling a whole new game!
Pinstack Allen- More Than Just Bowling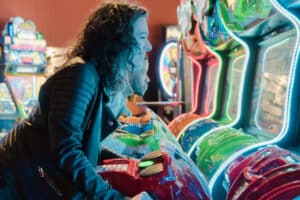 Now most people would say the arcade is for the kids, but I disagree! Chief and I had a blast racing on bikes, playing ski ball, and shooting zombies at The Walking Dead. Plus I won a Starbucks gift card. Score!
Above the arcade is a ropes course which you can see below. Does anyone remember this stuff from when they were kids? I wish my bowling alley had this back when I was kid!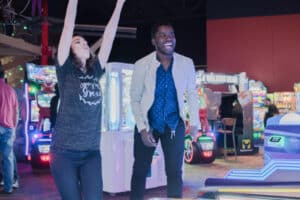 I have to say my favorite parts were the bumper cars and the laser tag area. I can't remember the last time I had done bumper cars, but it's definitely been too long! I say we make adult bumper cars a thing.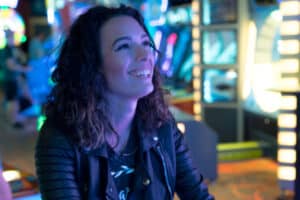 It's easy to see that Pinstack Allen is not what you would expect from any old bowling alley. They have created a concept that stands out from the rest. Whether someone is looking for a date night, a bachelor party, birthday fun, brunch with the girls, or basically any event- Pinstack Allen has it all!
Want to see other things to do in Allen? Make sure to check out my Allen post here.
Photos taken by Jeremy La Rue Photography
I did receive complimentary services in exchange for my review. Because I value my readers, I always strive for complete honesty and all opinions are my own.