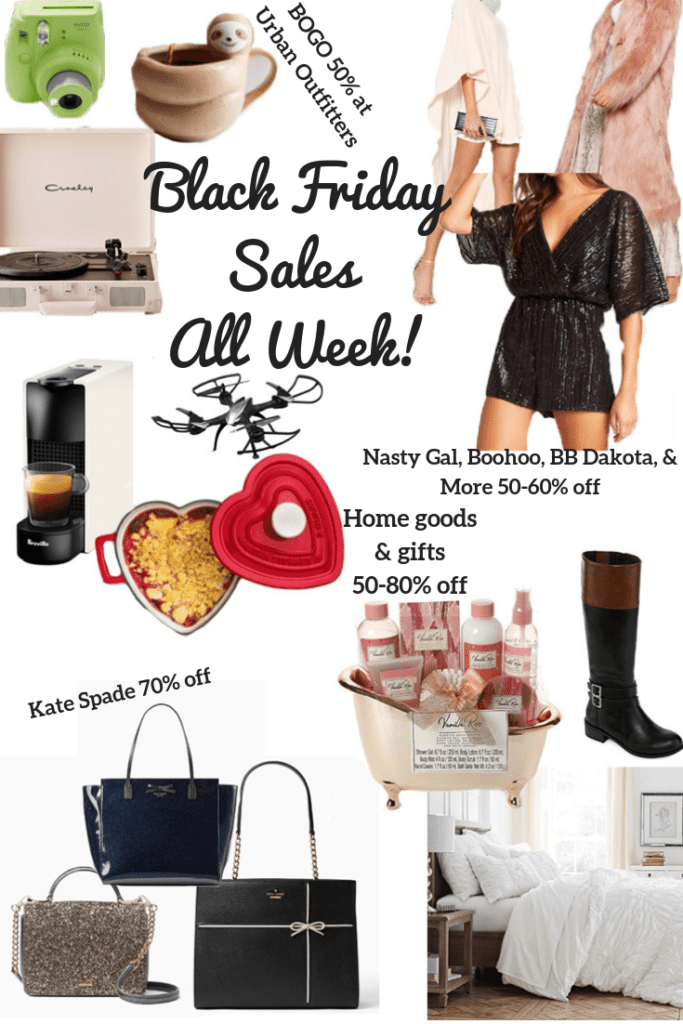 My original idea of Black Friday shopping was fighting through crowds after waiting in lines in the cold, in a time when I could be sleeping under my covers. However, Black Friday has moved from utter chaos to amazing deals without all that extra work. Even now, Black Friday sales happen before Black Friday (as early as a few days before I was even able to post this!) I'm so excited to share my favorite 2018 Black Friday and Cyber Week Deals that I can make from the comfort of my PJs! Read below to shop day by day and keep tuning in for updates!
Black Friday Deals Starting Tuesday November 20th
Every year I love shopping from JC Penny to get essentials like these winter boots (originally $80, now $30), gifts for friends and family, and bedding and sheets. Starting today (Tuesday) at JC Penny, I have seen deals for up to 70% off and includes free shipping.

Macy's is my go-to for cookware, and is where I got my Nespresso last year for under $100! Make sure to check back regularly for new deals!

Every year Kate Spade offers a surprise sale to stock up on gorgeous bags for up to 70% off! I got the blue purse in pink last year ($79) and use it almost everyday!

60% off EVERYTHING! Need I say more?!

Black Friday Deals Starting Wednesday November 21st
Starting Wednesday Urban Outfitters is offering BOGO 50%. My favorite items include the gifts and snagging a great deals on record players, instax cameras, and fun gifts like this sloth mug.

Dynamite clothing will have 40% off everything. One thing that's been on my holiday wish list this season is a faux fur coat, and this one will be 40% off $89. It's also a great time to stock up on other winter and party essentials!

Black Friday Deals Starting Thursday November 22nd
25% the entire store, say what?! ASOS has one of the widest selections and I can't wait to stock up on everything to keep me warm and for all of the holiday parties!

Pro tip: Don't wait until Thursday to visit their site! When I was browsing through the Boohoo site there was a 2 hours 60% off flash sale! However on Thursday everything will be 60% off. I got this $140 coat for just $56!

Black Friday Deals for Black Friday
BB Dakota is having 50% off, and I plan on taking full advantage of this!

Like I said, more is coming in regularly, so make sure to stay tuned!