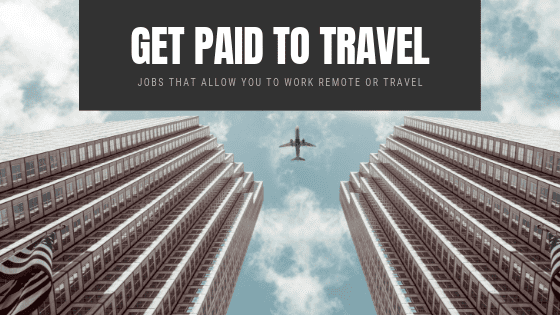 Ever dream of traveling the world but worried about that one tiny thing (you know, money!)? The truth is, there are a large number of jobs that give you the flexibility to travel or work remotely. Of course there's still a lot of work involved, but after work hours or during the weekend you will often find yourself in a different destination to explore. Today I'm excited to share a list of careers that involve traveling as well as information on how you can score a job as amazing as this! I'm excited to share stories of real life ladies who have careers that involve traveling as well as links with more information on the job and how you can do it as well!
This list of careers that involve traveling include fully remote jobs as well as jobs that involve a lot of travel for the job. While there is no easy path to the nomad life (par a few lucky individuals), there are multiple routes that will best fit your interests. My hope is that if you have the dream of traveling more, that these will serve as real resources that will help you achieve that dream.
Careers that Involve Traveling
Technology Consultant- Michelle is a technology consultant who travels for work up to 70% of the time. Working with banks to ensure their technology is set up correctly, Michelle also helps her clients understand the data they collect and the output they receive. Michelle primarily travels Tuesday through Thursday for her job, and her clients and the firm always cover airline, hotel, meal and transportation expenses. As a consultant, Michelle definitely collects a lot of travel points!
Yacht Stewardess– If you are looking for a job that will take you all over the world whilst earning a good wage and are not afraid of hard work and long hours, then it could just be the job for you! The job can include everything from serving guests on board, cleaning and doing laundry, provisioning, flower arranging, and even tender driving, working on deck, or cooking for the crew. Whilst a background in hospitality is preferable, it is more about your attitude and personality that will help you land your first job as a yacht stewardess.
Working on a Cruise Ship– A little different than a yacht, another option where you specialize in a certain task is working on a cruise ship. 
HR Consultant– If you have ever seen Scandal, Whitney says her job is much like Olivia Pope (kind of)! She shares what she does, how she maintains a work/life balance, and how her career helps her to rack up on hotel and flight points!
Speech Language Pathologist– If you love healthcare but also want to travel, becoming a travel Speech Language Pathologist could be an exciting career! Be ready for undergrad and grad school!
Remote Careers
ESL Teacher– Cailyn is a work at home teacher. Her day to day involves teaching students with minimal prep beforehand. The great thing about teaching is that it involves very little investment and is fairly easy to start. Plus you get to invest in the lives of children!
English Teacher– (sharing another because there are multiple avenues!) Nicola Rae is an online English teacher, international house sitter, and full-time traveler. She's known for getting lost in new cities, befriending big lizards, and eating impressive quantities of guacamole. Read more about how to start teaching online and traveling on her blog
Marketing Specialist– Marketing is a broad spectrum career that lets you practice technical skills, be creative, and potentially travel or work remotely! 
Have a remote or travel related job you love and want to share? Send me an email!