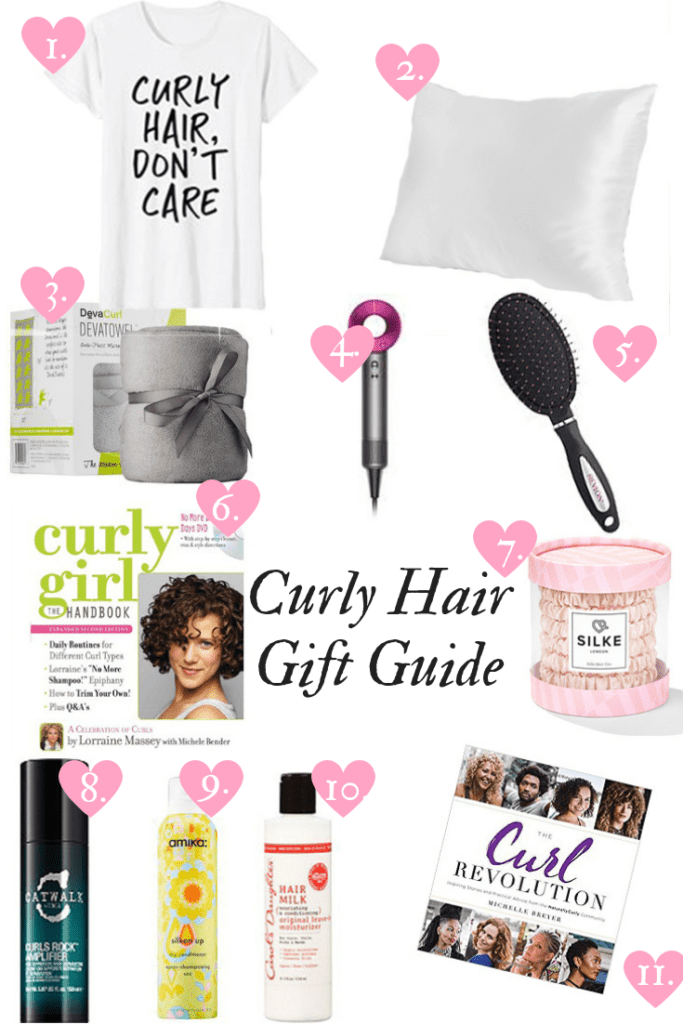 Just maintaining curly hair with all of the products, cost of haircuts, and extras can really add up for girls with curly hair. As a girl with curly hair some of my favorite gifts were things that had to do with my hair and things that I used almost every day! So this year I decided to put together a gift guide using the products that I love so that people had a resource of gifts for girls with curly hair that we would actually use!
This gift guide may include links to affiliate products meaning I can potentially get a profit off of your purchase at no additional cost to you. 
Help a girl show that #curlpride with this Curly Hair Don't Care Tshirt
We want our curls to last as long as possible and this Silk Pillowcase helps keep frizz away while sleeping for fresh curls the next day
Drying hair with regular towels causes hair to frizz, but with this microfiber towel frizz when drying hair is not an issue.
A good hair dryer with a diffuser to mimic air drying is another tool eliminating frizz. My favorite has been the Dyson Super Sonic Hair Dryer.
Even the brush matters for styling hair and this brush helps separate the strands for ultimate definition.
The Curly Girl Handbook is the #1 resource on everything you need to know about curly hair. Nuff said!
A way to keep hair curly overnight is to put it in a pineapple and these hair ties are a great way to keep hair from getting that dent in it.
The TIGI catwalk is my favorite all-in-one product for defined curls and is perfect for travelling light.
Like dry shampoo, but for curly girls, this dry conditioner is perfect for freshening up 2nd, 3rd,… day curls
Curly hair constantly demands hydration and I love this leave in moisturizer because it gives my hair the moisture it needs without feeling heavy.
I love hearing stories from other curly girls and this book is full of inspiring stories and advice.
Curly hair is a constant battle to keep frizz away so most of these products come together to help prevent curls and help make those curls last as long as possible!