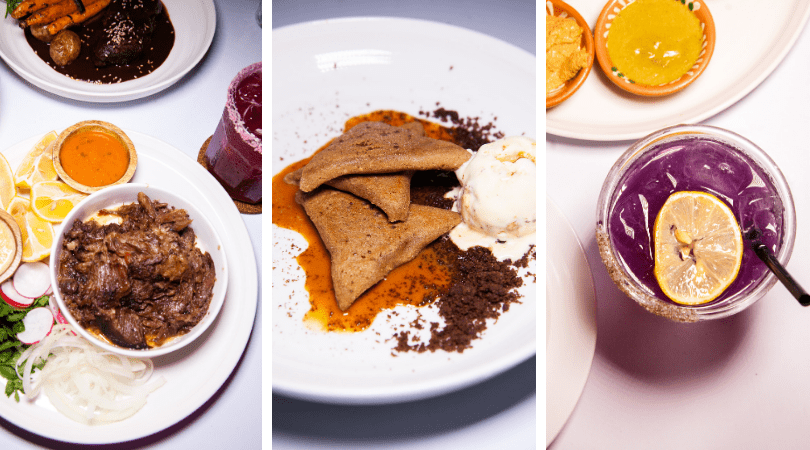 I adore mole. The rich savory chocolate sauce that is often poured over enchiladas or mixed with chicken. You can't just go anywhere to get mole because making the sauce takes time and more ingredients than imaginable. However, while in McAllen, a Texas city rich in Mexican influence, I had to ask around for the best mole in the city. One place consistently came up. Salomé! So, we made a reservation and even took an agave class (I'll talk more about that later).
Fine Mexican Dining at Salomé on Main
Despite all the hype from the locals, I was blown away with the service, the complexity of the menu, and traditional dishes served in exquisite fashion. At Salomé we started with the Degustacion de moles. I was mistakenly under the impression that there was only one mole, the mole negro I had grown up on, but soon learned there was also a mole verde, and cegueza, as well as multiple other moles. Moles are so complex with multiple ingredients such as the mole negro served at Salomé which has over 70 ingredients and is ripe with flavors. This platter comes with tortillas mixtas which includes corn, achiote, huitlacoche, and blue corn. There were so many different flavors going on at once. For someone who has tried mole before and was unimpressed, this place might just change your opinion.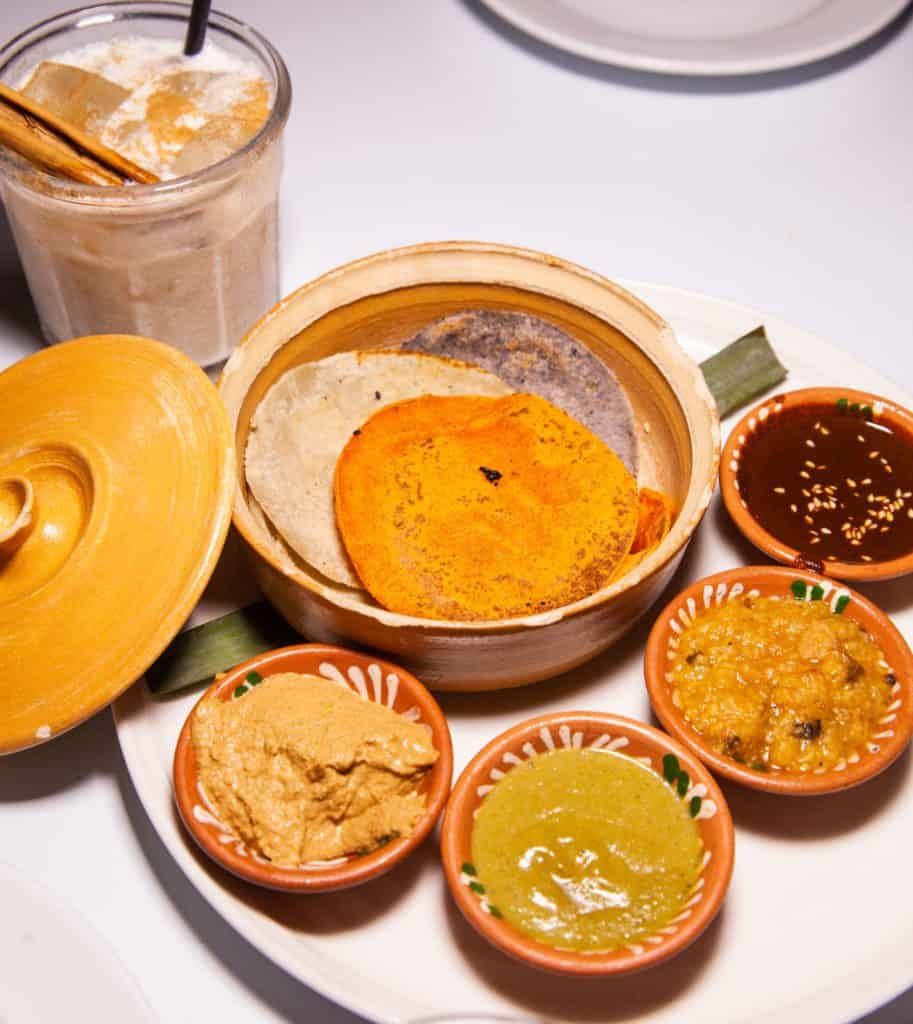 The mole negro was so rich that, for the main dish, I had to go with the estofado, a beef short rib smothered in the mole negro, with subtle hints of savory chocolate and spice. For my husband there was the barbacoa de cordero, a lamb slow cooked in agave leaf, cilantro, and onions that melted in your mouth. During all this time we enjoyed a romantic evening in the courtyard illuminated by the rows of hanging lights. Despite a cold night, we had a heater and even blankets to keep us warm.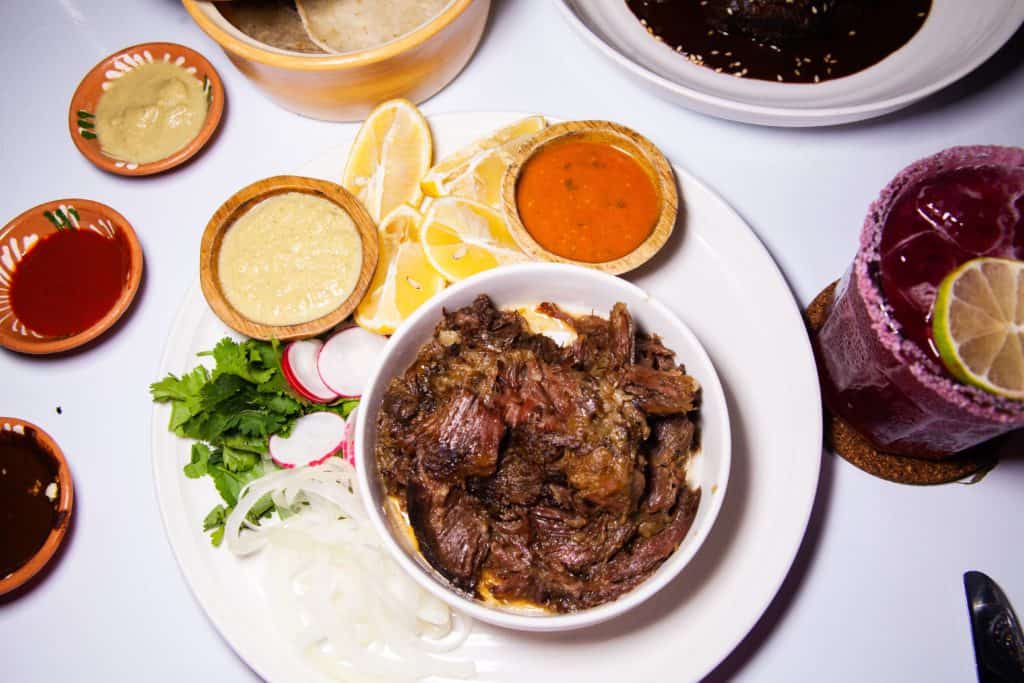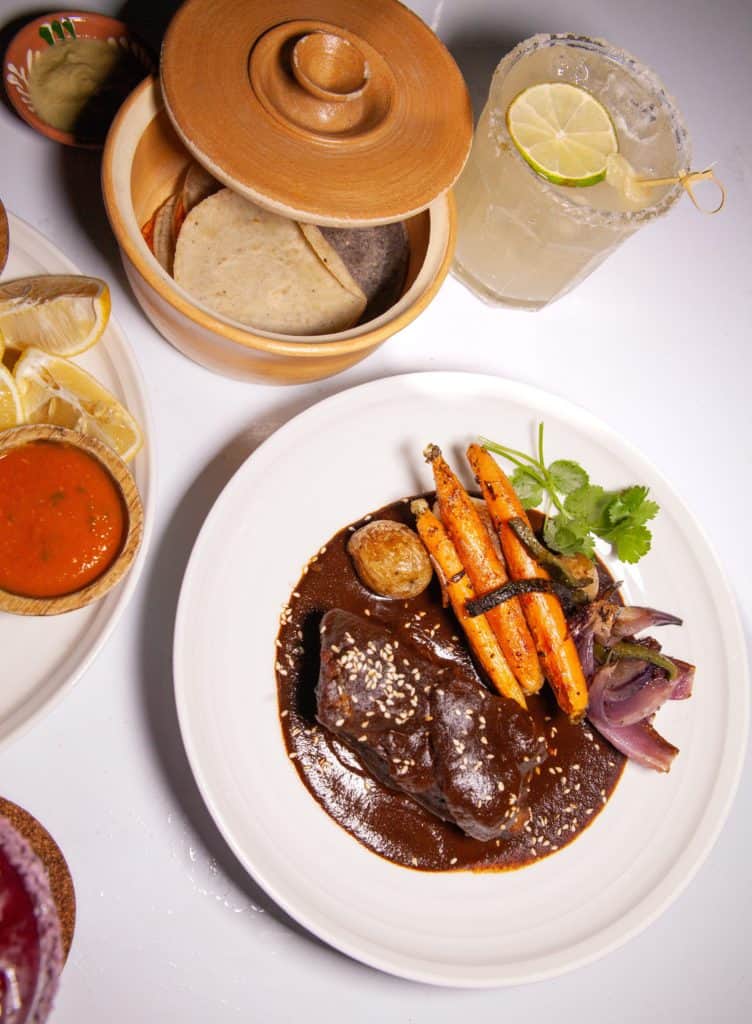 One thing we made sure to do was save room for dessert. The pastry chef, Lyzette Alanis, creates magic as we had seen at some of the other restaurants, and there was no way we were going to miss out on another one of her inventive culinary delights. We ended up going with the tetales do chocolates made with cinnamon masa, Mexican chocolate cremeux, cajeta chocolate-peanut crumble, and served with a cheramusca ice cream. The combination was a little bit chocolate-y, a little bit spicy, and a whole lot of incredibleness.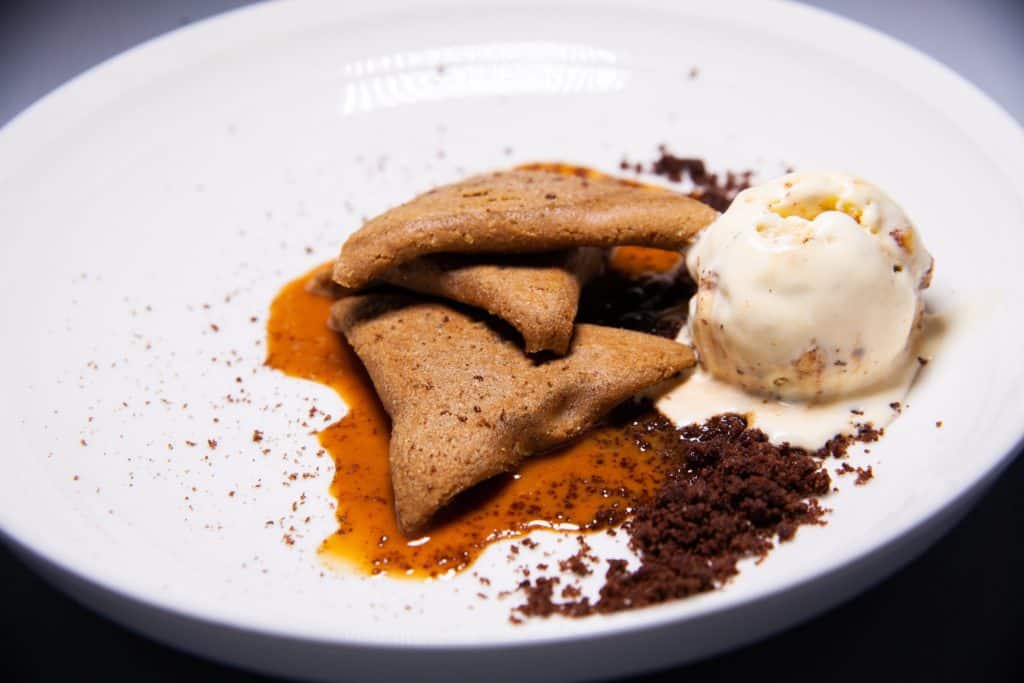 Even when it came to the cocktails, all of the drinks were so well thought out. The drinks are mexcal and tequila based and range from the fun Mexican horchata to the beautiful violeta de humo.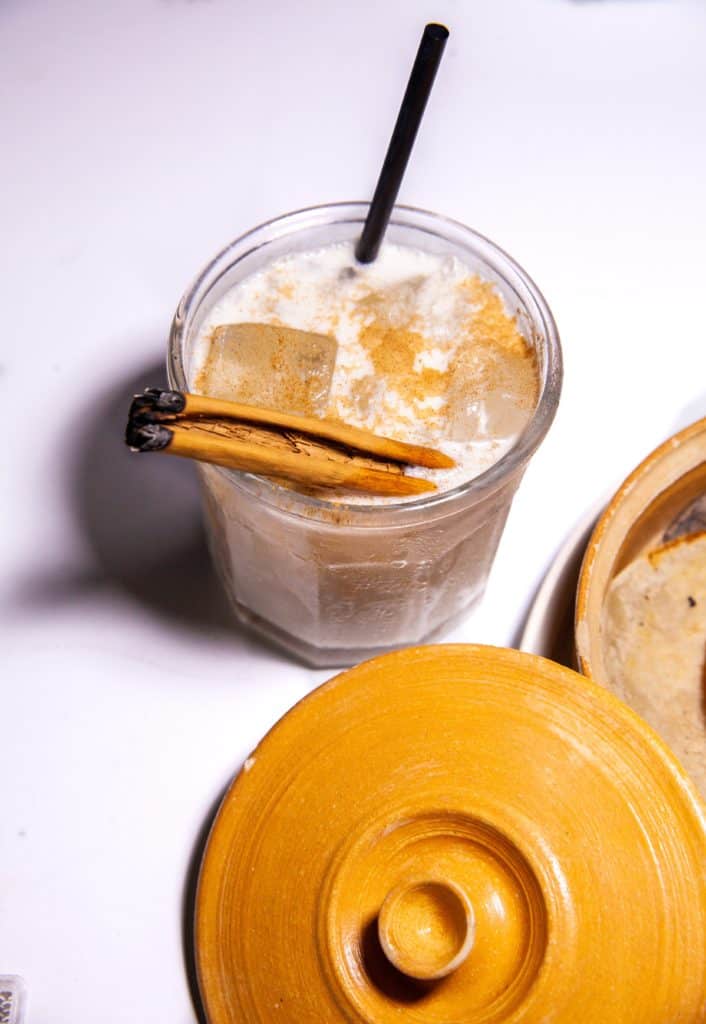 Everything was beyond phenomenal. So much so I had to take some of the mole negro home to remember all of the incredible food we had enjoyed.
Agave Club at Salomé on Main
In addition to the main dining experience, Salomé on Main offers several one-of-a-kind events including their agave club. We had the chance to attend this when they were in their third round of classes so we came in slightly less knowledgeable than most who had attended the previous courses.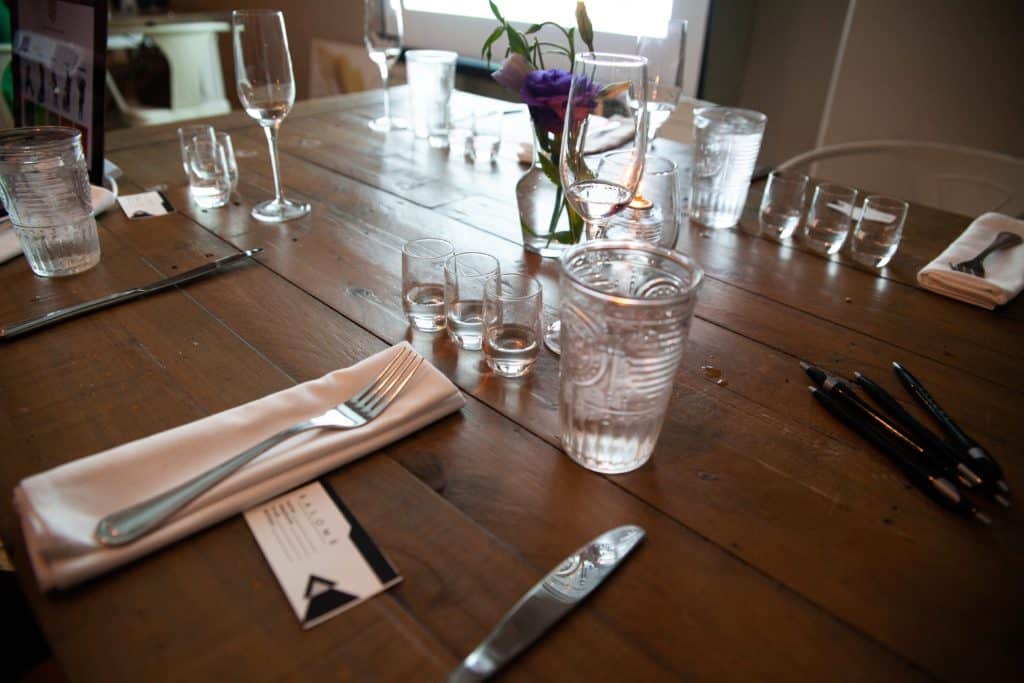 As part of the course we got to learn about the tasting techniques of agave. Many people might have not so fond memories of tequila from partying days or might get caught off guard by that immediately strong flavor. However, truly understanding the flavor profiles of tequila can take as many as 7 steps.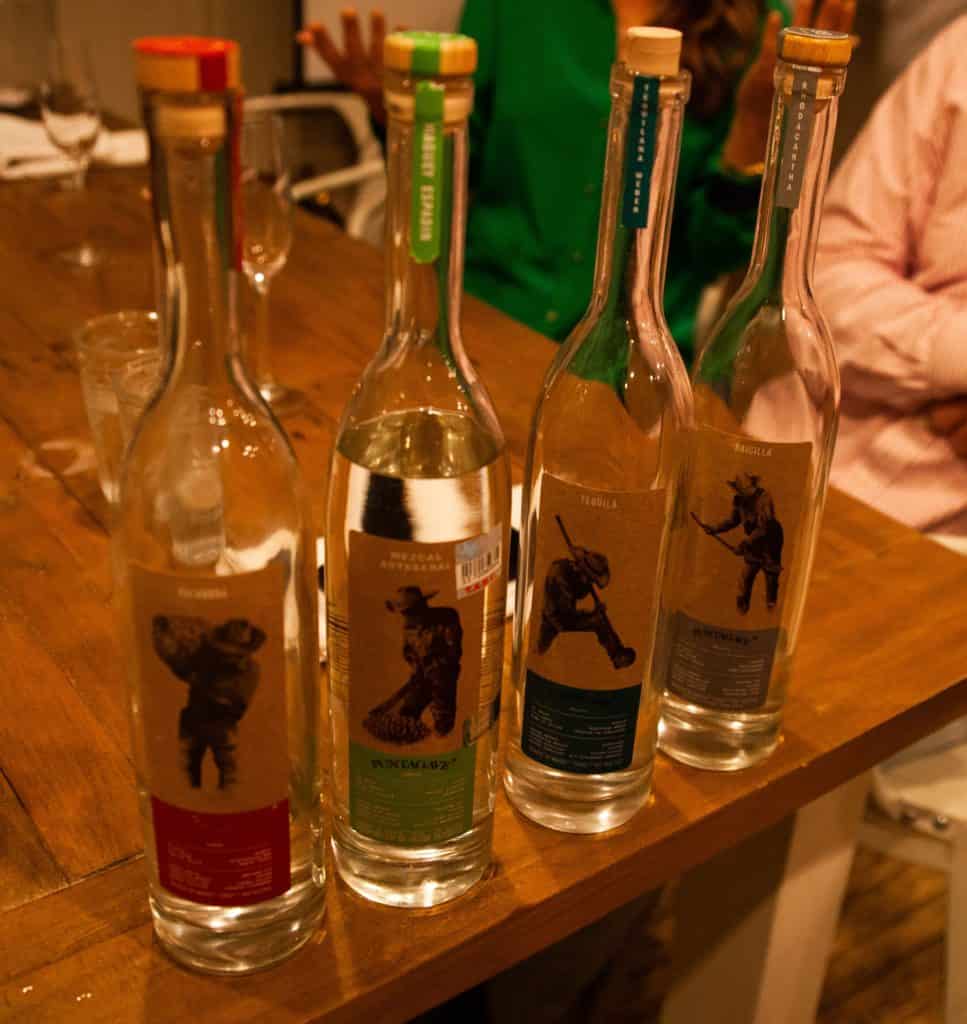 In addition, there are multiple types of agave, and while I had tasted mezcal and tequila before, I was excited to learn of bacanora and raicilla, the rebellious cousin of tequila. You can check their social pages to stay up to date with all that is going on!