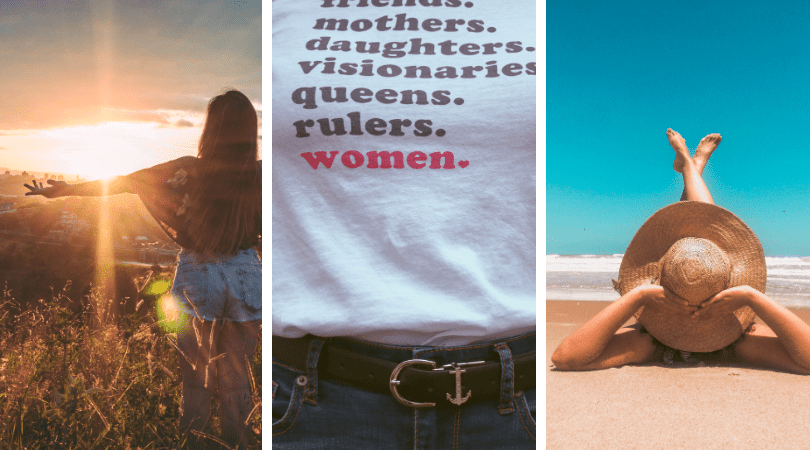 After speaking for multiple panels about working with travel bloggers and influencers in Texas, one of the things that came up most often included how to find these incredible bloggers. If you're looking for a Texas blogger to inspire Texas wanderlust, here are some of the best travel bloggers and influencers to follow! These are in no particular order, but all of these Texas travel bloggers and influencers have something different that they bring to the table from different perspectives, beautiful photos, and wanderlust worthy articles.
1. GlitznGrits
Aleshea is the Texas blogger expert herself! She knows the most facts about Texas history of anyone I know. On top of that she covers a lot of camping and outdoors and her voice when writing is so fun! She has some of the best hiking spots in Texas including Guadalupe Peak.
2. Streets Beats Eats
Casey brings together travel and body positivity to Texas all in one. From finding the local fun spots, traveling with her fiance, and always having the perfect beach body, Casey is a great resource for any travel lover. Her travel blogs feature a little bit of everything. Adults can enjoy Spring Break in Galveston too and Casey shows how it's done.
3. Mama Contemporana
According to the Perryman group, about 30% of Texans speak Spanish. Rory not only shares her travels in Spanish but also what it's like to travel with kids. Rory has been a blogger and influencer for over 10 years, so she knows her way around! She's got some great spots in Texas for kids and always likes to highlight Venezuelan spots. Don't worry if you don't speak Spanish, Google Translate will still help you read her blog posts.
4. I Am Sarah Mize
Sarah is the Texas influencer of IamSarahMize and DallasLoveList and the blogger of Venus Trapped in Mars. She kinda wears a lot of hats, but she consistently serves up travel inspo! Read all about her guide on 48 hours in San Antonio.
5. Dallas Single Mom
Teia shares the joys of travel with kids as a single mom as well as helpful tips to inspire travel with kids. Her travel blog showcases so many different destinations! It feels like she's been everywhere! She shares so many things that I didn't even know were in Mesquite!
6. Jasmine Alley
Jasmine is a Texas-based travel influencer who is regularly jetsetting around the world, but when she's not, she is making Texas destinations look just as dreamy and far off as those international destinations. She'll make you want to pack your bags and leave for the Hill Country in minutes.
7. AyeCiara
Ciara is an influencer who covers a little bit of everything from how she achieves her gorgeous hair to beautiful fashion finds, but also some great local destinations. She shares some sweet staycations, trips to Houston, and delicious restaurant spots on her Instagram feed!
8. Travel and Tenacity
When Jillian isn't teaching, this Texas influencer is traveling all over the world and her state. Her pictures are always so dreamy and she has some great local hotel recommendations.
9. That Texas Couple
Couple travel is my favorite and That Texas Couple is always having so much fun! Michelle and Marty's signature pose is a dip and kiss over some of our favorite Texas destinations! They are just too sweet. It only makes sense that they have a list of the most romantic destinations in Texas to read about on their blog.
10. Outside Suburbia
Priya and her family are constantly traveling to knew places and sharing all about it, and they also share a lot of local getaways. My favorite is that she has a whole section of micro getaways in Dallas!
11. Big World Small Girl
Looking for all the top breweries and beers on your Texas trips? Caitlin is a beer blogger expert and has taken on the laborious task (rough job right?) of trying hundreds of beers around Texas to make sure you have the best experience! 250 Texas beers in 9 days and she shares the best!
12. What Taylor Likes
Traveling while vegan can be hard. Traveling Texas, where BBQ is king, can be even harder. However, Taylor shows all the best vegan spots while traveling! No more worries about eating only salad your whole trip. Check out her top Austin vegan picks!
13. Afrostylicity
Joy's photo-heavy blog posts give great insights into the places she visits with her husband. She shows some great photo spots I never would have thought of. She shares the beauty of Texas at the Gaylord Hotel.
14. Susie Drinks
Travel and great drinks often go hand in hand! In true Susie fashion, every picture on her gram has her drinking something. Plus if you want to support local distillers, she's the expert on the best! Susie's blog mostly covers different spirits and where to drink in different destinations. She even has a guide about where to drink in small towns like Granbury.
15. Karolam Ramirez
It seems like Karolam Ramirez, a Texas influencer with a great eye for the perfect shot, is always traveling to close places and taking the cutest pics. Whether it's hiking the great state of Texas, exploring her hometown of Fort Worth like a local, or relaxing by the pool, her photos make me want to visit every place she goes.
16. Ginger Marie Blog
Ginger covers food, fitness, and travel on her blog and always keeps it real. You can trust that the places she writes about are the ones she absolutely loves. And she will always make sure the food is good! She's got all the best ideas for things to do in Uptown Houston!
17. Deep Fried Fit
Mai is the fitness blogger and expert in Texas who shares all of the fun workout classes and event hosts a fitness festival in Dallas! Work (out) hard, play hard right? Whether it's covering cool fitness retreats or just fun weekend getaways, she helps live an active and travel lifestyle. Check out her sports vacation at the Four Seasons!
18. Foreign Fresh Fierce
Who knew travel could be so fashionable? Cindy the blogger of Foreign Fresh Fierce makes Texas travel look like a runway! Looking for great wine? Texas has some incredible ones and Cindy highlights some of the best in North Texas.
19. Molly on the Move
Molly on the Move spreads so much joy through her travel photos and blog, and her smile is infectious! If you are looking for colorful Texas vacations, Molly has some great inspiration. Her trip to Georgetown is so full of of fun things to do. Plus she always seems to find the best donuts and sweets wherever she goes.
20. Cowboys Life Blog
Chastity is regularly traveling with her son showing off small towns you may not even have heard of! Of course no trip to Texas is complete without a trip to the State Captitol.