Things to do in Chinatown Boston MA
Chinatown in Boston, MA is simultaneously exhilarating and overwhelming. In just a few blocks you'll find countless restaurants often marked in Chinese characters, murals, shops, and more. With so many options, we couldn't just try one place so we went on a self-guided Boston Chinatown Food Tour in an attempt to try as many things as possible! Keep reading to discover where to eat in Boston Chinatown with everything from dim sum, milk teas, and traditional takes on classic foods. The best way to experience the restaurants are with a group so you can try more! Although it is called Chinatown, there are other countries represented, and we did take the liberty to explore these. While in Boston also check out all the other amazing restaurants and top things to do.
Dim Sum
If you're looking to try the most amount of foods in one place, dim sum is the best way to go! At China Pearl you can try a multitude of different dishes with prices as low as $2.75. They come out with carts of dumplings and dishes of all kinds. You can try dumplings, buns, and it's a great place to try things you've never heard of. We asked for a menu that listed all the items and some of our favorites included the eggplant with shrimp stuffing, steamed lotus cream bun, and a pan-fried turnip cake.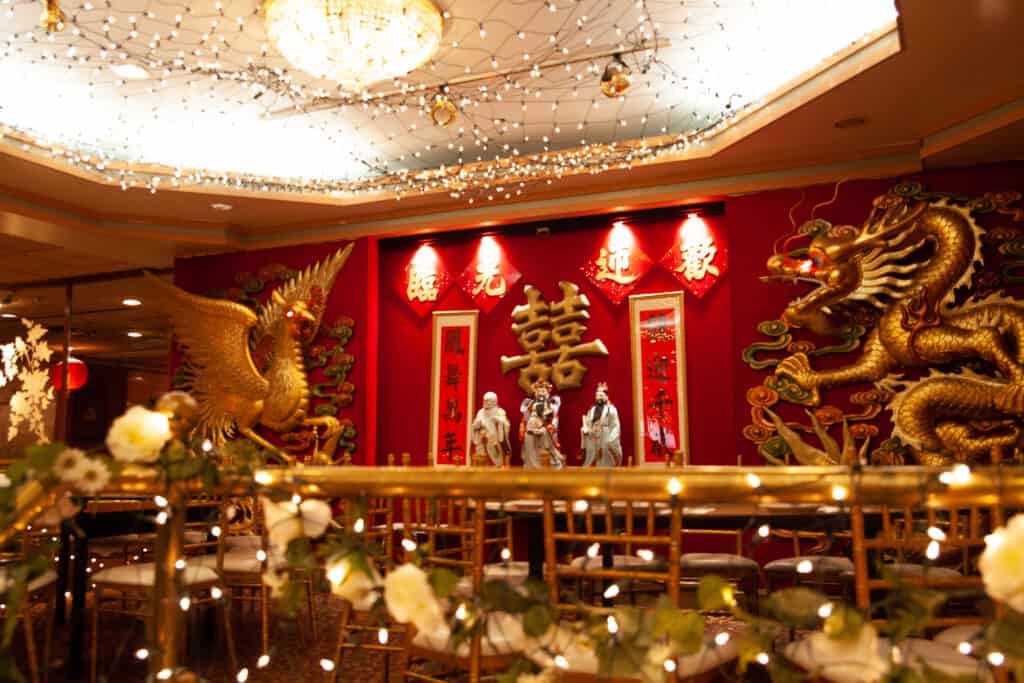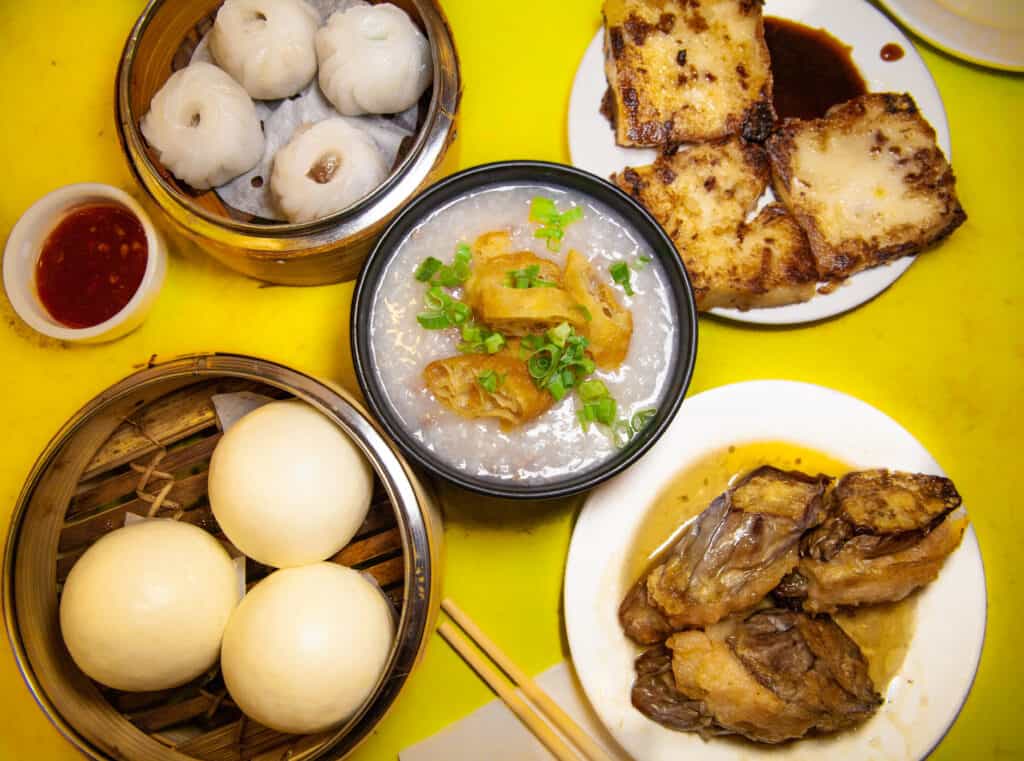 Clay Pot Rice
The name pretty much describes it well. At Clay Pot Café, a small shop with just a few tables, you can order different rice dishes served on a steaming clay pot and served with a hot pot of tea.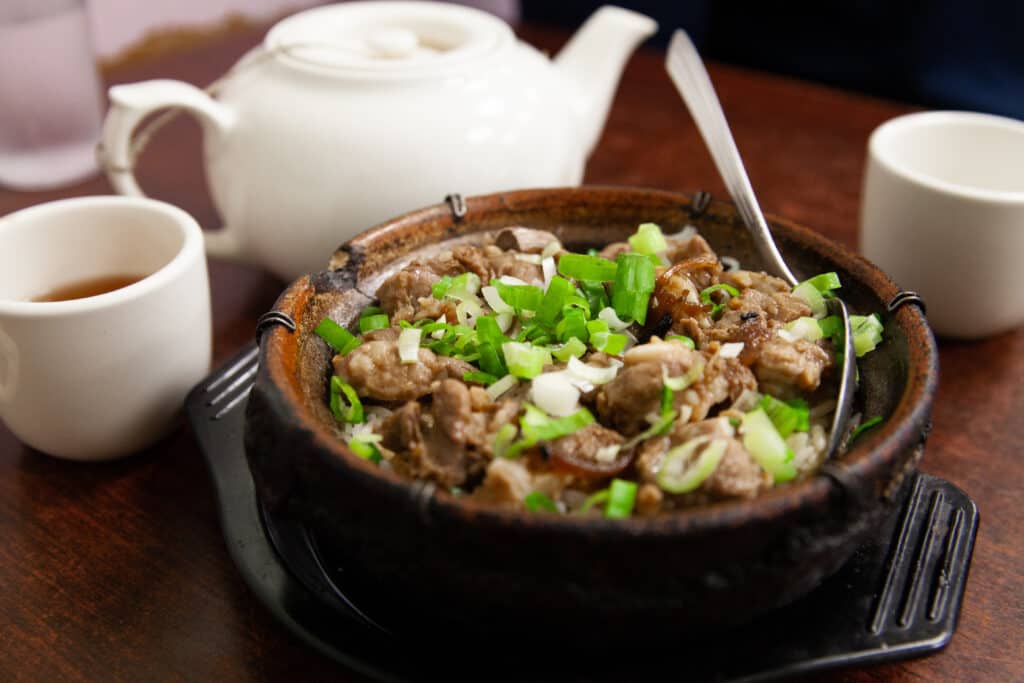 Shojo
For some modern takes on classics head to Shojo. We went for the Shojonator, a burger with steamed bun, bacon and kimcheese. They also have other unique items like monkey chicken wings, hong kong chicken & waffles, Korean steak tartar, and more.
Tea Do
I love milk tea, but was especially excited for their tiramisu milk tea, something I hadn't seen before. They have a large list of their own specialties like fire dragon, the hulk, and hello kitty!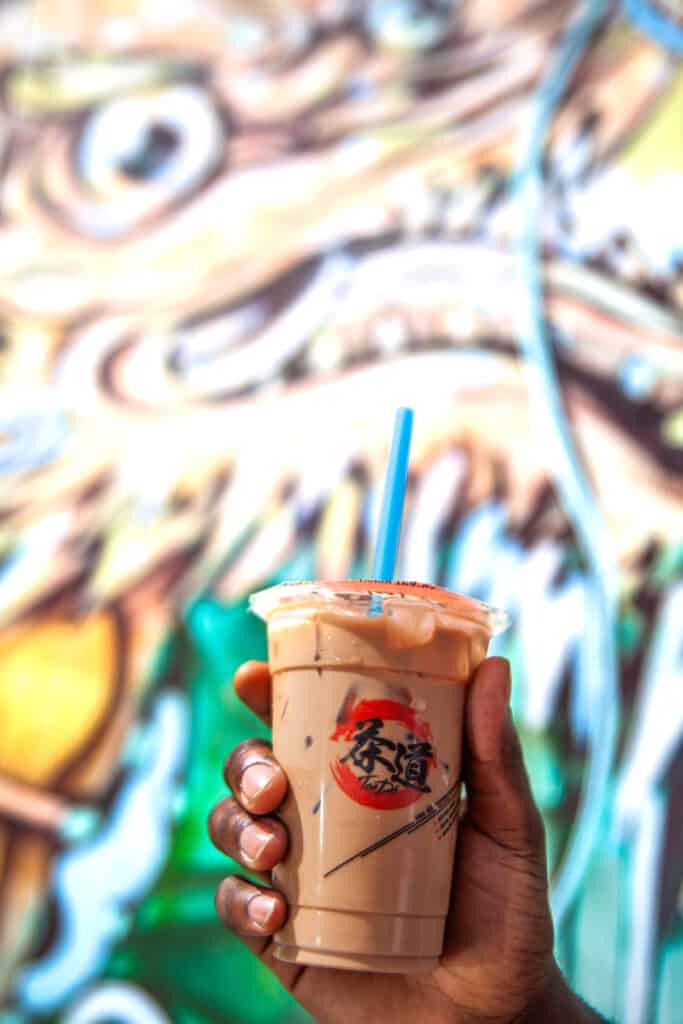 Royaltea
So much tea, not enough time! This is why it's great to go with other people. After I ordered the tiramisu tea at Tea Do, we went over to Royal Tea where my husband ordered a mango cheese blizzard. The mango sat at the bottom and was super sweet while the cheese at top (maybe cream cheese), was salty for a unique balance that is definitely worth trying.
Corner Bakery
There are several bakeries throughout Chinatown, but we chose Corner Bakery because they had a mixture of different pastries. By this point we were full, but we made sure to grab a couple to take home with us so we could eat them later and reflect on our time in Chinatown.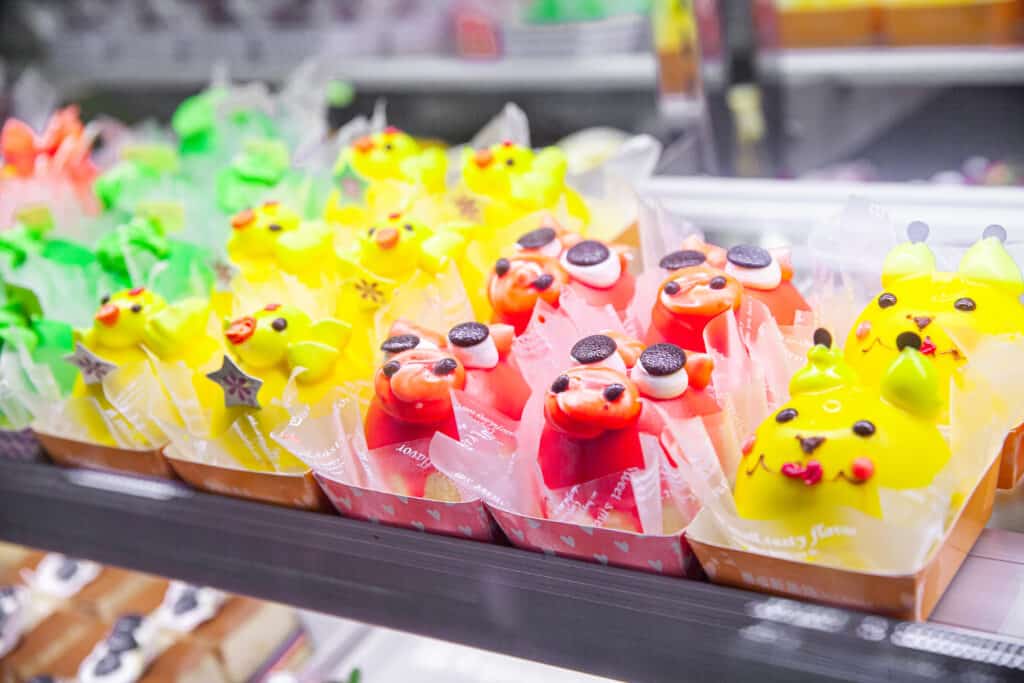 DoubleChin
Doublechin is another modern take on the classics kind of place. They have an extensive menu so it was hard to choose one thing, but we went with their colorful cube toast topped with matcha, strawberry, and chocolate ice cream and sprinkled with cereal, gummies, and fruit! Be ready for a sugar overload!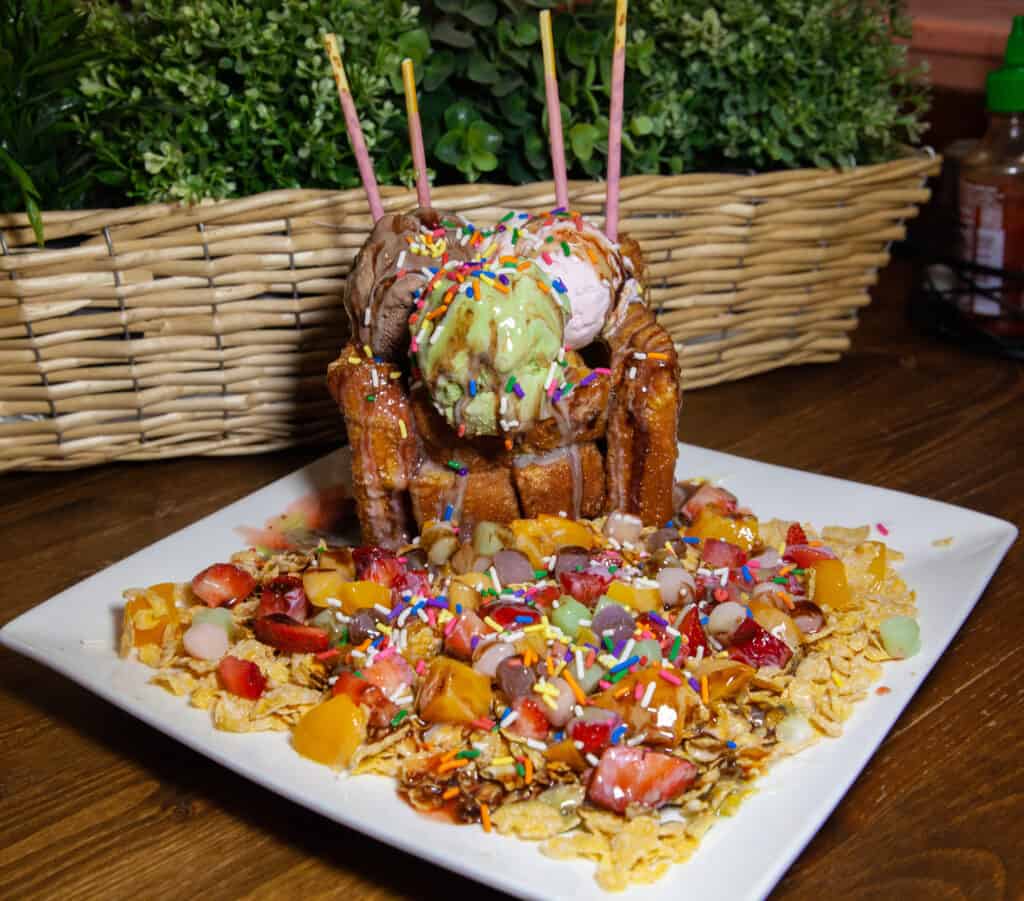 Things to do in Chinatown Boston MA when not eating
When it comes to Boston Chinatown, most people think about the Chinatown restaurants. Yet, there are plenty of things to do in Chinatown Boston when not eating. Plus, then you can walk around a bit before trying more dishes.
Take a Picture in Front of Chintatown Gate

Check out the murals
There are several murals throughout Chinatown. Most of them are filled with vibrant colors and some even tell stories of the neighborhood. Take a picture in front of them or see how many you can find.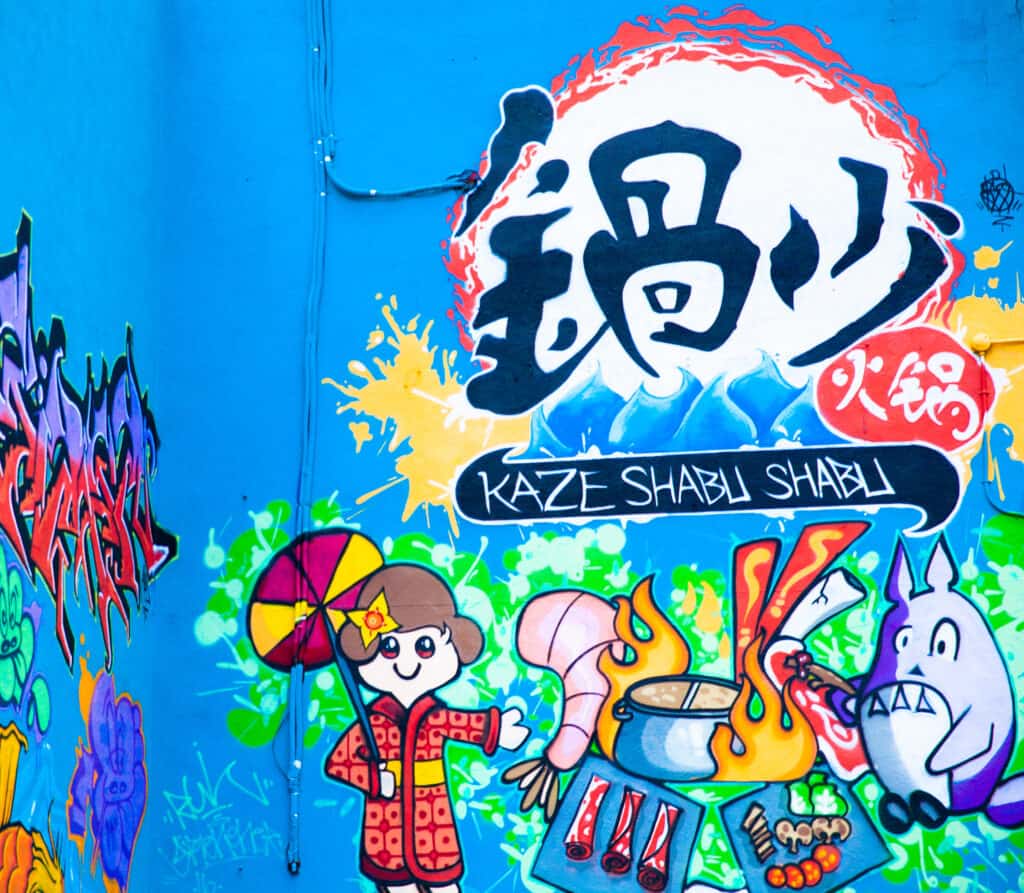 Get a massage
If you're looking to relax after constantly going, there are several great and affordable options. You can go to Rainbow Health Center for a foot reflexology or deep tissue massage. Jian Min Massage Therapy is a great place if you are looking for cupping.
Go Shopping
What better way to walk off all of the food then to stop in some of the different shops!
For beauty products you can head to Rhyme of Korea where you'll find a large selection of high quality Korean skincare products, sheet masks, and other items.
Clearly I didn't get enough food from the restaurants because I had to stop in A Goodmart, a grocery store selling items I haven't seen in my own shop. Sweet coffee drinks, milk tea, cookies, and more. Then we could stock up on foods to eat a later date!