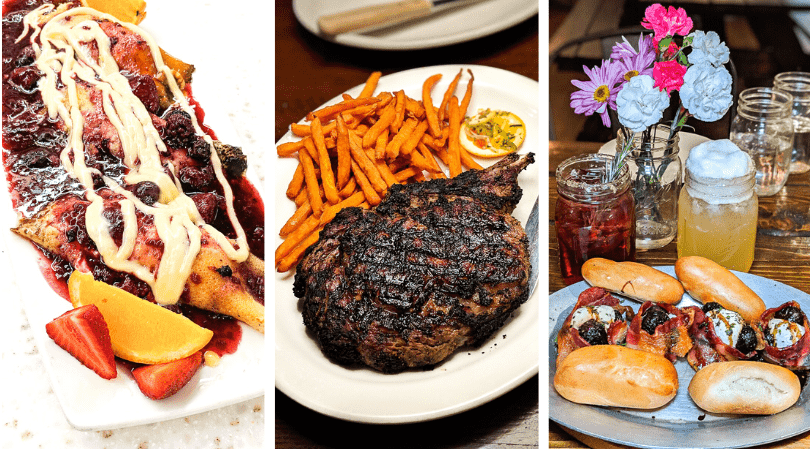 For a small town, Ruidoso, New Mexico packs a lot of flavor! From fresh New Mexican cuisine, restaurants with a history, and farm to table fare, Ruidoso is its own culinary city. On top of all of the fun things to do in Ruidoso make sure to check out all the great food.
Where to Eat Brunch in Ruidoso
The Cornerstone Bakery is your go-to spot for all things brunch! I wish I could live on their mixed berry crepes with citrus infused cream cheese! For something more savory, they have different egg dishes with green chiles and other vegetables.
Plus once you're full, you can pick up some of their tasty treats from the bakery. Of course you have to get a green chile cookie because it's New Mexico and these people are obsessed with their chiles.
Where to Eat Farm to Table In Ruidoso
There is not a single average item on the menu at Cork and Kettle. Every appetizer, entree, and dessert is packed with flavor at Hunt and Harvest. Some dishes, like lamb, I don't order very often simply because it's hard to get right. However, the lamb chops were cooked and seasoned to perfection balancing tenderness and flavor.
And you can walk off the food by shopping around the mercantile with fresh goodies. I'm obsessed with the converted motorcycle.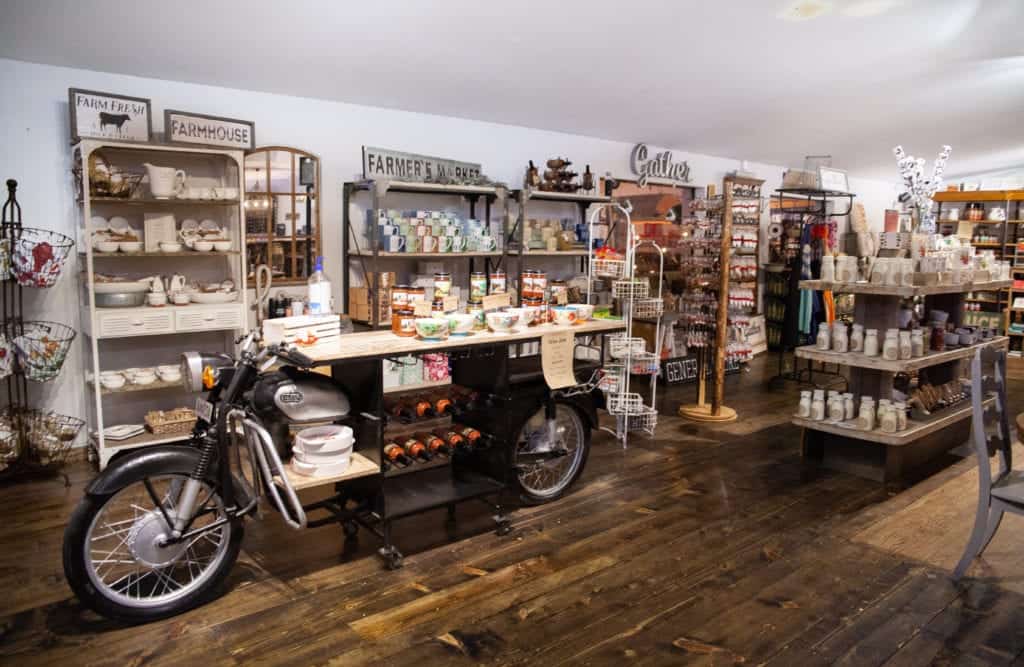 New Mexican Food in Ruidoso
After a day of skiing, some hearty New Mexican cuisine at Casa Blanca hit just the spot. Best served with a pitcher of margaritas and good company, Casa Blanca serves up traditional New Mexican cuisine. Here I learned that New Mexicans have red chile and green chile sauce and if you want both it's called Christmas sauce. So you can have Christmas all year!
Best Coffee Shop in Ruidoso
One of the things that I always have to do when traveling is find a unique coffee shop. Sacred Grounds Coffee easily became my regular spot while in Ruidoso for all of the fun flavors they have. I would experiment with something new everyday. Plus their patio area is gorgeous!
In addition to coffee, they have a regularly rotating menu of food. We ordered green chile hummus because, ya know, New Mexico!
Wine Tasting in Ruidoso
Ruidoso has a couple of wine tasting rooms and even its own winery!
You can sample the list of wines at Cork and Kettle. You've heard me talk and talk about how New Mexico is crazy about chiles, but they are also pretty big on pistachios. Heart of the Desert Wines even has a pistachio rose which is so unique.
But you can't forget about the chiles, and at Noisy Waters Winery they have a red chile red wine and a green chile wine that knocked my socks off. The chile complemented the wine rather than overpowering it in a way I did not expect. Don't be surprised if you walk away with a bottle (or 5 – we're not judging!).
Best Bar Food in Ruidoso
Rio Grande Grill & Tap Room has a great selection of appetizers, burgers, pastas, and just about anything you're craving. Make sure to order a Rio Grande burger with green chile and the calamari!