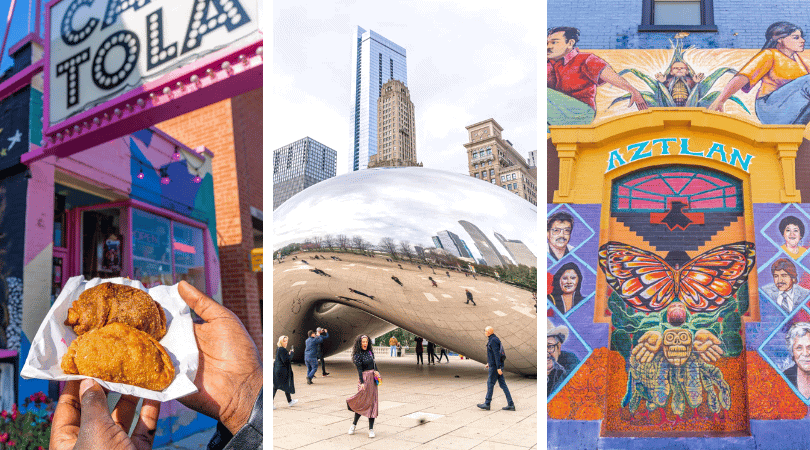 I recently took this amazing fall trip to Illinois. If this post inspires you to travel to Illinois, make sure to check ahead for up-to-date events, exhibits and opening hours at any of the mentioned attractions.
Chicago feels larger than life. The downtown area is significantly larger than downtown Dallas, adding to the novelty of this city we'd never visited before. In other ways, it felt like home. The Latinx heritage and businesses of Chicago are widespread, extending outside of downtown Chicago and into its surrounding, culturally diverse neighborhoods.
Aside from the tourist destinations you might associate with Chicago, there is even more art, museums, restaurants, and things to do that add to the magic of the city. Most importantly, the stories of the family-owned businesses and the entities that strive to preserve and celebrate Chicago's Latinx heritage deserve a place on your list of things to do and where to eat in Chicago.
Things to Do in Central Chicago
Visit the Statue of Benito Juarez
Home to over 1.6 million people of Latinx heritage, Chicago commemorates its diversity with a 16-foot tall, bronze statue of Benito Juárez, Mexico's only indigenous president, in the middle of the Magnificent Mile. Initially, it was the site of a bust of Juárez, gifted to the city of Chicago in 1977 by the president of Mexico, before being replaced in 1999 with today's full-body statue from the Counsel General of Mexico. You can still see the original bust at the National Museum of Mexican Art.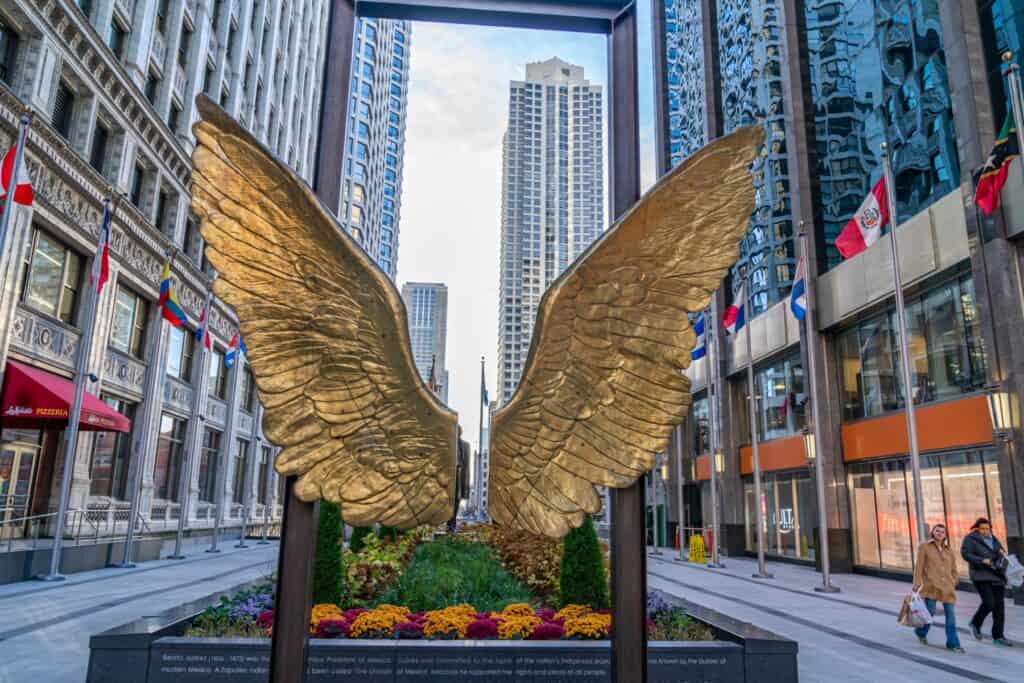 Shop Fair-Trade, Handmade Goods
Looking for unique souvenirs on your next trip to Chicago? Opened by a pair of sisters who immigrated to Chicago from Mexico more than 10 years ago, Colores Mexicanos is filled with two floors of fair trade, handmade items from Latinx artisans. Their products include 100% natural body care products, traditional silver and gold jewelry, embroidered goods, children's clothes and books, and figurines of alebrijes and calavera. There is so much color! You'll find details about each item's origins throughout the store, including background on the artisans themselves. Be sure to look for the framed artwork throughout the store and the accompanying information about each featured Latinx artist.
Don't have room in your suitcase for everything you want to buy? They also have an online storefront that offers $5 flat rate shipping and gift cards if you think someone in your life would love Colores Mexicanos too!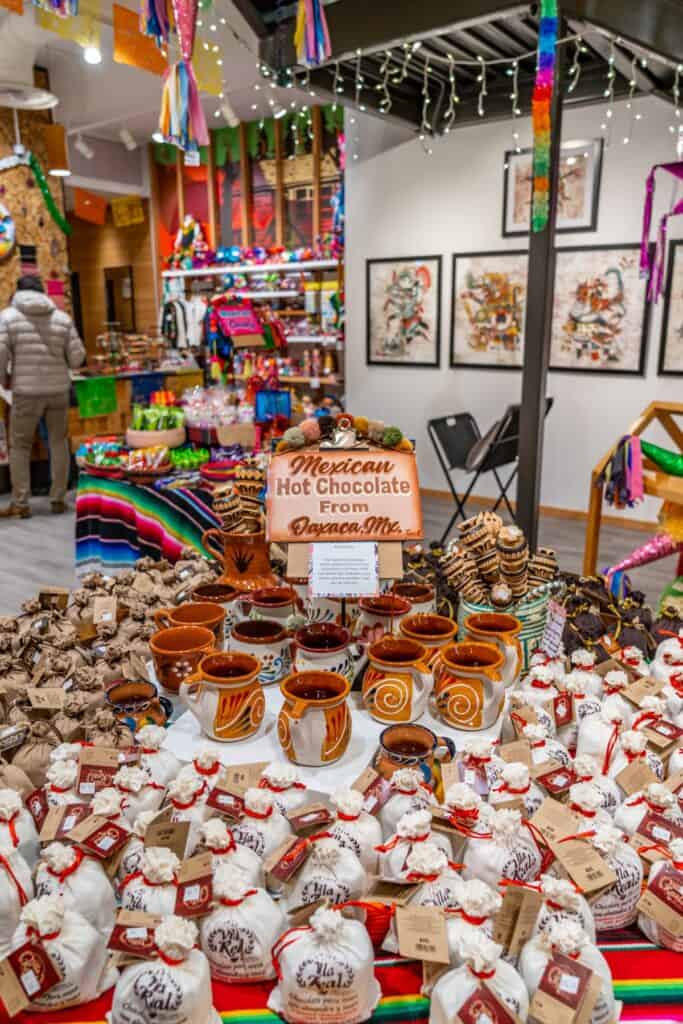 See Latinx Theater Productions
The Chicago Latino Theater Alliance
A non-profit organization in a community of small thespian groups and local theaters, the Chicago Latino Theater Alliance (CLATA) supports its community of Latinx actors/actresses, playwrights, and more by providing them the resources they need to receive equal opportunities and stage time in the theater industry. Created by the Latino Cultural Center, National Museum of Mexican Art, and Puerto Rican Arts Alliance in 2016, CLATA hosts several productions a year centered around Latinx culture as a way of celebrating cultural diversity and raising societal awareness. You can purchase tickets and find the production schedules of their participating theater groups online.
For five weeks throughout September and October, Destinos, the Chicago International Latino Theater Festival by CLATA, brings in both local, national, and international theater productions of a wide range of genres. You'll find that the majority of CLATA's productions occur during this time, but other theater groups host productions throughout the year.
Teatro Vista
Founded in 1990, Teatro Vista is another non-profit theater organization in Chicago that focuses on equal opportunities and representation for Latinx and other minority thespians. You'll find productions with one-of-a-kind plots that aim to be more unique than the last. You can find digital content and their current production schedule online. You may also be able to see their productions during the Chicago International Latino Theater Festival.
Where to Eat in Central Chicago
Cruz Blanca Brewery
We knew Cruz Blanca Brewery was a local favorite as soon we walked in. Even on a Tuesday night, every seat was full. With that being said, we recommend making a dinner reservation and arriving on time. Its on-site brewery incorporates Mexican flavors to wash down all of your favorite Mexican dishes. We ordered their Cali Burrito, Chorizo Queso Fundido, and Barbacoa Tacos alongside a cup of La Floridita and a Oaxacan Old-Fashioned. Snag something to-go from their selection of six packs and large cans on your way out!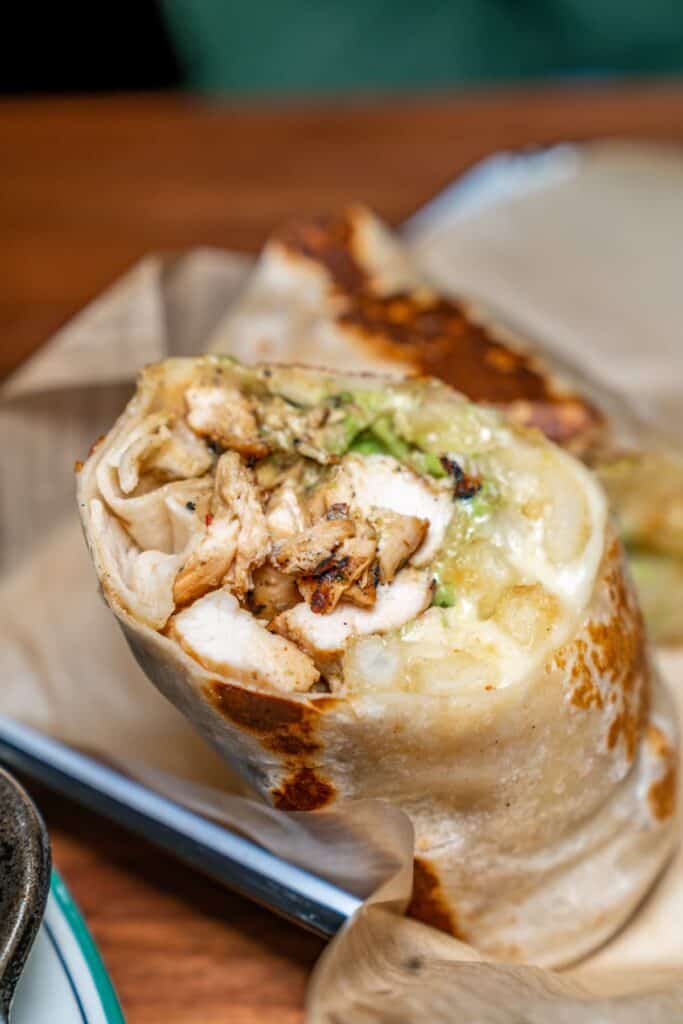 Cafecito
Nestled in a quieter part of downtown Chicago is the Cuban cafe, Cafecito. Their pancakes are sweet and soft enough that you won't even need syrup! Their menu also has a large sandwich selection, as well as vegan menu items, and Cuban coffee. Their sandwiches have ranked in Chicago magazines over the last few years, specifically their Cubano. We got lucky and made it in time for breakfast, so we ordered Rojo y Blanco pancakes with a guava glaze and white chocolate sauce, as well as the Abuelita pancakes with chocolate chips, cinnamon, churros, and chocolate sauce. Of course, we couldn't go without the classic café con leche as well.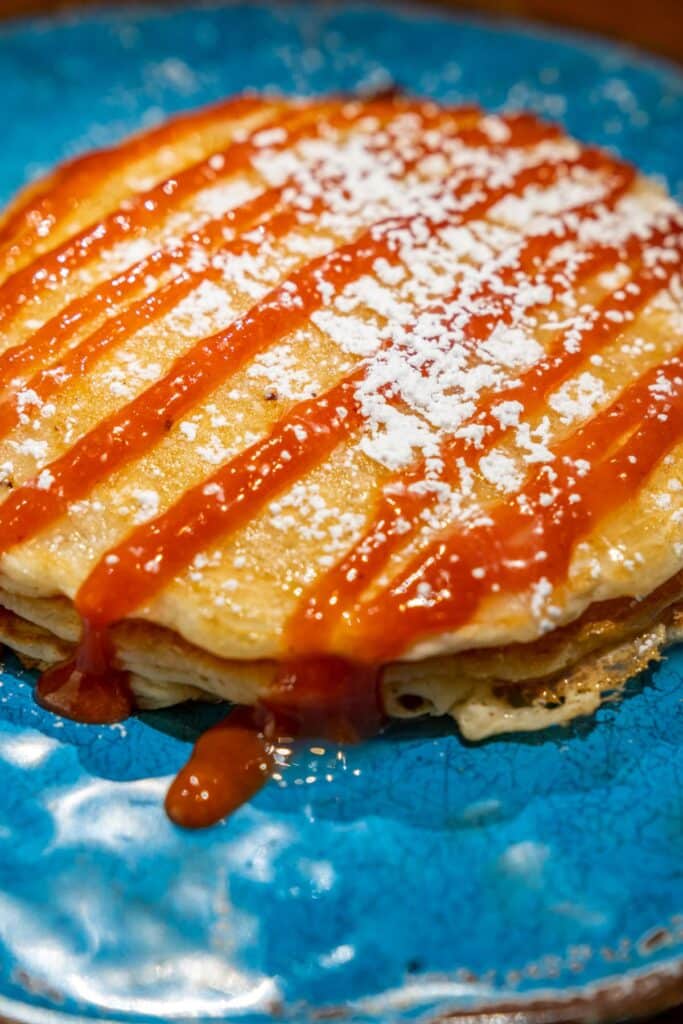 Tzuco
One of two concepts by Chef Carlos Gaytán you can find in Chicago, Tzuco serves an array of dishes inspired by Chef Gaytán's renewed understanding of his Mexican heritage fused with his expertise in French cuisine. He was actually the first Mexican chef to be awarded a Michelin Star, first in 2013, and again in 2014!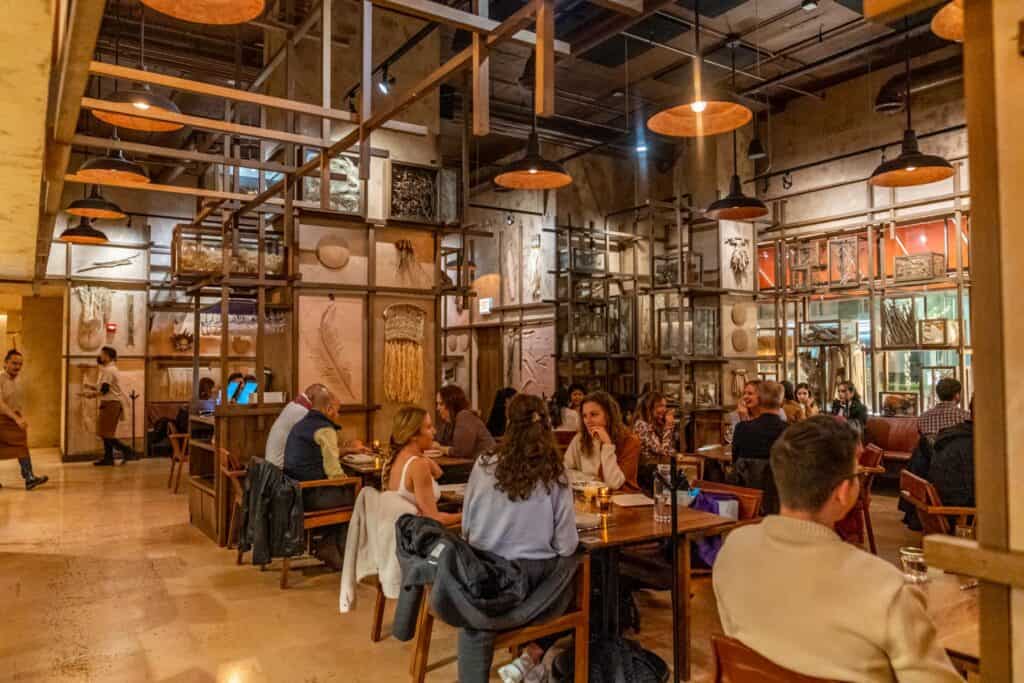 To start, we ordered the Pulpo Enamorado (Guajillo roasted octopus with salsa macha, pickled carrot, pea, potato, and tonnato aioli) and the Mushroom Cazuela (oysters with shiitake cremini mushrooms, salsa macha, goat cheese, and warmed corn tortillas). We finished with the Cochinita Pibil (Guerrero-style pork shank with a black bean purée, pickled red onion, and habanero salsa with a side of warm corn tortillas) and the dessert off the special's menu: the Pumpkin (a realistic, mini pumpkin made with roasted pumpkin, dark chocolate, spices, and maple with Gruyère cheese ice cream).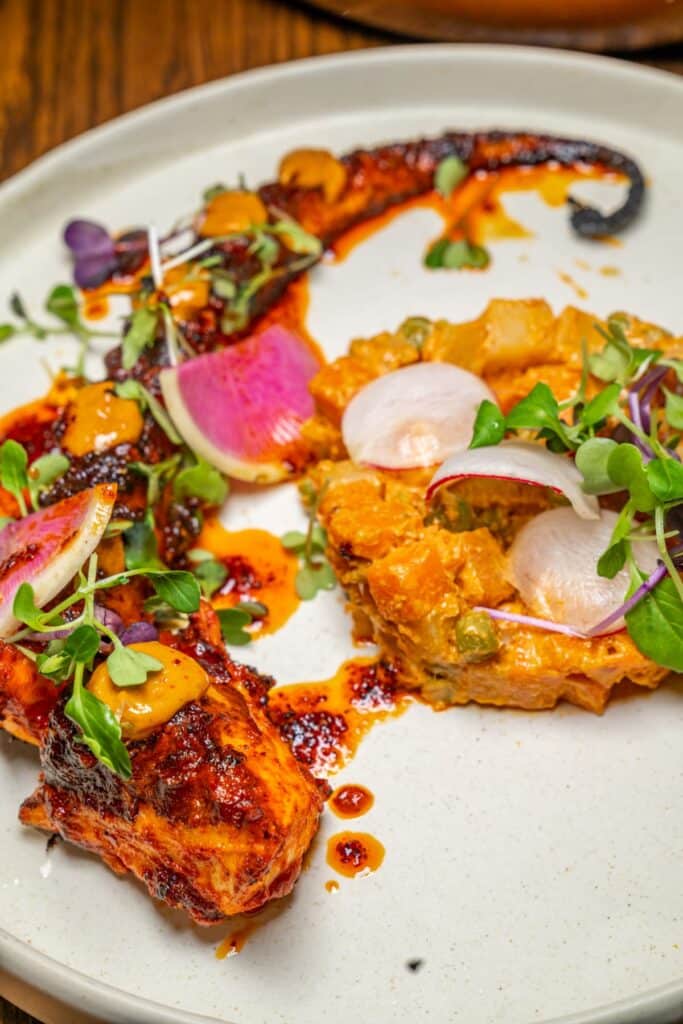 Equipped with patio seating (in the cooler months, it is enclosed and warmed with heating lamps), a gorgeous Pueblo Revival-modernist dining room filled with glass lanterns and natural elements, and an evolving specials menu inspired by the year Chef Gaytán spent in Mexico, you can see the love and attention he devoted to Tzuco.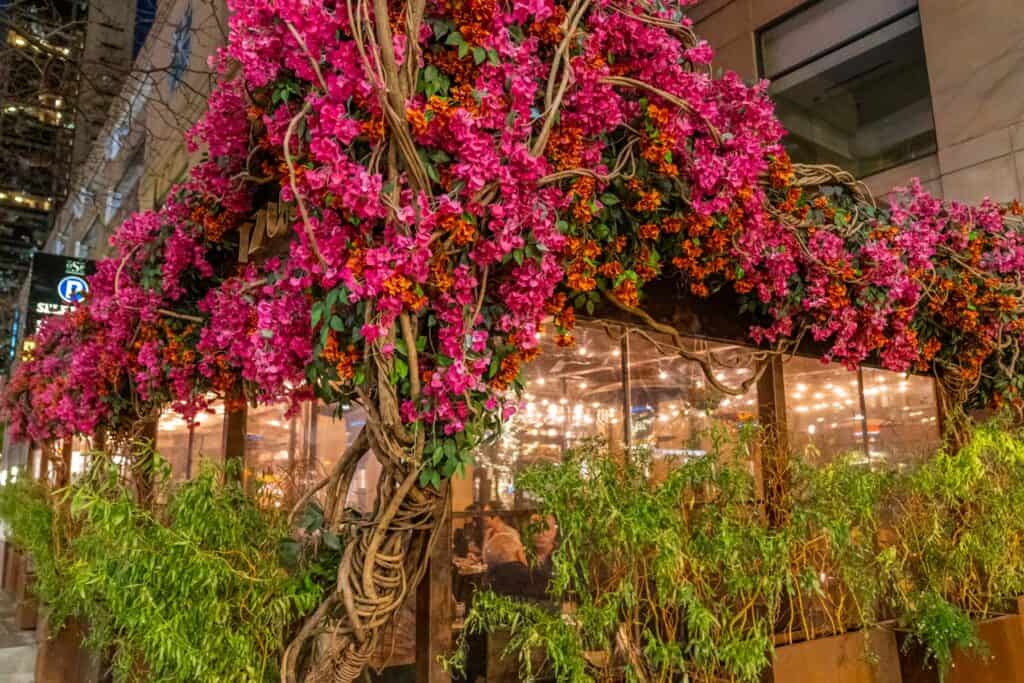 Things to Do in Chicago: Pilsen
Shop a Wide Variety of Mezcals
Known tenderly as "La Casa del Tequila" since 1993, La Vintana Tequileria & Liquors stocks over 600 types of tequila, including small batch varieties. You'll often them doing tastings in-store as well.
Visit the Douglass Flower Hall
Named for abolitionists Frederick and Anna Douglass, Douglass Park is home to several sports fields, a splashpad, several playgrounds, including an accessible one, as well as an axial garden, lily pad pond, the historic Humboldt Fieldhouse, and the Douglass Flower Hall and Formal Gardens. This Chicago park also hosts a slew of community events for kids and adults alike.
Go Thrifting
Thrift shops are always full of fun finds, but thrifting is that much more exciting when you're visiting somewhere new. Segunda Alicia Thrift Store was full of rows and shelves of embroidered clothing, soccer jerseys, children's clothes, accessories, furniture, and more! The owner was happy to answer questions and even helped us find our sizes when we spotted something we liked. You could spend forever searching the racks and everything is affordable! As you can imagine, we left with a few things.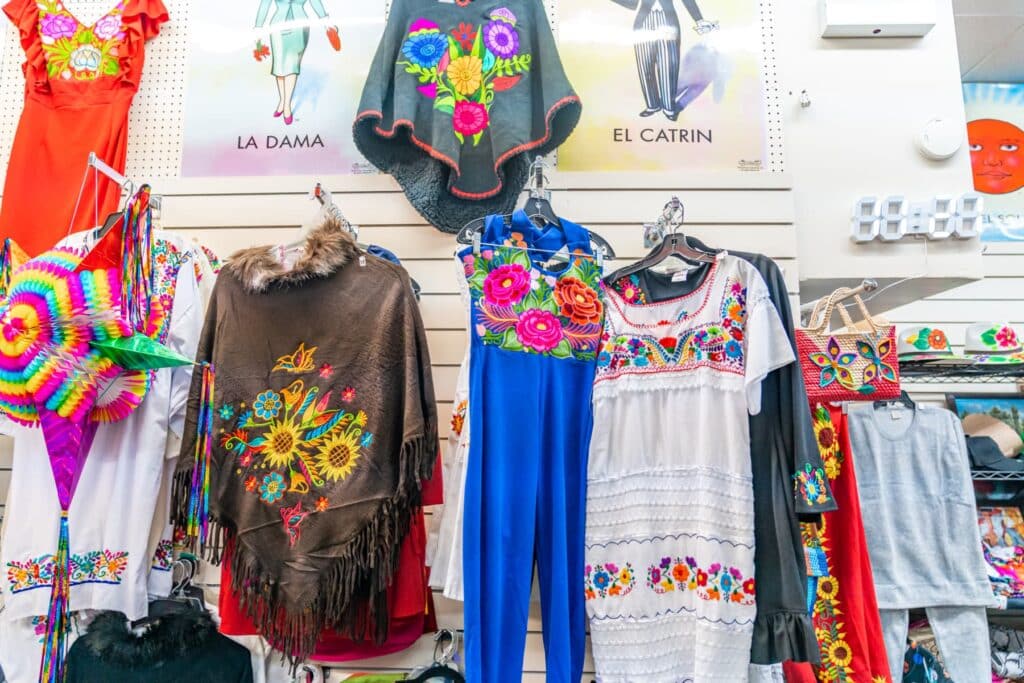 Snap Pictures with Latinx Murals
You'll find murals all around Pilsen, making for great photo ops to document your trip to Chicago. Along 18th Street and South Laflin Street, there are multiple Lotería cards. See if you can find them all! You can also find Latinx murals at 1831 S. Racine Avenue, 1639 South Allport Street, and 1724 S. Ashland Avenue. If you stop at Segunda Alicia and/or the Frida Room, you can visit the majority of the Pilsen murals pictured here.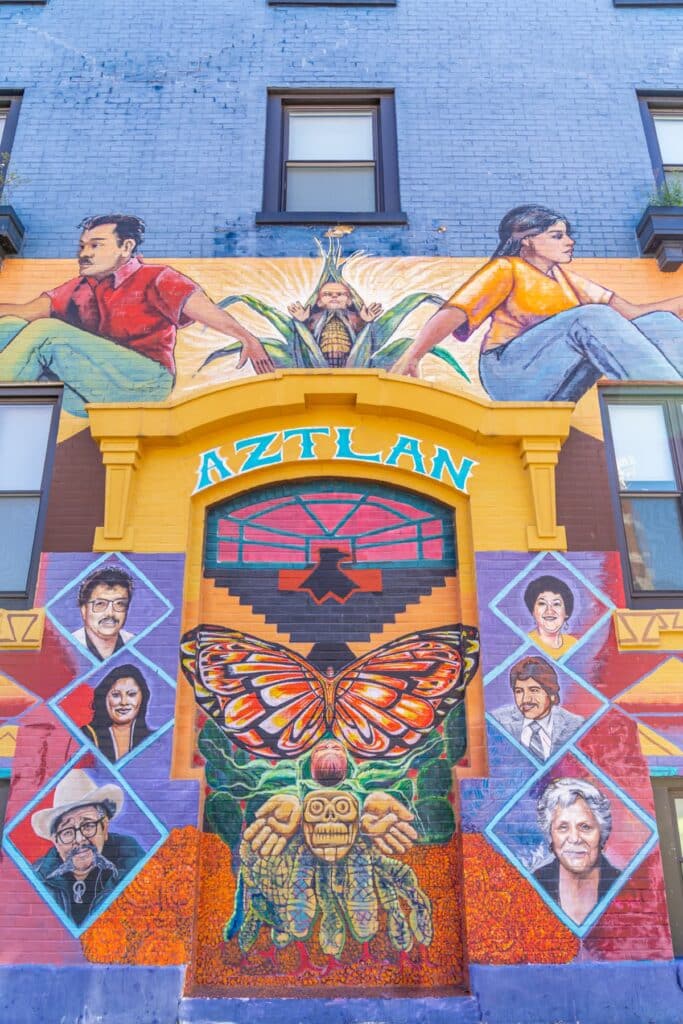 Learn About the Importance of Mexican Art
The National Museum of Mexican Art has several exhibits. The museum's permanent exhibit, "Nuestras Historias: Stories of Mexican Identity from the Permanent Collection," tells the story of Mexican identity and how art played a role in reconnecting native Mexicans and American immigrants to their roots in the face of racism and forced assimilation. To illustrate this, you'll see artwork in all mediums from renowned Latinx artists from the last 3,600 years.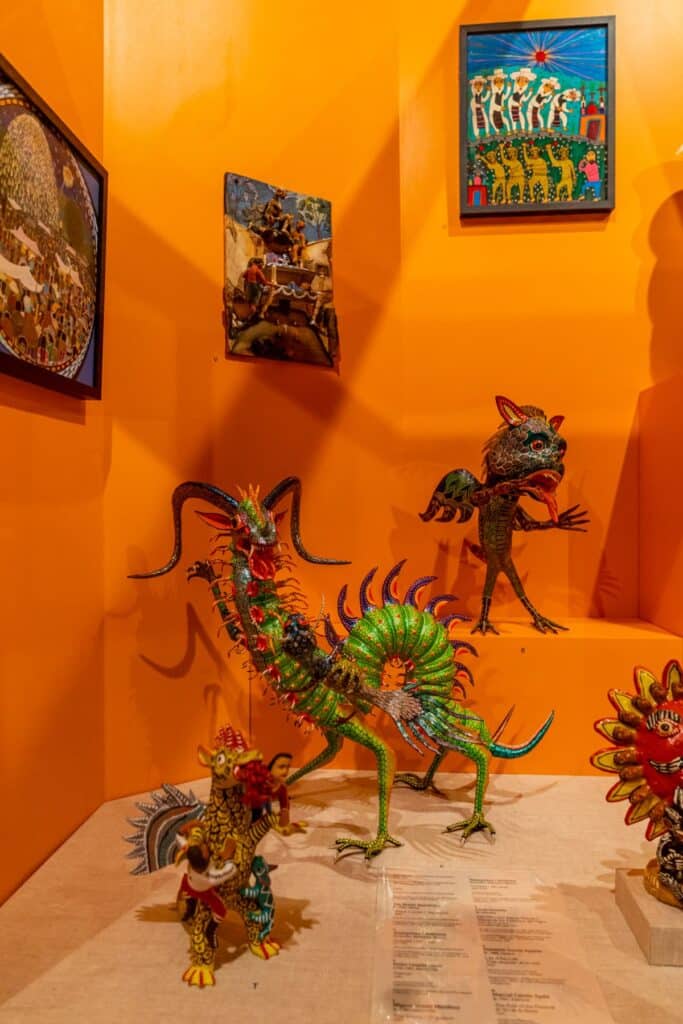 Where to Eat in Chicago: Pilsen
Luna
Situated on a street corner and painted with bright yellow paint, La Luna is hard to miss. Enjoy fresh, local, and organic ingredients in everything from the cocktails to the plates. With an open kitchen, colorful murals, and garage doors that open up La Luna to the historic Pilsen neighborhood, the ambiance at La Luna is top tier.
Kristoffer's Cafe & Bakery
After tasting their tres leches, this Latinx pastelería and café has made its name among locals and visitors alike. With varieties like caramel, Kahlua, coconut, vanilla, and even eggnog, passionate foodies and even news entities have raved for the last 16 years about the tres leches at Kristoffer's Cafe & Bakery. Dig into a piece right away or take it to-go while enjoy your stroll through Pilsen. Or stop in for their all-day breakfast or lunch as you experience the Latinx heritage of Chicago.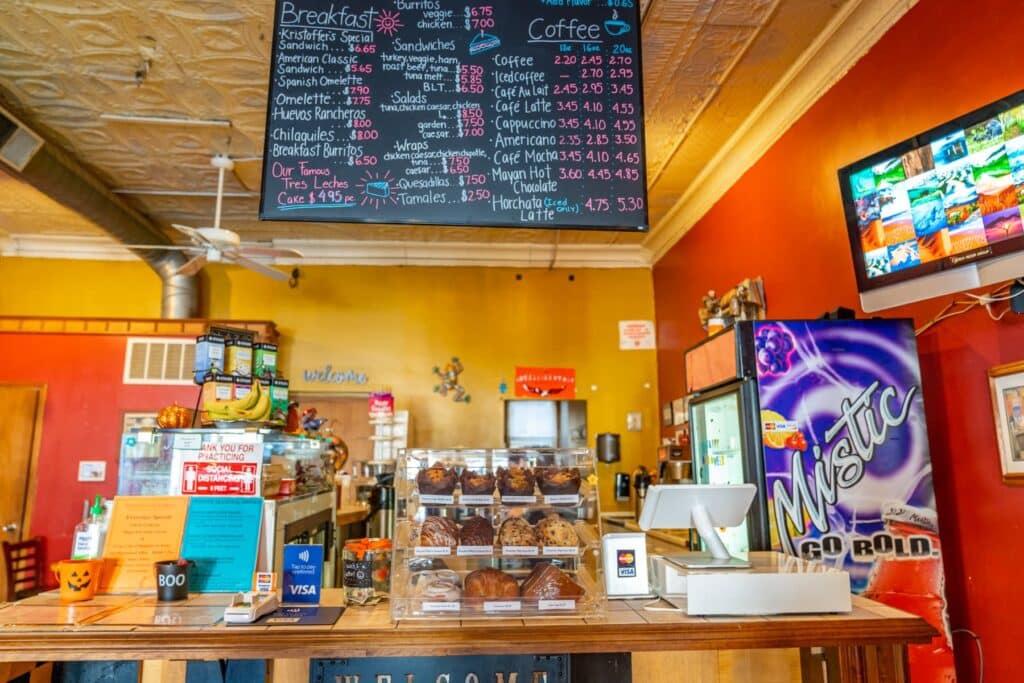 Frida Room
The name caught our eye as we were posing with the murals around Pilsen. We're so glad we investigated further because, beyond their unsuspecting storefront, we found the cutest Mexican-American brunch spot! Hand-painted artwork by the owner, Aero Cruz, covered the walls in the most tasteful way, standing out from the rustic decor of the intimate dining space. You can order anything from French toast and pancakes to Huevos Rancheros and Chilaquiles, as well as salads, paninis, and burgers. Cruz values his relationships with local farmers and suppliers, ensuring affordable, quality meals for his community.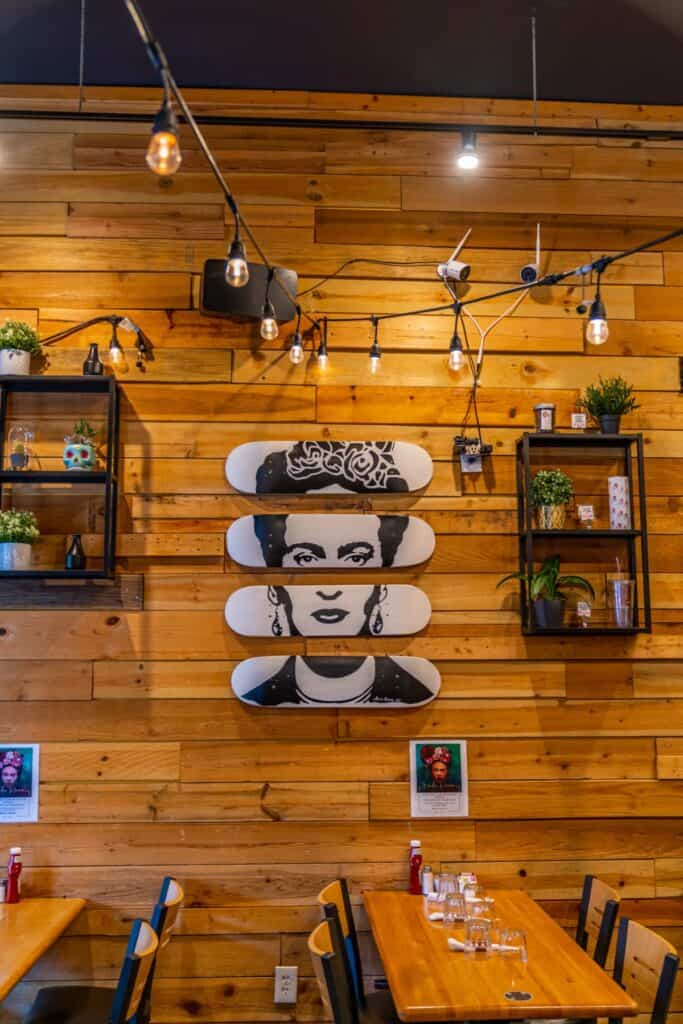 Decide to visit a little later? You can now make dinner plans at the Frida Room Thursdays through Saturdays from 5:30pm to 10pm for a limited time. The Frida Room transforms into Frida de Noche and serves a carefully crafted, seasonal, seven-course meal prepared by Guatemalan chef, Cristian Orozco.
Nuevo Leon Restaurant
Built into one of the many murals that adorns the walls of Pilsen is the Nuevo Leon Restaurant, which has been serving classic Mexican dishes since 1977. Their menu is expansive and offers breakfast, appetizers, seafood, soups, as well as daily specials and a la carte items.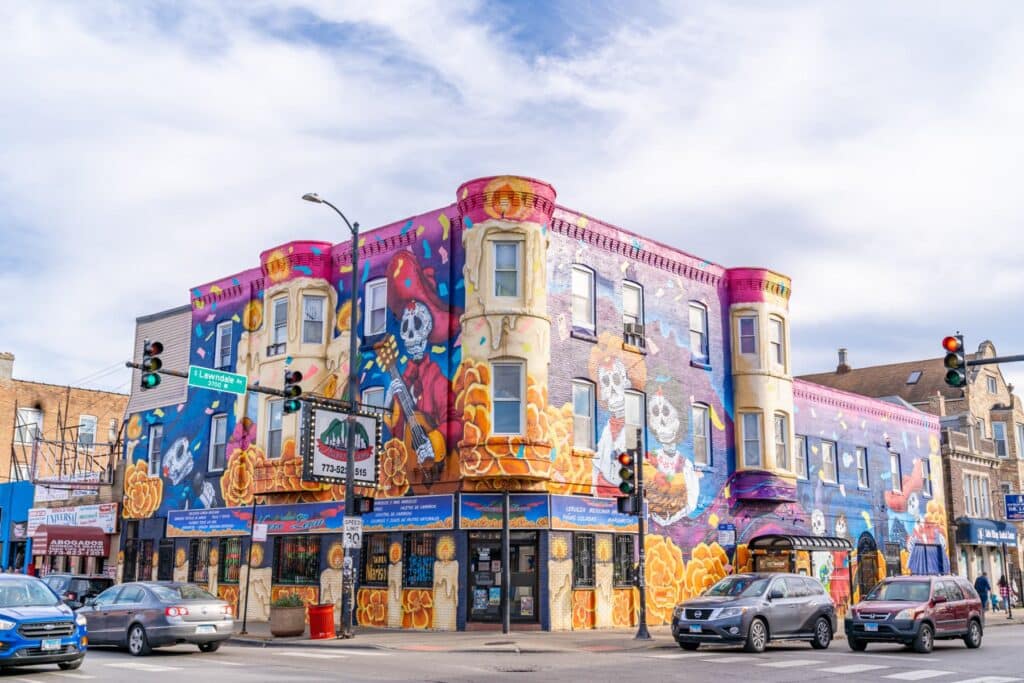 Things to Do in Chicago: Paseo Boricua
Visit the Puerto Rican Cultural Center
A support system within the community of Paseo Boricua and Humboldt Park, the Puerto Rican Cultural Center consists of 15 community-focused programs that are combatting issues, like gentrification, and promoting the celebration of the area's Puerto Rican heritage. Follow them on Facebook to see what they're doing for Paseo Boricua daily, as well as what free, community activities you can participate in!
See Some Puerto Rican Art
The National Museum of Puerto Rican Arts & Culture originally housed Danish-born architect Jens Jensen's office when he worked for the city overseeing the local parks, including Humboldt Park just across the street. Inspired by German-style architecture, the building is beautiful and houses several exhibits.
Past exhibits include a display dedicated to Walter Mercado, a Puerto Rican performer who hosted the first television show centered around astrology, and as an individual who was known to spread kindness, he was honored with signage about his life and the preservation of some of his belongings.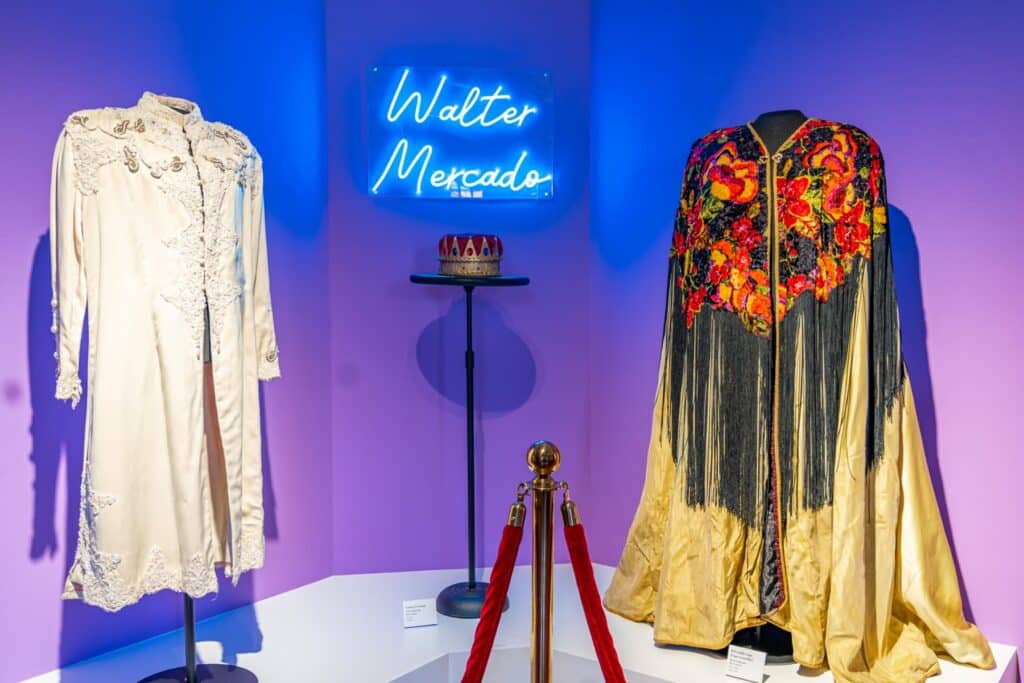 The museum's newest exhibit, "Nostalgia for my Island," is a collection of artworks from the Museo de Arte de Ponce, spanning from 1786 to 1962. On display since 1959 when this world-renowned museum first opened in Puerto Rico, this artwork is off the island for the first time right here in Chicago. You'll find canvas paintings from Latinx artists like Francisco Oller, the first great Puerto Rican landscape artist, and Jose Campeche, the first known Puerto Rican artist, among others. They will continue to be on display until June 9th, 2023.
The Immortal Plena, a colorful, multimedia exhibit constructed of strikingly painted octagons and diamonds, combines the Puerto Rican Plena (satirical folk music) and the Danse Macabre (AKA the Dance of Death, an artistic genre). Puerto Rican artist Antonio Martorell sought to bring awareness to the parallels between the death-ridden Late Middle Ages, which birthed the satire associated with Danse Macabre, and the obstacles of today's world that pose an even greater threat than the plague. You'll see a variety of death imagery mixed with verses that mimic the structure and themes of la plena.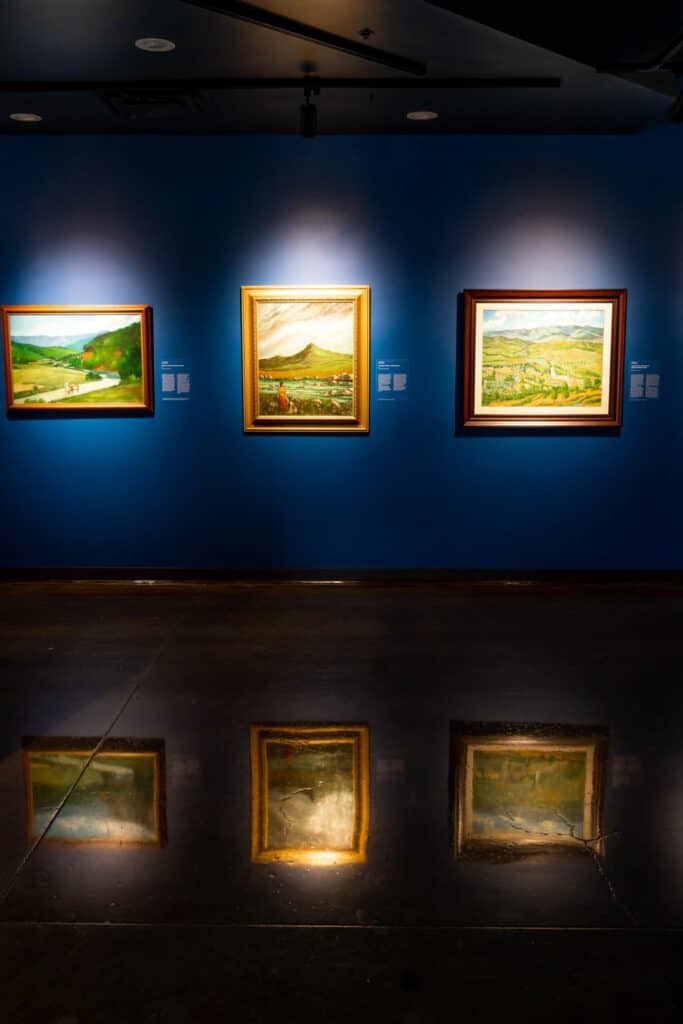 Visit the Landmarks of Paseo Boricua
Before leaving the Museum of Puerto Rican Arts & Culture, pick up a walking tours map of Paseo Boricua. Division Street is home to historic architecture, gorgeous murals, and Latinx heritage and businesses.
Paseo Boricua Flags
Arching over the beginning and end of Division Street, a central area of commerce in Paseo Boricua, are two 60-foot-tall steel Puerto Rican flags. The use of steel was a nod to Puerto Ricans who immigrated to the U.S. to work in the steel industry. This iconic symbol of Latinx heritage in Chicago was officially awarded landmark status in August 2022 after calling Division Street home since 1995.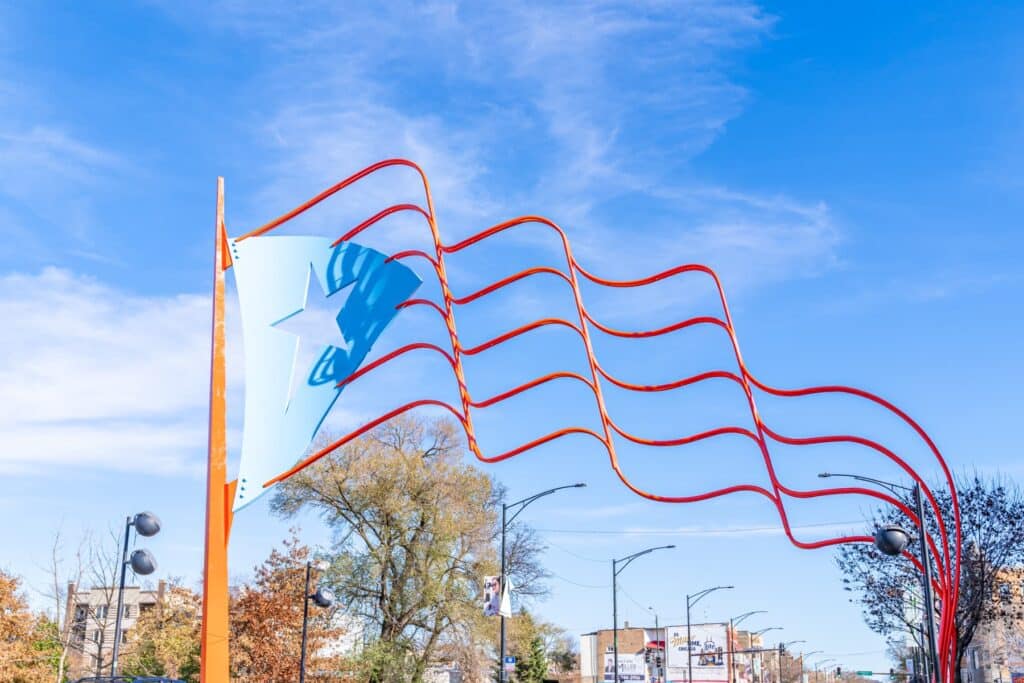 Humboldt Park
For the hungry, it's good to note that Humboldt Park is surrounded by 11 food trucks, all a part of the United Cooks of Humboldt Park, where you can indulge in homemade Puerto Rican cuisine. Make lunch plans easily after exploring Paseo Boricua or visiting the Puerto Rican Arts Museum just across the street.
When the weather allows, you can also rent paddle boats, fish and admire the garden along the Humboldt Park Lagoon, swim at Humboldt Park Beach with the extravagant Humboldt Park Fieldhouse in the distance, and play a game of soccer, tennis, or basketball at the several surrounding sports fields. If you're traveling with little ones, there are also several playgrounds.
Humboldt Park Boathouse
Park architect Jens Jensen tapped his friend, Richard E. Schmidt, to help design the Humboldt Park Boathouse. It is one of the many iconic buildings of Chicago, providing serenity by the water within miles of the bustling city center. Jensen's hope with his designs was to bring nature back into urban living.
La Casita de Don Pedro y Lolita
La Casita de Don Pedro y Lolita has cultivated pride in Paseo Boricua's Puerto Rican roots since its inauguration in 1997. It's home to a community garden, art from Puerto Rican artists, a gift shop, a performance space for Bomba and Plena performers, as well as free, community workshops. Follow the Puerto Rican Cultural Center on Facebook to keep tabs on what's going on at La Casita.
Shop for Puerto Rican Souvenirs
Owner Carmen "Lily" Martinez migrated to Chicago from Puerto Rico in 1954. She started selling food in nearby Humboldt Park, and with her savings and love of entrepreneurship, she opened Lily's Record Shop in 1983. You'll find Puerto Rican souvenirs ranging from records, cassette tapes, and CDs to hats, jewelry, and mugs.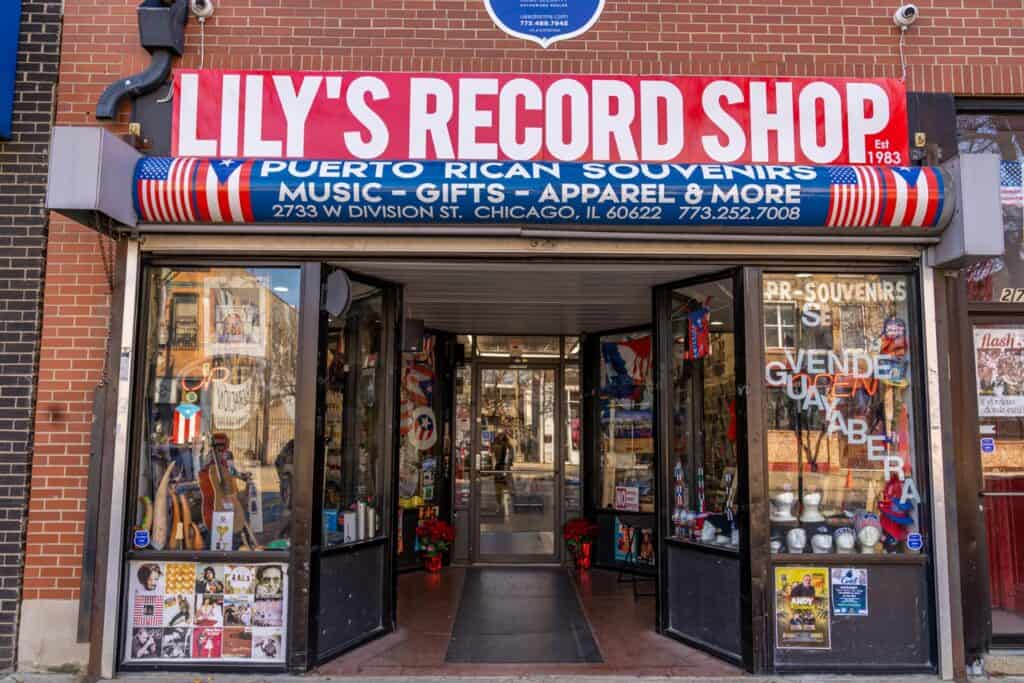 Visit the Cutest Feminist Boutique
Feminist and queer-owned since 2013, Humboldt House is a bubble of color and treasures, including items from queer and Black-owned businesses! Although their sign says "homeware, self-care, plant care, and pet care," you'll find just about every subcategory of goodies here too. Take your time and explore. You're bound to find something you love. Find a few too many things? You can also order online!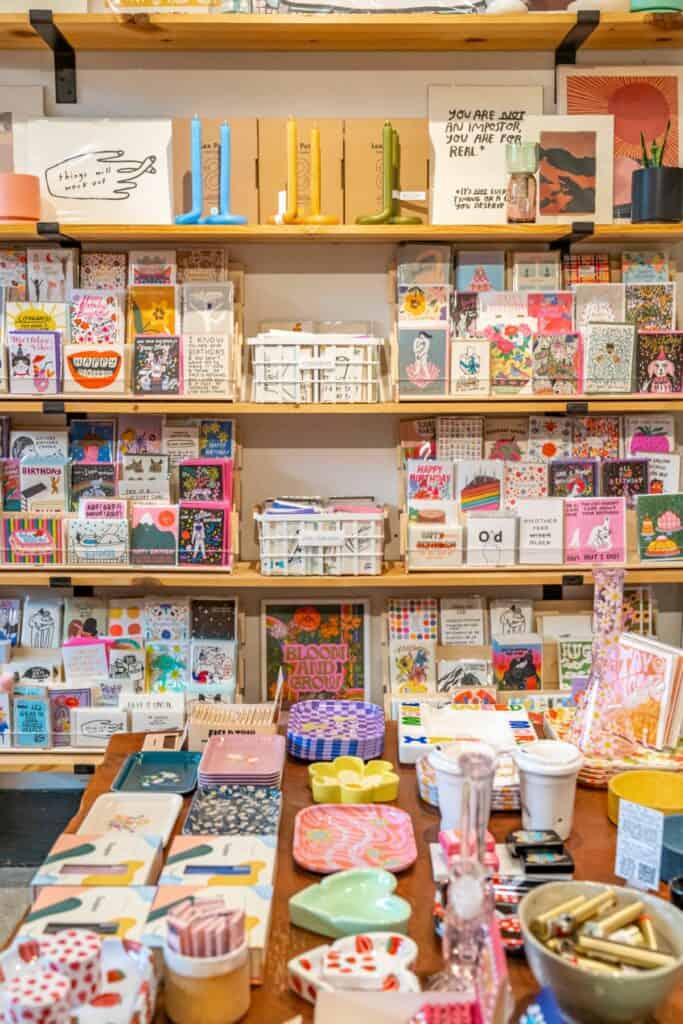 Looking to support other businesses owned by people of color while you're in Chicago. Here are some nearby:
Lost Girls Vintage: Woman and immigrant/POC-owned vintage shop offering clothes for all different sizes. Shipping available.
Asrai Garden: Black-owned floral shop selling jewelry, apothecary, and more that has been in Chicago since 1999. Shipping available, minus their fresh flower bouquets.
For more Black-owned businesses and organizations you can support, including the Black Florist Fund, check out this list put together by Asrai Garden.
Support Local Youth Programming
Carlos Hernandez-Falcon, who is now the Executive Director, first began running the Puerto Rican Arts Alliance (PRAA) out of his basement in 1997. In partnership with the community and local public schools, the PRAA has programs in music, theater, and art aiming to give Puerto Rican culture the appreciation and honor it deserves. It provides affordable music and arts programs for its students and instills a pride in their culture in a world where exclusion threatens its existence.
Every year, the PRAA hosts its Emmy Award-winning National Cuatro Festival at the Harris Theater in downtown Chicago's Millennium Park. Highlighting the national instrument of Puerto Rico, the Cuatro (which is similar to a guitar), this live performance event hosts some of the best Cuatro musicians hailing from Puerto Rico. Here, you'll also be able to witness the young students of the PRAA's Latin Music Project Ensemble, a testament to the work the PRAA has done on behalf of its community and its culture.
If you come to Chicago for the National Cuatro Festival, all proceeds from your ticket purchase go back into the PRAA. Check their website regularly or follow them on social media to hear about more ways you can support the PRAA.
Celebrate Puerto Rican Heritage
Chicago's Puerto Rican Festival
Usually in June, the community of Paseo Boricua throws a huge celebration called Fiestas Patronales Puertorriqueñas, a Puerto Rican Festival complete with live music, cultural performances, a parade, food, carnival rides and games, an artisan market, and more! Pay a visit to Division Street and Humboldt Park this summer to participate in a one-of-a-kind example of Latinx heritage in Chicago.
Fiesta Boricua
Much like Chicago's Puerto Rican Festival, Fiesta Boricua is a celebration of Puerto Rican music, culture, and food along the streets of Paseo Boricua between its two, iconic steel flags. However, this particular event is in early September and free to attend!
Attend a Live Jazz Show
Every year in the month of July, the Jazz Institute of Chicago brings the free, family-friendly Latin Jazz Festival to the Humboldt Park Fieldhouse. You're encouraged to bring lawn chairs and picnic blankets and enjoy jazz from musicians of all backgrounds.
Where to Eat in Chicago: Paseo Boricua
La Bruquena
Serving Caribbean cuisine, La Bruquena is a family owned, Latinx business along Division Steet in the Paseo Boricua neighborhood of Chicago. They've served the community for almost 35 years with exquisite, homemade dishes like Caldo de Pollo, sandwiches with toppings like roasted pork and jamon, seafood plates, fried plantains, and Tembleque (coconut pudding). Be sure to take a photo in their landmark chair out front painted to look like the Puerto Rican flag.
Esmeralda's Lounge
Looking for a late-night spot with a fun atmosphere for fruity cocktails? Esmeralda's, a tropical beach-inspired bar on Division Street, serves up new creations with a Caribbean twist. You'll find neat spins on some of your favorite classics, like an old-fashioned, made with options like Banana Oaxacan, Banana Rum, and Banana Whiskey. Order a Mexican beer with a mezcal shot or a giant margarita that's big enough for three to five people! They're open Thursday through Sunday and offer Happy Hour Specials from 5pm to 7pm everyday!
Papa's Cache Sabroso
This family-owned business first came to Chicago in the 1970's from Puerto Rico and eventually moved to Humboldt Park in 2002. You'll find a variety of Puerto Rican dishes, including their customer favorites, Pollo Chon, flavored with Papa Pollo's "Secret Sauce," and their Jibarito, made with your choice of meat between two fried plantains.
Café Colao
After spending time exploring Paseo Boricua and the businesses along Division Street, stop by Café Colao for a traditional Puerto Rican lunch. This woman and Latinx owned business offer a selection of freshly made pastries, stews, and sandwiches. Owner Wanda Colon's quesitos and pastelillos de guayaba are just a few of the locals' favorites. Keep in mind that their coffee selection is limited but they have plenty of refreshing beverages and the classic cafe con leche for sale. Order online and grab it on the go or enjoy the atmosphere of this hidden gem.