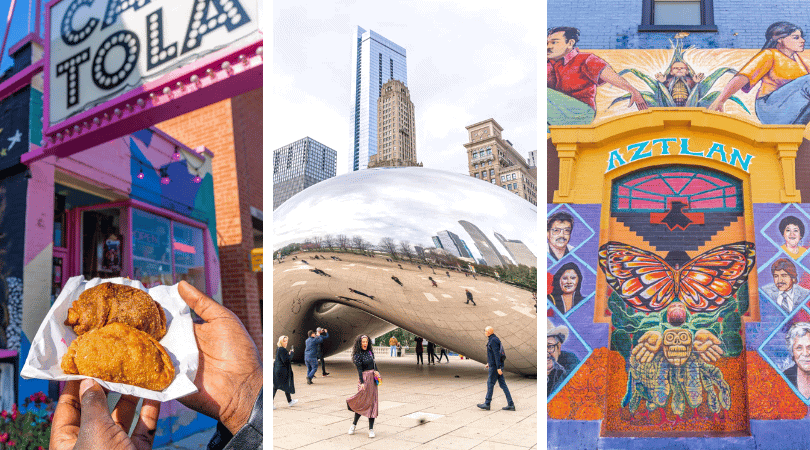 I recently took this amazing fall trip to Illinois. If this post inspires you to travel to Illinois, make sure to check ahead for up-to-date events, exhibits and opening hours at any of the mentioned attractions.
Chicago feels larger than life. The downtown area is significantly larger than downtown Dallas, adding to the novelty of this city we'd never visited before. In other ways, it felt like home. The Latinx heritage and businesses of Chicago are widespread, extending outside of downtown Chicago and into its surrounding, culturally diverse neighborhoods.
Aside from the tourist destinations you might associate with Chicago, there is even more art, museums, restaurants, and things to do that add to the magic of the city. Most importantly, the stories of the family-owned businesses and the entities that strive to preserve and celebrate Chicago's Latinx heritage deserve a place on your list of things to do and where to eat in Chicago.
Things to Do in Central Chicago
Visit the Statue of Benito Juarez
Home to over 1.6 million people of Latinx heritage, Chicago commemorates its diversity with a 16-foot tall, bronze statue of Benito Juárez, Mexico's only indigenous president, in the middle of the Magnificent Mile. Initially, it was the site of a bust of Juárez, gifted to the city of Chicago in 1977 by the president of Mexico, before being replaced in 1999 with today's full-body statue from the Counsel General of Mexico. You can still see the original bust at the National Museum of Mexican Art.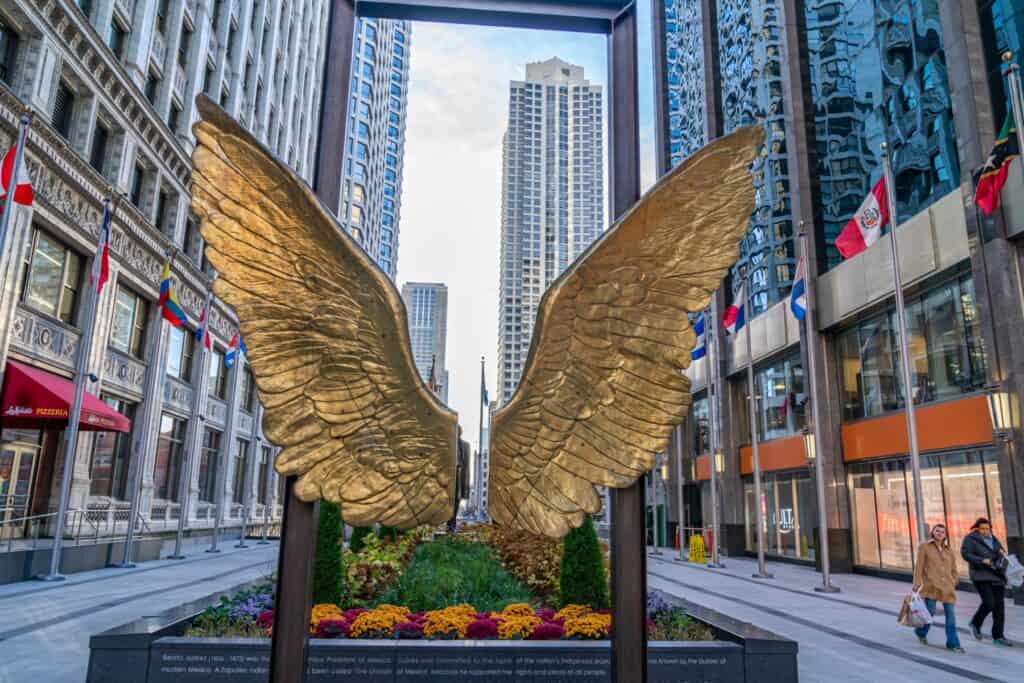 Shop Fair-Trade, Handmade Goods
Looking for unique souvenirs on your next trip to Chicago? Opened by a pair of sisters who immigrated to Chicago from Mexico more than 10 years ago, Colores Mexicanos is filled with two floors of fair trade, handmade items from Latinx artisans. Their products include 100% natural body care products, traditional silver and gold jewelry, embroidered goods, children's clothes and books, and figurines of alebrijes and calavera. There is so much color! You'll find details about each item's origins throughout the store, including background on the artisans themselves. Be sure to look for the framed artwork throughout the store and the accompanying information about each featured Latinx artist.
Don't have room in your suitcase for everything you want to buy? They also have an online storefront that offers $5 flat rate shipping and gift cards if you think someone in your life would love Colores Mexicanos too!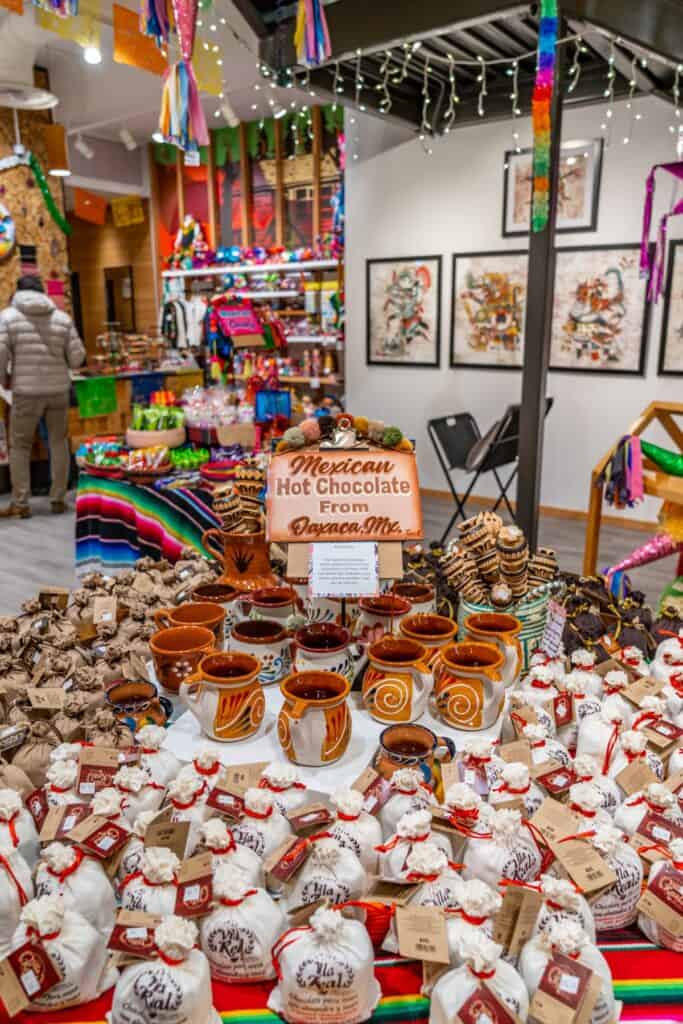 See Latinx Theater Productions
The Chicago Latino Theater Alliance
A non-profit organization in a community of small thespian groups and local theaters, the Chicago Latino Theater Alliance (CLATA) supports its community of Latinx actors/actresses, playwrights, and more by providing them the resources they need to receive equal opportunities and stage time in the theater industry. Created by the Latino Cultural Center, National Museum of Mexican Art, and Puerto Rican Arts Alliance in 2016, CLATA hosts several productions a year centered around Latinx culture as a way of celebrating cultural diversity and raising societal awareness. You can purchase tickets and find the production schedules of their participating theater groups online.
For five weeks throughout September and October, Destinos, the Chicago International Latino Theater Festival by CLATA, brings in both local, national, and international theater productions of a wide range of genres. You'll find that the majority of CLATA's productions occur during this time, but other theater groups host productions throughout the year.
Teatro Vista
Founded in 1990, Teatro Vista is another non-profit theater organization in Chicago that focuses on equal opportunities and representation for Latinx and other minority thespians. You'll find productions with one-of-a-kind plots that aim to be more unique than the last. You can find digital content and their current production schedule online. You may also be able to see their productions during the Chicago International Latino Theater Festival.
Where to Eat in Central Chicago
Cruz Blanca Brewery
We knew Cruz Blanca Brewery was a local favorite as soon we walked in. Even on a Tuesday night, every seat was full. With that being said, we recommend making a dinner reservation and arriving on time. Its on-site brewery incorporates Mexican flavors to wash down all of your favorite Mexican dishes. We ordered their Cali Burrito, Chorizo Queso Fundido, and Barbacoa Tacos alongside a cup of La Floridita and a Oaxacan Old-Fashioned. Snag something to-go from their selection of six packs and large cans on your way out!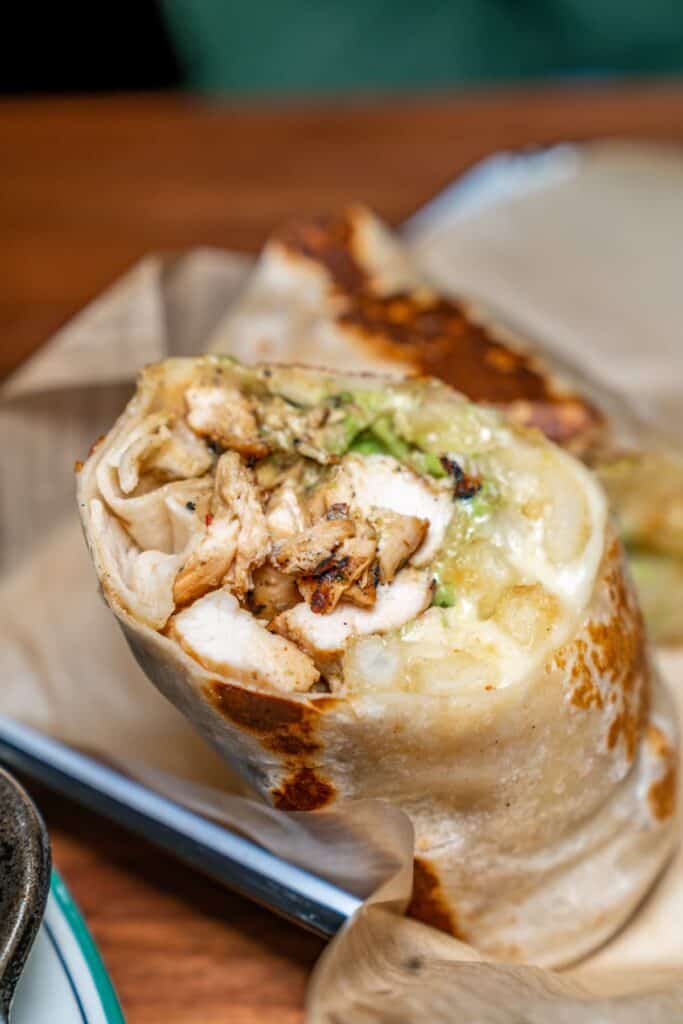 Cafecito
Nestled in a quieter part of downtown Chicago is the Cuban cafe, Cafecito. Their pancakes are sweet and soft enough that you won't even need syrup! Their menu also has a large sandwich selection, as well as vegan menu items, and Cuban coffee. Their sandwiches have ranked in Chicago magazines over the last few years, specifically their Cubano. We got lucky and made it in time for breakfast, so we ordered Rojo y Blanco pancakes with a guava glaze and white chocolate sauce, as well as the Abuelita pancakes with chocolate chips, cinnamon, churros, and chocolate sauce. Of course, we couldn't go without the classic café con leche as well.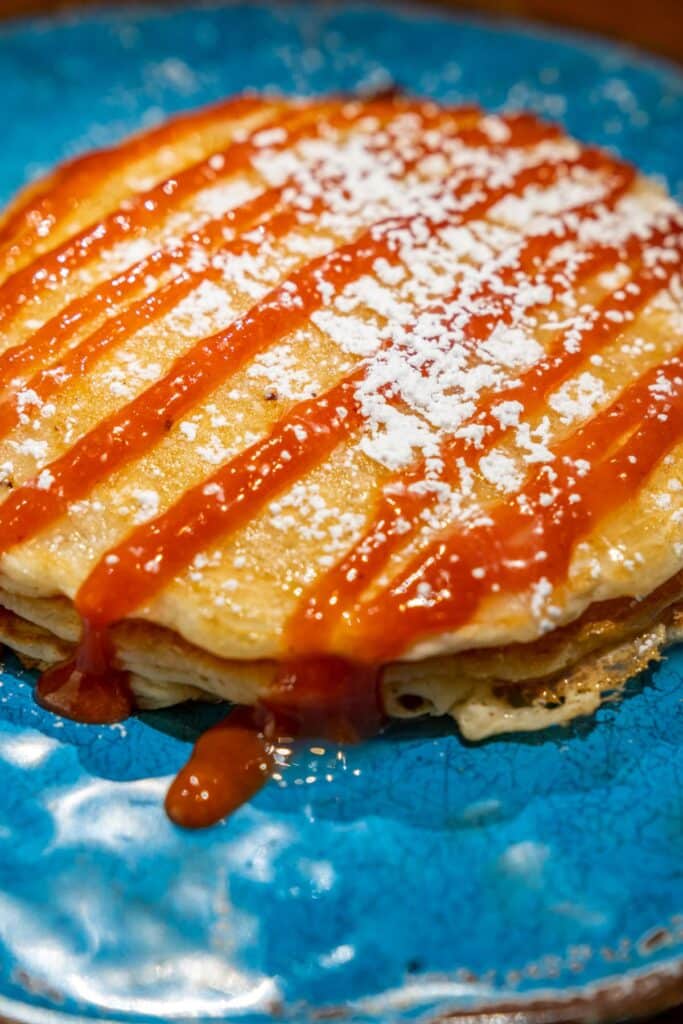 Tzuco
One of two concepts by Chef Carlos Gaytán you can find in Chicago, Tzuco serves an array of dishes inspired by Chef Gaytán's renewed understanding of his Mexican heritage fused with his expertise in French cuisine. He was actually the first Mexican chef to be awarded a Michelin Star, first in 2013, and again in 2014!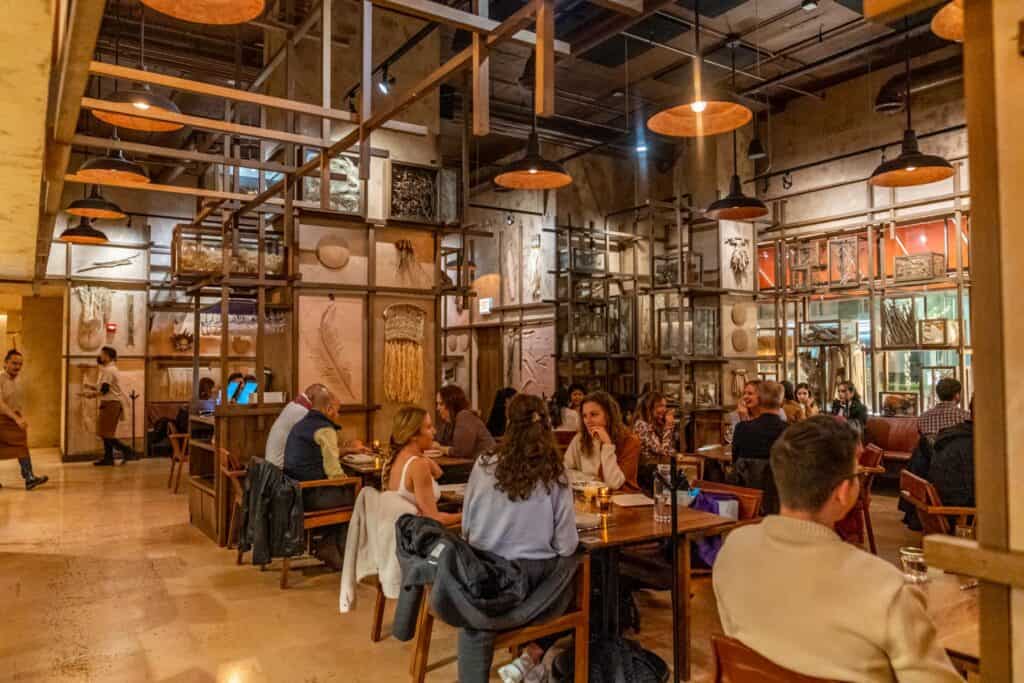 To start, we ordered the Pulpo Enamorado (Guajillo roasted octopus with salsa macha, pickled carrot, pea, potato, and tonnato aioli) and the Mushroom Cazuela (oysters with shiitake cremini mushrooms, salsa macha, goat cheese, and warmed corn tortillas). We finished with the Cochinita Pibil (Guerrero-style pork shank with a black bean purée, pickled red onion, and habanero salsa with a side of warm corn tortillas) and the dessert off the special's menu: the Pumpkin (a realistic, mini pumpkin made with roasted pumpkin, dark chocolate, spices, and maple with Gruyère cheese ice cream).