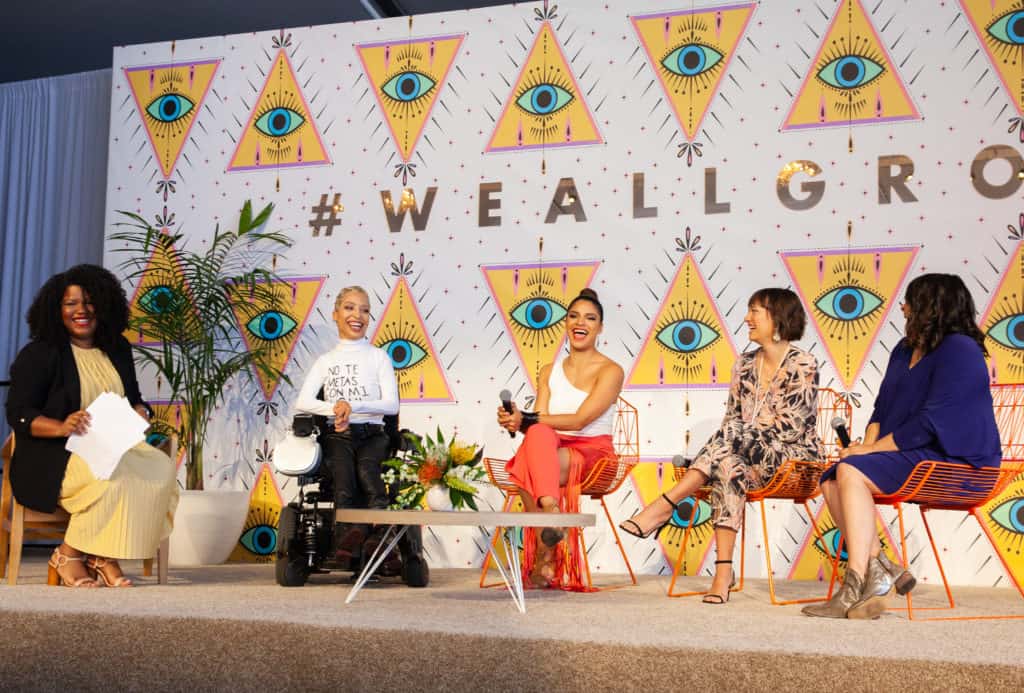 The first thing that surprised me about the We All Grow Latina Summit was the emphasis on "We All Grow." It wasn't just a phrase. It was a lifestyle that I saw constantly lived out! Everyone was excited to help each other out, and everyone looked at you as a person, not as your follower count. Being a first time attendee, I had so many questions (and even more nerves). However, by the end I left empowered, inspired, with lasting connections, and with knowledge that I could actually use for my brand.
If you didn't get to attend the Summit, the one thing I can say that is so important, and that will be reiterated throughout this post, is the need to support each other and use opportunities to collaborate every step of the way. I can work on growing my own brand or I can work with other beautiful women to grow our brands together, and we will go much further! Don't forget to check out the Youtube field trip from the day before!

Tips for Attending We All Grow Summit for the First Time
I had so many questions, and as an introvert, I had a few extra things to worry about. I hope these tips will help others like myself who are nervous and excited!
Leave extra room in your suitcase! I packed a whole extra suitcase because I had heard this from someone else and it was filled to the brim!
If you can, stay onsite. I heard many girls who didn't mention how tiring it was to drive or leave early and miss out on extra opportunities.
Whether you go or not, buy the digital pass. It's super affordable and a great way to learn from sessions you will miss. Especially the breakout sessions since you can't be in 4 places at once!
If you're shy, like myself, pack fun clothing! I always get super nervous in large crowds so I purposely chose clothes that I knew I would get compliments for. Then they had started the conversation, and I knew I could follow up with a few questions I already memorized (Is this your first time, what session did you just attend, what are you most excited for, etc.)
Save all the people you meet to a bookmarked folder on Instagram. You'll meet so many people and this will be a great chance to follow up after the summit and remember everyone (because you will meet A LOT of people)
Also don't forget to connect on Facebook, Twitter, LinkedIn, etc. More ways to connect!
Look for opportunities to help others. Know a great connection, business opportunity, success you've seen in your own business, etc? This is the place to share! Why? Because the other people are going to share right back. And start looking for ways to collaborate! I'm so excited to have met another Latina Travel Blogger who I can share shoutouts with and more people that I can't wait to grow together!
Make opportunities to meet outside! From dinner like I shared below, to scheduling things after the conference, you are in charge of making the connections that last beyond the We All Grow Latina Summit.
Meet with people outside your industry. I met people in public health, skincare, coaching, and I was able to learn from, and contribute to, each one!
Have fun, but don't stress. Especially coming from the introverted side, I worked hard to get out of my shell and to go beyond my comfort zone. However, there were times where I was quiet or even retreated back to my room for a quick nap. Find that healthy balance of going beyond while still taking care of yourself.
Getting the Morning Started With Breakfast
Boring breakfast step away! I'm such a big breakfast person so seeing eggs, bacon, potatoes, and Mexican pastries got me seriously excited. I had to note it, because having been to other conferences this was an exciting breakfast!

Why Diverse Representation of Our Community Matters
It's always been obvious that there's been a lack of representation in media. Especially as a blogger, I'm tired of seeing social media feeds being filled with girls that fit only one tiny beauty standard. We got to hear from Shakira Barrera, the first Latina on Glow who has been the voice behind making sure Latinas were accurately portrayed. Being the Latina on the show meant teaching producers that Latina is not a stereotype and that when creating characters, they need to think of the country she is from, her unique traits (which vary person to person) and more. Jillian Mercado was one of the first women with a physical disability to be portrayed in high fashion, and she has been killing it! Because of her, media is finally realizing that we want to see people who look like us in all shapes and forms! Nolwen Cifuentes has also helped in this mission by photographing people for Girlgaze that are often misrepresented. Rosie Molinary is helping women and girls regain their self-esteem when we are constantly marketed to that our value is in our looks. She interviewed 100 Latinas to showcase the diversity of our experiences and also teaches us to accept ourselves. I can't wait to pick up her book. Obviously I can't put everything they said into words, but each woman was inspiring and taught us to use our voices for more diversity and to accept ourselves.
Expert at Failing – Maiah Ocando
In a time when we are so afraid of failure, Maiah – comedic, sweet, and fiery – taught us to embrace those failures. It was an inspiring speech of using those failures as a stepping stone to the next success.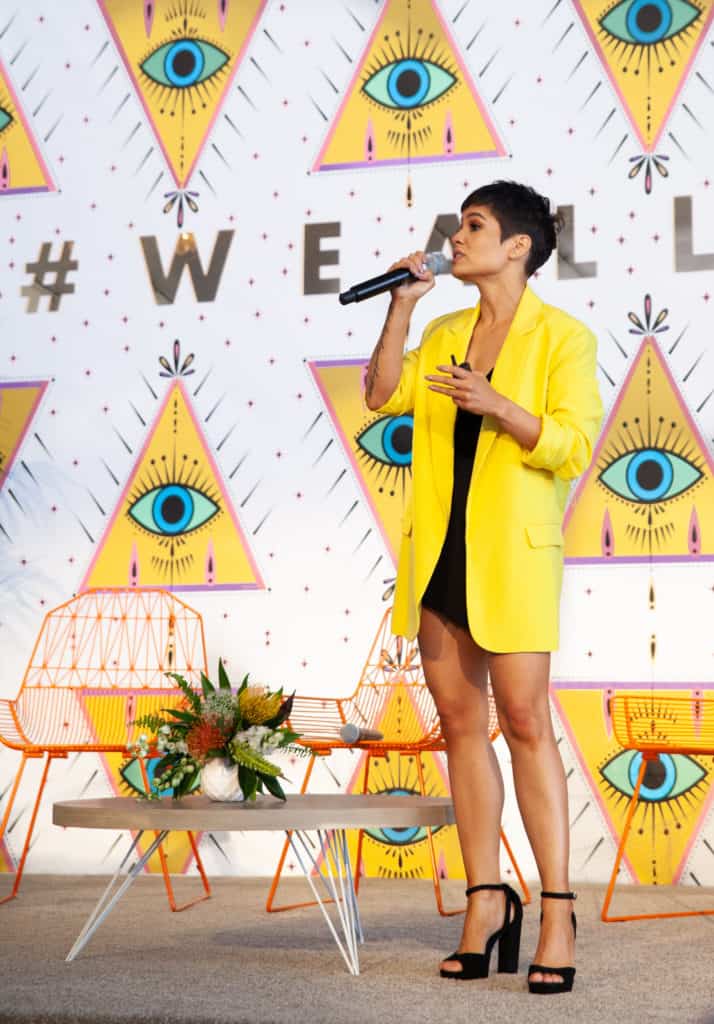 A Celebration of Vida
We got the chance to meet the stars of Vida and to truly understand the importance of supporting all Latina media. Often times we don't support it because it's not our genre or typical series. However, it's not until we support the few that we will begin to see many.
Snack + Connect
There were so many incredible sponsors during the event, and the breaks were a great chance to meet with them, learn something useful, and speak with others. I had the pleasure of attending with AutoTrader and I spent the break hanging out in the Zen Suite. There was so much energy going on during the summit, and it was nice to relax at the AutoTrader suite with essential oils and chairs for resting.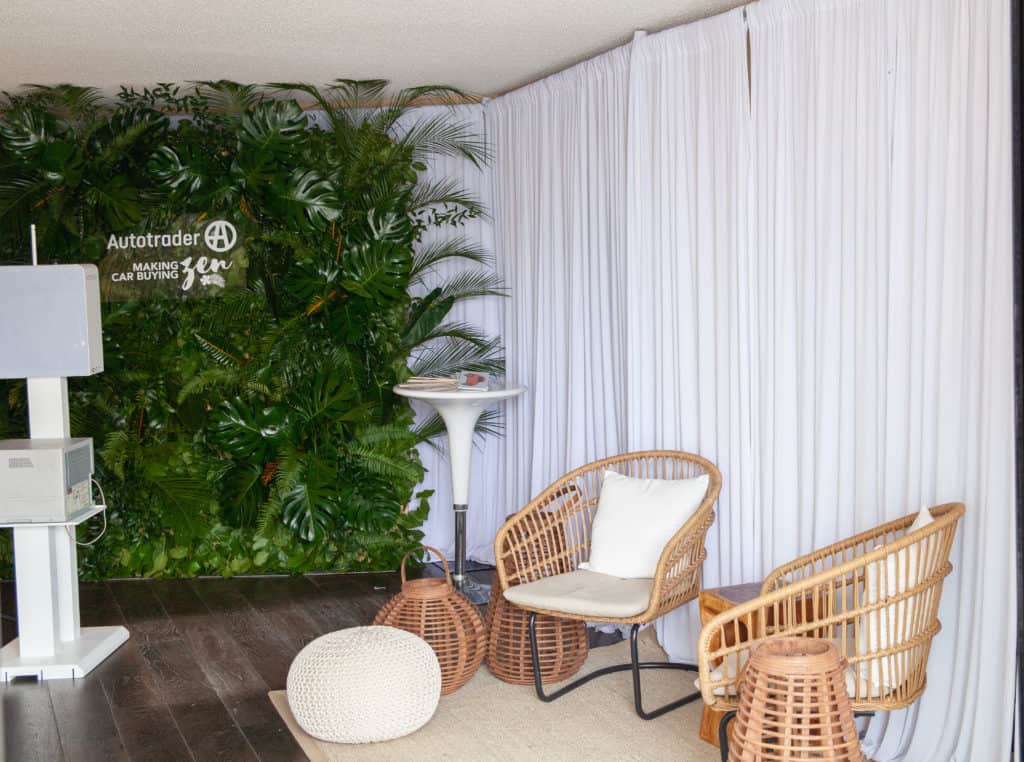 I learned so much about the benefits of AutoTrader too! They have just about every car dealerships cars listed as well as private sellers, so you can shop in one place. I remember when my parents would be looking for a car and we would spend all day driving to different dealerships. AutoTrader makes it so much more zen with resources, comparison tools, and easy search functions!
Break Out Sessions
There were so many different sessions you could go to, and it was hard to choose which one!
Mitu – The Secret to Giving Your Audience What They Want: Listen to Them
Getting to sit down and listen from the Executive Director and Head of Content at Mitu was exciting enough as it is! Their platform was one of the first to create content specifically for Latinos and Latinas with Fierce by Mitu. They shared their insights into the creation of Guacardo, selling merchandise, and diversifying their content to serve all Latinos rather than primarily Mexican audiences. The beauty of their speech was also in the power of collaboration and their interest in allowing us to contribute if we have a story that fits into their theme.
There was this one and so many other presentations. The best way to see and hear it all is to buy the super affordable digital pass with everything recorded. They made the passes affordable and sold them for a price where Mitu (who sponsored the filming of all sessions, not just their own) could recuperate their costs.
Slam Poetry Hour
The Slam Poetry Hour was a great chance to regroup after all the breakout sessions. Led by Nicoletta De La Brown, a woman who I have come to admire for her bold movements (every word was accompanied by a grand gesture in a way I had never seen before), we had the chance to listen to four incredible artists sharing poems about being Latina, about the struggles that come from it, about family, and about love. It made me realize how much lack of representation there is in the poetry industry and how wonderful it was to hear from ladies I could relate to.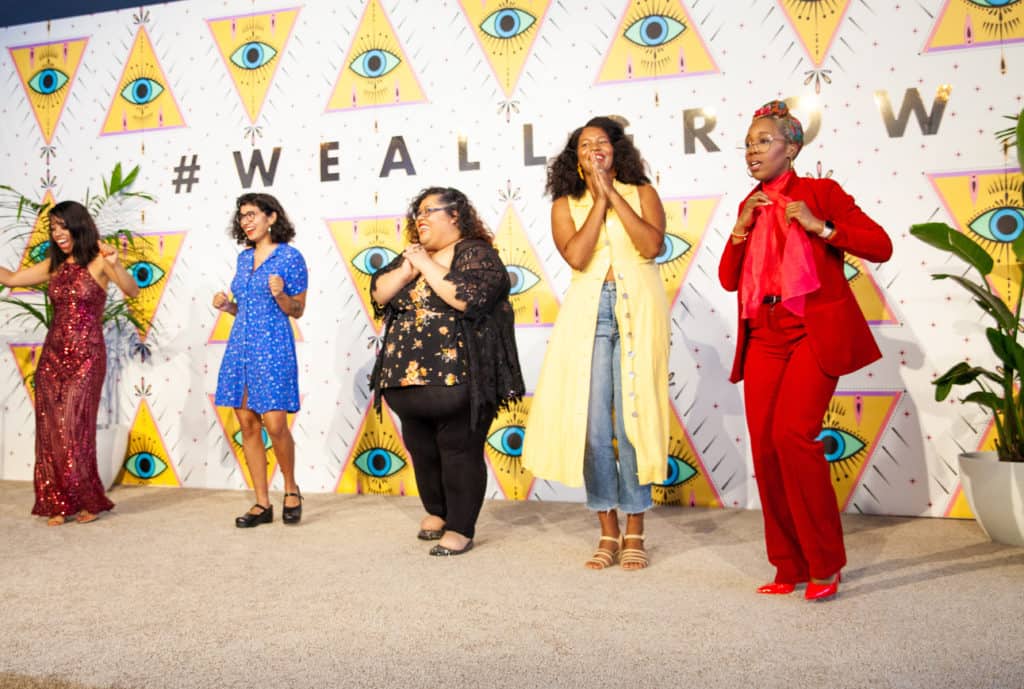 Dinner
It was at dinner that I made some of the most incredible connections. Despite being beyond exhausted, I couldn't wait to connect with some Texas ladies. One wonderful lady posted ahead of time on the Summit Facebook group to schedule a dinner so we all met offsite for Italian food. Over garlic knots and pasta, we shared advice, laughter, and collaboration opportunities. We had bloggers, success coaches, business owners, and more. We all had a different area of expertise to lend a helping hand and ways that we could partner together. Not being from California, it was nice to know that I could physically meet up with some of these ladies and that I would probably be meeting them as I traveled across Texas. I can't recommend this enough.
We All Grow Latina Summit Day 2
Day 2 was filled with even more exciting information. We got to meet Yalitza Aparicio, learn about the science behind why Latinas are super successful, learn how to grow your brand on a budget, and more. We finished the night with powerful stories by storytellers who left us inspired. For a true overall experience don't forget to get the super affordable digital pass.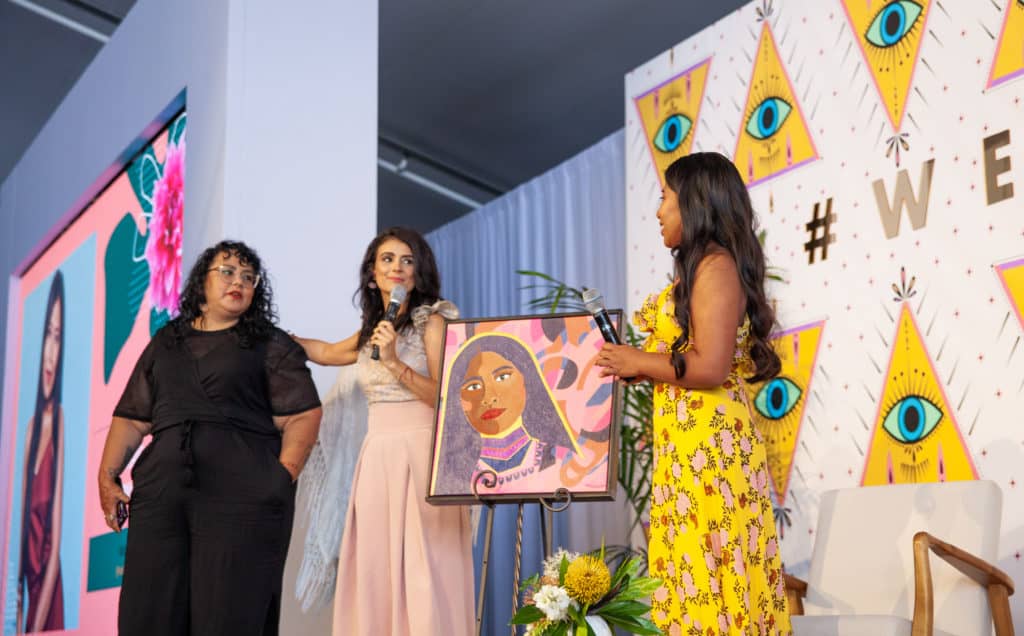 The We All Grow Latina Summit was more than I could imagine. I was looking forward to so many connections that I would have beyond the summit. I was amazed that every time I met someone, there was a chance to bond. From the first day alone, I had business opportunities that made the ticket price alone worth it, but I also felt inspired in a way like no other. I kept going back to the theme of We All Grow. It's only through the interest in working together that we can grow. Especially when there's such a lack of representation, it's our job to build each other up. Whether it's sharing someone's social media post or liking it when you have no money or recommending them first, you can do it without a budget. However, it's also evaluating our finances to see where we could support a wonderful business. Maybe the t-shirt is a little more than I would normally pay, but I'll wear it twice as much. Maybe by listening to someone speak about business coaching I can learn why it's actually an investment I need that I've been missing out on, and I can determine what money I can set aside to not only invest in them, but also myself. Maybe as someone who knows social media strategy I can offer advice to other small businesses who want to utilize it more and in that way we can also collaborate in another form.