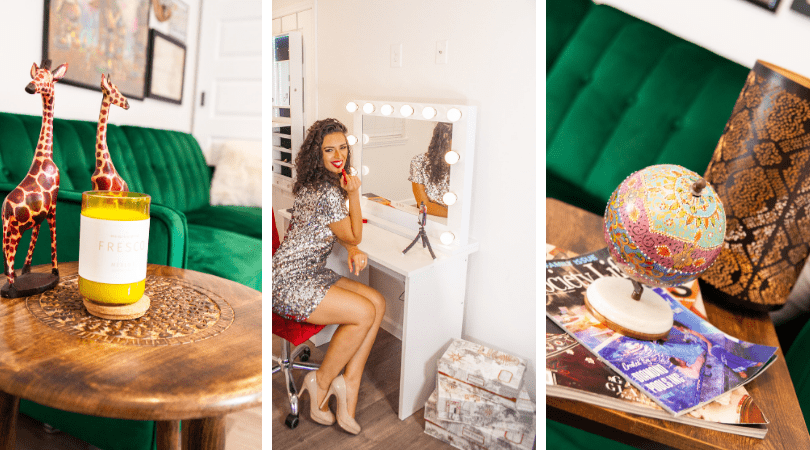 This post was sponsored by Burkes Outlet. As always all opinions are my own.
Upon moving into our first apartment together, my husband and I were filled with excitement. We had spent a year living a life of travel on the road, but decided it was time to establish a home base. Moving into a first place together is exciting, but it can also be a little overwhelming, especially when you have no furniture. However, we pulled our minds together to create a space that inspired wanderlust based on our previous adventures as well as some travel-themed budget friendly decor that we purchased from Burkes Outlet.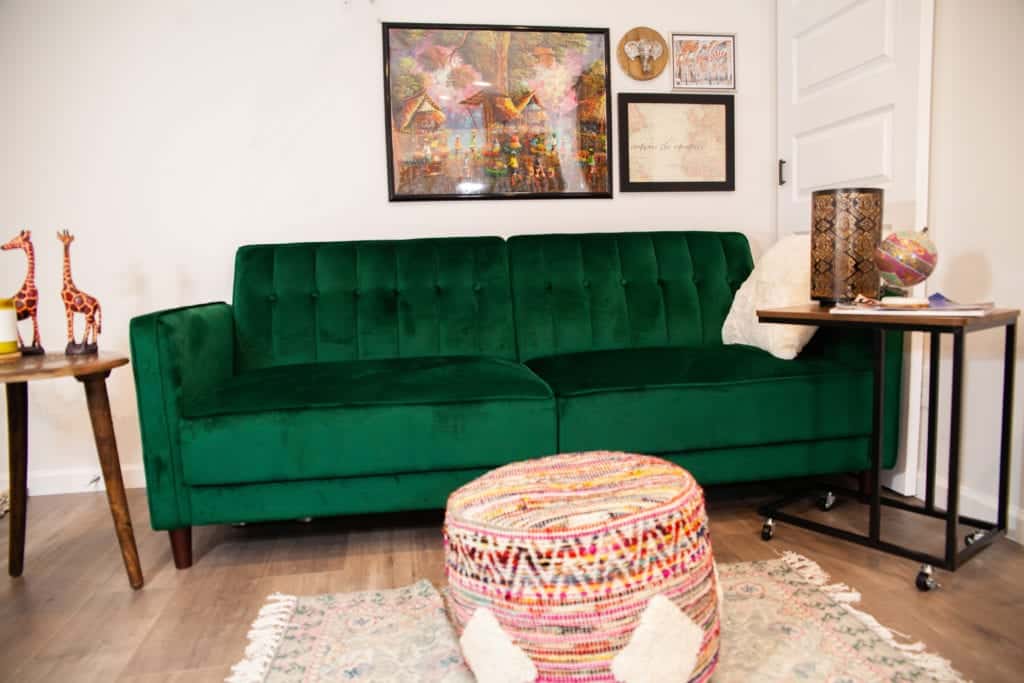 If you're looking for a place to give you that wanderlust worthy feel, you don't have to spend a lot of money. We found plenty of travel themed apartment inspiration on a budget thanks to the items at Burkes Outlet. Plus, since their items are up to 70% off retail, we were able to stretch our budget so much further!
One great thing about Burkes Outlet is that while they're constantly getting in new inventory, the themes are pretty similar. So maybe you can't get the same giraffes, but every week we walked in (they stock new items every week) we found new designs of our favorite items! So if you see something you like here, make sure to keep your eyes out at your local Burkes Outlet store! You'll more than likely come in contact to something similar.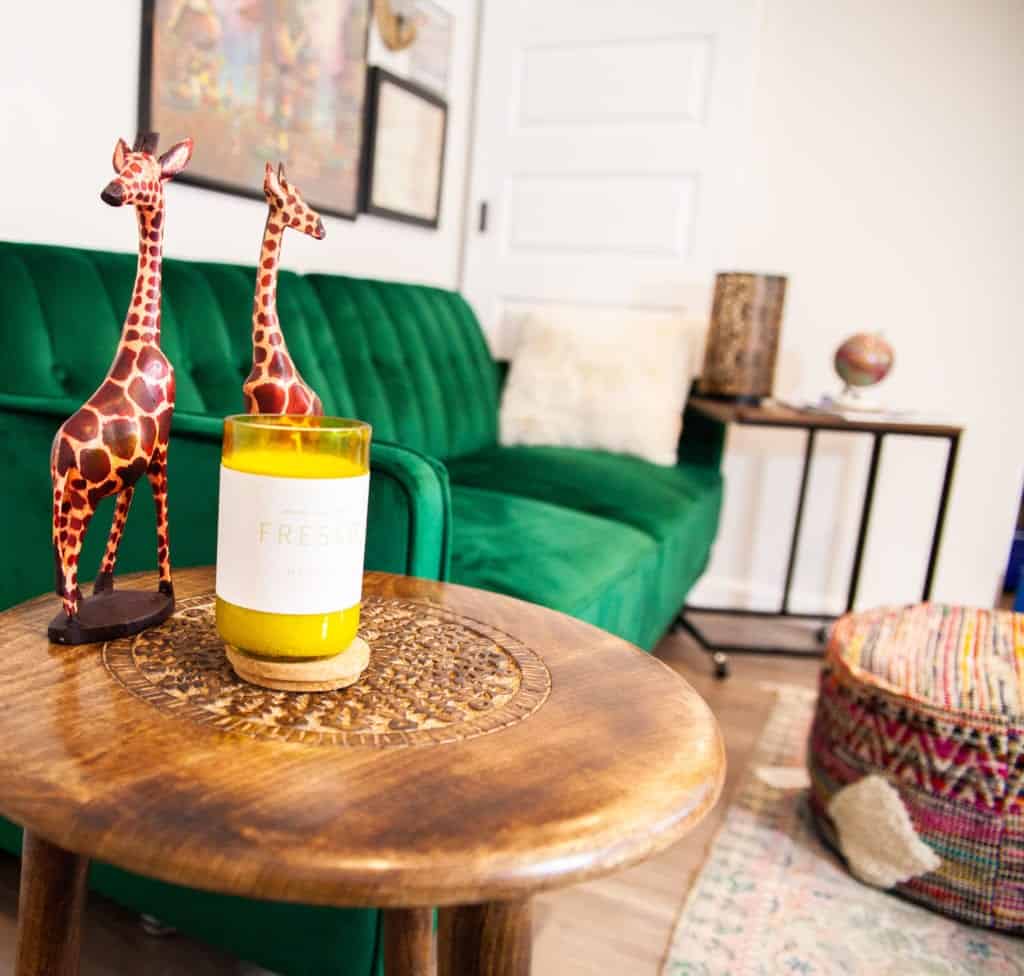 For instance, I started to notice that Burkes Outlet often stocks fun items that are handmade in India. We found wall art mandalas, candle holders, and more! Soon we came across the beautiful carved table and painted globe. These small touches definitely provided some travel inspiration and feeling to our room!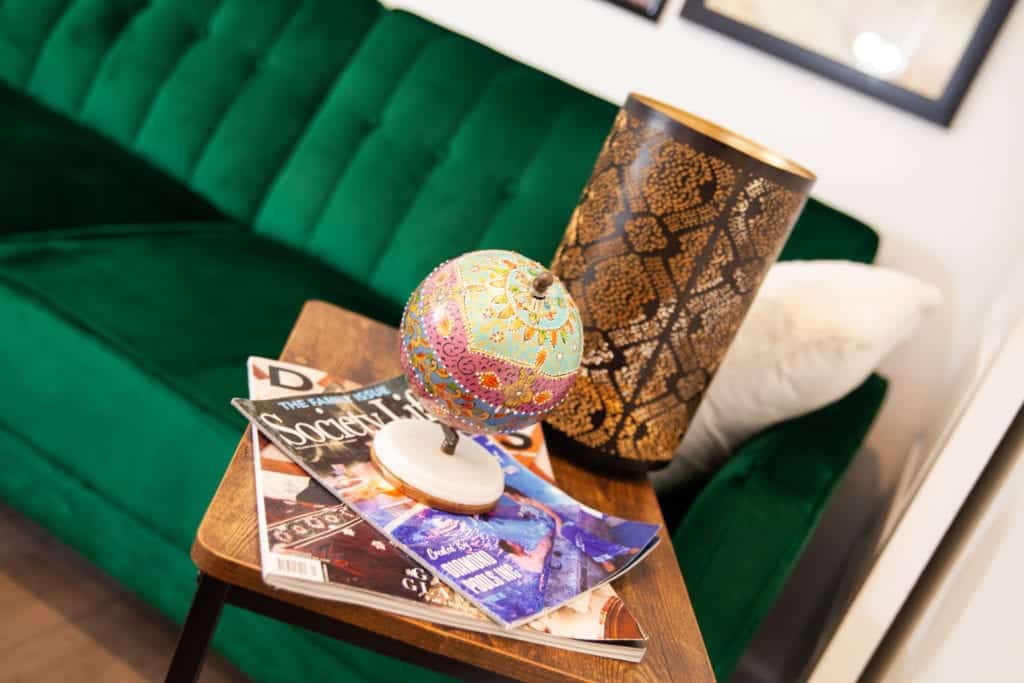 We were able to fill our apartment with so many travel themed apartment decor without breaking the bank! Apart from what's listed above, we were able to get a beautiful candle cover, multicolored pouf , and colorful rug that reminded me of my trip to Morocco.
Tips For A Travel-Themed Apartment Inspiration On A Budget
It's all in the nose! So much of the experience is remembered through smell! I love visiting wineries when traveling, so when I was going through the extensive candle section at Burkes Outlet, I was able to find some wine scented candles to help me reflect on some of my fun vineyard trips!
Mix your own pieces with extra decor! When traveling, my husband and I like to pick up local artwork of places in the area! We make sure to frame our pieces as well as mix in some fun wall decor like the elephant plaque! Or get some fun picture frames to hang up all your photographed memories.
Use Storage As Decor! A way to get two-for-one is to try to use storage as decor whenever you can! Burkes Outlet has a large selection of storage boxes! We ended up walking out with a 3-piece set with a map on them, as well as a 2-piece set that looks like luggage. They are so great for storage, stylish, and travel worthy all at the same time!