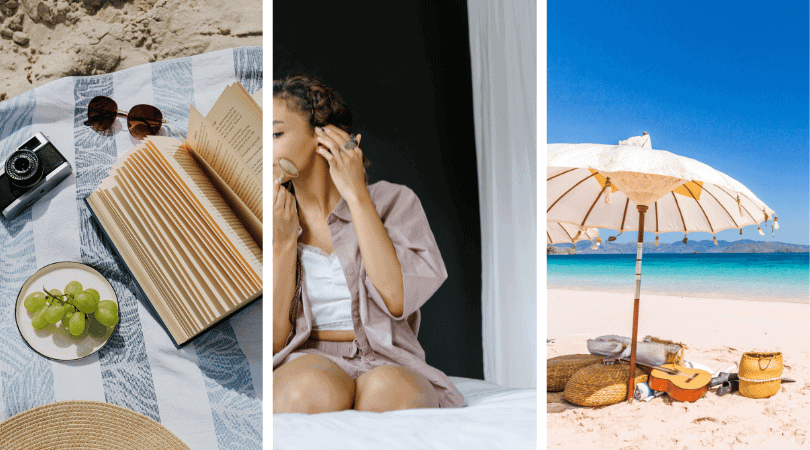 As the scorching summer heat intensifies, I find myself adjusting my wardrobe accordingly, with dresses becoming shorter and shorter in some sort of effort to combat the rising temperatures. Texas, in particular, seems to be reaching unprecedented degrees, leaving me with little interest in anything that doesn't involve water.
However, if I'm forced to beat the heat, there are a few essential products that can provide a little relief. Whether you're looking to attend an outdoor festival or concert, go camping, hiking, or do any other outdoor activities, here are my favorite body cooling products to keep you safe and comfortable this summer.
Stop the Sweat
Megababe Sweat Absorbing Lotion & Body Powder – Sweat is the worst, but Megababe, known for their Thigh Rescue Anti-Chafe Stick also has some products to absorb that sweat with two different products: the Sweat Absorbing Lotion and the Sweat Absorbing Body Powder. Keep them on hand in your purse, your backpack, or in your car for those unexpected chafing emergencies.
The Sweat Absorbing Lotion transforms into a powder upon application, keeping the skin dry by absorbing the sweat. It can be used on various parts of the body where sweat tends to accumulate, with the added benefits of skin-boosting ingredients like niacinamide, sunflower seed, and jojoba oil.
On the other hand, the ultrafine, talc-free Sweat Absorbing Body Powder is perfect for preventing sweat stains on clothes, particularly under the breasts. It also contains chamomile and lavender for a calming effect and pleasant scent.

Burt's Bees Cooling Body Wipes & Sensitive Facial Towelettes – After high sweat activities like hiking (or merely venturing out into the scorching Texas sun for 3 seconds), nothing beats getting clean.
These pre-moistened wipes and towelettes are lifesavers for on-the-go cleansing, requiring no water or rinsing and have aloe vera and eucalyptus that soothe and cool the skin. You can use these to clean and deodorize your body, including arms, armpits, and neck, making them perfect companions for outdoor activities or travel. To top it off, these are made from at least 60% repurposed cotton, a waste product from T-shirt manufacturing.
Chill Pal PVA Cooling Towel – This easy-to-use towel is made from a highly absorbent material known as PVA. Just soak it in cold water, wring it out, and it's ready to cool you down while working in the yard, laying by the pool, or on the beach. It's also larger and thicker than many other cooling towels. Best of all, unlike a regular wet towel, you're not going to soak your clothes by wearing it.
15 Pcs Cooling Neck Wraps – These cooling bandanas are not only stylish but also practical for beating the heat. They are small enough to wet with a bottle of water at your next outdoor event, like a festival or concert.
Simply soak them in water for 7 to 10 minutes, let them absorb the water, and then pat them dry. Once ready, you can tie them around your neck, wrap them around your wrist, use them as a headband, or wind them around your ankle.
Made from a polymer material, these bandanas absorb water quickly and release it slowly through evaporation, creating a cooling effect. If the coolness fades, just re-soak the bandana for another minute. I love how these blend into any outfit as a cooling option, but work so well!

For Your Face
Eau Thermale Avene Thermal Spring Water Spray – There is something so refreshing about having something to spritz on your face. This thermal spring water spray is an absolute must have to stay cool.
It contains Avene Thermal Spring Water which helps soothe and soften the skin with its unique properties and minerals. This spray will cool you down instantly while complementing those flushed cheeks.
BAIMEI Ice Roller for Face and Eyes – This facial roller will help you stay cool, reduce puffiness, and awaken the senses. As an added bonus, it helps calm skin and reduce sunburns, relieve pain and fatigue, decrease wrinkles, and energize the skin, all with a simple, cooling touch. Take it with you on your next trip and keep it in the hotel refrigerator to use after a long day out and about exploring in the heat.
LISAPACK Metal Eye Cream Roller Wand – As someone constantly on the go, I'm always on the lookout for handy, portable products that can provide instant relief from the heat.
After keeping it in a cool space, like a cooler in the car or my bag, the metal rollerball feels incredibly refreshing on the skin, reducing puffiness and stimulating blood circulation in the face. Plus, the roller at the other end is perfect for massaging the corners of the eyes and the bridge of the nose, helping to relieve eye fatigue.

All the Fans
Just one fan won't cut it. I want a fan in my hand, around my waist, on my neck – anywhere, really. We've got a variety of options to choose from, so you can pick your favorite type. Or, if you're feeling like a summertime superhero, why not go all out and get one of each? That way, you can experience ultimate comfort no matter where you are.
SLENPET Portable Waist Clip Fan – This is a go-to for a quick cool-down. The battery lasts almost an entire day and it's pretty strong to keep you feeling cool. It's extremely quiet yet powerful, capable of producing a 5100rpm airflow. Not only can you clip it on your waist but also wear it as a necklace fan.
BINWO Portable Mini Fan – If you want a stylish design that doubles as an accessory and a cooling product, I love this as an alternative! This fan is your go-to companion for beating the summer heat.
Its versatile functionality includes use as a neck fan, waist clip fan, travel fan, handheld fan, and more! With its compact size, you can easily carry it in your backpack or small purse which is perfect for concerts where you can't carry much in with you. It has a USB rechargeable design too so you can easily recharge it in your car. The dark green color and high-quality materials add a unique and fashionable touch.

AOCOOLFAN Portable Neck Fan – This hands-free device hangs around your neck for a refreshing breeze without any hassle. Its adjustable air flow levels, USB rechargeable battery, and quiet motor means this fan provides different levels of airflow and up to 7 hours of body cooling relief without disturbing the people around you.
COMLIFE Portable Handheld Misting Fan – Last but not least, let's round out the fanfare with a fan that's got a little extra! This is not just a fan, it's a fan that also sprays a cooling mist, ideal for those fiery Texas afternoons when you're wishing for a spontaneous rain shower to douse the heat. Now, with all these fans in your arsenal, the only thing you'll have to worry about is being mistaken for a wind farm! Now isn't that a breeze?

Keep Things Cool On the Go
When it's scorching hot outside, make sure your cooling items stay chilled and do their job. Think about getting some cool accessories for your summer must-haves, so you can stay comfy and beat the heat during your outdoor escapades. Keeping your stuff cool is the secret to keeping yourself cool and comfortable on the move.
Igloo 90s Retro Collection Fanny Pack Portable Cooler – If you're looking to add a touch of nostalgia to your summer essentials, this fanny pack cooler from Igloo's 90s Retro Collection is perfect.
It holds the equivalent of three cans, but it also sports an adjustable waist strap for a secure, comfortable fit. This isn't just a functional item – it's a fashion statement. It's available in a range of funky colors, including jade, purple, and a retro blue/green combination, ensuring you'll stand out while staying cool.
UCOLA Freezable Snack Bag Small Cooler Bag – Offering a practical, compact solution, this is meant to keep refrigerated items cool and secure, but would work for anything.
It has a clasp handle that can be clipped onto handbags, gym bags, strollers, and more, or you can just throw it in a bag, making it a versatile choice for any outing. The bag is designed to be freezable so you can keep your items cool and fresh for 1-2 hours – perfect for short trips. It's also leakproof and has an easy-to-clean surface!
Goodies Lab Store Insulated Lunch Bag – For those who are fashion-forward and want to keep their things cooler for longer periods, this lunch bag is a fun, stylish option. You can barely tell it's a cooler/lunch bag, but you know everything will be nice and safe inside. Its roomy compartments and numerous storage pockets are perfect for accommodating items you need to stay cool. The bag is fully insulated, keeping food warm or cold for 5-6 hours, which is longer than your average lunch bag.

Cooler Shock Ice Packs – No matter how insulated your cooler bag may be, you can't overlook the importance of a good ice pack.
More Cute Cool Bag Options

Stay Hydrated
Stanley Classic Legendary Bottle (40 oz) – Look, I didn't want to like it. I was prepared to passionately proclaim that it's overhyped, but then, I was gifted one (from a tourism board, not the brand), and it hasn't left my side since.
This thermos-cup combo is engineered to keep drinks hot or cold for up to 24 hours, or iced up to 6 days – and while we haven't made it six days, it does last long! Not to mention, it's dishwasher safe, which is a huge win for easy cleaning. It may have been overhyped, but now I understand why!
Hydro Flask Insulated Water Jug – While the Stanley is perfect, you still need a companion to keep up with your hydration needs – especially on those long road trips. Enter the Hydro Flask 128 oz Insulated Water Jug. Between my husband and I, we usually share our beloved Stanley, but this Hydro Flask jug has been a game-changer for road trips. No more frequent pit stops to refill our water supply – just pure, cool hydration whenever we need it.

Best Body Cooling Products: Final Thoughts
That wraps up my top picks for the coolest gadgets and accessories to beat the summer heat. Whether it's about staying refreshed with portable fans, keeping your cool items cool with portable coolers, or staying hydrated with reliable water bottles, these items are sure to help you stay cool and comfortable all summer long.
Remember, the key to enjoying the summer is staying cool – and with these items, you're just one step closer to having the coolest summer ever. Stay cool, hydrated, and enjoy every second of the sun. Let's embrace the summer with open arms!