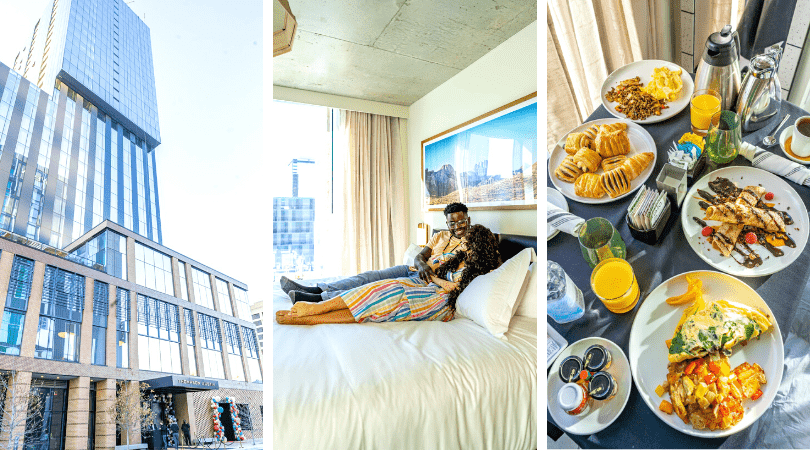 Thompson Austin is home to tastefully decorated rooms with a balance of luxury and comfort, as well as affordable options at its conjoined hotel, the Tommie Austin, for the busy bee who is just looking for a place to lay their head in between adventures.
Both offer their guests amazing amenities, like multiple options for on-site dining, the upscale pool with an accompanying resort-style bar, and a spacious gym. The beautiful views of the Austin skyline from your window and the abundance of natural light will leave each morning that you wake up feeling like the perfect day to be productive, to focus on recharging, or to try out some items on our list of fun Austin date night ideas or things to do in Austin on a rainy day. No matter your needs while you're here, you'll always know of where to stay in Austin TX when you finally get to come back again.
The Rooms at the Thompson/Tommie Austin Hotels
The Tommie Austin hotel, which is incorporated into the Thompson Austin, provides a more affordable option for its guests while offering access to all the same amenities. However, you'll find that your room is smaller; perfect for if you're looking to save money or you don't plan on staying in your room much during your Austin TX visit. The room is still really nice with big, open windows, beautiful artwork, and then it's maximized for space with different storage areas and compartments that will hide your belongings. You'll feel like you've traveled abroad and you're backpacking across the country without sacrificing comfort.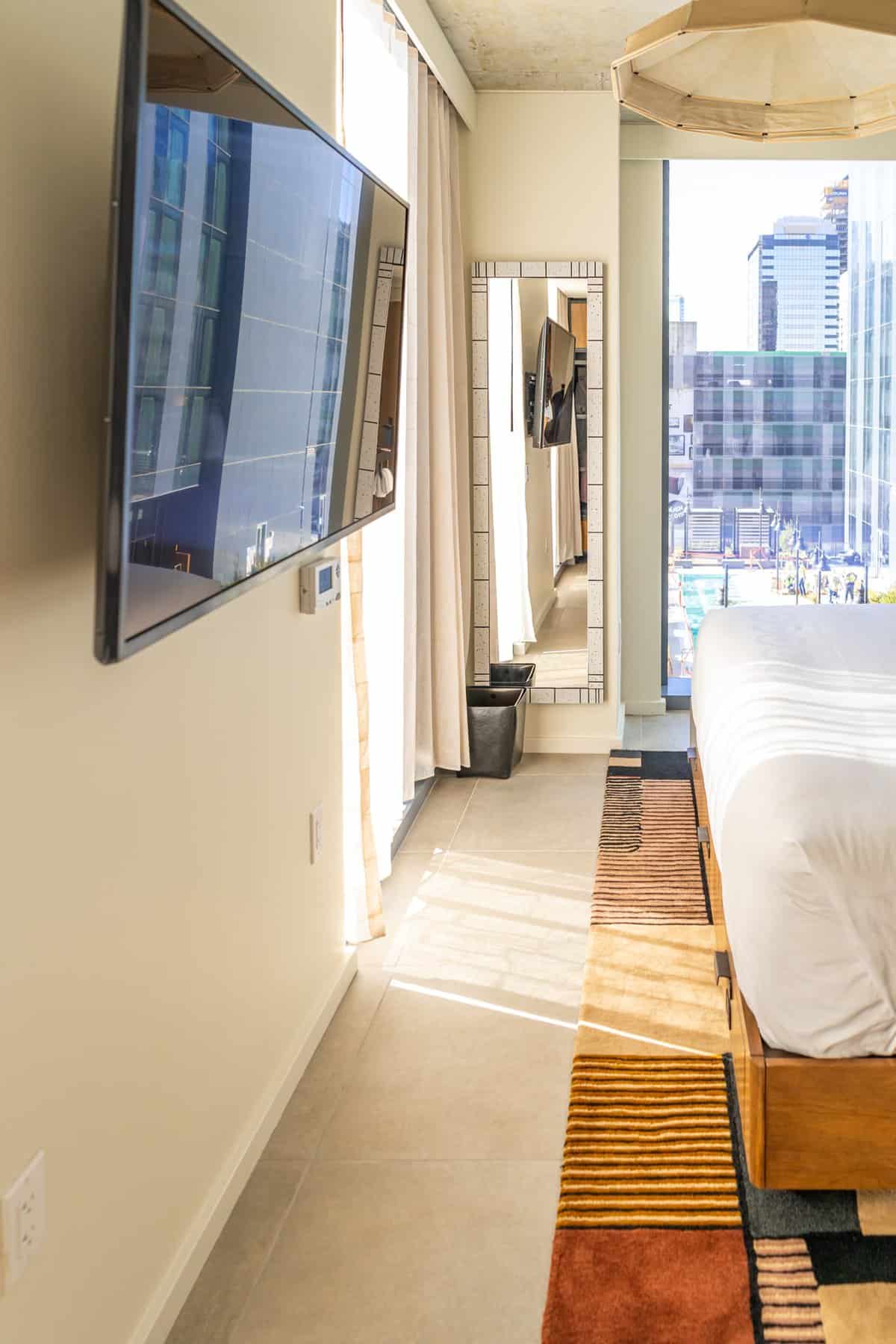 Large windows open up the space, casting light throughout the rooms, and its floor-to-ceiling design give a seemingly boundless, breathtaking outlook of Austin down below. The elegant and modern rooms were designed to make guests feel welcome and comfortable; an honorary Austinite while you're staying at Thompson Austin and still spoiling guests with luxurious sheets and robes, an honor bar, and in-room dining options.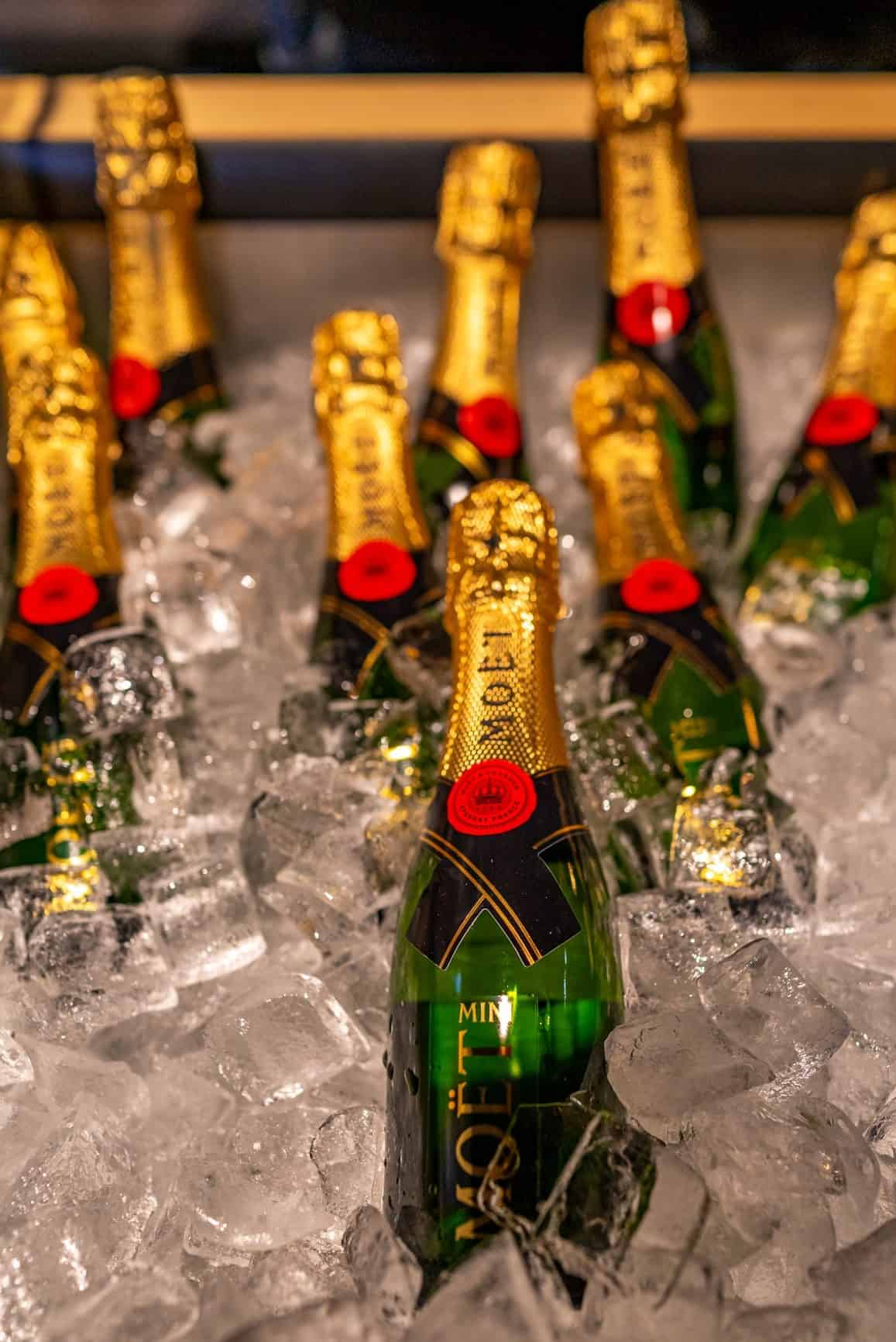 Where to Eat at the Thompson/Tommie Austin Hotels
The Grey Diner Bar
Housed in the hotel lobby, the Grey Diner Bar (set to open late February 2022) is one of three restaurants on-site at the Thompson/Tommie Austin hotels. Modeled after Georgia's award-winning restaurant, The Grey, Executive Chef Mashama Bailey's vision was to create a cocktail and Southern-style snack bar. It will offer breakfast, happy hour, and dinner.
The Coffee Bar at Tommie Austin
Don't forget to stop by and pick up a coffee or glass of wine at the Coffee Bar at Tommie Austin. Guests can enjoy a great cup of award-winning Greater Goods Coffee Co. at any time of day and savor the ambience that can only be found in Austin TX. Choose between socializing with those around you, relaxing by yourself, or bonding with your travel companion(s).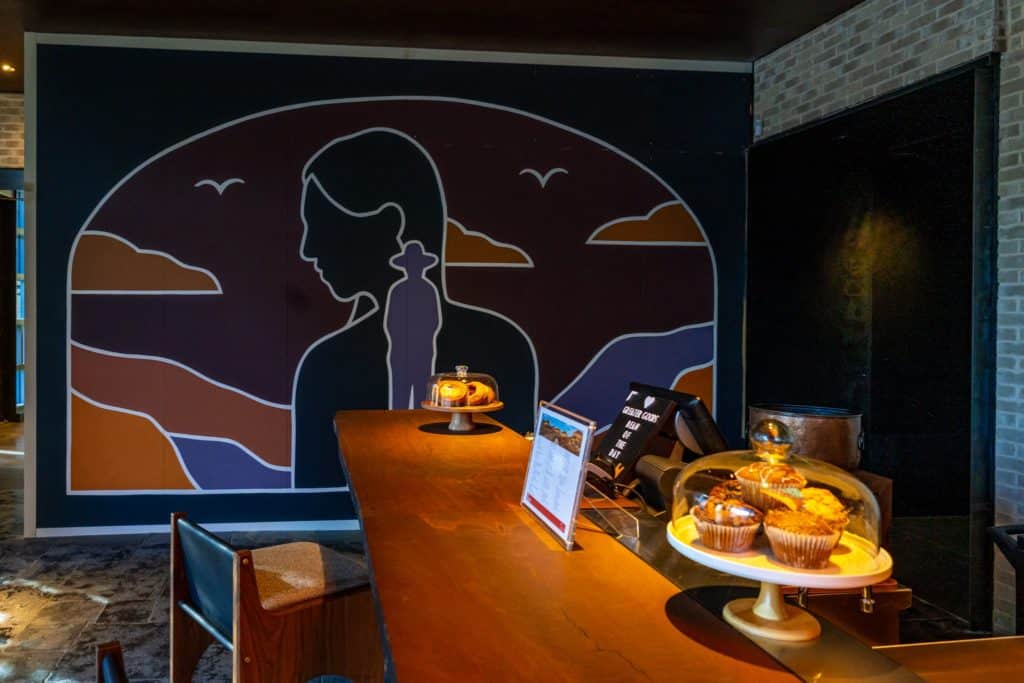 The Grey Market
Another concept created by Chef Bailey and also housed on the ground floor; The Grey Market (set to open March 15th, 2022) offers options for whatever your day plans are while you're in Austin TX. Grab something quick or sit down and experience classic counter service for breakfast or lunch. Inspired by her New York City roots and its bodegas, combined with her love for Southern-style cooking, the Grey Market will offer both convenience and quality.
Wax Myrtle's Club & Pool
Head on up to the fourth floor to the newly opened Wax Myrtle's Club & Pool, an exquisite indoor and outdoor space with foliage, private cabanas, a game room, private dining options, a poolside bar, and of course, the gorgeous pool. Take full advantage of these beach vibes in the middle of Texas and order something off their Mediterranean-inspired menu with a tasty mixed drink.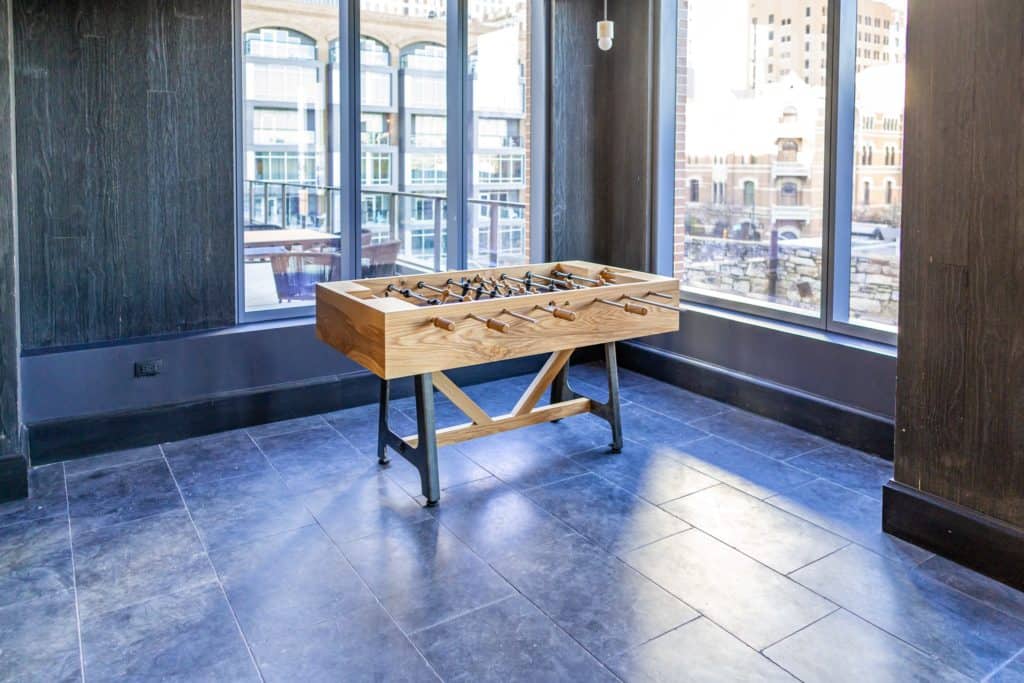 Th Amenities at the Thompson/Tommie Austin Hotels
Enhance your experience by trying out the fitness center at the Thompson/Tommie Austin hotels, an area where guests have the finest equipment at their disposal during their stay, including Peloton bikes and a golf simulator.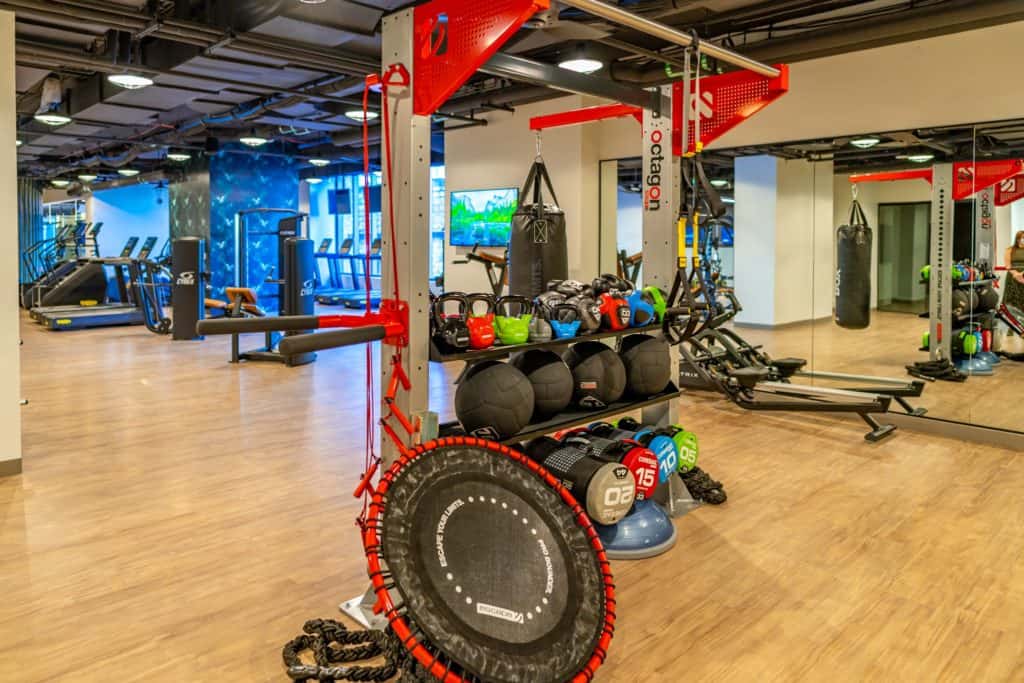 Things to Do Near the Thompson/Tommie Austin Hotels
Located near the center of Downtown Austin's music and entertainment districts, the Thompson/Tommie Austin hotels' amazing location provides guests the opportunity to get a real taste of what makes Austin great (and weird).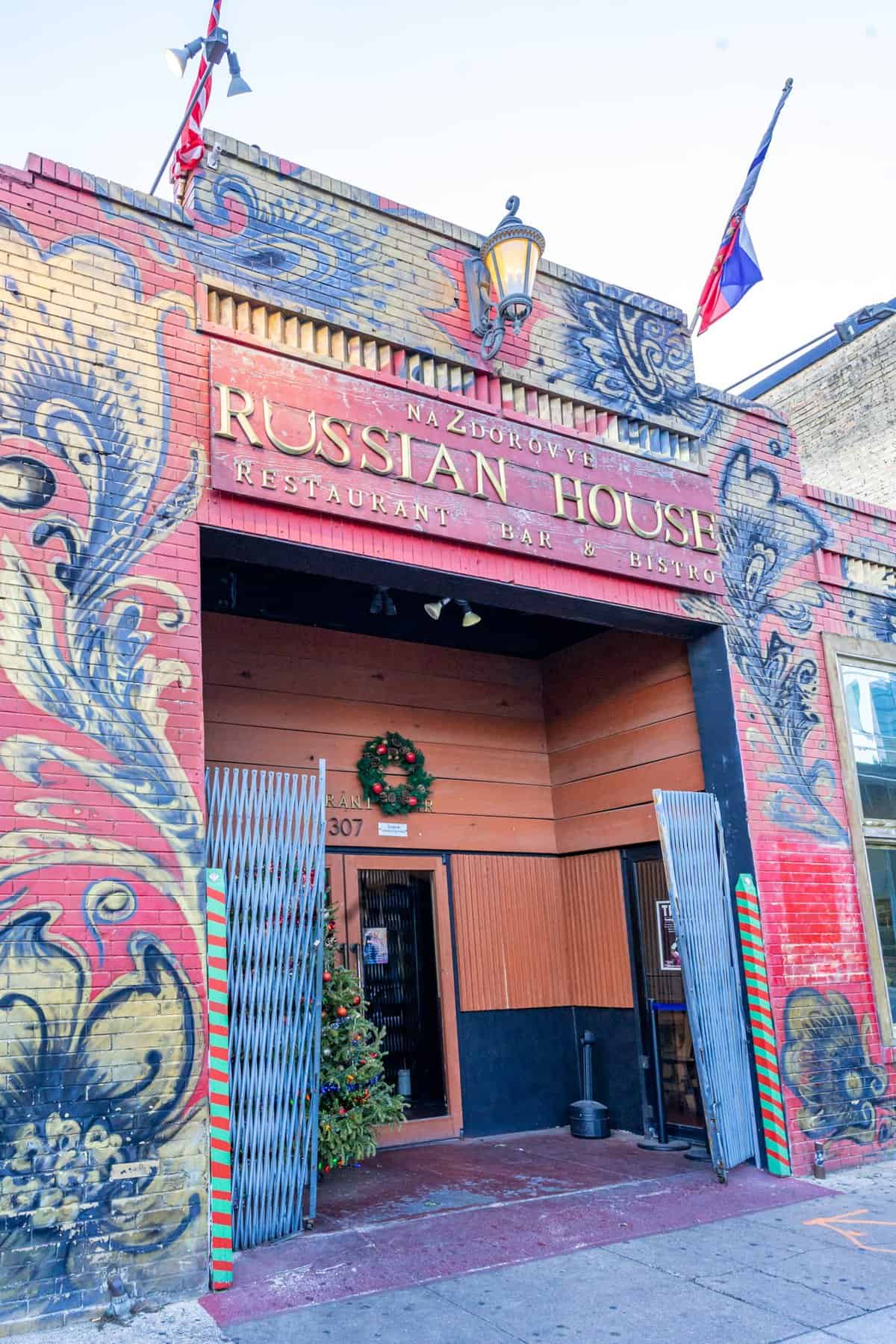 If the weather allows, take a dip in Barton Springs Pool or stroll through Zilker Park. Take a walk to the Contemporary Austin, a modern art museum, grab Voodoo Donuts, BBQ, or sushi, and then go out for a night out at Antone's Nightclub. Check out our list of fun Austin date night ideas or things to do in Austin on a rainy day. With the Thompson/Tommie Austin hotel as your home base while you're in town, you'll have so much fun in Austin TX no matter the weather or the occasion.
A Review of Thompson Austin: Final Thoughts
The gorgeous Austin Cityscape, paired with the tastefully decorated rooms, options for every budget, and amenities that seek to spoil its guests make the Thompson/Tommie Austin hotels a great lodging option for a worthwhile getaway in Austin TX. Overall, the Thompson/Tommie Austin hotels are a beautiful location in proximity to many Austin destinations that contribute to the city's charm. Booking a room here will definitely enhance your experience.